Today, we're going to be looking at King Koil's World Luxury Intimate Collection. The tagline in this collection is "fall in love with sleep again," so we're going to break down all the details and see if, indeed, this is a bedding product that can really enhance our quality of Zzz's.
The Company: King Koil
Before we investigate every nook, cranny, and coil of this King Koil collections, let's learn a little bit about the company itself. King Koil was founded right before the turn of the 20th century by a man named Samuel Bronstein. At the time, the company was called United States Bedding; straightforward, sure, but maybe not the most memorable of names. Throughout the early 1900s, the team began to expand and by 1930, the company focused on its unique spring system and changed its name to King Koil — emphasizing their workmanship with each mattresses' innerspring system. Today, you can find King Koil mattresses in 90 countries around the world, while the company headquarters are located near Chicago, Illinois.

King Koil World Luxury Intimate Collection: Construction
King Koil offers innerspring, hybrid, and memory foam mattresses within five exclusive collections. The World Luxury Intimate Collection is a higher-end, hybrid collection that features one mattress, Naples, which comes in three different comfort levels: firm, plush, and euro top options. Let's examine what's exactly "inside" this luxury bed:
World Luxury Intimate Naples: Firm, Plush, and Eurotop
Cover:
The cover on the Naples mattress uses Tencel fibers, an eco-friendly and soft material that is derived from sustainable wood sources. Tencel is also known to help promote the body's natural thermal regulating mechanism, stop bacteria from growing, and enhance breathability.Combined with the Tencel is Joma Wool®, a flame resistant, water repellent, and non-allergenic fiber. This wool supposedly is very breathable and stretchy. King Koil describes it "like an affectionate hug." Lastly, the cover includes a Hydra-Performa™ fiber technology, which is designed to wick away moisture from the body to prevent you from overheating.
Comfort layer:
While the thickness of the comfort layer will vary depending on the model, each mattress utilizes something called iNergex3 foam, which is highly breathable, cool, and responsive. King Koil describes it as providing you the best of both memory foam and latex foam worlds; it has pressure relieving and contouring qualities of memory foam but is still highly resilient just like latex. You'll also get the feeling that you're "sleeping on" the mattress, versus sinking into it. Underneath the iNergex3 foam is a layer of latex foam to provide an extra bout of support and comfort. In general, latex is known for being anti-microbial, helping to prevent bacteria, mold, and mildew growth.
Coil system:
The layers of foam are followed by an intricate coil-on-coil system, giving this bed a true hybrid design. The top layer in this coil system consists of mini coils that conform to the body and isolate motion. Below that is King Koil's Perfect Contour® Reaction Coil System, which includes over 1,000 active and reaction coils. This system aims to maximize pressure relief by supporting the lower back and minimizing negative pressure around your hips and shoulders — something they call "pressure equalization." This approach supposedly helps with blood circulation and muscle relaxation while maintaining a good sleep posture.
Base:
The base of this mattress is made from Everlast® Base Foam followed by a natural wood foundation.

King Koil World Luxury Intimate Feel
There are some qualities you'll feel across all three mattress types, along with some key differences. For starters, hybrid mattresses combine an innerspring system with various layers of foam, which is said to deliver the benefits of both technologies. With the World Luxury Intimate, you'll generally receive a good blend of sturdy support with contoured comfort.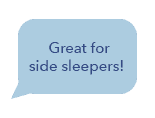 Furthermore, the use of specific foams and fabrics in this collection aim to provide you a cool and comfortable sleep, letting air circulate throughout the mattress. Lastly, the two layers of coils — mini coils and the 1,000+ coil foundation — will provide sturdy support, isolate motion, relieve pressure, and help keep your alignment in place so you can wake up feeling refreshed. It's worth noting that the Perfect Contour® Reaction Coil System is designed to deliver "pressure equalization," by targeting the lower back, hips, and shoulders. This is especially helpful for side sleepers.
While these are the main qualities of the Naples mattress, the three offerings — firm, plush, and euro-top — means they'll have unique characteristics as well. While the Naples Firm has "firm" in the name, the bed is actually seen as delivering a "medium-firm" feel (around a 5 out of 10 on the firmness scale,) while the Naples Plush will provide a soft feel (3 out of 10), similar to that of the euro-top mattress. The biggest difference between the Plush and Euro Top options is the latter will be slightly softer; it'll have an extra layer of material stitched over the comfort layer, giving you a "pillow-top" like quality to the bed.
King Koil World Luxury Intimate Collection Vs. Others
To better understand how the King Koil World Luxury Intimate Collection mattresses might feel, let's compare them to other brands we might recognize.
This collection will probably feel similarly to the Tomorrow Sleep Mattress, which is also a hybrid mattress that comes in two firmnesses like this King Koil collection (minus the eurotop). The medium-soft version of Tomorrow Sleep is especially good for side sleepers who enjoy layers of memory foam and polyfoam with pocketed coils, all good features for relieving pressure in the hips and shoulders.
For something similar to the Euro Top option, I'd actually compare it to one of the higher-end offerings from Bob-O-Pedic, which include mattresses named "Passion" and "Obsession" that are higher-end beds complete with a euro-top cover.
Additional Need-to-Know's
How to buy: King Koil mattresses are exclusively available for purchase at brick-and-mortar retail locations. Customers should defer to the delivery policy of the retailer where they purchase their mattress.
Old Mattress Removal: King Koil does not offer old mattress services. Customers should defer to the mattress removal policy of the retailer where they purchase their King Koil mattress.
Made in the USA.

Warranty: 10 years



King Koil World Luxury Intimate Collection: Pros and Cons
There are no reviews for the King Koil World Luxury Intimate Collection. Having said that, there are some general ups and down you might experience based on the construction and fine details of these hybrid mattresses.
General Pros:
Best of both bed worlds. Positive reviews for all hybrid beds include the fact that it brings the "best of both worlds" from innerspring and foam mattresses. For these beds, you'll get the support from two layers of coils, plus the contoured comfort from the layers of foam.
Will keep cool. The cover and comfort layers are designed to keep air moving through the mattress so heat doesn't get trapped. That, along with the coils, will help ensure that no hot heat stays in your bed and you'll feel comfortable all night long.
Focuses on pressure relief. The layer of foam combined with the innovative coil system aims to provide equalized pressure on the lumbar, hips, and shoulders. This design makes this bed especially sound for side sleepers.

General Cons:
Limited specification disclosures. Like all King Koil mattresses, there is limited information on the exact specs of this bed. We don't know how high these mattresses are, for example, and don't know how thick each comfort layer is.

Cost. This isn't necessarily a bad thing, but since hybrid beds often are more complex to construct, you'll pay a higher price than other innerspring or all-foam beds.

Can't buy online. As the bed-in-a-box industry booms, it's sometimes hard to remember that many mattresses are still only sold in-store. While this means you can test it out beforehand, it's unclear if you'll get a sleep trial from a King Koil mattress, and you'll also have to head to the nearest retail store to try it out yourself. Fingers crossed there is one nearby!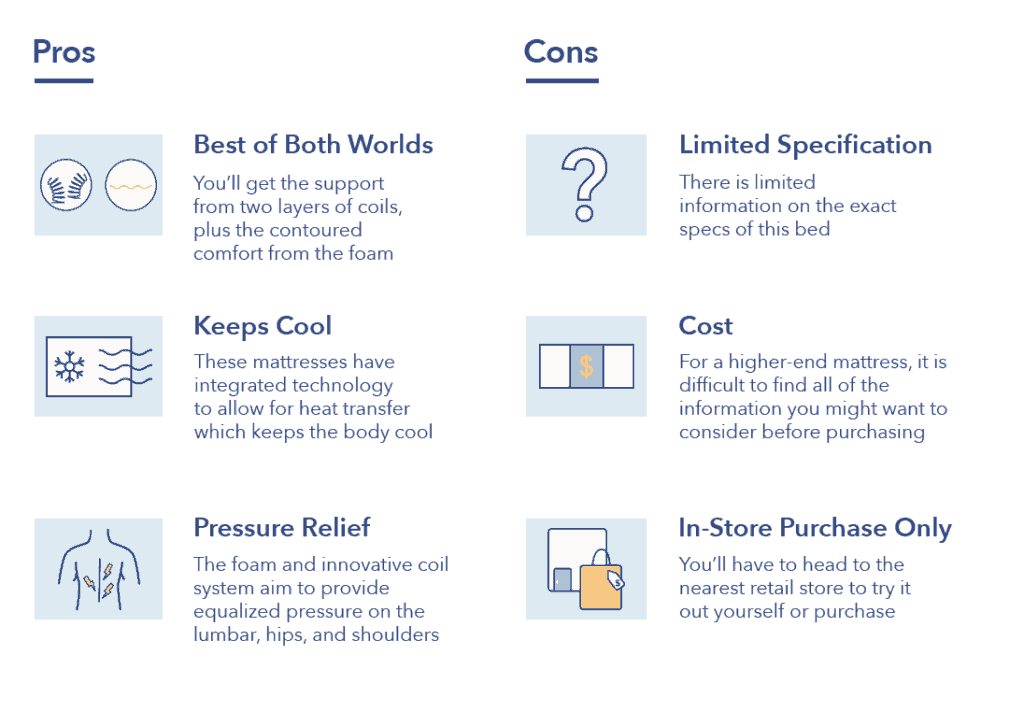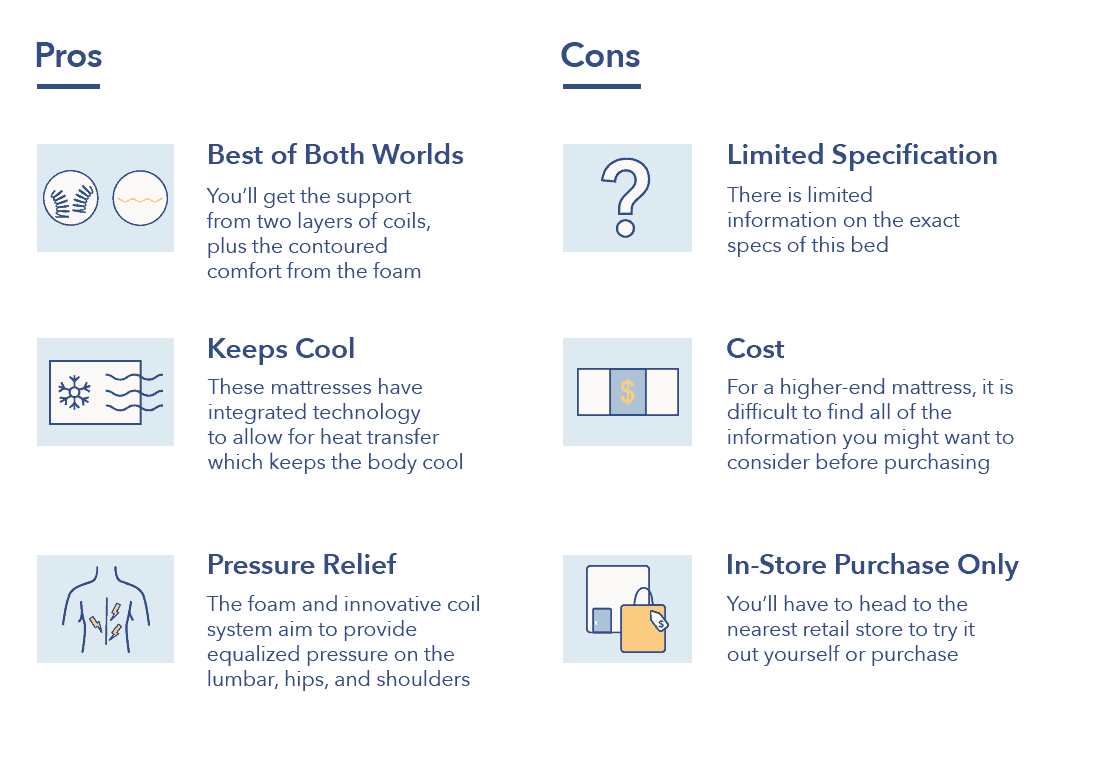 King Koil World Luxury Intimate: Sizing and Pricing Information
| Model | Twin | Twin XL | Full | Queen | King | California King |
| --- | --- | --- | --- | --- | --- | --- |
| World Luxury Intimate Naples Firm | $2,209.99 | $2,299.99 | $2,299.99 | $2,389.99 | $3,089.00 | $3,089.00 |
| World Luxury Intimate Naples Plush | $2,209.99 | $2,299.99 | $2,299.99 | $2,389.99 | $3,089.00 | $3,089.00 |
| World Luxury Intimate Naples Euro-Top | $2,709.99 | $2,799.99 | $2,799.99 | $2,889.99 | $3,789.99 | $3,789.99 |
Is the King Koil World Luxury Intimate Collection Right for You?
If you've made it this far, congrats! If you've skipped ahead, no worries either: Here are the main four reasons one of the mattresses in the King Koil iMattress collection could be a good fit for you and your bedroom.
You're a side sleeper. Side sleepers often need extra support for their hips and shoulders. Thus, the Perfect Contour® Reaction Coil System and its "pressure equalization" is meant to deliver targeted support in these areas, making it an especially good choice for people who sleep on their sides.
You want luxury. If you're looking for high-qualities foams and innovative coils systems, and are willing to pay on the higher end of the pricing spectrum, all of these mattress options in the Luxury Intimate Collection could work for you!
You sleep with a partner. The two layers of coils, including the micro-coils, and meant to help isolate motion so you can keep sleeping soundly, even if you have a partner that is tossing and turning a lot throughout the night.
You like soft or medium soft beds. Don't let the "firm" title fool you. All of these mattress options are either soft or medium-soft, so it's important you know you like things on the softer end of the spectrum versus something significantly more firm.


King Koil World Luxury Intimate Collection Summary

This specialty collection from King Koil aims to provide a luxurious experience for its Naples mattress. Whether you want something super plush, with a euro-top, or a bed with a medium-firm feel, this King Koil collection seems to have a little bit of everything for all types of sleepers. It strives to keep cool, relieve pressure, and isolation motion — all great qualities of a mattress! Just make sure you find all the fine print at a retail store next to you, since reviews and other information aren't available online.