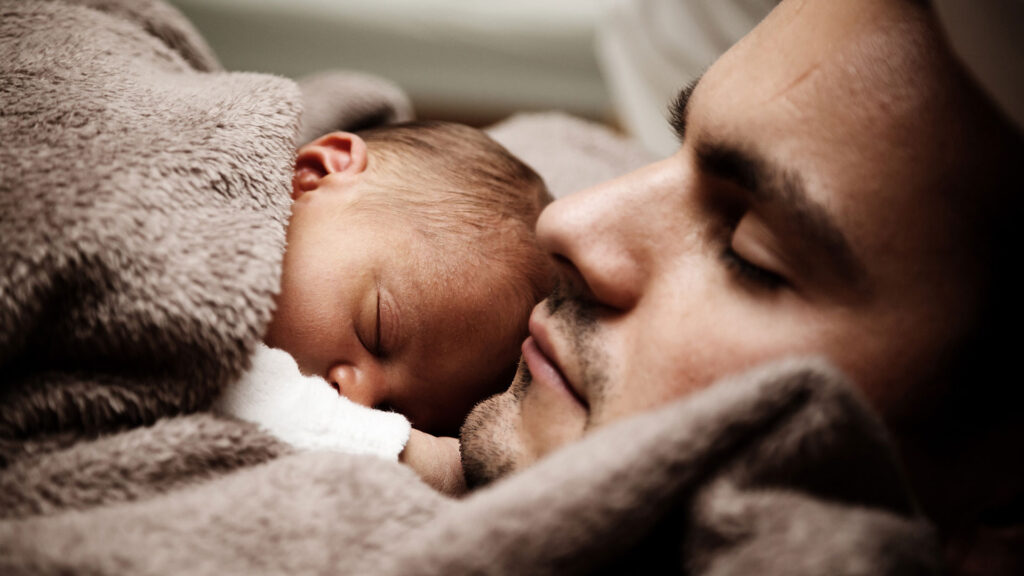 Improving breastfeeding rates and increasing safe sleep practices among newborns are two top public health priorities, according to government organizations. Tackling these issues is multi-faceted, and efforts have historically focused on educating and supporting new moms. That may be changing, though.
Now, for the first time, researchers are examining the links between fathers' attitudes and experiences, and how these impact breastfeeding and sleep. Scientists at Northwestern University and the Ann & Robert H. Lurie Children's Hospital of Chicago found that new dads have a significant impact on breastfeeding initiation and duration, as well as the execution of safe infant sleep practices. Their findings were published in the June 2023 issue of Pediatrics.
"This research demonstrates the importance of educating fathers and partners on all aspects of newborn and infant care, including the benefits of breastfeeding, how to support their breastfeeding partners, and adherence to safe sleep practices every time they put their babies down to sleep," says Jessica Madden, MD, IBCLC, pediatrician, breastfeeding medicine/infant feeding specialist, and the medical director of Aeroflow Breastpumps.
What the Study Found
This study looked at a group of 250 new fathers who lived in Georgia. Study participants answered questions from a survey called Pregnancy Risk Assessment Monitoring System (PRAMS). The survey asked these dads questions about their attitudes, experiences, and behaviors before and after their babies were born.
Dads and Breastfeeding
First, researchers found that dads' attitudes about breastfeeding had strong impacts on breastfeeding soon after birth, and throughout the first 8 weeks of life. Of the dads who wanted their partners to breastfeed, 95 percent said that their baby initiated breastfeeding after birth, and 78 percent were still breastfeeding by 8 weeks. On the other hand, dads who either didn't want their babies to breastfeed or who were neutral on the subject shared that their partners had both lower breastfeeding initiation and duration rates, at 69 percent, and 33 percent respectively.
Cindy Rubin, MD, IBCLC, pediatrician and breastfeeding medicine specialist at In Touch Pediatrics and Lactation, was struck by the significant effects fathers can have on the initiation and continuation of breastfeeding. "Presumably, this means that having a partner who is supportive of breastfeeding can lead to greater success on a breastfeeding mom's part," she said.
Dads and Safe Sleep
The study also found that fathers had an important role to play when it came to safe sleep practices. The researchers found that 99 percent of dads were involved in putting their babies to sleep, but only 16% of them practiced all three of the safe sleep practices outlined by the Academy of American Pediatrics (AAP), which include putting a baby to sleep flat on their back, putting them to sleep on a baby-safe sleep surface such as a non-inclined crib or bassinet, and avoiding the use of soft bedding or loose objects.
How Dads Can Support Breastfeeding
This study shows that dads simply having a positive attitude about their partner's breastfeeding can increase breastfeeding success. But any new mom will tell you that they need more than just moral support. "We need for dads and non-birthing parents to reconceptualize breastfeeding as a true team effort," Dr. Madden says. That means dads have to get more involved in practical, hands-on ways.
Dr. Madden's top tips for new dads who want to get involved include:
Learning as much as possible about breastfeeding before the baby is born
Creating an environment where their partners can focus on breastfeeding, which means taking over tasks like cooking, laundry, and care of older children
Providing support during nursing sessions, such as changing diapers and burping
Assisting a breast pumping partner by washing pumping parts, storing pumped milk, and preparing and feeding bottles of pumped milk to babies
What Dads and Parents Need To Know About Safe Infant Sleep
Although this study had a lot of encouraging results, the low rates of dads following safe sleep guidelines was troubling. "Safe sleep practices need to be adhered to every single time a baby is put to sleep," Dr. Madden emphasizes. "This includes always putting baby to sleep on their back, in a crib, bassinet, or other piece of equipment that is intended for infant sleep (i.e. pack and play), and on a flat, firm surface that is free of pillows, blankets, and other objects that may be suffocation hazards."
As Dr. Rubin noted, the study pointed out that dads were less often part of the education mothers receive from healthcare providers about infant sleep safety. It's not surprising that fathers learn less about safe sleep because fathers are less often present at prenatal and pediatric medical visits, Dr. Rubin points out. This is an area that can be addressed going forward.
"There needs to be a concerted effort to actively educate fathers as well as mothers in some format — if they aren't at the office visits, then written communications, phone calls, or home visits might be more effective for educating fathers or other partners of the birthing parent," she says.
Sources

John James Parker, MD; Clarissa Simon, PhD, MPH; Anne Bendelow, MPH; Michael Bryan, PhD, MPH; Ruben A. Smith, PhD, MS; Katherine Kortsmit, PhD, MPH, RD; Beatriz Salvesen von Essen, MPH; Letitia Williams, MPH; Ada Dieke, DrPH; Lee Warner, PhD, MPH; Craig F. Garfield, MD, MAPP. "Fathers, Breastfeeding, and Infant Sleep Practices: Findings From a State-Representative Survey," Pediatrics; June 16, 2023.

Madden, Jessica. Author interview. June 2023.

Rubin, Cindy. Author interview. June 2023.