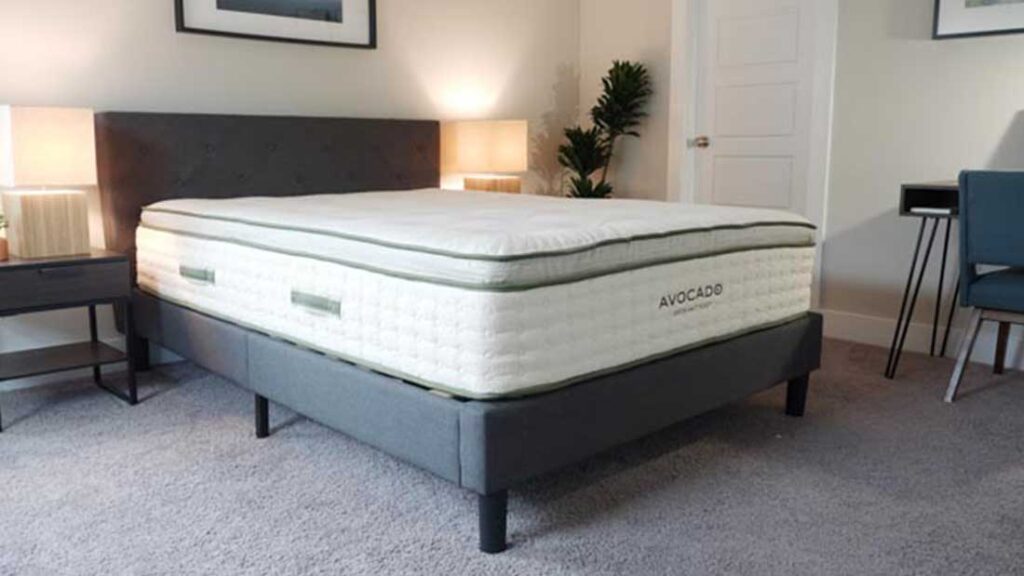 Avocado Mattress LLC, a company that frequently mentions its commitment to using eco-friendly and non toxic materials, faces a lawsuit in the federal court of California. The lawsuit accuses the company of using a harmful substance in the production of its mattresses, contradicting its claims of being an organic and all-natural company.
Avocado said that its mattresses are free from any harmful synthetic or latex chemicals. Nevertheless, laboratory tests (according to the suit; Sleepopolis has not confirmed or viewed the testing) seem to indicate that the company utilizes toxic latex and synthetic chemicals, resulting in a lawsuit filed against Avocado on April 28, 2023.
After the lab testing, plaintiffs Akeem Pina and Richard Roberts filed the lawsuit. They said that they were misled by Avocado's clearly stated mission as being "GOTS certified organic" and "Climate Neutral Certified." 
Despite being MADE-SAFE certified and having a Formaldehyde-Free Claim Verification, the company now faces violations of the California Consumers Legal Remedies Act, fraud, deceit and misrepresentation, unjust enrichment, breach of contract, among other claims. 
"At virtually every stage of the latex manufacturing process — from harvesting and stabilization to vulcanization and drying — Avocado uses synthetic chemicals to create its products," the plaintiffs claim in their suit. 
Some of the specific chemicals that they say were discovered in the mattress, mattress toppers, and pillows include Wingstay-L, naphthenic hydrocarbon oils,  ZDEC, MBT/MBTS, and Pentyl Furan, which can cause health and environmental problems. 
"Avocado intended to mislead consumers with its false advertising, and it has done so for years," the Avocado mattress lawsuit says. 
The plaintiffs said that if they knew the claims by Avocado were false, they would not have chosen to purchase from the company.
As the lawsuit proceeds, Avocado posted a statement on its website refuting the false accusations. The company reassured its devoted mission to using safe products for both its customers and the environment.
"We are aware of the lawsuit challenging the advertising of Avocado products. We want to assure our customers that the allegations in the complaint are completely unproven, and the company intends to vigorously defend itself from these baseless accusations," Avocado said in the statement posted on its website. 
In previous instances involving mattress companies, similar cases have emerged, such as a lawsuit filed in recent years against Zinus mattress company. The lawsuit alleged that Zinus used fiberglass in their mattresses, which can lead to air contamination within households and have adverse health effects (skin, eye, and lung irritation) if directly exposed to it.
In April 2021, the plaintiff Vanessa Gutierrez filed a suit in April 2021 after purchasing a Zinus mattress for her daughter. When she purchased the $400 mattress, she ended up having to pay $20,000 in damages, including medical bills.
In another similarity to the Avocado case, Zinus also faced criticism for failing to disclose information about the materials used in its products to its customers. Despite being a popular mattress company, the situation took a negative turn when the company did not adequately provide information and warning labels regarding the presence of fiberglass in its products. 
In response, Zinus offered Gutierrez a $1,000 compensation for the damages but she did not accept the offer.
Individuals not from Illinois, including Gutierrez, were dismissed from the case by a district court judge because there was an absence of any link between non-Illinois residents and Zinus claims. In late July of 2022, Gutierrez became the lead plaintiff in a lawsuit she filed in Sacramento where she represented 2,000 individuals affected by this mattress.
What To Do Now If You Have An Avocado Mattress?
Avocado has not addressed or issued a statement regarding the course of action for customers who recently purchased their mattresses prior to the case. In the meantime, customers can still refer to the company's return policy as a reference.
The company uses a sleep trial process that allows you to try the mattress before you decide to commit to it. To return your mattress, you can contact the company to receive a full refund if returned in the specific time frame.
For mattresses and mattress toppers, a customer can make a return within 30 days. But this is not the same policy for all mattresses. For example, the ECO Organic Mattress and ECO Kids Mattress have a 100-night sleep trial.
Additionally, there is a $99 fee to return a mattress and, with the sleep trial, a customer can only return up to one of each type of mattress per household. 
With this information and past lawsuits, it's important to take the time to research the mattress company you want to purchase and see if its devotion to safety is straightforward and clear. It's better to take the time and effort to do the research if it means protecting you and your family.