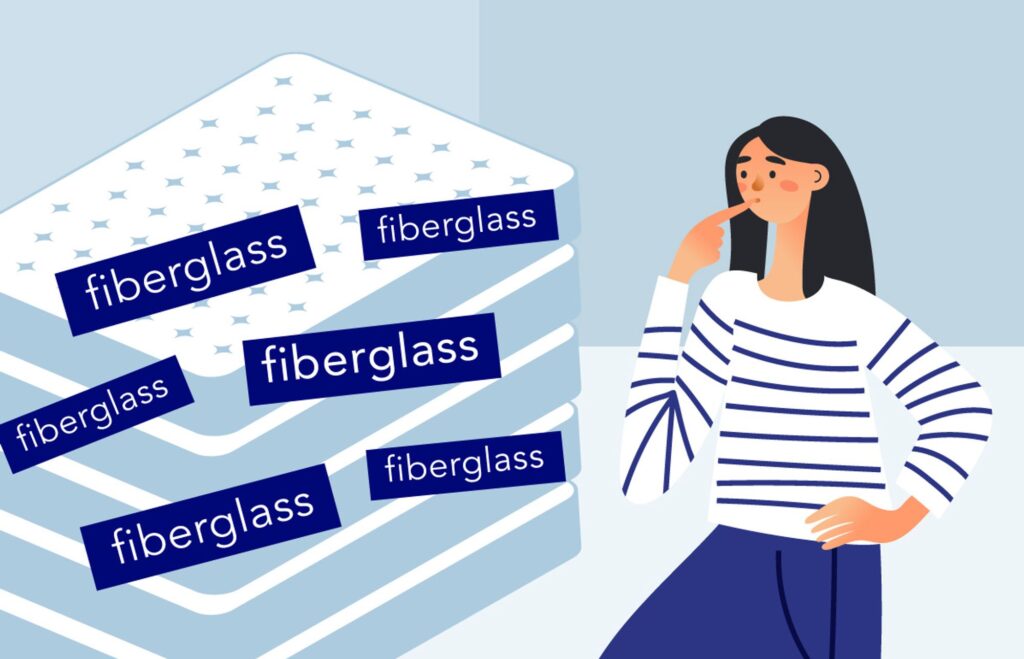 In December, Diamond Mattress announced it will begin using fiberglass-free flame retardant in its mattresses, and the company isn't alone. In fact, dozens of mattress companies are ditching fiberglass as well.
Saatva, another fiberglass-free mattress company, told Sleepopolis it's been fiberglass free since the launch of its first mattress, the Saatva Classic, in 2010. Its CEO, Ron Rudzin, spoke to Sleepopolis about why he decided the company would go without the material in its products and stick to organic wool and plant-based thistle instead.
"Simply put, being fiberglass-free means sleepers don't have to worry about the adverse health effects of sleeping on a mattress with a fiberglass flame barrier," he tells Sleepopolis. "Over time, fiberglass flame barriers degrade, and fiberglass particles can seep through the cover of the mattress, which can lead to skin, eye, and even lung irritation, and potentially worse long-term effects."
Is the Mattress Industry Trending Fiberglass Free?
Possibly. Rudzin notes that consumers are opening their eyes to what's in their products, and a representative with Saatva confirmed with Sleepopolis the industry is in fact starting to trend fiberglass free. The company greatly credits Gen-Z, who they said is now becoming a significant spending group and are more conscious about prioritizing eco-friendly brands compared to prior generations.
"Just as people have become more conscious of the ingredients in the food that they eat, they have also become more aware of what's in the products that they use," Rudzin says. "When I started Saatva in 2008, I knew even at that time that people had multiple complaints about sprays and chemicals that manufacturers were putting on their products. I wanted to source something different that was in keeping with our green philosophy."
Fiberglass in the Spotlight
Annika Carroll, a sleep and health coach for women, who is the CEO of Sleep Like A Boss, told Sleepopolis that while she doesn't know if there's been a definite increase in demand for fiberglass-free mattresses, she said the topic has gotten a lot more media attention since several high-profile lawsuits were filed.
In 2020, Illinois residents Amanda Chandler and Robert Durham filed a class-action lawsuit against Zinus, claiming that the mattress brand had failed to both properly warn consumers not to remove the mattress cover or to alert them that fiberglass would be released into the air if they did. In 2021, the lawsuit was amended to include California resident Vanessa Gutierrez, who bought a Zinus mattress for her daughter.
Gutierrez told the LA Times that, despite the fact that she never removed the mattress cover, the fiberglass escaped, leading to severe health problems for her two kids and thousands of dollars in damage to her apartment. She's now the lead plaintiff in a California-based class-action lawsuit against Zinus.
For its part, a rep from Zinus told Insider in a statement that, "Zinus mattresses currently being sold include locked zippers without pull tabs and an additional sewn-in label that warns against removing the outer cover. For all these reasons, we look forward to defending the composition and construction of our products in court, should that be necessary, and are confident we will prevail."
Still, there's no doubt the recent lawsuits have people talking about fiberglass.
"We spend about one-third of our lives in bed," Carroll says. "Our skin touches the materials, and we sweat at night. These are all reasons to use toxic-free materials as much as possible."
Diamond is one of the more recent brands to ditch the fiberglass. The brand's VP of sales, Patrick Wolf, told Home News Now that the company doesn't need a mandate in order to make healthier, safer options for consumers. "While fiberglass-free FR is not the standard or required, anytime we can choose a healthier, safer option, we will," he said. "We make wellness products and take seriously the responsibility to enhance health and safety for consumers."
On the company's website, Bear Mattress talks about why it doesn't use fiberglass, and points to more than just health concerns. The company said it's a huge pain to clean up once it's made its way out of your mattress.
"It's like dust that settles all over the place… except it's made of tiny glass shards," the company states.
According to a 2022 local St. Louis news station's investigation into fiberglass in mattresses, the cleanup costs for escaped fiberglass can cost anywhere from a few thousand to tens of thousands of dollars. More recently, a Pennsylvania family told WTAE-TV that they spent more than $25,000 on hotel fees, cleaning fees, and new furniture and clothing after they removed the cover on one of their mattresses.
Another mattress company pointing out why it doesn't use fiberglass in its mattresses? Avocado. The company's website says, "At Avocado, we do not use fiberglass in any part of our organic certified mattresses, including the covers or as a flame retardant — due to important health and safety considerations."
What Is Fiberglass – And Why Is It In So Many Mattresses?
It's a type of fiber-reinforced plastic that contains glass fiber, and it is often used as an affordable flame retardant in mattresses. In the past, many mattresses were composed of foam with flame retardants, but the chemicals were later linked to health concerns, like cancers.
Is Fiberglass Dangerous?
As long as the fiberglass in your mattress stays there, you should be fine. The real risk comes from being directly exposed to it if your mattress or cover is damaged (though, as mentioned above, at least one of the plaintiffs in the lawsuits filed above asserts that they didn't remove their cover).
Once it shakes loose from your mattress, the tiny particles can be almost impossible to get rid of. Exposure to fiberglass can cause rashes and blisters and irritate your lungs and eyes.
This is a big reason why we advise you to always read the tags on your mattress as well as why we caution against cutting them off – the tag should let you know if there's fiberglass in your mattress or cover. If so, the tag will also explicitly warn you against removing the cover, since removing it will cause the fiberglass to be released into your home.
How to Find a Fiberglass-Free Alternative
While fiberglass doesn't seem to cause problems unless someone is directly exposed to it, you might still be wanting to avoid it in a mattress. So, how do you find one with alternate materials?
First, check out our recent list of brands that have ditched fiberglass. Our roundup of organic mattresses is another good place to start.
You might also want to consider brands that use natural thistle, such as Saatva, or natural fibers or OEKO-TEX certified, flame-retardant rayon, such as the one Bear uses. According to the company, "it's chemical-free, safe, and effective."
Or consider wool. Avocado said the company uses 100 percent GOTS organic certified wool, which is a natural flame resistant.
Lastly, you can also check out the Consumer Product Safety Commission (CPSC)'s Safer Products database – simply search for the brand or product you're interested in, and you'll be able to see it it has a history of recalls or if it's been deemed unsafe in any way.