When you're on the hunt for the perfect pillow, there's a long list of things to consider — not the least of which is material! Different pillow materials are more compatible with different sleep styles and body types. The key is finding the material that's best for you. In this review, I'll be taking a close look at two distinct styles of pillows: memory foam and latex.
First, I'll go over the differences between memory foam and latex pillows. Next, I'll describe which sleepers each pillow type might be best for. And I'll round things out by comparing a few of my favorite latex and memory foam pillows.
Remember, there's a wide world of pillows out there, so if you're not sure about latex or memory foam after this review, check out our list of the best pillows for more options.
Memory Foam vs Latex: Definitions
Not sure what latex and memory foam are? Don't worry, I'm going to go over both materials here!
What Is Memory Foam?
Memory foam is made from viscoelastic polyurethane. NASA originally created it for astronauts, though it never actually made it to space. It was first used as wheelchair seat cushions and post surgery padding before making the transition to bedding.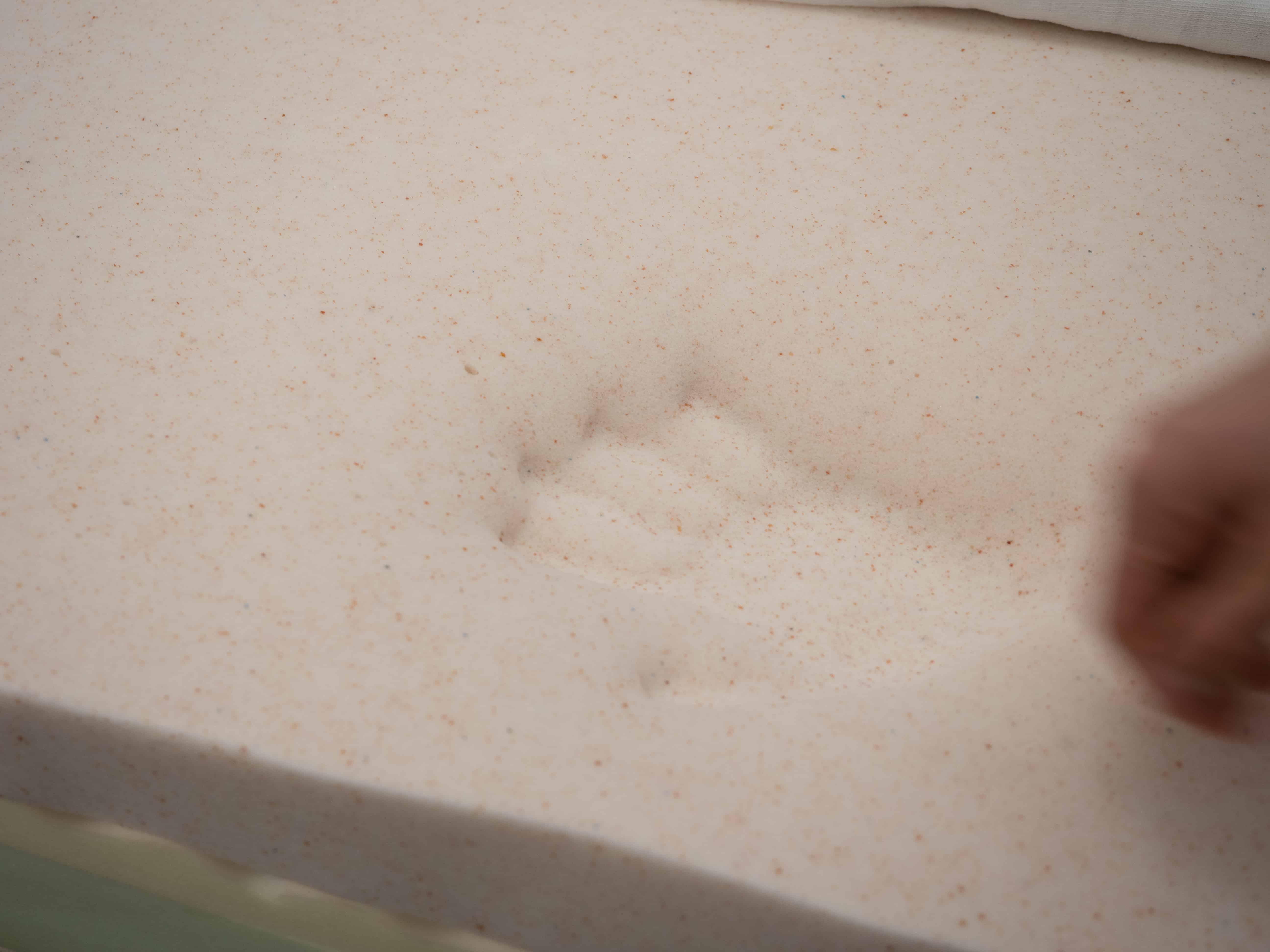 Memory foam can feel initially firm to the touch, but it softens in response to body heat. This material adjusts around pressure and is slow to bounce back, which gives it that typical "cushioning" feel. It's known for being contouring and pressure-relieving.
What Is Latex?
Originally, latex was a natural foam made from the sap of the hevea-brasilienis rubber tree. These days, synthetic forms of latex are increasingly common. Synthetic latex is typically made from styrene-butadiene rubber. It can feel very similar to natural latex but does not always have the same durability.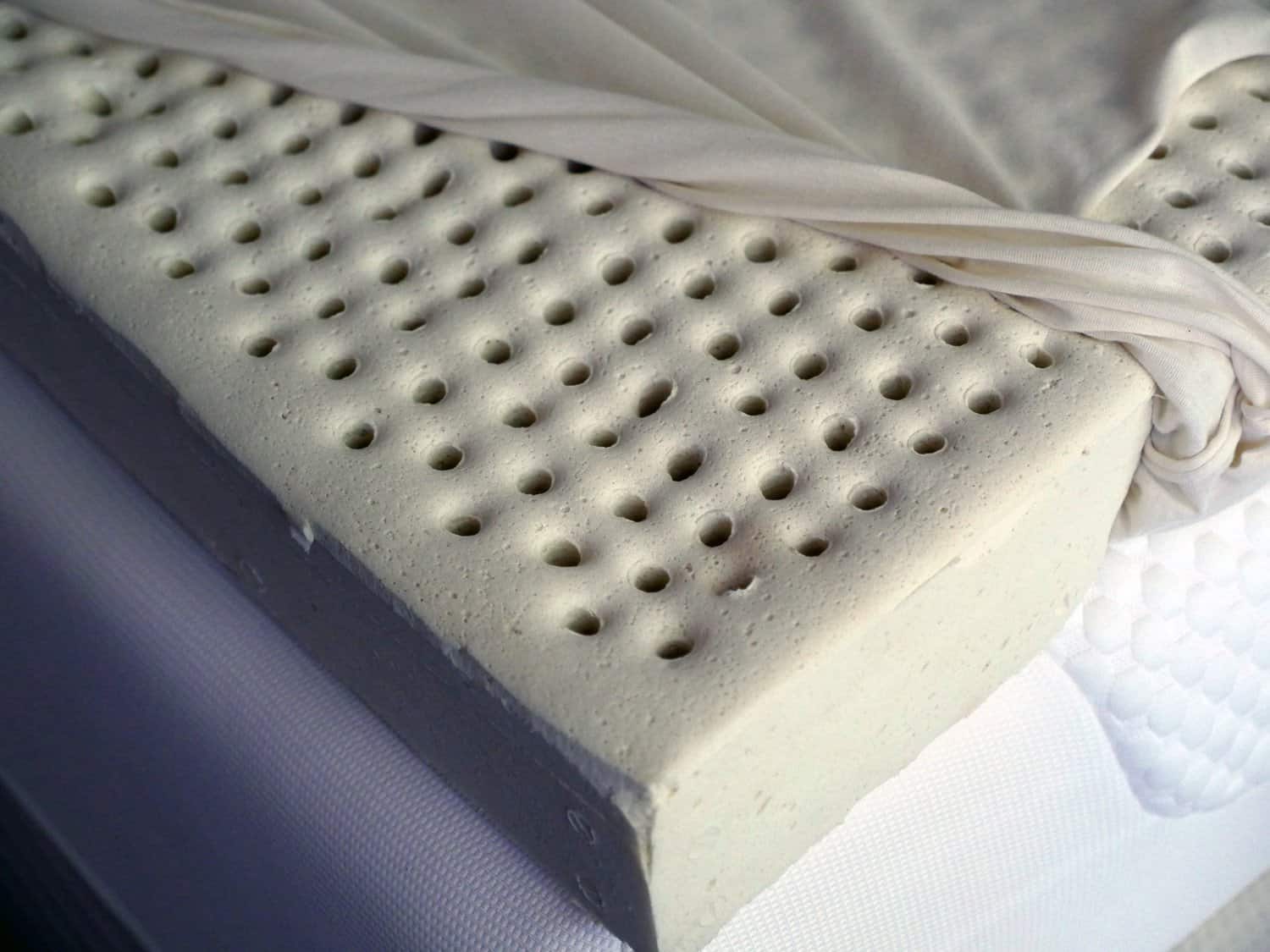 Latex is naturally cooling and bouncy. Latex pillows don't offer the contouring memory foam pillows do, and they usually feel a bit softer than memory foam pillows. Normally, eco-friendly shoppers prefer all-natural Dunlop latex, while luxury shoppers prefer more even-feeling Talalay latex. Learn about the differences between these foams in our Dunlop vs Talalay Latex guide.
Memory Foam vs Latex: Similarities and Differences
Now that you have a basic overview of these two pillow materials, let's talk about their similarities and differences.
Main Similarities
Solid memory foam and latex pillows are both high-density options that help with pain relief by offering uniform support to your head and neck.
Both memory foam and latex pillows are more durable than standard down pillows.
Memory foam and latex pillows are dust mite resistant, which is great for anyone with allergies or asthma.
Memory foam and latex pillows do not require fluffing. They naturally hold their original shape.
Main Differences
Latex can be natural or synthetic, while memory foam is only synthetic. Shoppers interested in natural materials might prefer latex.
Memory foam has a slow response to pressure, and latex has a quick response to pressure.
Latex promotes more airflow and sleeps cooler than memory foam.
Latex is normally expensive. Memory foam can be expensive or budget-priced, depending on its quality.
Memory Foam vs Latex: Which is Better?
So, which of these two pillow materials is better for you? That depends on your sleep preferences! Memory foam contours to your body and is slow to react, while latex is bouncier and more responsive. I'll describe a few universal pros and cons of each material below to help you decide which you might prefer.
Benefits of Memory Foam Pillows
Memory foam pillows offer great body-contouring. This means they'll form to the contours of your head and neck to evenly distribute your weight and relieve pressure.
If you suffer from back or neck pain, memory foam pillows can offer some relief.
Memory foam pillows are great at absorbing motion. So if you share a bed with a restless sleeper, you might feel less disturbed using one of these pillows.
Memory foam pillows are available in a wide range of prices, so budget shoppers and luxury shoppers both have options available to them.
Drawbacks of Memory Foam Pillows
Memory foam can trap body heat and water, which is uncomfortable in warmer seasons. You can choose an open-cell structure or gel-infused memory foam to try and mitigate these heat-trapping tendencies.
Younger children should not sleep on memory foam. They can get stuck in the contours and struggle to breathe.
Benefits of Latex Pillows
Latex is one of the most durable pillow materials available.
Latex pillows feel initially softer to the touch than memory foam pillows. They're nice options for sleepers who like the feel of memory foam, but not its initial firmness.
Latex is naturally anti-fungal, mildew resistant, and hypoallergenic.
Latex is one of the most cooling pillow materials available. It does a great job of regulating temperature, so many hot sleepers like it.
Drawbacks of Latex Pillows
Latex pillows can have an initial foam smell after purchase. This does fade over time.
Latex is not as ergonomically designed as memory foam. So people with joint pain or weight distribution issues may fare better on memory foam.
Should You Buy a Latex or Memory Foam Pillow?
Still not sure about the right pillow material for your needs? Don't worry, I'm going to directly compare three different types of memory foam and latex pillows to help you decide.
As a general rule, memory foam pillows offer a slow response to pressure, a deep sink into the material, and conform to your head and neck. Latex pillows are bouncier, with a quick response to pressure and a bit of light, supportive lift. However, solid latex and memory foam will feel totally different than shredded latex and memory foam. And both options will feel different than a shredded blend of memory foam or latex and another material.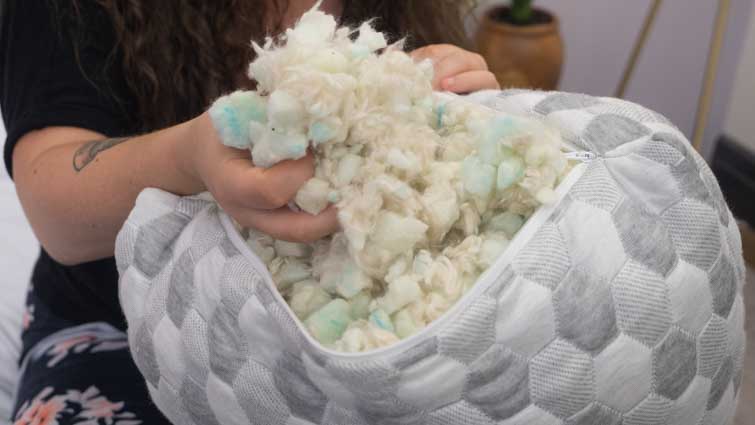 So to help you decide which of these options might work for you, I'm going to compare a solid memory foam and solid latex pillow, a shredded memory foam and shredded latex pillow, and a shredded blend memory foam and shredded blend latex pillow below. Take a look at the lists below to see which pillows I'm comparing, and then read on to learn more about each!
Memory Foam Pillows
Latex Pillows
Solid Latex vs Solid Memory Foam
Let's start out by comparing a solid latex to a solid memory foam pillow. These solid pillows are similarly constructed — they're both dense blocks of foam! But they feel very different. Read on to learn more about each.
Talalay Latex Pillow from Brooklyn Bedding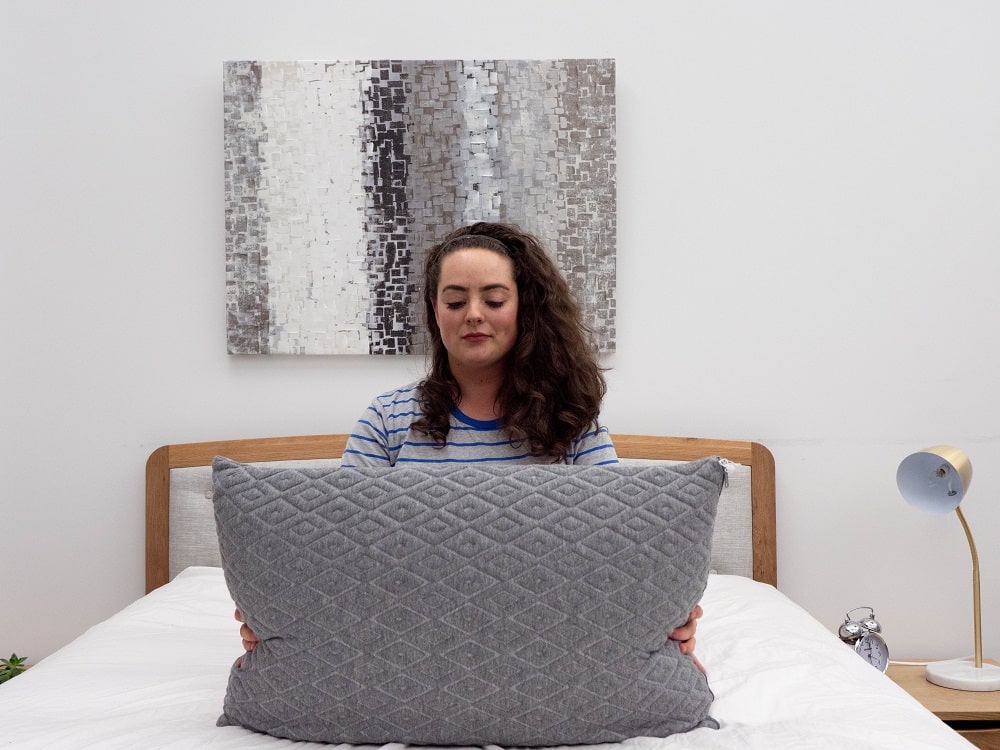 This latex foam pillow has a super bouncy feel. You can (literally) bounce it off the mattress, so you might imagine how sleeping on it provides your head a supportive lift rather than a deep sink.
This pillow is offered in a plush or firm model. Both models feel light, bouncy, and responsive.
This pillow adapts to your shape and moves with your body as you change positions. It should gently cradle your neck in any position.
Interested in bouncy, plush support? Take a look at my full Brooklyn Bedding Talalay Latex pillow review.
Out Cold Pillow from I Love Pillow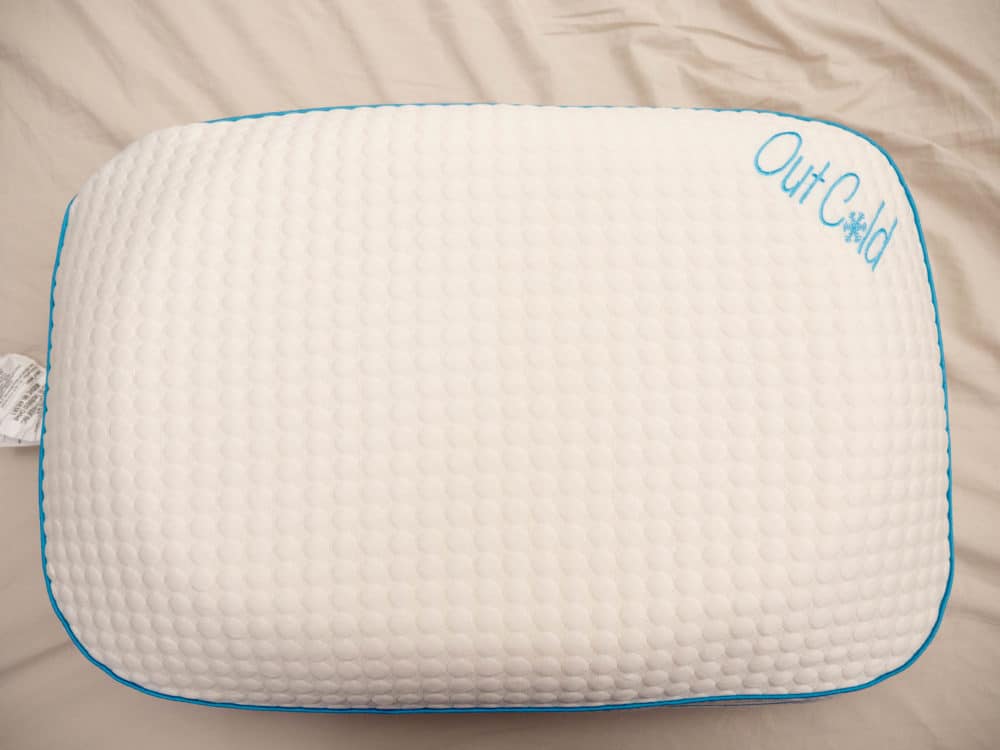 This pillow has an extremely slow response to pressure. Unlike the Brooklyn Bedding pillow, you can feel it conforming deeply to your head and neck.
This pillow features a flippable design. It's flat on one side, and contoured on the other. The contoured side is designed for back sleepers, and meant to enhance their posture and spinal alignment.
Though memory foam tends to trap heat, the Out Cold pillow was designed to be lighter-weight and more cooling than traditional memory foam.
Think you'd get better sleep on this pillow? Check out my full I Love Pillow review!
Shredded Memory Foam vs Shredded Latex
Shredding latex or memory foam creates an entirely different feel than a solid construction. The individual pieces of foam or latex are broken up, allowing them to move freely within the pillow. This is going to offer more shapeability and breathability for both pillow types — but the overall feel and support of each material is still markedly different!
The Saatva Pillow by Saatva Dreams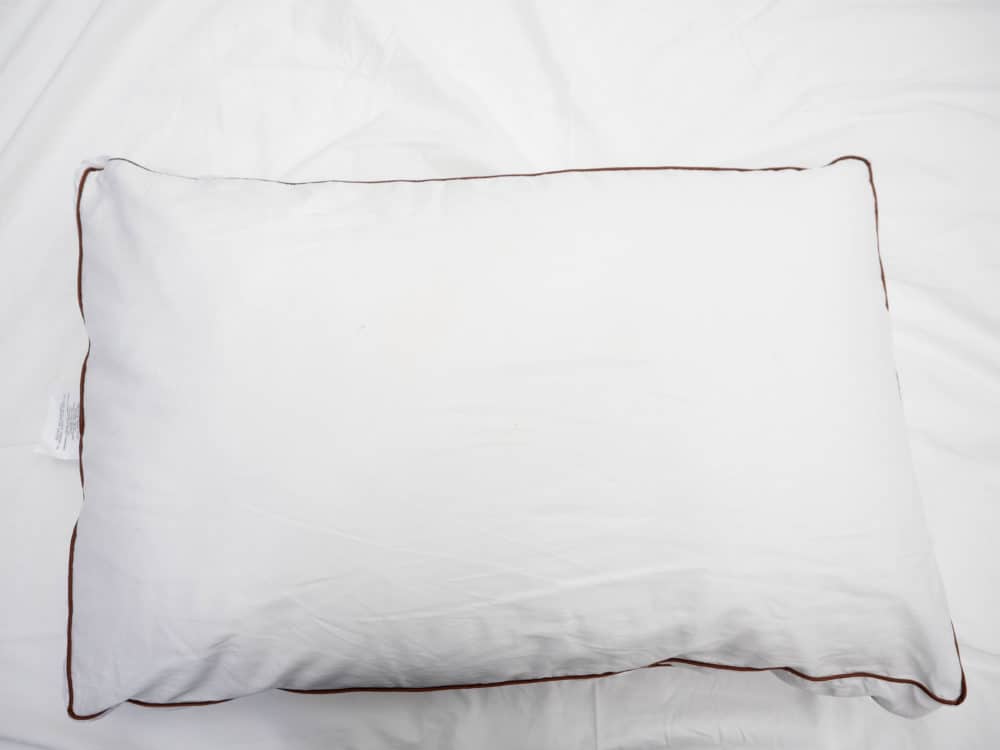 This shredded latex pillow is made with shredded Talalay latex that surrounds a solid latex core. It has a lighter, fluffier feel than solid latex, and is less bouncy than a solid latex pillow.
This pillow is meant to feel supportive and plush, which is why it has a multi-layer construction.
This shredded latex pillow is more shapeable than a traditional latex or memory foam pillow.
To learn all the details on this pillow, be sure to check out my full Saatva pillow review!
Easy Breather Side Sleeper from Nest Bedding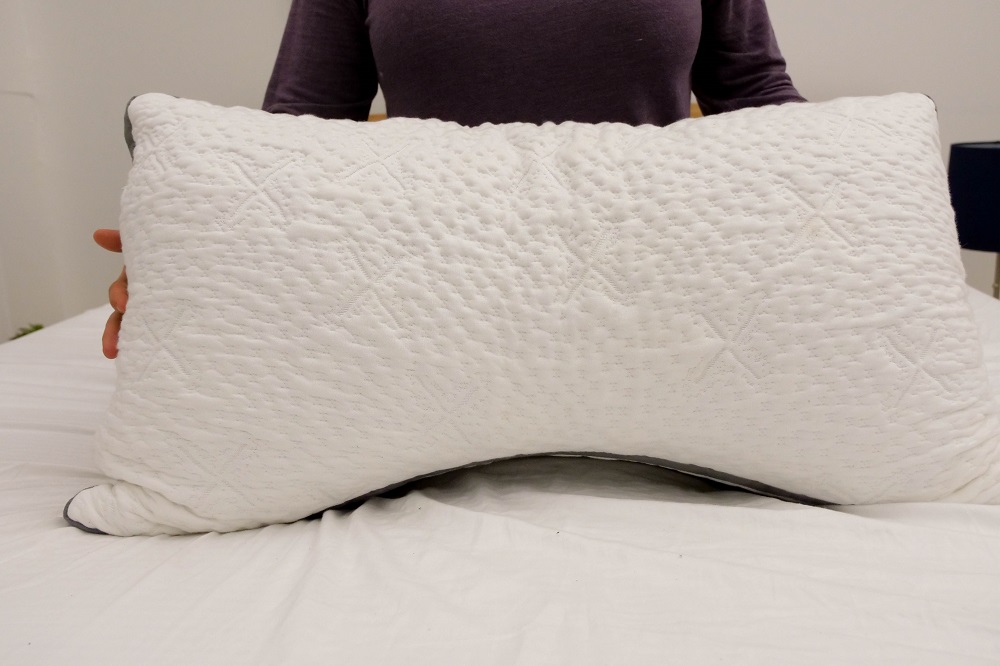 This shredded memory foam pillow feels fluffier than solid memory foam, but still offers slow sinkage and contouring.
This pillow has a high loft, which makes it ideal for side sleepers who need even pressure relief on their head and neck. This pillow is also thicker on the sides and curves in the center, which allows side sleepers to roll back and forth while keeping their necks supported.
Shredded memory foam like this is more breathable than traditional memory foam. This specific pillow is also more moldable, because you can unzip the cover and adjust the foam to meet your preferences.
Find out more in my full Easy Breather Side Sleeper pillow review.
P.S. If you're into the idea of shredded memory foam, but you're looking for a more traditional shape, the memory foam pillow from Coop Home Goods might be just the ticket.
Shredded Memory Foam Blend vs Shredded Latex Blend
Mixing shredded memory foam or latex with a more traditional pillow fill material normally creates a balanced feel. I'd say the pillows below feel most similar to a traditional down pillow, but retain some of the special properties of memory foam and latex.
The Avocado Green Pillow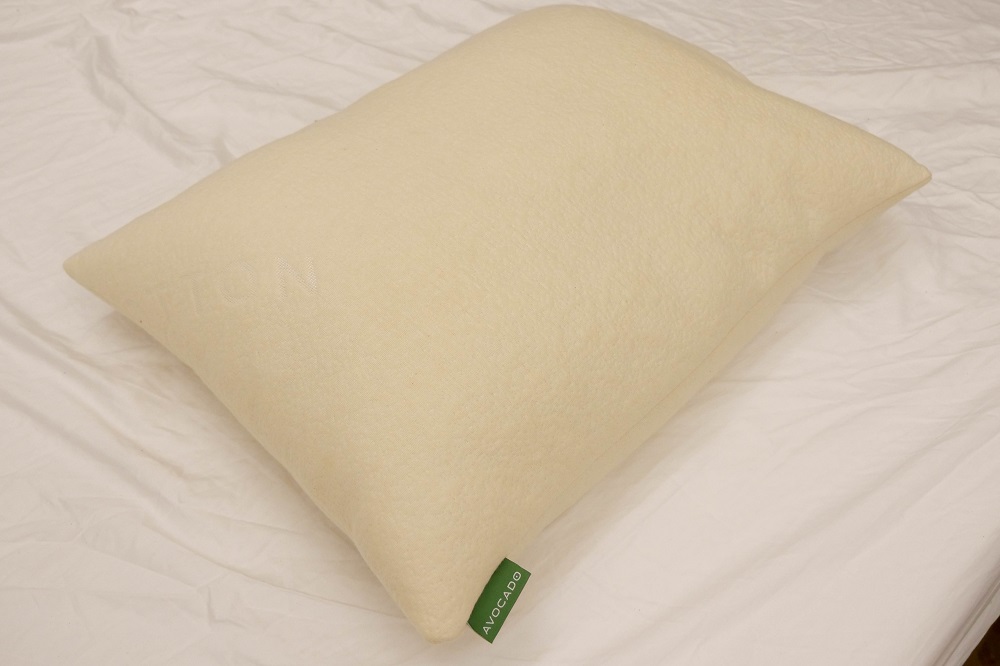 This blended latex pillow is filled with Dunlop latex shreds and Kapok fibers. Kapok is a natural fiber with a fluffy, cotton-like feel.
This pillow has a medium-firm feel and a quick response to pressure. But it offers some sinkage, and features less supportive lift than solid or shredded latex pillows.
This pillow is adjustable, so you can reach in and mold the fill as needed.
For the full scoop on this pillow, check out my Avocado pillow review!
The Layla Pillow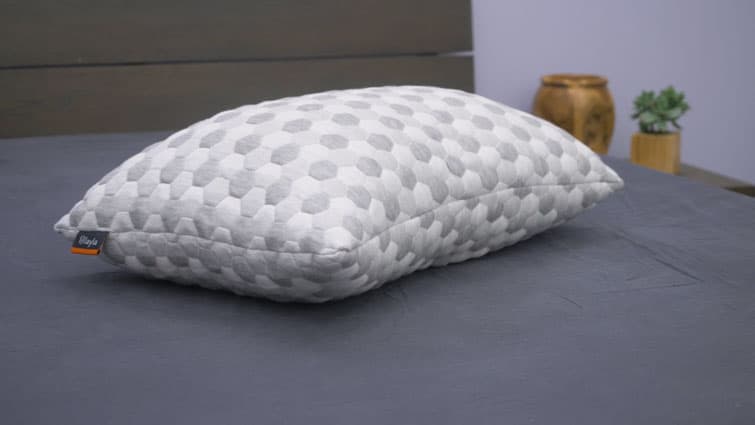 This blended memory foam pillow combines shredded gel memory foam and Kapok fibers.
This pillow has a high loft, but offers deep sinkage. It's great for side sleepers who need pressure relief around their shoulders.
This pillow has a denser feel than a latex blend pillow, but a fluffier and more responsive feel than a solid or shredded memory foam pillow.
Check out all the details in my full Layla pillow review!
Latex vs Memory Foam: Recap
Well, we've gone over the memory foam vs latex basics and taken a look at six specific pillow examples. To recap, let's go over the basics one more time so you know what to look for when you're shopping for a pillow on your own.
Compared to memory foam, latex offers
A quicker response to pressure
More buoyant support
Lighter density
A softer feel
Compared to latex, memory foam offers
A slower response to pressure
Deeper sinkage
Thicker density
A firmer feel
My Final Thoughts
A great new pillow is meant to complement a great new mattress, so make sure you're sleeping on a bed that works for your needs. It would be a shame for your pillow's hard work to go to waste because you're sleeping on the wrong mattress!
If you're a latex or memory foam lover, I want to point you to our best latex mattress and best memory foam mattress guides. Your pillow material doesn't need to match your mattress material, focus on finding the feel that makes you most comfortable. We have plenty of great mattress options for all sorts of sleepers.
At the end of the day, everybody is different and our sleeping habits are prone to change over time. So, it's important to remember that finding the best mattress or pillow for your needs can take a bit of research. Luckily, the Sleepopolis team is always here to help with that!