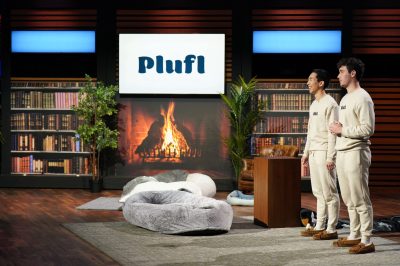 It's not easy to strike a deal with the sharks of ABC's reality television show Shark Tank, but recent college grads Yuki Kinoshita and Noah Silverman managed to convince two of the sharks — Mark Cuban and Lori Greiner — to invest in the Plufl, a dog bed for humans, in the most recent episode aired on October 21, 2022.
Sleepopolis spoke to Kinoshita and Silverman in March of 2022, when their Plufl prototype started going viral on TikTok. The entrepreneurial students were launching a Kickstarter campaign to fund production of the first batch of Plufls after their TikToks gained traction as they finished their final year at the University of British Columbia.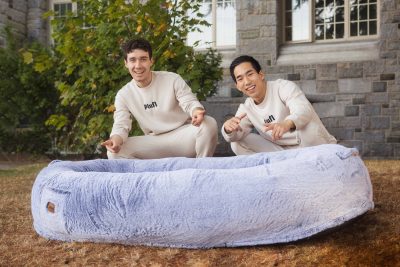 Fast forward to six months later — Kinoshita and Silverman have successfully launched Kickstarter and IndieGogo campaigns, which have raised nearly $725,000 combined, and have also now secured a $200,000 investment from Cuban and Greiner for a 20 percent stake in the company.
With the Plufl starting to pick up steam beyond TikTok, we decided to check back in with the young entrepreneurs behind the dog bed for humans.
Perfecting the Plufl
The crowdfunding campaigns launched while Kinoshita and Silverman were still in college, but with college degrees under their belts and cleared schedules, they were able to devote themselves to Plufl. The Plufl is marketed as "a dog bed for humans," inspired by a giant dog bed Silverman's boss at a coffee shop had for his pet Great Dane. Silverman and Kinoshita, who love naps and consider themselves "floor people," thought a similar product should exist for people.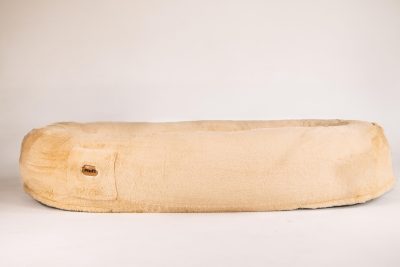 "As we were graduating, we're like, 'Okay, we now have a real business on our hands and we're going to spend every single moment we have to figure out how to launch the business,'" Kinoshita told Sleepopolis. With thousands of expectant customers, the pair knew there was clearly a market for this product, so it was time to perfect it.
"We spent the past few months really working on just developing and iterating on the product… continuing to work on our design, prototyping, sampling different fabrics, testing out different foams, just getting the very best Plufl we could," Silverman said.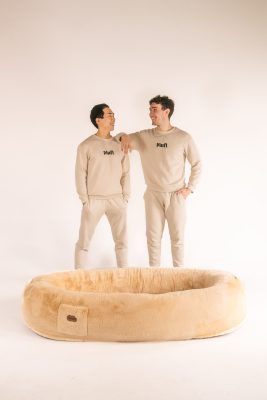 The Plufl the team originally showcased on TikTok was their handmade prototype, so they had to figure out how to produce that design at scale. They also made a few changes to the design, such as situating the bolster more on top of the foam bed, to make it even easier to tuck your hands and feet into it.
They also spent time sourcing the best materials, such as the ideal faux fur for the cover and the best foam for the pad, settling on a high-density orthopedic, gel-infused memory foam.
Plufl, Meet the Sharks
Sleepopolis wasn't the only one to take notice of the Plufl after it went viral on TikTok — a producer at Shark Tank reached out to Kinoshita and Silverman after seeing their posts.
The two then spent a month preparing their pitch, filming audition videos, and meeting with producers before actually presenting the Plufl to the sharks as an opportunity to invest in.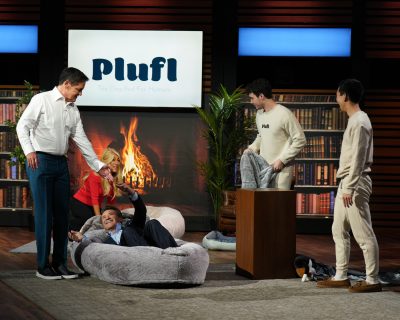 "It was pretty surreal, honestly," Silverman said of the Shark Tank experience. "I think Yuki and I also just spent so much time watching the show in preparation, of course, over and over and over again, so actually being in there in front of them was crazy."
Kinoshita echoed the sentiment, saying he "felt like [he] was in a video game," while presenting to the sharks.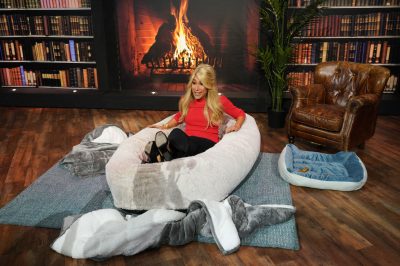 The duo planned a theatrical pitch, including bringing a dog named Kipper onstage and pulling a blanket off the Plufl in a dramatic reveal. They were confident, but worried the sharks might not take their product seriously. But once the sharks actually tried laying in a Plufl, Kinoshita and Silverman felt a deal might be coming their way.
Then, "maybe 10, 15 minutes in, I already saw Lori stand up and start whispering to Mark," Kinoshita said. "I don't know if they caught it, but I was smiling so much because I knew that a deal was about to come from them two and we always wanted to deal with either Lori or Mark… [we] didn't even imagine having them both on board."
Even as the other sharks decided they were out, Kinoshita felt confident a deal from Cuban and Greiner was coming. "Emma Grede says like, 'Oh, I don't get this at all. I don't get it,' and it wasn't the most positive comment, but I was just smiling… I'm completely unaffected because I'm like, 'Whatever. I see a deal coming right now.'"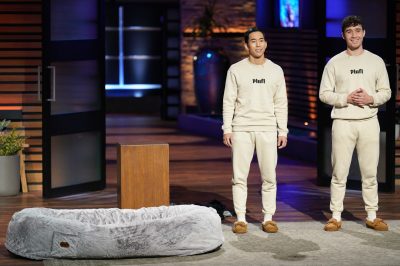 Cuban and Greiner, who had previously teamed up to invest in the Sleep Pod by Hug Sleep, offered Kinoshita and Silverman a deal of $200,000 and a 20 percent stake in the company — close to what the Plufl team had hoped for: a $200,000 investment for a 10 percent stake.
What's Next for Plufl?
With a big investment coming from Cuban and Greiner, along with the crowdfunded capital, Kinoshita and Silverman intend to focus on inventory. "Our focus is really just taking every dollar we make back to growing and scaling inventory," Kinoshita told Sleepopolis.
However, the duo hinted that more Plufl products could be coming in the future. "A human dog bed isn't crazy enough. We're going to have more crazy ideas," Kinoshita said.
And don't worry, they are still posting lots of hilarious videos over at @weareplufl on TikTok.