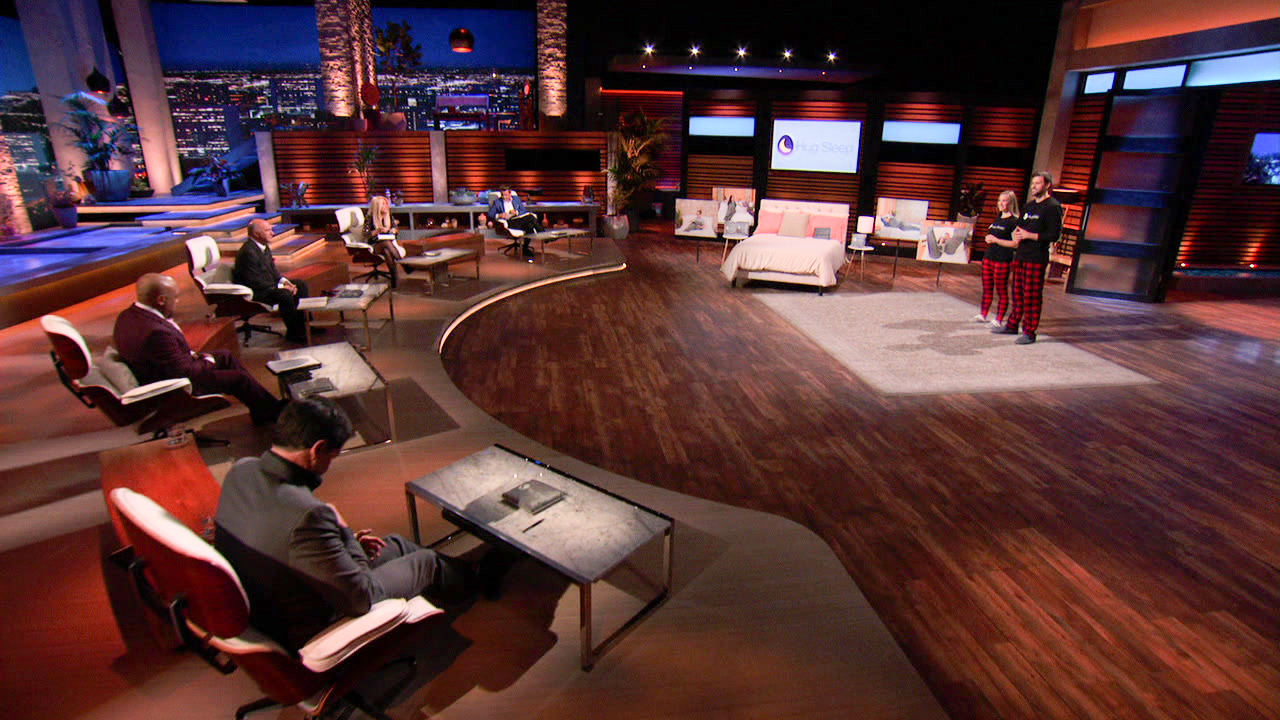 On the most recent episode of Shark Tank, two of the investors/"sharks" on the show, Mark Cuban and Lori Greiner, gushed over a previous product they struck a deal with, the Sleep Pod by Hug Sleep. It's often lovingly referred to as an adult swaddle. Cuban, a billionaire entrepreneur, said, "I literally use it every night. I sleep so much better in my Hug Sleep." 
The entrepreneurs on this episode were presenting their product Plufl, which is a dog bed for humans (yes, really), and said Hug Sleep's been a huge inspiration for them. It ultimately played a role in them landing a deal. 
While reflecting on their joys of partnering with Hug Sleep, the sharks noted the company's at $15 million in sales since they first appeared on the show. It was almost exactly two years ago when Shark Tank viewers watched Matt Mundt and his wife Angie Kupper introduce their unique sleep product, the Sleep Pod. Although Mundt, CEO and Founder of Hug Sleep, had confidence in their design, he says he never thought it'd result in a shark feeding frenzy — they received competitive offers from everyone and are still discussed on the show today.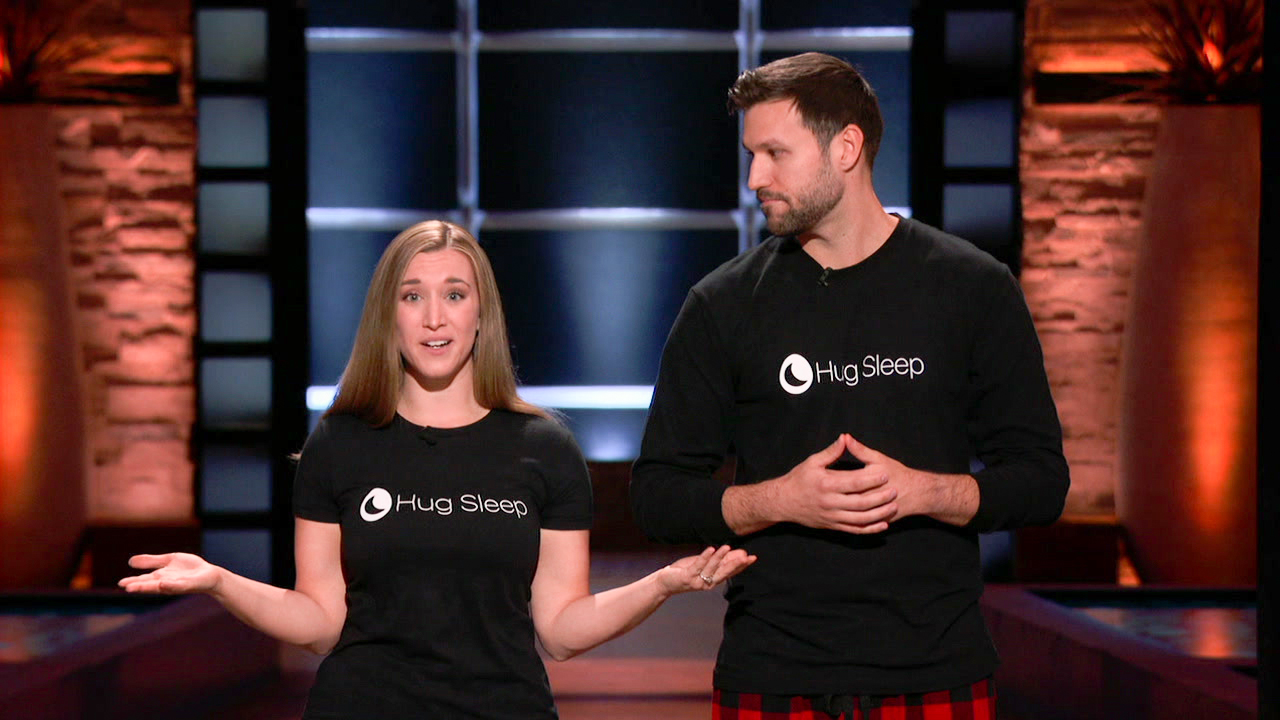 "We never actually thought it was going to happen," says Mundt. "I knew we had pretty good numbers for only being in business for a year, but the product at the end of the day is very different, it's very unique, and that's something that we've leaned into. You just never know."
To honor the Hug Sleep episode's two-year anniversary, Sleepopolis spoke with Mundt about the experience and what's happened since with the Sleep Pod. He talked to us about everything from how they ended up on Shark Tank (and how he almost accidentally blew the show off) to what's next for the company.
How The Sleep Pod Was Born
As I described in my Sleep Pod review, it's like a cozy, lightweight, and stretchy sleeping bag tailored specifically to your body. The Sleep Pod utilizes a soft, four-way stretch material and Deep Pressure Therapy (DPT) to help relieve stress and anxiety, as well as help people fall asleep faster.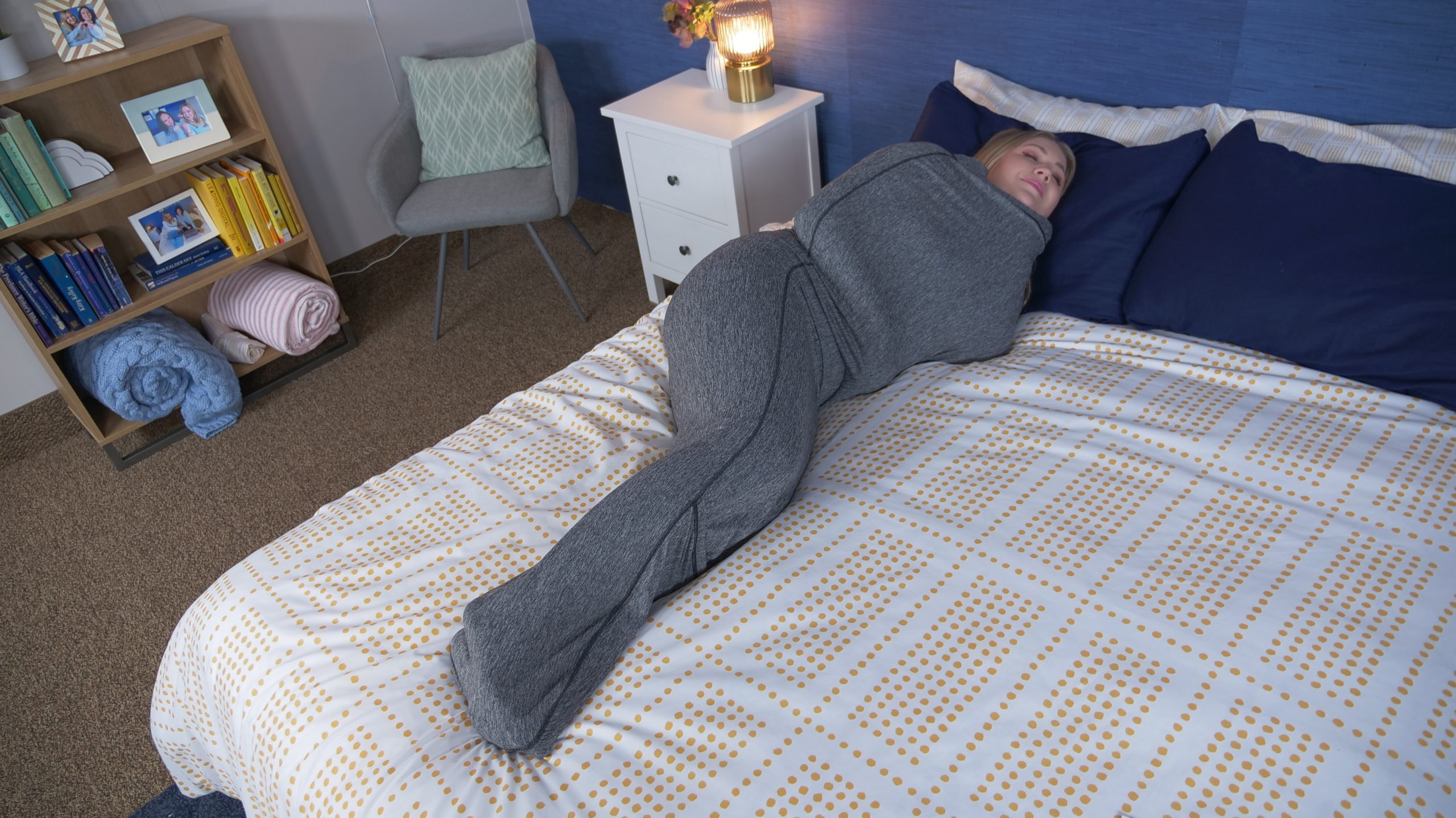 Mundt's idea for the product came from his own personal experience. He describes himself as a "lifetime troubled sleeper." He says he's struggled falling asleep and staying asleep since he was a child — so when weighted blankets gained popularity several years ago, he was thrilled to try one. 
Although he enjoyed the one he bought while lounging, sleeping was a different story. He says it trapped heat and it didn't fit well with his six-foot-three build. He also didn't like that it was difficult to wash and travel with.
Having a professional background in product design, Mundt decided to use what he liked about the weighted blanket and try to create his own product without the drawbacks. It took about a year of brainstorming and prototyping before he came up with the Sleep Pod design. 
Explaining the differences between the pod and a weighted blanket, Mundt says, "You still get that same gentle, calming pressure, but it really wraps around your body so it doesn't feel like you're being pressed down — like a lot of weighted blankets — but almost being cuddled or swaddled." 
He says he started using his invention and saw a drastic improvement in his sleep. But here's the surprising thing: He created this Sleep Pod just for himself. He wasn't thinking about it as a business idea when he designed it. That is, until his wife, Kupper, noticed how well it was working and wanted one for herself. After Mundt created one for her, she convinced him to start selling them. Kupper is a behavioral therapist and instantly saw the benefits and therapeutic effects the Sleep Pod could have on others. 
"She really pushed for me to try selling these products and initially, I started Hug Sleep as a side hustle. I was working in corporate America, I wasn't too happy with my job, and this was something I just put a few hours into every week," says Mundt. "And it just exploded really from the get-go."
Accidentally Ignoring Shark Tank
A couple national media outlets covered the Sleep Pod when it launched in early 2019, so Hug Sleep received a bump of momentum early on. Mundt says they were selling the product for only a few weeks and were receiving floods of emails from customers, bloggers, journalists, and of course, scammers. 
One email was from someone who claimed to be an executive producer for Shark Tank saying he was scouting for entrepreneurs for the upcoming season and was interested in Hug Sleep.
"Being a young, naive guy at the time, I thought, 'Wow, maybe this is actually true, maybe Shark Tank wants us,'" says Mundt. "I remember talking to my brother, who can be a little cynical, and I mentioned that, and he goes, 'Matt, there's no way Shark Tank wants you on their show. You just started selling, you've been in business three weeks, there's no way.'"
Mundt says he also thought the email had some red flags with typos and not a clear address, so he didn't respond.
Then a year later, the same person emailed again with a similar message, saying Shark Tank is still interested. At this point, Mundt says he decided to respond, thinking to himself, 'Man, this scammer is really putting in the work to wait a whole year and to send another message.'" He again ran it by his brother, who said he'd bet him $500 that it wasn't really Shark Tank. 
Mundt says he told the sender he was interested, but he asked to see proof he worked there. He says the person responded with a picture holding Emmys and a sign that had the company name on it. 
"It was like, 'Oh my God, it's actually real.' And that's how it started."
Striking a Deal With Sharks
Shark Tank flew Mundt and his wife from Wisconsin to Las Vegas to appear on the show in 2020. He says they continued feverishly rehearsing their pitch and studying the business numbers in the hotel room. After hundreds of rehearsals, muscle memory took over when they presented on the Shark Tank stage. Mundt says it felt like being in a time warp where what he thought was 10 minutes was actually closer to 90. 
"The whole thing just felt like an out-of-body experience," he says. "I've grown up watching the show. I'm a huge fan of it. I've always had an entrepreneurial spirit, but never in a million years did I think I'd end up on the show."
He and his wife talked about how in their best case scenario, they'd work out a deal with Mark Cuban and Lori Greiner (two of the very popular "sharks" on the show), but neither of them thought it was realistic. Sure enough, the stars aligned. They struck a deal of their dreams with the two investors and still regularly talk to them.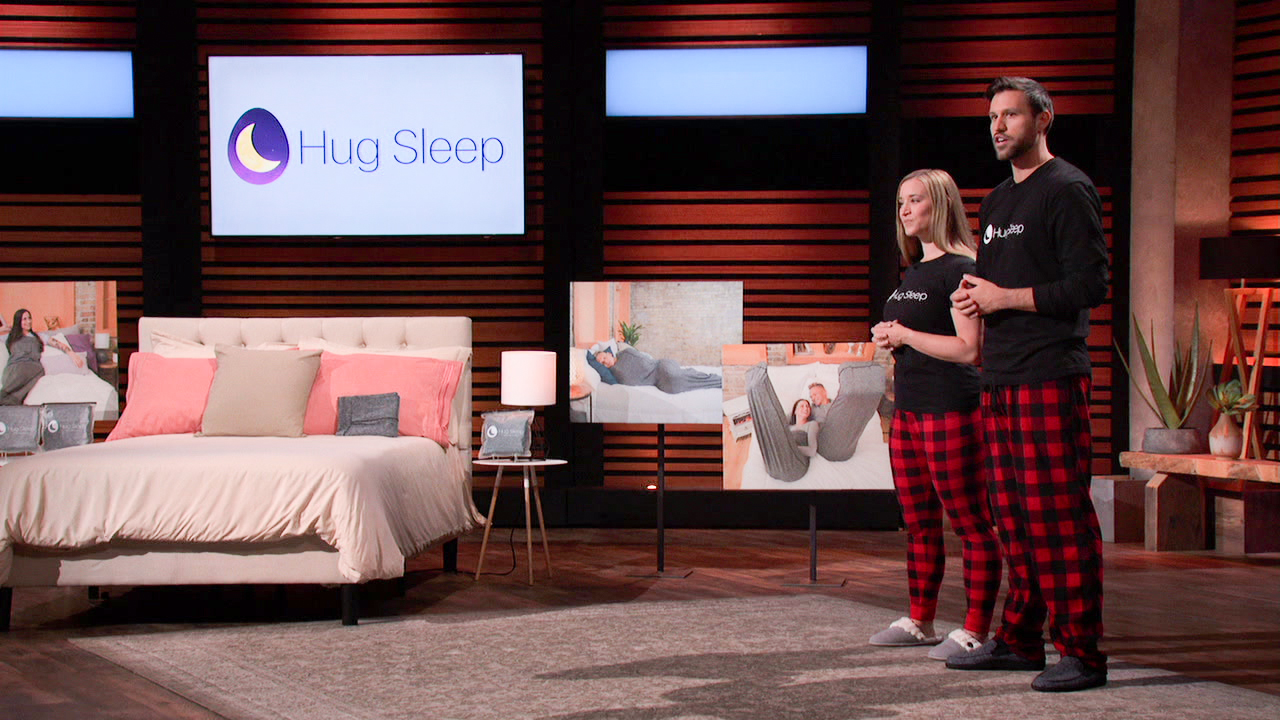 "Both of them are just business titans," says Mundt. "They always have great advice and great tips."
He says the show helped accelerate their business by several years and boost their success. When they first appeared on Shark Tank, they'd sold less than 5,000 units. Now, they're at around a quarter of a million.
"It's been incredible. It's been an incredible experience. Being on the show — it still feels surreal, even to be talking today."
Mundt says he's extremely grateful he ultimately decided to respond to the Shark Tank executive producer (though he never got the promised $500 from his brother). He can't believe it's been two years, adding, "In some ways it feels like it's been a decade and in other ways it feels like it was just yesterday."
What's Next For Hug Sleep
Mundt says he's learned being a small business owner you need to be agile, make mistakes, and learn quickly. He views Hug Sleep as a sleep and wellness platform they plan to keep growing.
"We're really doubling down on our core product Sleep Pod," he says. "We're a small business at the end of the day, and I'm really able to keep my finger on the pulse of the customer and kind of what they want, so we're constantly evolving, constantly making small tweaks to the product, and then also adding new additions and new versions."
Their most recent addition is the Hooded Sleep Pod. It features all the strengths of the original model and the since upgraded mobility models, but it also has an added hood to wear. Mundt says customers were requesting this addition, so they listened. And they're glad they did. It's already one of their best selling products. 
They've also expanded their product offerings with a specialty loungewear line. Mundt says they're eager to keep expanding, and expects to announce some exciting news in the coming months — all with the goal of helping others.
"Every person we can help, it's just such an honor to do so."
Sleep Pod Collection

Hug Sleep has a handful of different adult and kids Sleep Pod models you can check out. They're all designed to help reduce anxiety and make you fall asleep faster.