The Sleep Pod by company Hug Sleep is, to put it simply, an adult swaddle. It's a soft, lightweight wearable blanket. It's shaped almost like a sack that you climb into and pull over your body to relax or sleep in a cocoon-like state. The product's intention is to make it feel like you're receiving a gentle hug — ultimately reducing anxiety and helping you drift to sleep. It gained popularity after appearing on the hit show Shark Tank in 2020 and receiving a deal with one of the sharks.
Sounds interesting, right? Well, I had to take it for a spin to find out more and will report all my findings in this Sleep Pod review — from its materials to its functionality to its company policies. There's a Sleep Pod Move, a Hooded Sleep Pod Move, a Sleep Pod Move for Kids, and the original Sleep Pod. I tested the Sleep Pod Move, which means you have the option to move your feet out of it. Keep reading for the nitty-gritty details, or skip down to my review summary for a recap. 
Hug Sleep Pod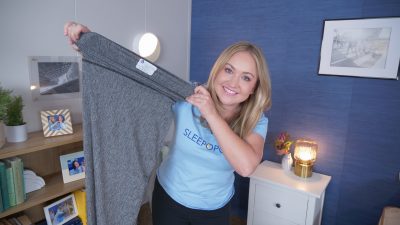 The Sleep Pod Move by company Hug Sleep is an adult swaddle with increased mobility. It's designed to help reduce anxiety and make you fall asleep faster.
Read Full Review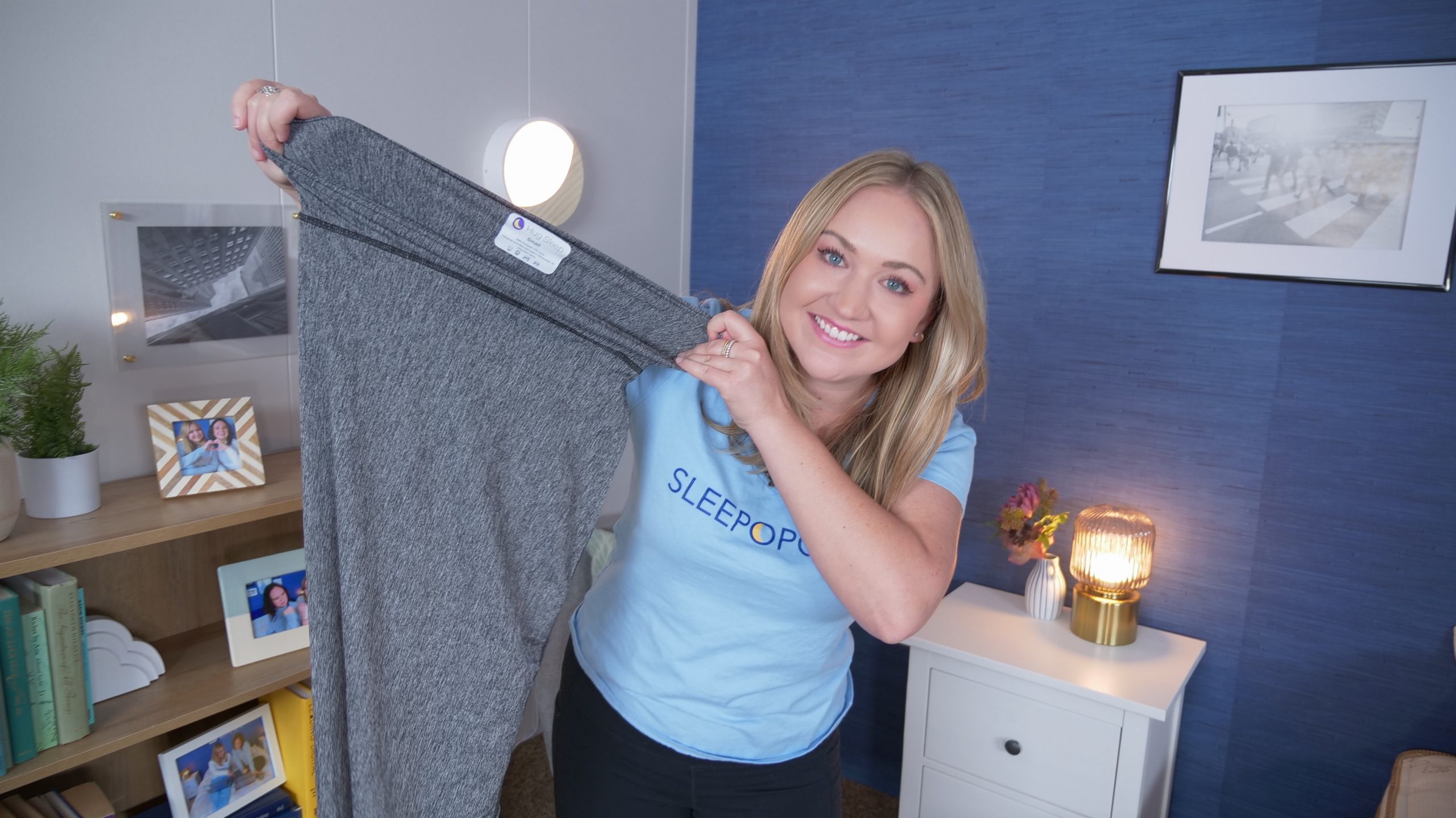 Who The Sleep Pod Could Be Good For
Now that I've given you an overview of Hug Sleep's Sleep Pod, I want to offer a brief summary of who I think would and would not like it.
Who Should Try the Sleep Pod
Anyone who

enjoys being snuggled or wrapped up in blankets.

This product really does feel like a cozy cuddle. It could be a nice alternative to a

weighted blanket

.

Those who

like to experiment with trendy sleep products

, this is definitely one to take a look at. Numerous reviewers have said they started out skeptical and then found it to help them get to sleep faster and have better sleep overall.

Sleepers

interested in trying Deep Pressure Therapy

(

DPT

), which is a sensory touch method to help alleviate nerves and anxiety while boosting happiness. The Sleep Pod is built using this technology.
Who Should Not Try This Product
People who feel

claustrophobic if wrapped up

in a blanket may not like how this product encases your entire body.

Sleepers who like to

move around and sprawl out on the bed

might not like how contained they'll be in this pod. 

Anyone with

mobility issues

may struggle to get in and out of the pod. 
Hug Sleep Pod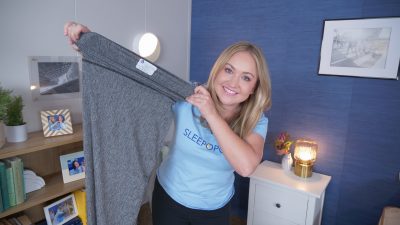 The Sleep Pod Move by company Hug Sleep is an adult swaddle with increased mobility. It's designed to help reduce anxiety and make you fall asleep faster.
Read Full Review
How To Use the Sleep Pod
It's pretty easy to use this product. You just climb on in — one foot at a time! You pull the opening above your chest or shoulders, so your entire body neck down is wrapped up in the pod. There's a flap near the feet area that you can pull down to bring or keep your feet out. The top of the pod is stretchy material, so you can keep one or both of your arms out of it if desired as well.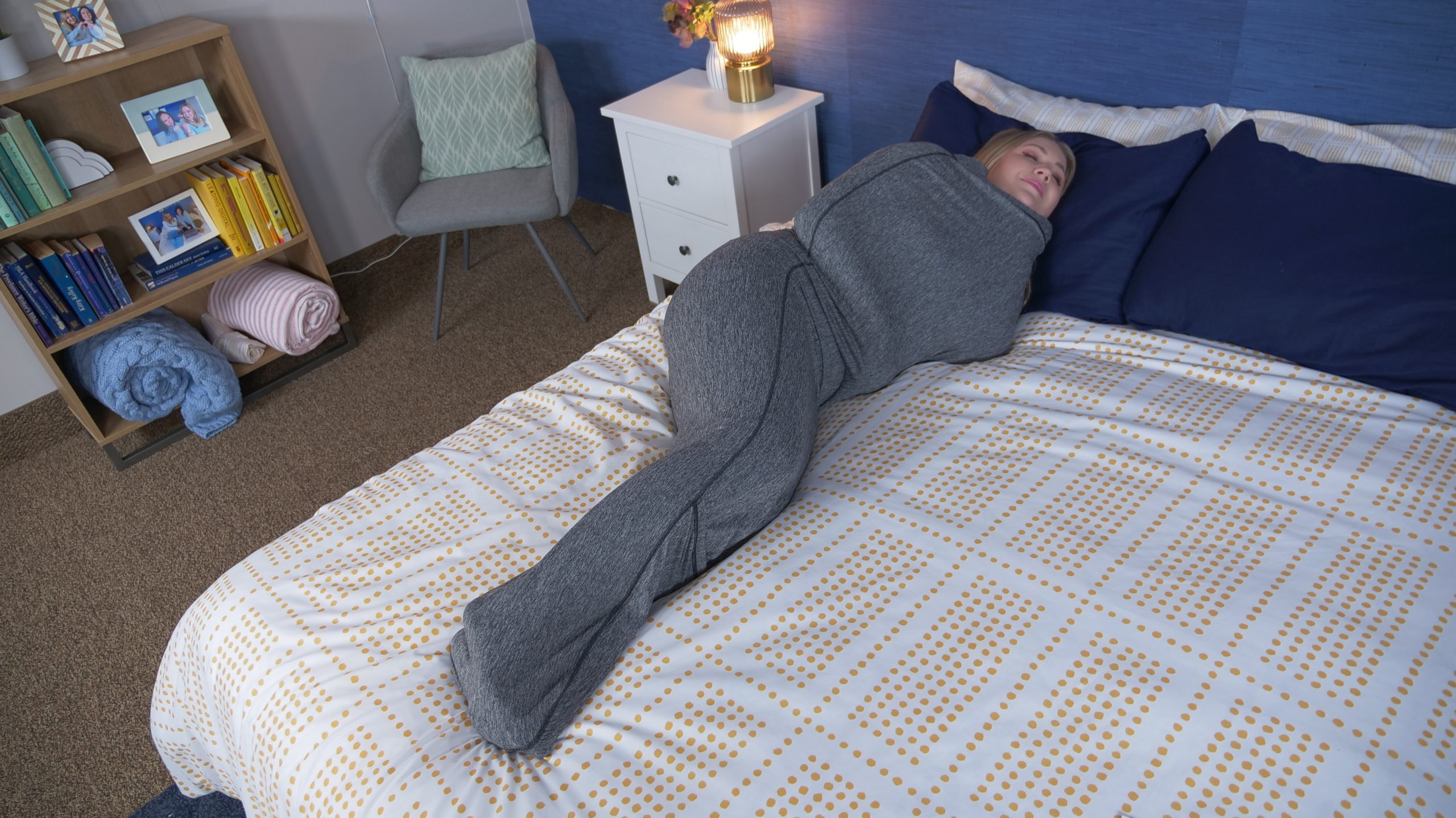 What is the Sleep Pod Made Of 
The Sleep Pod is made of 89 percent polyester and 11 percent lycra. It has a soft, stretchy, lightweight feel. The material kind of reminds me of something I'd like in leggings or athleisure wear. 
It's unisex and comes in the sizes small, medium, large, and x-large. For reference, I'm 5'4" and found the small to fit me perfectly. The medium felt a touch big/baggy on me. The company says if you're in between sizes to size up.
The Sleep Pod is machine washable.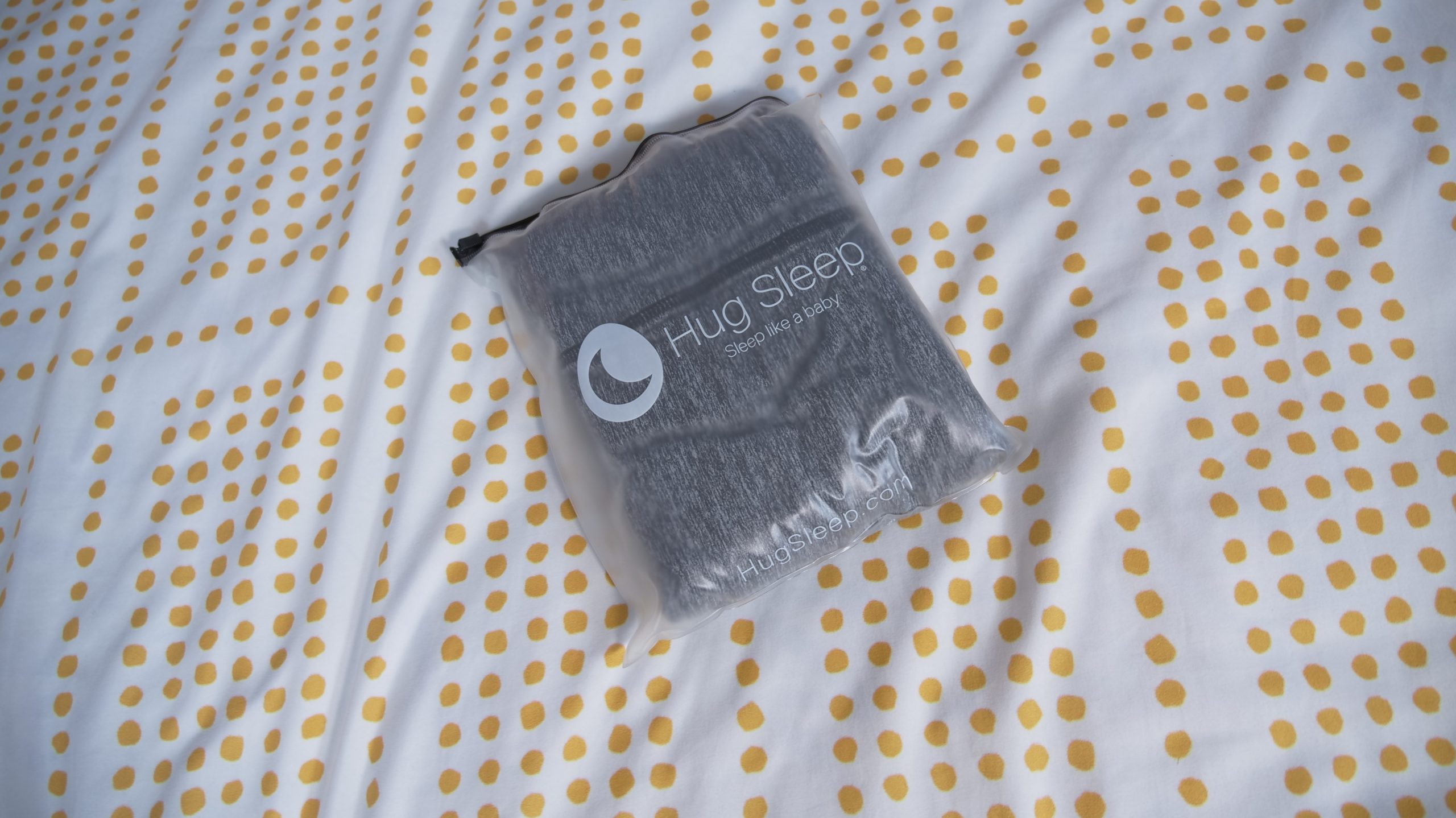 My Experience Using the Sleep Pod
Below, I'll go through my experience trying out the pod. 
Day One
The Sleep Pod definitely felt weird to put on at first, especially when I had it above my shoulders with my entire body and arms wrapped up. The material felt buttery soft, breathable, and stretchy, so I didn't feel trapped in it. When going to bed, I kept my sheets off of me to prevent any overheating (I tend to sleep hot) and curled up. After a few minutes of adapting to it, I actually felt quite comfortable and surprisingly snug. The light compression felt like a gentle embrace. 
I slept solidly in it for most of the night and eventually got under the covers without overheating, but I did find times of wanting to bring my feet out to get some air and move around a little bit more. When I had to get out of bed and walk to the bathroom a few hours before I needed to be awake, I didn't find it too difficult to release my feet from it and waddle around while wearing the pod. However, when I got back to bed, it was hard to fall back asleep with it on, so I ended up taking it off for the rest of my sleep.
Day Two
The second night I used the Sleep Pod I had the initial thoughts of, "What do I do with my arms again?" It took me a few minutes of shifting around to get into a comfortable position and to not feel a little toasty in the pod. To be fair, I had taken a warm shower not long before climbing into bed. I don't think the Sleep Pod is necessarily hot, but it's not a cooling product either. After a bit of adjusting and trying not to think about being in the pod and whether or not it was hindering me falling asleep, I drifted off. 
The Sleep Pod really does feel like a nice embrace and like you're in a sleeping bag tailored specifically to your body. However, it wasn't long before I kicked my feet and arms out of it so I could be more mobile — I never realized how much I like to sprawl out and move around in my sleep! I ended up taking it off halfway through the night. 
Day Three
My third night using the Sleep Pod felt much more comfortable and was less of a mind game. I fell asleep rather quickly and slept well. As a back and side combination sleeper, I felt it was conducive to both those positions once I found my sweet spot of where to keep my arms. It creates what feels like your own safe space for sleeping by bundling you up and keeping you cradled. I kept it on longer than the previous nights and actually preferred having my feet in it since I was getting cold with them out of it. 
I think it would take me a few more nights to get fully used to sleeping with it, but it did have some therapeutic benefits as it snuggled me up and helped promote a sense of calmness.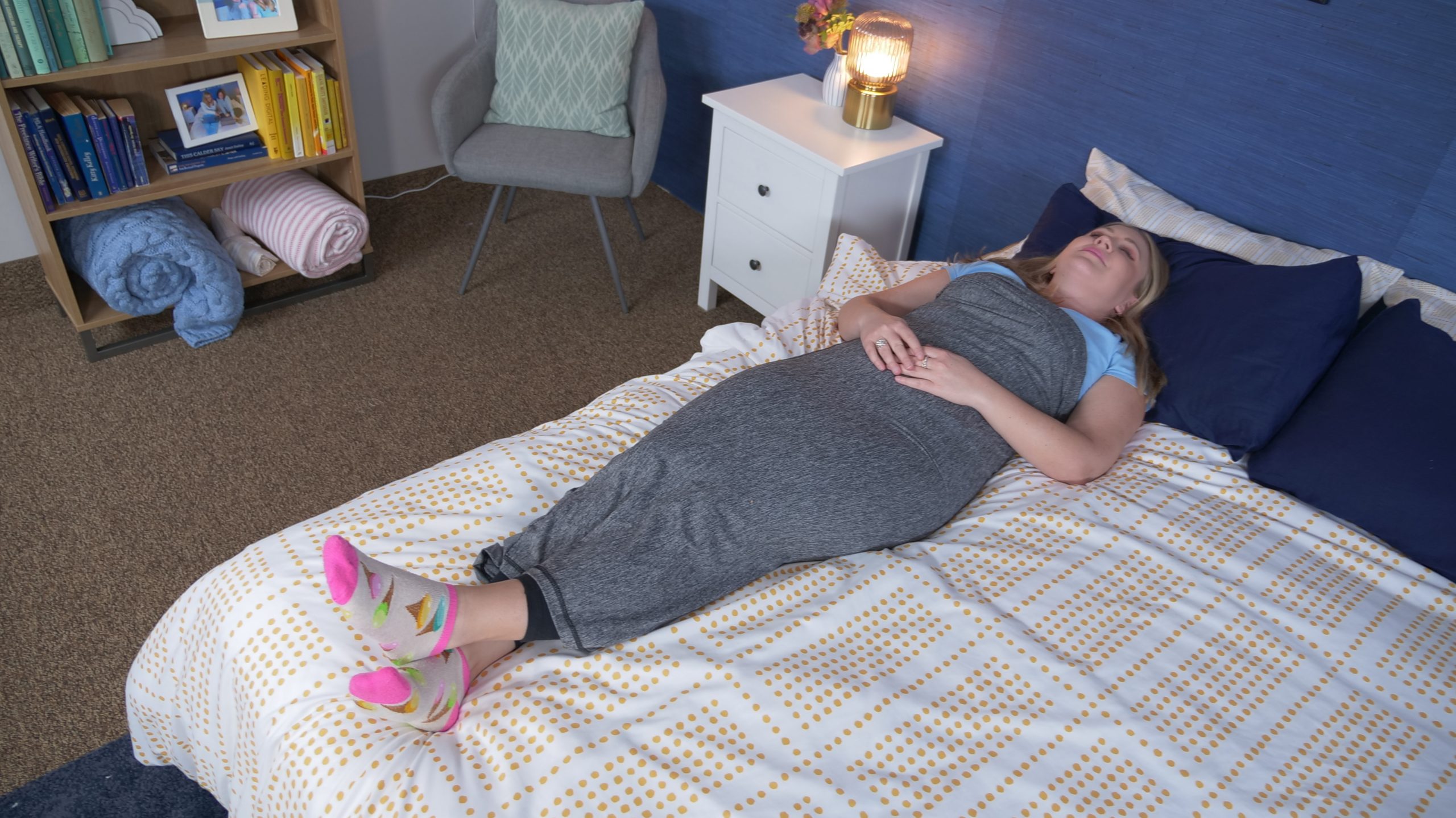 Lounging
I tried the Sleep Pod both sleeping and lounging around. As for lounging on the couch and at my desk, it also felt really cozy. You kind of forget it's on once you find yourself in a comfortable position.
A Second Opinion
Because I think the Sleep Pod is a totally fascinating concept, I wanted to bring in another opinion. I had my coworker Amelia also try it out for a night. Here's what she had to say: 
"I was intrigued to try out the Hug Sleep Pod, but I have to say that I have mixed feelings. I definitely felt the comforting, swaddling effect the pod is supposed to provide, but I had a hard time getting comfortable enough to actually sleep in it. The material it's made of is really cozy — it reminded me of leggings. I ended up not being able to sleep in the pod all night because I felt a bit too constricted, but I could see myself using it for a nap. 
My boyfriend tested it out, too and he actually loved it, but also didn't think he would sleep in it all night. He thought it would be a great addition to a sleeping bag for camping or for just wearing while sitting on the couch to watch TV. While I think that would be a hilarious sight, I can see his point!"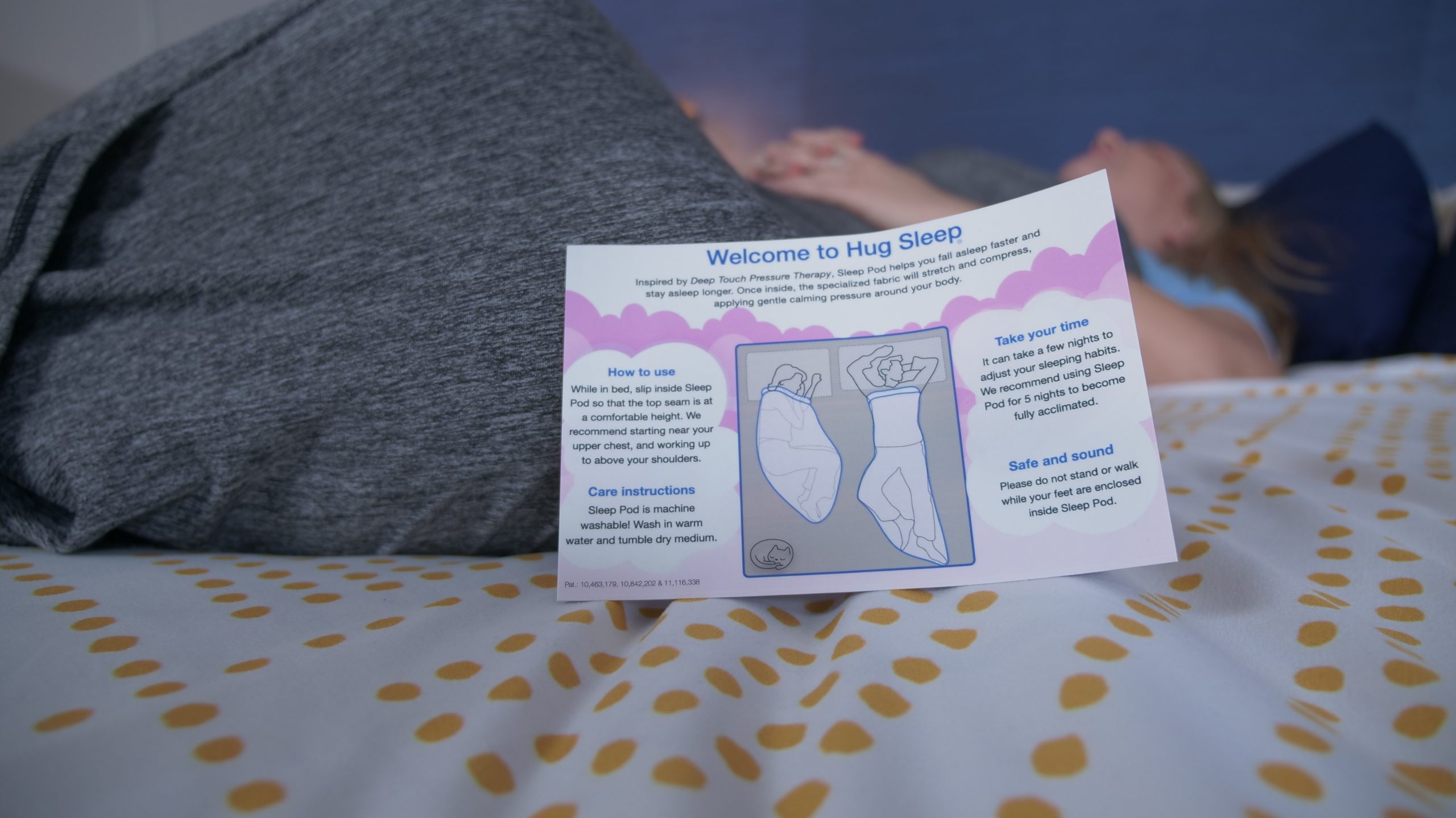 Hug Sleep Price
Now, you're probably curious how much it costs to get your adult swaddle on. The Sleep Pod Move is currently $119.99 at full retail.
The original pod is $99.99, the Hooded Sleep Pod Move (it comes with an attached hood) is $129.99, and the kids' pod is $99.99. You have the option of paying in four interest-free payments through afterpay or paying full price up front. Be sure to click our coupons throughout this article to get the best deal.
Hug Sleep Pod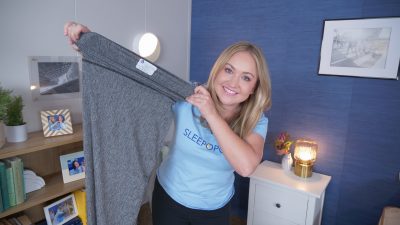 The Sleep Pod Move by company Hug Sleep is an adult swaddle with increased mobility. It's designed to help reduce anxiety and make you fall asleep faster.
Read Full Review
I'll also add that Hug Sleep often runs sales from what I've seen. All of the pod options are offered in the same color: gray.
Hug Sleep Policies & FAQ
Where is the Sleep Pod made?
It's made in the United States.
Does the Sleep Pod have a trial period?
The Sleep Pod ships for free and comes with a 30-night sleep guarantee where you're eligible to get your money back/a full refund if you don't like it.
How do you wash the Sleep Pod?
It's machine washable. The company recommends flipping it inside out, washing it on a warm water cycle, and tumble drying on medium.
Will the Sleep Pod work for kids?
Hug Sleep makes a Sleep Pod specifically for kids. I tested the adult version.
Final Thoughts
I think a lot of people could enjoy trying out this product, but I do think it would take some getting used to for some, and for others — an open mind. To me, the Sleep Pod gave a snuggly and cozy vibe. I really could see how it could work for a lot of people. I really appreciate how soft, stretchy, and lightweight the material is. I also found it to be temperature regulating and not trap heat, which is a major bonus if you're going to be swaddled up. 
I also am glad I tested the Sleep Pod Move model, because I think I'd struggle with the original model where you can't bring your feet out of it. That being said, I still don't think it'd be the best fit for those with mobility or pain issues because it does take a little bit of effort to get in and out of. 
Overall, the Sleep Pod is definitely a cool product in my mind and did bring some nice comfort. I think I personally would lounge in it more than I'd sleep in it, but again, I can see how it could really help others achieve deeper sleep and feel comforted. If you end up trying out the Sleep Pod for yourself, shoot me a message at bridget.chapman@pillarfour.com — I'd love to hear your experience!
Hug Sleep Pod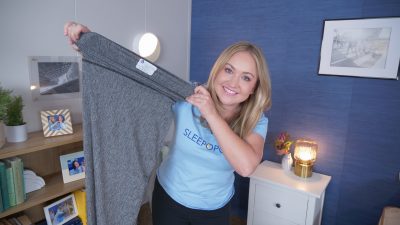 The Sleep Pod Move by company Hug Sleep is an adult swaddle with increased mobility. It's designed to help reduce anxiety and make you fall asleep faster.
Read Full Review
Other Products To Try