Fancy pajamas have never been on my list of things to splurge on. As someone who typically sleeps in an old T-shirt (or nothing at all) the idea of spending more than $100 on something I'd never leave the house in seemed impractical. However, after trying Eberjey's Gisele Short PJ Set, I can officially say that I am a sleepwear convert.
Eberjey has made a name for itself in the pajama market as a brand that offers stylish PJs that have a comfy and luxurious feel. I spent a week sleeping (and working from home) in Eberjey's Gisele Short PJ Set, one of its best sellers. In this review, I'm going to give you my opinion on what it's like to sleep in these pajamas, what they're made of, their sizing, and whether or not I think they're worth the money.
Eberjey Gisele Short PJ Set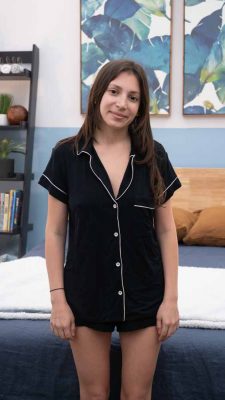 The Gisele Short PJ set from Eberjey is silky soft and super breathable. It comes in more than two dozen different color patterns
Sleepopolis Score
5.00 / 5
Read Full Review
What it's Like to Sleep in Eberjey Pajamas
As I mentioned up top, I'm not a big PJ gal. I find that most traditional pj sets are either too hot or just plain uncomfortable. I went into the testing period thinking that it would be hard for me to fall asleep in these pajamas, since I'm so used to sleeping either naked or with a big T-shirt on. However, I almost felt as if I was sleeping without anything on in this pj set. They're the softest pajamas I've ever tried, and they have a supremely breathable feel. They move with your body; I didn't find myself feeling like the fabric was twisting around me, since they were really true to size. I woke up in the morning feeling refreshed and I didn't sweat through them, something I was worried about.
As someone who now works from home full-time, I didn't just spend my time sleeping in these pajamas, I spent time lounging in them around the house. Their styling isn't that of typical pajamas either — they could easily pass for luxe loungewear. That was something that I particularly liked about these pajamas: their versatility. I could just as easily wear them in bed as I could to spend a day working on my computer at my desk.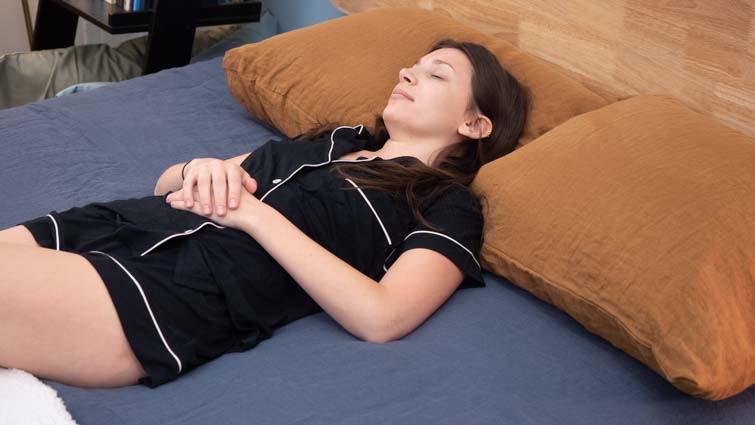 What are Eberjey Pajamas Made Of?
When I first opened my Eberjey package, I was immediately struck by how soft these pajamas felt — the fabric was buttery smooth. It also immediately felt cool to the touch, which is something I look for as a particularly hot sleeper.
Eberjey pajamas are made from a Modal Jersey fabric made from a Tencel Modal blend. Tencel is a natural material made from sustainable wood pulp. It's naturally breathable and has a soft and supple feel. The pajama bottoms are short with a spandex waist. The top has a button down design with a pocket over the left breast, and has a wide v-neck with mid-size collar. Both the top and bottom have contrast piping detail throughout. I tested them in the color Black with Sorbet Pink contrast piping, but these pajamas are offered in more than two dozen other color patterns. You can get any Eberjey pajamas monogrammed for an additional $15.
Another important thing to note is that these pajamas are hand-wash only. Eberjey recommends you wash them with cold water in like-colored fabrics.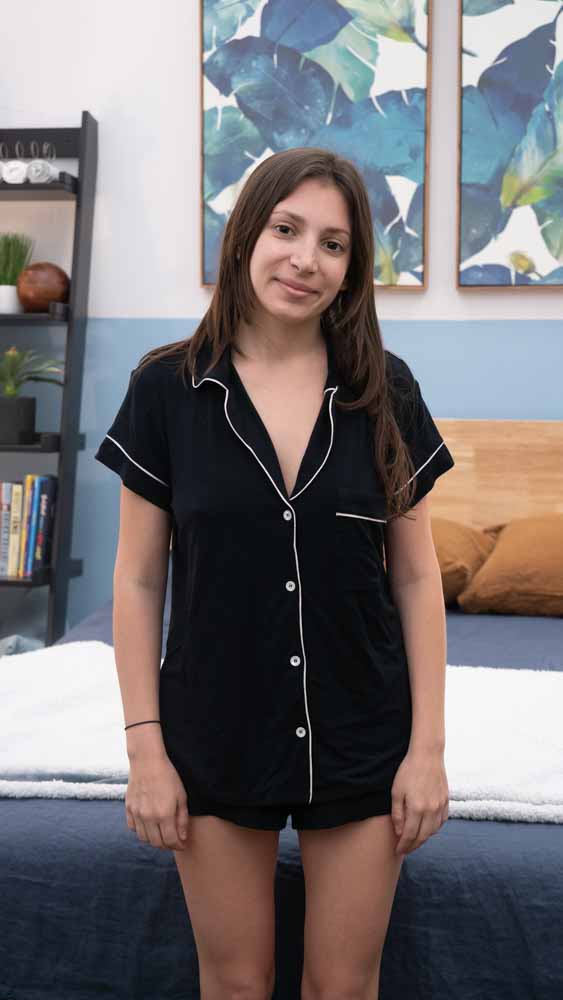 Are Eberjey Pajamas True to Size?
I tested the Eberjey Gisele short set in a size Small. I am 5' 3" and about 110 pounds. To me, they fit perfectly. However, if you are an inch or two taller than me, I'd recommend going a size up. The shorts were just right for me, but if I was any taller I think I'd find them too short. Eberjey also offers these pajamas in a size X-Small, which I think would be too small for me, but if you're especially petite you might want to opt for that set. Eberjey also offers this set in Medium, Large, and X-Large, so most individuals should be able to find a pair that fits them.
Eberjey Size Chart
| Size | Bust | Waist | Hip |
| --- | --- | --- | --- |
| X-Small | 33"-35" | 25"-27" | 35"-37" |
| Small | 35"-37" | 27"-29" | 37"-39" |
| Medium | 37"-39" | 29"-31" | 39"-41" |
| Large | 39"-41" | 31"-33" | 41"-43" |
| X-Large | 41"-42.5" | 33"-34.5" | 43"-44.5" |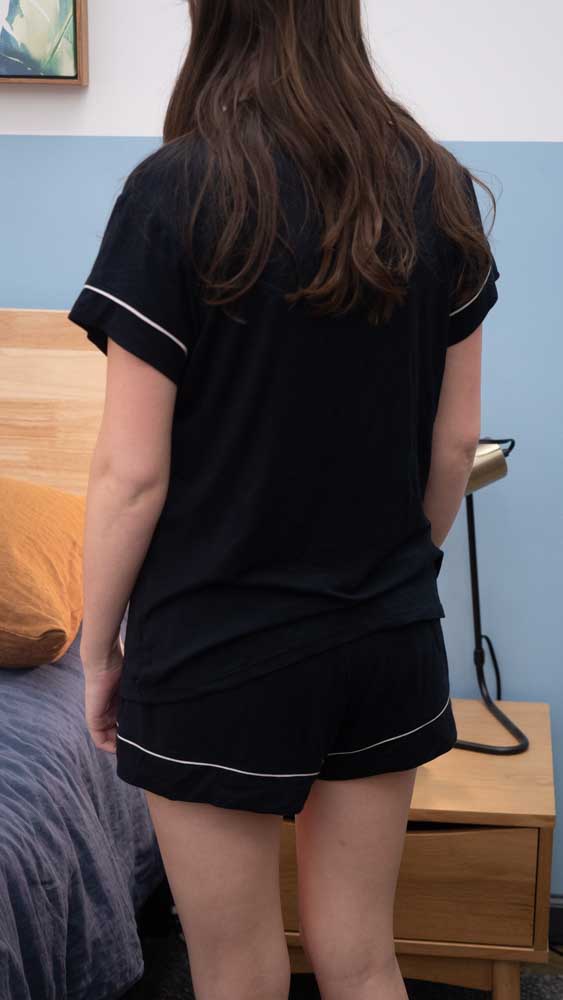 Are Eberjey Pajamas Worth the Money?
In my opinion, at $98 a pair, these pajamas are worth the money. In fact, they're the best pajamas I've ever tried. They're extremely comfortable to sleep in — the fabric felt smooth against my skin and was pleasantly light and breathable. They also have a design that makes them look more like loungewear than sleepwear, so I felt comfortable wearing them throughout the day — I even attended a few Zoom meetings in them. To me, I felt like I was getting two products in one: silky cooling pajamas and cute loungewear (though for the winter months I'd recommend their Gisele Long PJ Set instead). Importantly, these pajamas feel like they're going to last a long time; the fabric is high-quality and the stitching is top-notch, so you'll likely be able to enjoy them for years to come.
Eberjey Gisele Short PJ Set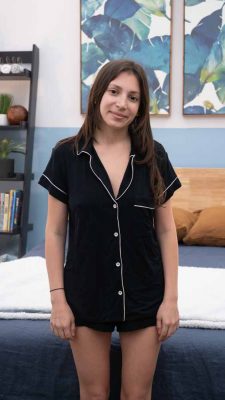 The Gisele Short PJ set from Eberjey is silky soft and super breathable. It comes in more than two dozen different color patterns
Sleepopolis Score
5.00 / 5
Read Full Review
Are Eberjey Pajamas Right for Me?
I hope this review helped you figure out if these pajamas will suit your individual needs. To wrap up, I'll leave you with a few final recommendations.
Who Should Buy Eberjey Pajamas
I think

hot sleepers

will be particularly happy with these pajamas. They have a really breathable feel and during the whole week I slept in them I didn't wake up sweaty once.

Anyone looking for

super soft and luxurious feeling

pajamas. If you're after a really high-quality feel, Eberjey pajamas are the way to go.

People who like to wear their pajamas around the house. I'd safely say they

double as loungewear

!
Who Shouldn't Buy Eberjey Pajamas
Anyone who's not a fan of hand-washing

. If you have a busy schedule (or just don't like washing things by hand) then these aren't the pajamas for you.

If you're on a budget

, you might want to opt for a cheaper pair of pajamas. Though I think this pair is worth the money, it is pricier than comparable sets on the market.

If you have

very long legs

you might find that these shorts are a bit too short for you. If that's you, I'd recommend sizing up.
Eberjey Gisele Short PJ Set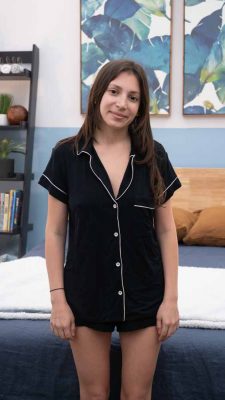 The Gisele Short PJ set from Eberjey is silky soft and super breathable. It comes in more than two dozen different color patterns
Sleepopolis Score
5.00 / 5
Read Full Review
FAQs
How long do Eberjey Pajamas take to ship?
Eberjey states that orders will ship within the shipping windows displayed on their site. Eberjey offers standard shipping (4-8 business days), express shipping (2-3 business days) and overnight shipping (1 business day). Eberjey offers free shipping and returns on orders over $100.
How do I wash Eberjey Pajamas?
Eberjey recommends you hand wash their pajamas with cold water.
Can I return Eberjey Pajamas if I don't like them?
Yes, Eberjey offers free returns for products that are unworn, with tags on, before 30 days after order date.
Does Eberjey offer other products?
Yes, Eberjey sells a range of other pajama sets. It offers a long sleeve version of the Gisele set, and it has lots of other short sleeve, sleeveless, and long sleeve options. Eberjey also sells silk pajamas, lingerie, loungewear, swimwear, camisoles, rompers, robes, sweatpants, joggers, leggings, slippers, and more.
Final Word from Sleepopolis
And with that, you've made it to the end of my Eberjey pajama review. I hope this helped you decide if these are the best pjs for you. I'd also recommend heading over to Eberjey.com to check out some customer reviews.