There's nothing like a comfy pair of pajamas to make falling asleep at night all the better. What's the use of getting the perfect mattress, pillow, and bedding if your pajamas miss the mark?
That's why in this review, I'll be assessing the Hass modal pajamas from eco-friendly sleep brand Avocado. They're the makers of the Avocado Green mattress and lots of other organic sleep products we've tested here at Sleepopolis, so I'm excited to test out their pajama set. I'll go over what they feel like, what they're made of, and everything else you need to know.
Short on time? Skip to the end for my review summary.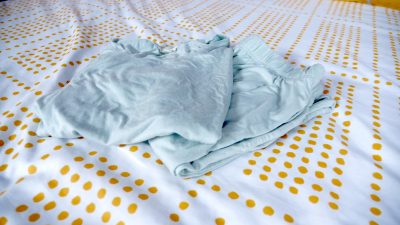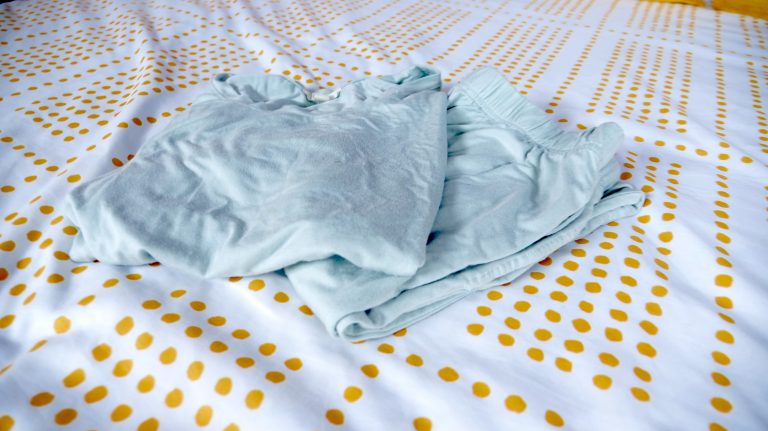 Avocado Hass Pajamas Modal Pajamas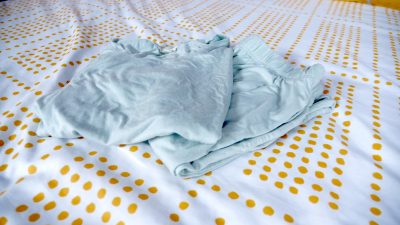 These modal pajamas from Hass are soft and cozy.
What It's Like to Sleep in the Avocado Hass Modal Pajamas
When I first took the Hass modal pajamas out of the box, I was immediately struck by how soft they felt. The material has that "buttery soft" feeling that I love for loungewear, as it's both soft and smooth. For this review, I tested the modal pajama pants and tee, but Avocado also makes a modal robe, V-neck dress, pajama tank, and pajama shorts.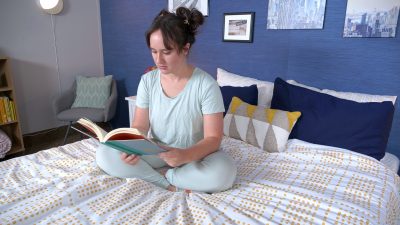 The pants are a jogger style with an elastic waistband, so they're easy to slip on. This also means they are a little more fitted than "typical" pajama pants with a straight or wide leg. However, they are still looser fitting than leggings. If you're close between two sizes, you could size up for a looser fit and down for a tighter fit.
I particularly appreciate the tapered ankle that a jogger-style pant has, because I don't like when the legs of pajama pants ride up my leg once I'm in bed. That's because I tend to be a cold sleeper — so I like my whole leg to be covered if I'm wearing long pajama pants — and because I dislike the feeling of bunched up pant legs. The fitted ankle prevents that from happening.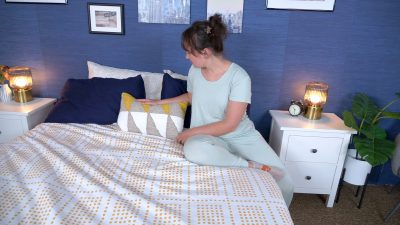 The modal tee has a fairly classic T-shirt design, with short sleeves, a scoop neckline, and a high-to-low hemline — meaning the bottom hemline drapes rather than cutting straight across your body. I found this tee to have a flowy, but cozy feel. I liked that it fitted loosely without feeling too big.
Even though I'm usually more of a cold sleeper than hot, the weather was warming up where I live when I tested these pajamas. I didn't feel myself overheating at all, even though the pants are long.
What are the Avocado Hass Modal Pajamas Made Of?
These pajamas are made with 90 percent modal and 10 percent elastane.
Modal is a type of rayon that's made with the cellulose of beech trees. It's a similar process to how lyocell fabrics, like Tencel, are made from eucalyptus fibers and how bamboo rayon fabrics are made from bamboo fabrics. Modal is also a breathable, moisture-wicking fabric that keeps cool.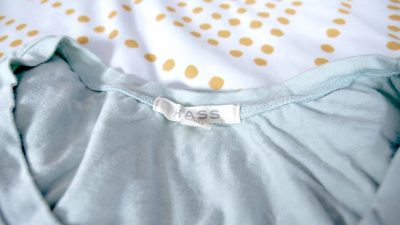 Elastane is a polyurethane fiber used to make clothes stretchy.
Avocado Hass Pajamas Modal Pajamas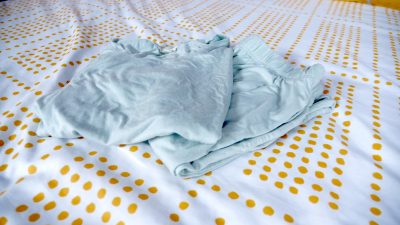 These modal pajamas from Hass are soft and cozy.
Are the Avocado Hass Modal Pajamas True to Size?
As with any kind of clothing, it's important to know whether or not a PJ set fits true to size. For this review, I tested the modal tee and pajama pants in size medium, which is what I wear in most other clothing brands' sizes.
The Hass medium size is intended to fit a US women's size 6 to 8, and I felt the fit was overall true to size. I am about 5'5" and I thought the length of the pants was just right for me, but if you're shorter or taller than I am, they may not fit the same for you.
Avocado Hass Modal Pajamas Size Chart
The Avocado Hass modal pajama tee and pants range in size from a women's XS to a women's XL. Therefore, they are not the best pajamas for plus-size shoppers who are looking for a size larger than XL.
Also important to note: these pajamas are technically listed as women's pajamas, so they follow standard US women's sizing, but of course, anyone can wear them. Avocado does not currently offer any specific men's or gender-neutral pajama options.
| Size | Numeric | Bust (Inches) | Waist (Inches) | Hips (Inches) |
| --- | --- | --- | --- | --- |
| XS | 0-00 | 32-33 | 24-25 | 34-35 |
| S | 2-4 | 34-35 | 26-27 | 36-37 |
| M | 6-8 | 36-37 | 28-29 | 38-39 |
| L | 10-12 | 38-39 | 30-31 | 40-41 |
| XL | 14-16 | 40-41 | 32-33 | 42-43 |
Are the Avocado Hass Modal Pajamas Worth the Money?
Priced at $75 for the pants and $58 for the tee, these pajamas are definitely an investment. Fortunately, I think it's a good investment! I felt like the pajamas had a very high-quality feel. The modal fabric is some of the softest I've felt for sleepwear and the garments themselves feel well-made.
I've also washed both pieces twice already and they still feel quite soft. I haven't noticed any pilling or other deterioration, so I have to say the Hass modal pajamas are worth the money.
Avocado Hass Pajamas Modal Pajamas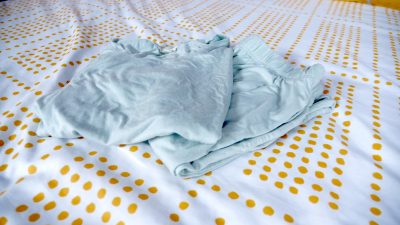 These modal pajamas from Hass are soft and cozy.
Are the Avocado Hass Modal Pajamas Right for Me?
Very few products are universally appealing, so here's who I recommend should buy the Avocado Hass modal pajamas and who shouldn't.
Who Should Buy the Avocado Hass Modal Pajamas
Hot sleepers

will appreciate the cool, moisture-wicking, and breathable

modal

fabric used to make these pajamas. If you're a super hot

sleeper

, you could also opt for the shorts, tank, or dress instead of the

jogger

pants and tee that I tested.

Anyone looking for something silky soft

will love the feel of these

modal

pajamas. I seriously couldn't stop feeling the fabric of these pajamas while I was wearing them because it feels so nice.

If you like

nightwear that can double as daytime loungewear

, I think you'll also appreciate the

Hass

modal

pajamas. The design of these pajamas are quite simple and don't scream "pajamas" — you could easily wear these pieces to run a quick errand without

totally

looking like you just rolled out of bed.
Who Shouldn't Buy the Avocado Hass Modal Pajamas
Plus-size shoppers

will not be able to find a size in the

Hass

modal

pajamas if they wear a size larger than a women's XL, so I would recommend a more size-inclusive

pajama set

instead.

If you like your pajamas to have a more luxe look and feel

— think

silk pajamas

,

lingerie

-style

camis

, or nightgowns — you might not like the more casual style of the

Hass

modal

pajamas. These definitely read more as a

T-shirt

and

sweats

than anything overly stylish or luxurious.

If you're looking for pajamas with a long sleeve top

, these may not be the best choice. The

modal

tee I tested is a

short sleeve pajama top

and the other

modal

top option

Avocado

offers is a tank top.
Avocado Hass Modal Pajamas Policies and FAQs
How do the Hass modal pajamas ship?
Avocado ships for free within the contiguous United States. They also ship to Hawaii and Alaska for an additional shipping fee.
Are the Hass modal pajamas machine washable?
Yes, they are. Avocado recommends machine washing the pajamas in cold water and tumbling dry on low.
Can I return the Hass modal pajamas?
You can return the Hass modal pajamas, but all returned clothing must be unworn, unwashed, and have the original tags. You can initiate a return within 30 days of purchase on Avocado's website. Note: you will have to pay a return label fee of $10. Free returns are available in store if you are located near a brick-and-mortar Avocado store.
Other Products from Avocado
Finally, here are my star ratings for the Avocado Hass modal pajamas.
Materials

Comfort

Value

Fit

Size Range

Style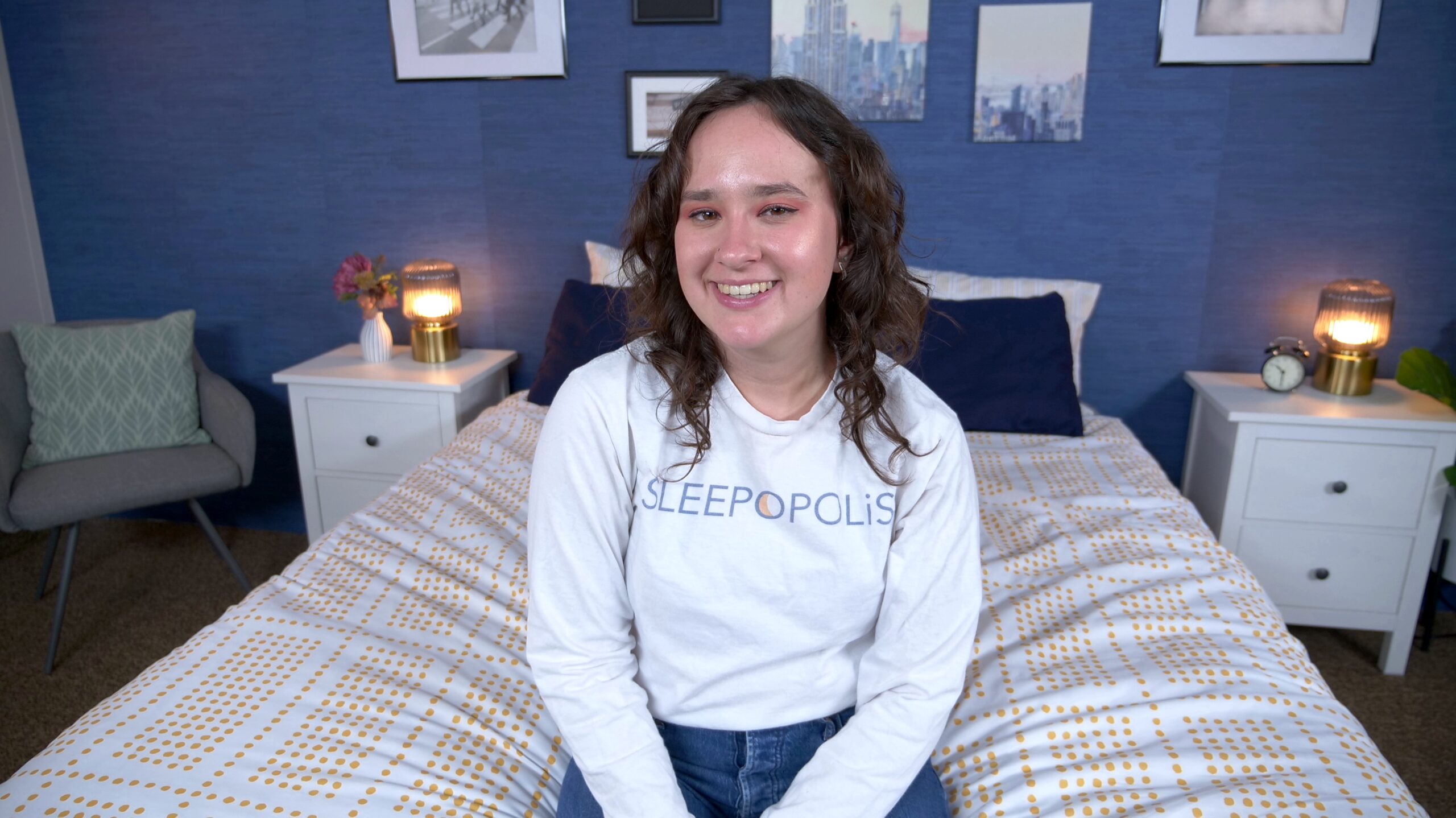 Amelia Jerden
Amelia is a Senior Staff Writer for Sleepopolis. She primarily covers bedding and sleep accessory products in reviews, how-to guides, and more. You can also find her over on the Sleepopolis YouTube channel. Amelia is a graduate of the University of North Carolina at Chapel Hill, with double majors in media and journalism and in dramatic art. Outside of work, Amelia can usually be found on a hike, traveling to a new city, or at her local thrift store.