Editor's Note: The ActiveX mattress has been discontinued. If you're interested in a Nest Bedding mattress, consider the Nest Sparrow or Nest Owl.
Say hello to the new Nest Bedding ActiveX mattress. Nest Bedding has been a growing player in the online mattress industry over the past couple of years and has decided to add a bit of flare to their mattress line. The ActiveX mattress has a medium to medium firm feel with a phase change cover and is loaded with performance foams. 
Will the new ActiveX meet the expectations that the previous Nest mattresses have set? There's only one way to find out. Continue reading below and discover the answer!
Short on time? Click here and we'll take you on down to the review summary.
Construction
Layers
The Nest Bedding ActiveX mattress is built from 4 separate layers of foam and sits at 11″ in total thickness.
Top layer (comfort) – 2″ memory foam. The top layer is designed to provide the initial comfort, contouring, and hug for sleepers.
Second layer (response) – 2″ of Energex foam. Energex foam is a polyurethane foam that has characteristics of both memory foam and latex foam. This layer is designed to provide pressure relief, while also creating a faster overall response and more bounce for the mattress as whole.
Third layer (transition) – 2″ of transitional poly foam. This layer is designed to provide a smooth transition from the comfort layers on top to the more firm base layer below. Additionally, this layer is convoluted (has cut grooves and channels), which helps to aid in breathability for the mattress as a whole.
Bottom layer (foundation) – 5″ of high density base foam. The bottom layer acts as the foundation base for the mattress as a whole, creating support and giving shape to the mattress.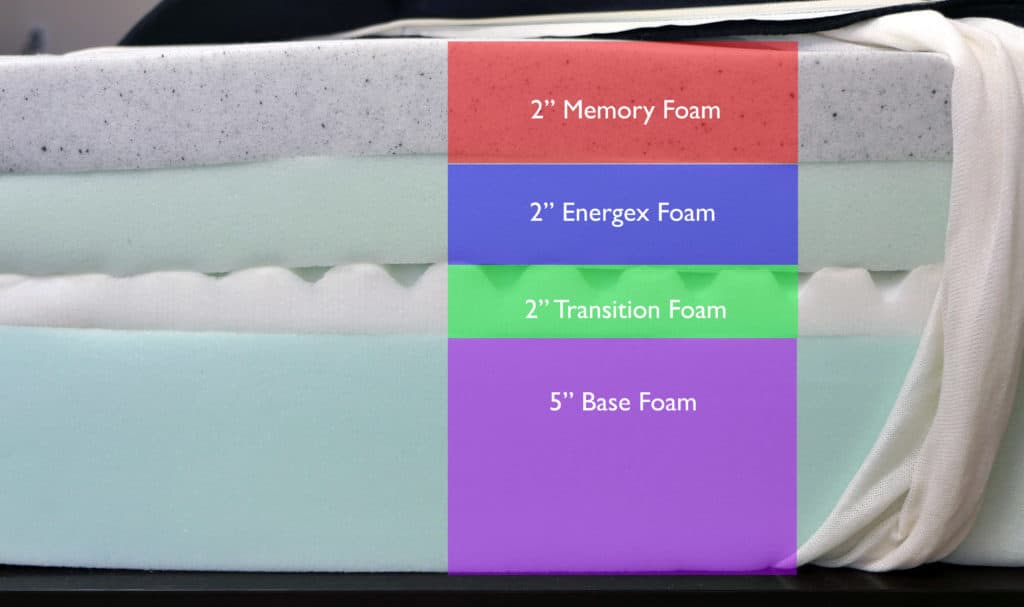 Cover
The cover of the ActiveX mattress is made from a phase change fabric. Phase change fabric is known for its ability to absorb / store body heat, helping you maintain a temperature better for deeper sleep. All in all, this cover acts as a temperature regulator. Additionally, the cover is constructed with a thinner build, allowing for better breathability of the foams.
From an aesthetic standpoint, the ActiveX has one of the most unique covers I have seen to date. Nest Bedding really wanted to take the design of the cover to the next level with this mattress. Therefore, they decided to create 3 different color schemes, each of which contains a diamond pattern on top. The colors (green, blue, and red) give sleepers more style options instead of the traditional all white cover.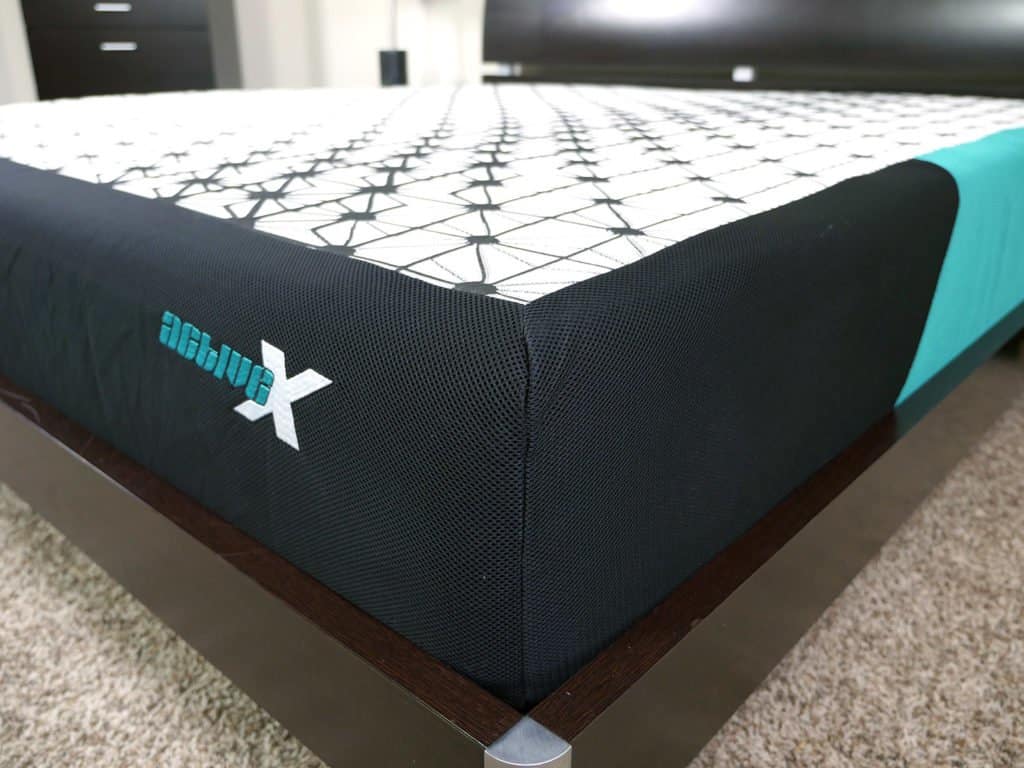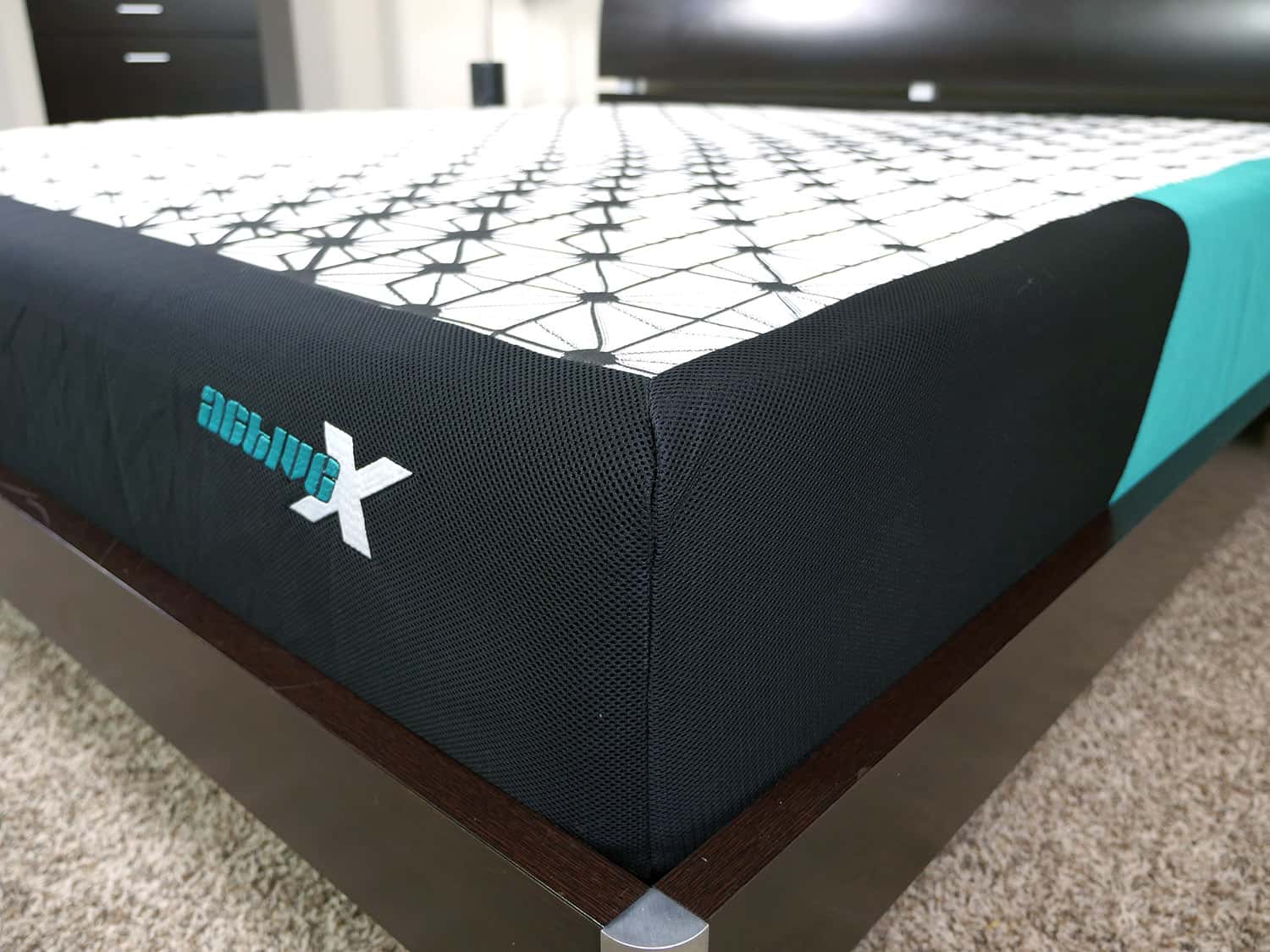 Close up shot of the ActiveX mattress cover
Firmness, Feel, & Support
The ActiveX mattress brings home a medium to slightly firmer feel, coming in at a 6.5-7 out of 10 on the firmness scale, where 10 is the most firm.

With a slightly firmer feel, the ActiveX offers a little less sinkage than most online foam mattresses. That said, the initial level of sinkage provides a nice level of pressure relief. Typically, a mattress with a bit of a firmer feel struggles to provide pressure relief to the sleeper. More often than not, this is due to a support wall that the firmer foams create.
That is not the case on the ActiveX. The top layer of foam creates a little bit of sinkage and pretty good pressure relief even for relatively light areas of your body (ex. head / neck). Heavier sections of your body will engage the deeper foams, including the Energex and transition poly foam.
Once the sleeper is in contact with the Energex, they have already received a good level of pressure relief and will experience more of the bounce and response from the Energex layer. Energex foam feels like a combination of latex and memory foam, leaning a bit more towards the latex feel. By using Energex, the ActiveX is able to avoid that uncomfortable support wall and also create more response and less of an enveloped feel for sleepers.
FAQ:  What mattress firmness do you need?
As a stomach sleeper, I found myself enjoying the support of this mattress. By not sinking too deep, there were no awkward angles created along my lower back. Therefore, my spine was in constant alignment. My wife is primarily a back and side sleeper and made it clear that she also enjoyed the support of this mattress.
In addition to testing on my stomach I also did several nights on my side. At 140 pounds I felt like the ActiveX was a bit too firm for my weight on my side, but it wasn't excessively uncomfortable. With enough time, I'm sure my body would adapt. Lighter side sleepers may find it a bit too firm and supportive, so please bear that in mind. That said, more average and heavier side sleepers are less likely to encounter the issues I experienced. Overall, I feel like the ActiveX provides solid support.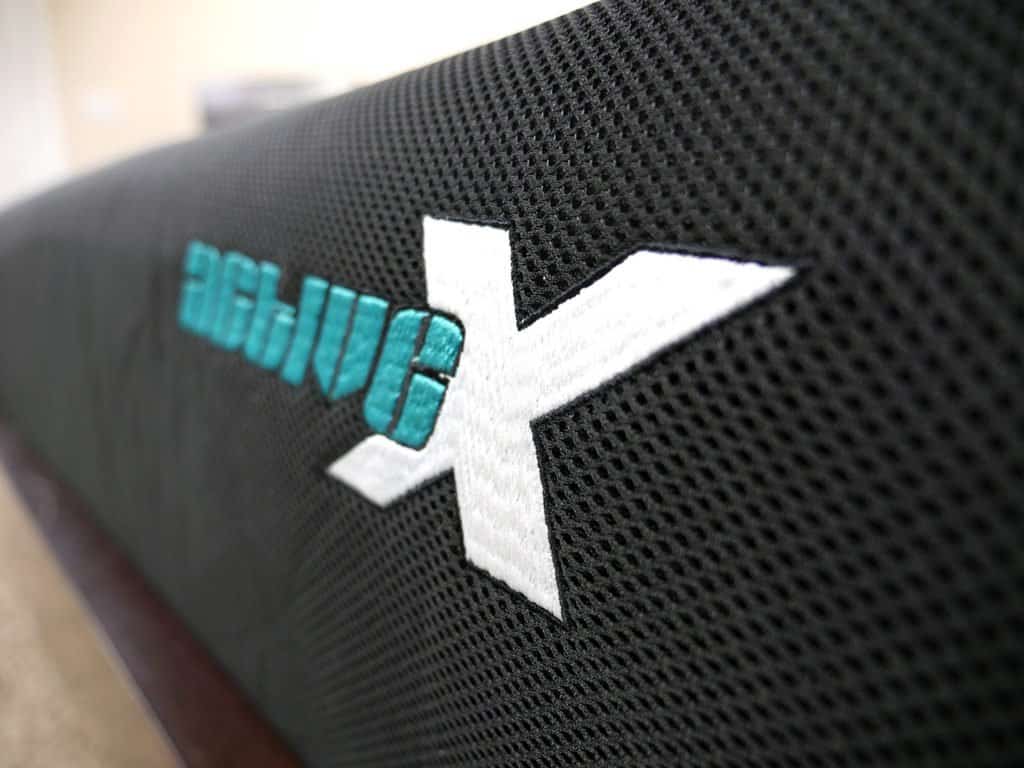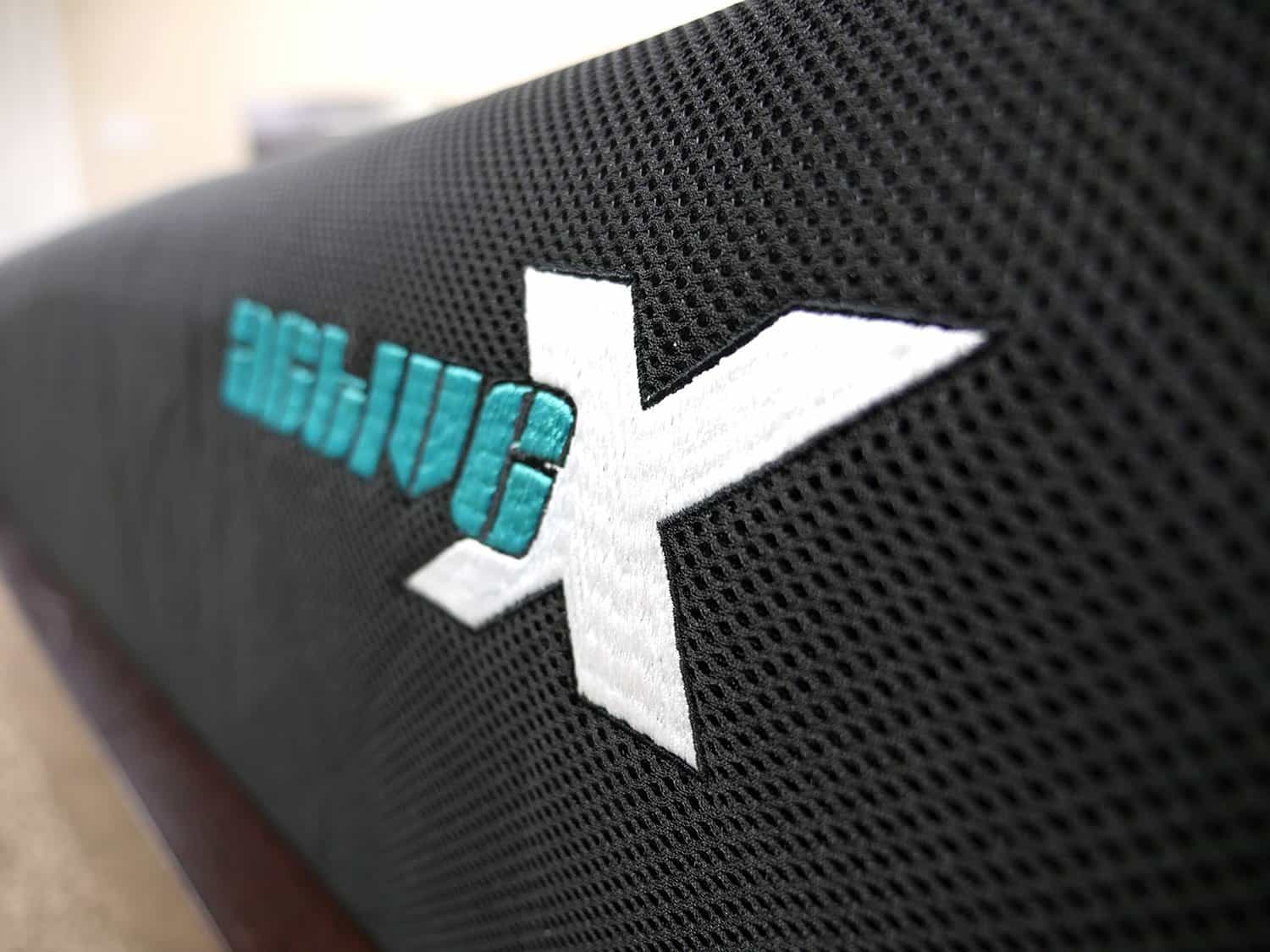 Next, let's discuss bounce. For starters, the bounce was about what I expected. The slightly firmer feel meant quicker response and the addition of Energex foam further helped in this area. Bounce was overall above average. This made for more enjoyable amorous activities in addition to daily activities, such as getting in and out of bed.
Cooling was quite good as well. The combination of a thin cover, phase change material within the cover, convoluted transition poly foam, and Energex foam (doesn't absorb heat like memory foam) all combine to keep the sleeping surface cool and comfortable. The phase change material keeps the cover notably cooler during the first 15-20 minutes while getting to sleep and then settles into more of a temperature neutral level. In any case, it wasn't "cold" during the night, but instead just remained a comfortable even temperature.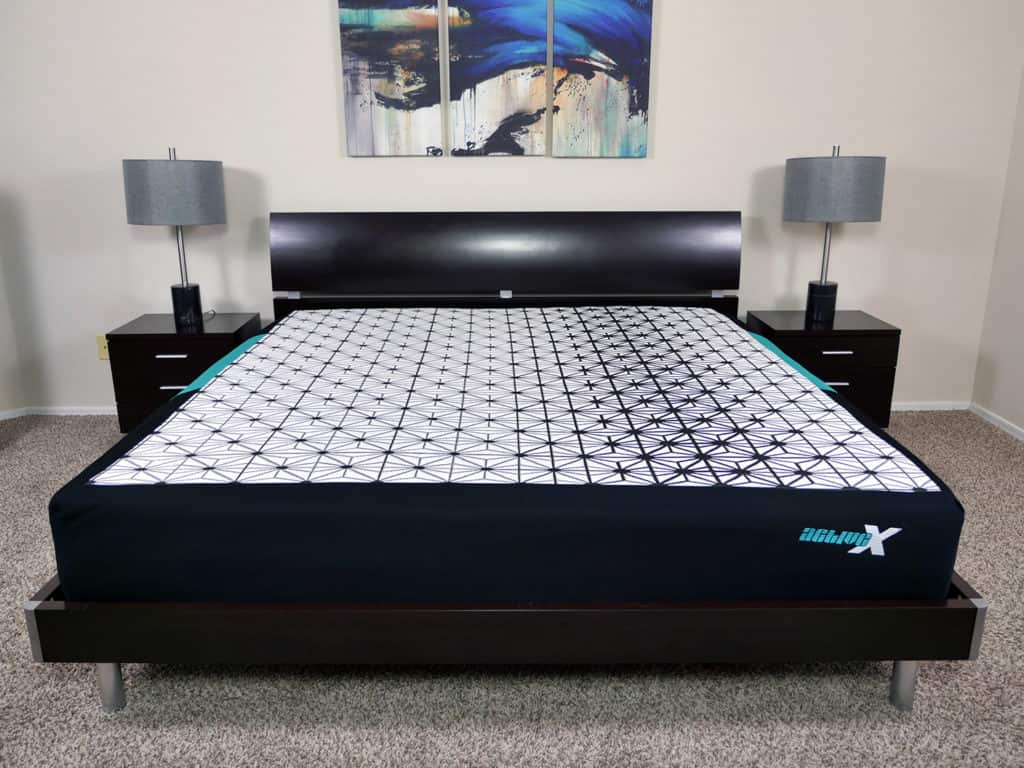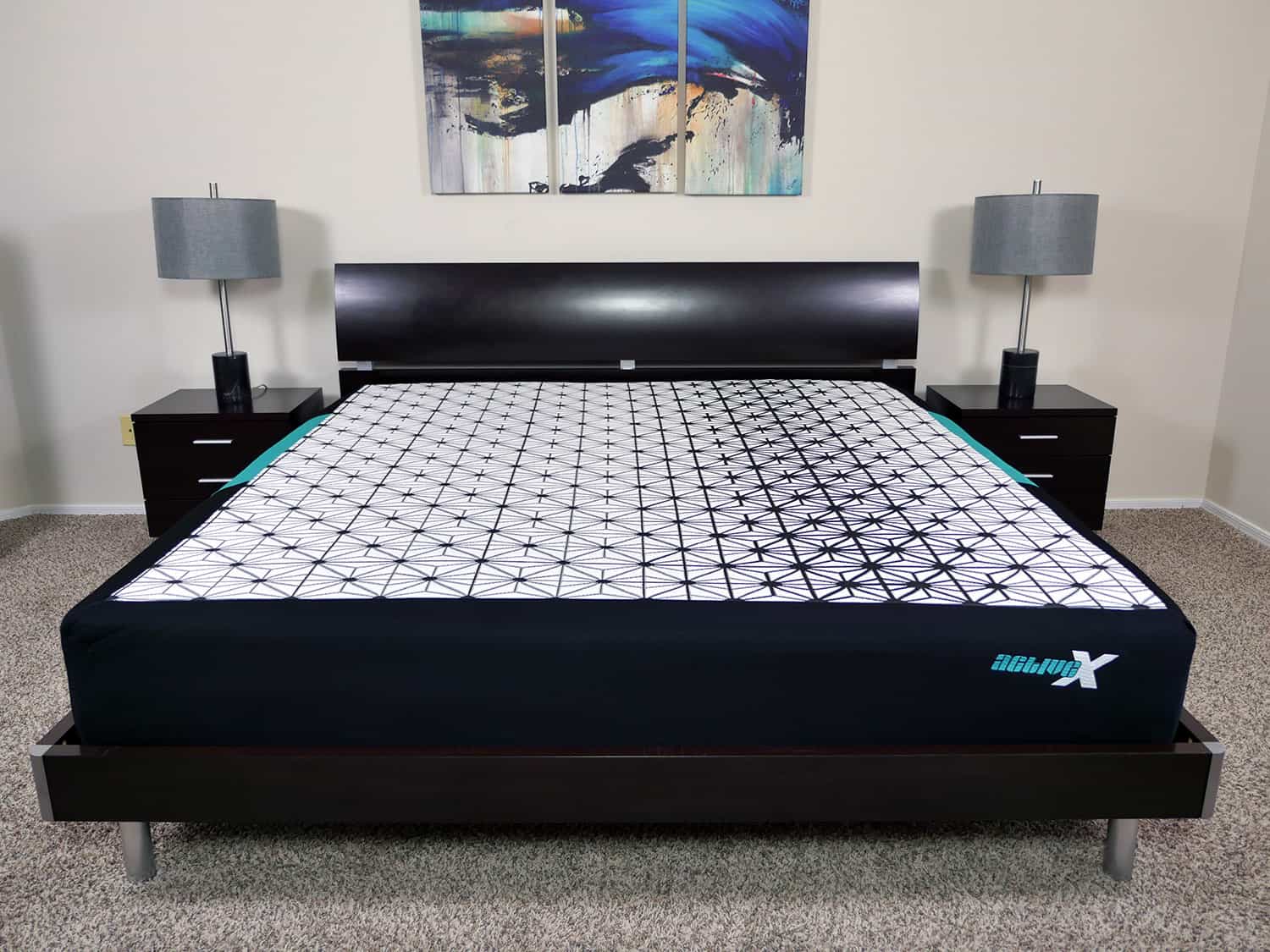 Sinkage Tests
All mattress reviews on Sleepopolis go through a short series of sinkage tests. These tests are designed to provide you with insight on how the mattress will perform under various conditions, pressures, and positions.
Lying on back – while lying normally on my back with all of my weight spread evenly across the mattress I was seeing about 1.5″ of sinkage.
Lying on side – while lying on my side I saw 2″ of sinkage.
Sitting on the edge (conservative) – while sitting on the edge of the mattress with my butt slightly further back on the mattress I saw 3.25″ of sinkage.
Sitting on the edge (aggressive) – once I moved to the absolute edge, in a normal sitting position, I saw 4.25″ of sinkage.
Standing in the middle – as I stood in the middle of the mattress with all of my weight focused on one point, I saw 5″ of sinkage.
Keep in mind, sinkage results may vary based on body weight and body type. As a reference point, I weigh 140 pounds.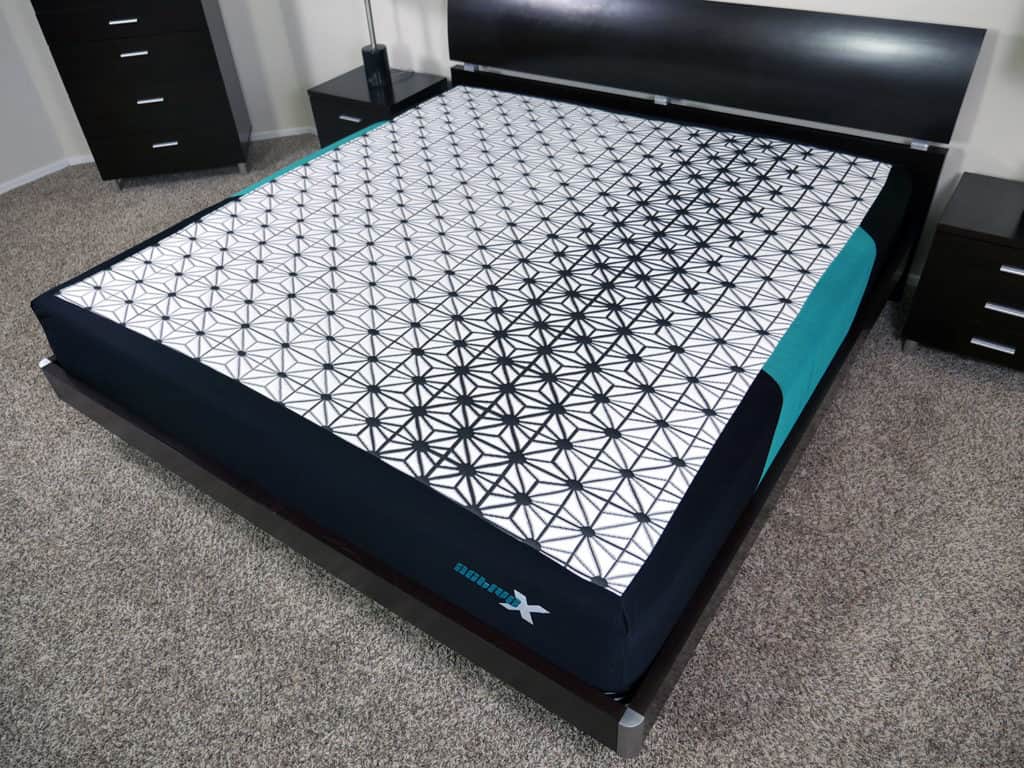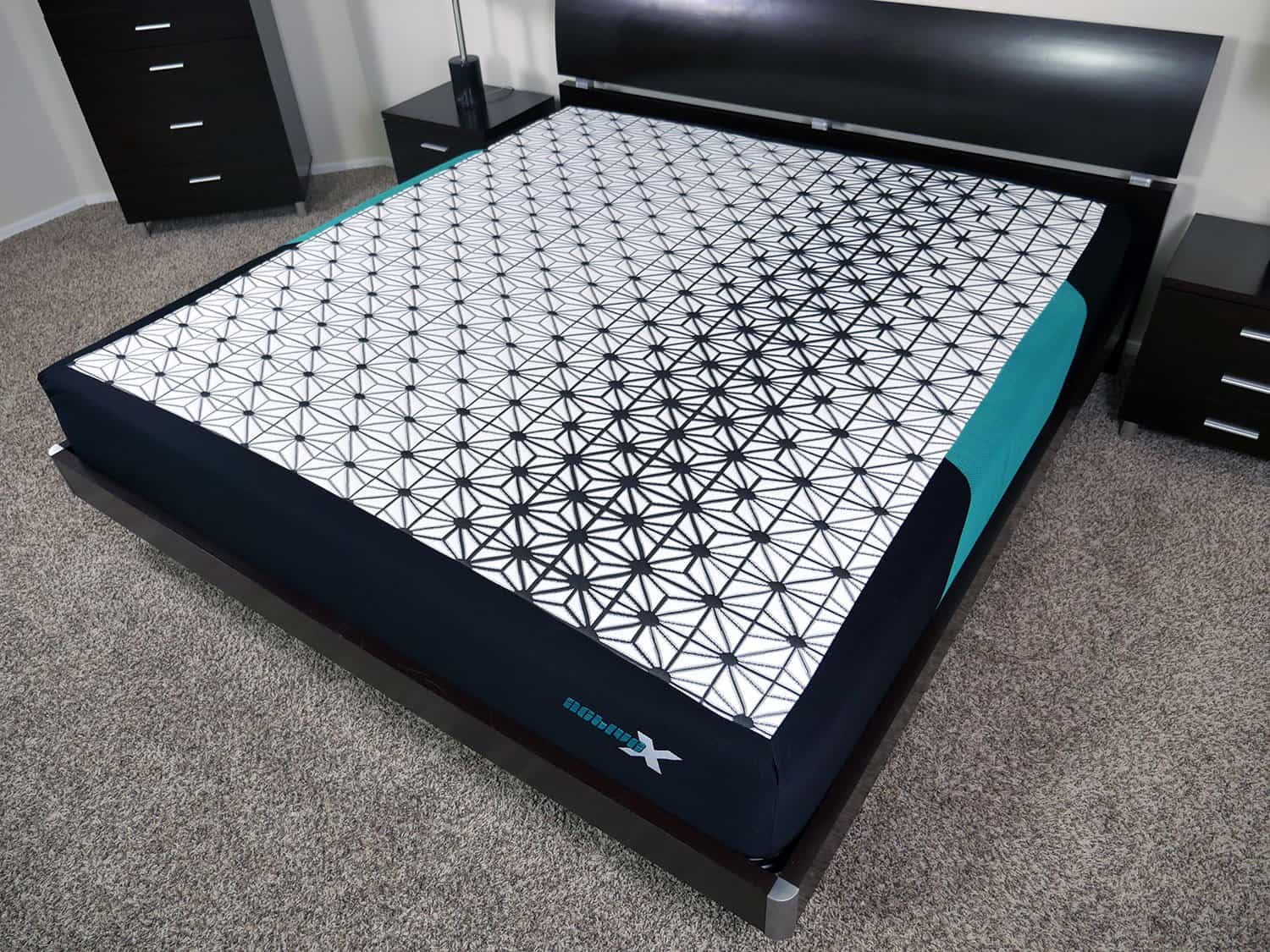 Pricing
| Size | Price |
| --- | --- |
| Twin | $699 |
| Twin XL | $699 |
| Full | $899 |
| Queen | $999 |
| King | $1,299 |
| California King | $1,299 |
Other Details
Shipping – free shipping within the US, most orders will arrive in less than 7 days, compressed in a box
Warranty – 10 years
Trial Period – 100 nights
Discounts – none available
Made in the USA
REVIEWS: see full list of all Nest Bedding mattress reviews
Special note – all international Nest Bedding orders are final. Nest Bedding does not offer a trial period or refunds for international orders.
Who should buy the Nest Bedding ActiveX mattress?
I would recommend the Nest Bedding ActiveX mattress to sleepers who:
Want a medium-firm to slightly firmer feel – the ActiveX mattress comes in at a 6.5-7 out of 10 on the firmness scale, where 10 is the most firm.
Want a very supportive mattress –  the firmer feel of this mattress makes for an extremely supportive feel without taking any comfort away from the sleeper. During my sleep test I was able to sleep in every position and felt well supported in each. Lighter sleepers may find side sleeping creates a little too much support though, so please bear that in mind.
Like less sinkage and more of a floating feel – the ActiveX mattress has less of a deep sinkage and hug and more of a floating feeling. There is an initial degree of sinkage (about 1.0″, even for light sections of your body) that provides pressure relief to the sleeper. Yet, after the first inch or so, there is much more of a floating support feel.
Want a cooler mattress – the combination of a thin phase changing cover, convoluted transition foam, and non-heat activated Energex helps to create one of the coolest foam mattresses I have tested to date.
Looking for more on the ActiveX mattress? Head on over to NestBedding.com for more information.
Nest Bedding ActiveX
Materials

Comfort

Support

Value

Cooling

Edge Support

Sex

Smell

Company

Refunds

Trial

Warranty
Summary
The Nest Bedding ActiveX is an 11″ all foam mattress built with 6″ of comfort foams, an advanced phase change fabric cover, and a sporty aesthetic. With a medium-firm to slightly firmer feel, the ActiveX creates excellent support for all sleeping positions. This mattress has only a slight level of sinkage and a shallow type of a hug, avoiding any type of overly enveloped feel. For those comfortable within the 6.5-7 out of 10 firmness range and and desire more of a floated feel the ActiveX is an excellent choice.