Many of you may already be familiar with Leesa's mattress. Well, the Leesa pillow is covered in the same soft material as the mattress and even employs some of the same foam. But does Leesa's pillow provide the same cozy comfort as its beds? There's only one way to find out!
In this review, I'm going to test this sleep accessory in every position so I can determine how it feels, who might love this pillow the most, and whether or not it really is an all-position pillow. Don't worry if you don't have time to read the entire review, you can click here to skip to my summary!


The Leesa pillow offers a super quick response to pressure, ideal for back sleepers who need help maintaining healthy posture throughout the night! Use this link to save 15% site wide at Leesa!
WHAT IS THE LEESA PILLOW MADE OF?
The cover of the Leesa pillow is made from the same fabric that covers the Leesa mattress. It's made from a blend of polyester, viscose, and nylon and has a cushy quality to it that's quite cuddly. It's very soft and, in my opinion, is soft enough to enjoy without a pillowcase.
A zipper spans one side of the pillow so that you may easily remove it when it's time to be washed (yes, it's washable! We'll get to that later). Inside the cover is one solid piece of Avena-like performance foam. I say "solid" because the foam is not shredded, however it is designed with holes in it to enhance the pillow's breathability. There are actually hundreds of these little ventilation channels within the foam, so if you're a hot sleeper, this increased airflow might help you keep cooler at night.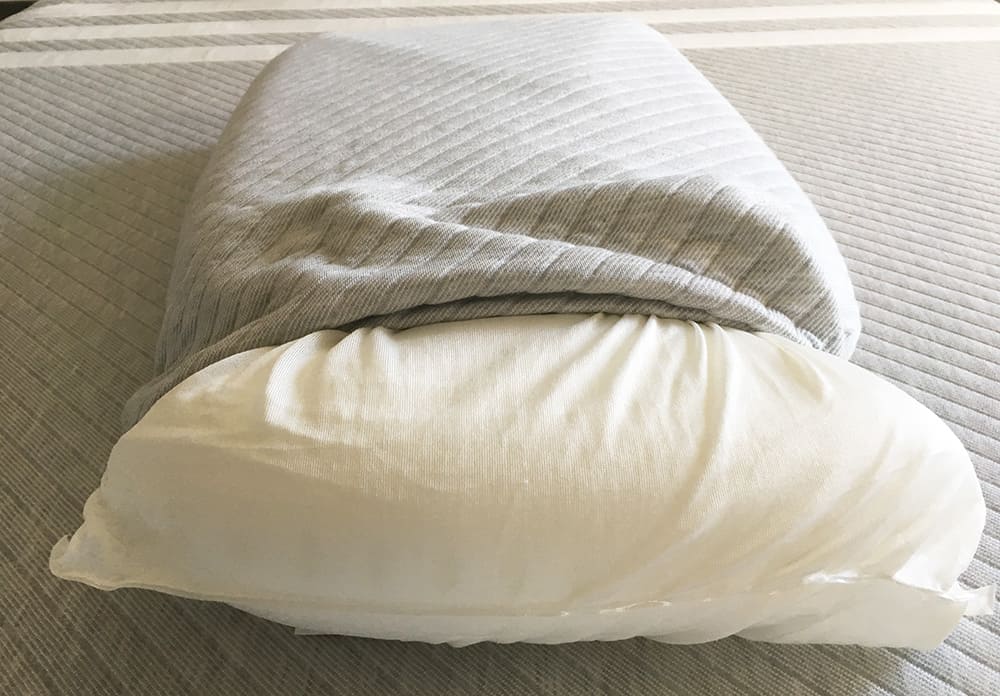 Avena is a type of polyurethane foam that is actually the same material used in the top layer of the Leesa mattress — so the company's pillows and mattresses do have some similar characteristics. The Leesa pillow is designed to be light and airy, but also gently contouring.
It's got a medium-firm feel, a bouncy-quick response to pressure, and was designed to be an all-position pillow built to meet the needs of every type of sleeper.
Fun Fact: Did you know that for every one mattress Leesa sells, the company donates one to charity? They also plant one tree for every single mattress they sell. Way to make a social impact!
HOW DOES IT FEEL?
The cover fabric of the Leesa pillow is soft and cozy, sort of like cotton, but stretchier. It's also designed with a sort of lined pattern that adds a comforting texture to it. However, while the foam inside this pillow is built to be extra breathable, the cover itself feels like it could potentially be a bit warming. I could see how this cover fabric would be especially enjoyable during the cooler months, but I might replace it with a lighter pillowcase during the summer.
The Avena-like foam inside this pillow has the durable resilience of latex, and  pressure. While I got the sense that the cover fabric itself might be a little warm, I could definitely feel the air flowing through the material as I rolled around on it.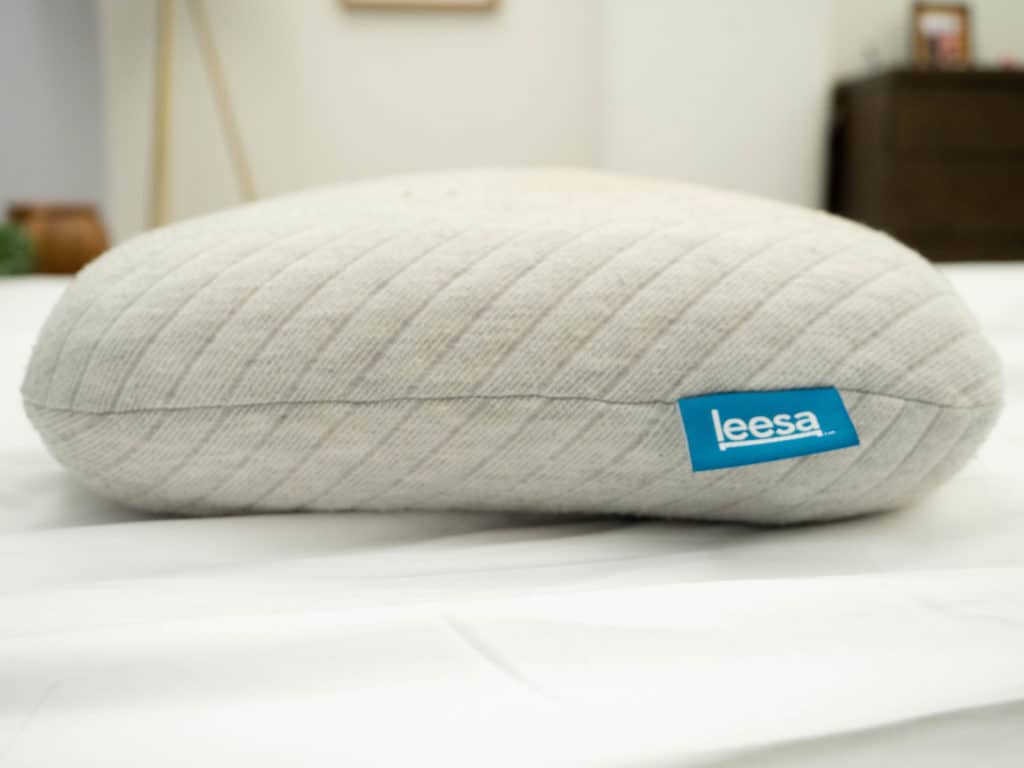 The polyfoam does feel remarkably like latex, but it's got a bit of a firmer feel than some of the latex pillows I've tested. It feels slightly more dense, but in a way that doesn't impede its breathability at all. The combination of its medium-firm support and its light, airy quality make it conform to pressure really well, allowing it to adapt to your head as you transition between positions.
The Leesa pillow does offer a bit of a sink into the foam, but not at all like memory foam. As I said, its response to pressure is much quicker and when you do sink a little bit, the sides puff up around your head. It doesn't have a particularly lofty build, but its durable resilience helps it to maintain shape.
HOW DID YOU LIKE IT, SARAH?
I'm always a little skeptical about "all-position" pillows as it's often the case that the pillow is much better for one position than another. Of course, the only way to know for sure is to sleep on it in every position. And that's exactly what I did with the Leesa pillow.
The first thing I noticed was how soft the cover fabric is. It's got a cozy warmth to it and a textured feel that I really liked. Although, I did wonder how much I would still like that cozy warmth after eight hours of sleeping… but I was comforted by how breathable its interior seemed to be.
Pushing into the Leesa, I could definitely feel the air flowing through the fabric and I did get the sense that it would help me to sleep cool. It had such a bouncy feel to it, it was hard to believe that it wasn't latex! So, I unzipped the cover to investigate the foam inside. I was surprised by how thick the foam was because the pillow itself feels so light.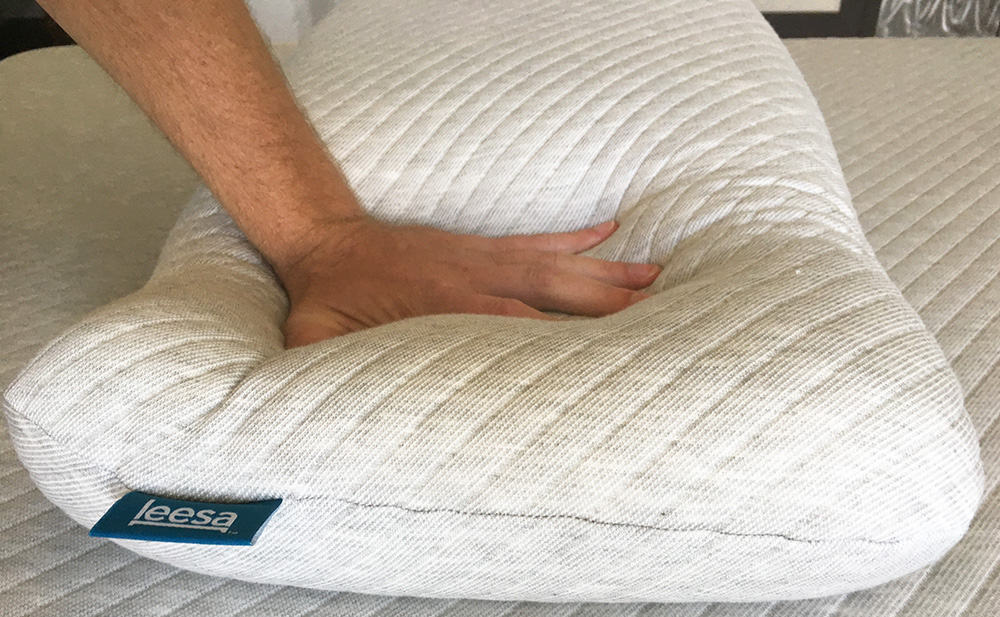 I began testing the Leesa in the supine position, and right away, I felt completely supported. The Avena-like foam eagerly conformed to my head and neck and I felt that the medium-firm support helped me to maintain spine alignment. Also, when I'm on my back, I don't like to sleep with my nose pointed directly upwards; I like to rest my temple on either side of the pillow. Because the foam is so airy and allows a gentle sink into the pillow, the edges of the pillow keep their loft. So, I sort of had two cushy areas on which I could rest my head to the left or right.
Lying on my back felt very comforting and I could feel that the pillow was not trapping heat from my head (which is impressive because I'm a very warm person). The resilience made my head feel gently cradled and, frankly, I didn't want to move out of that position. But the show must go on!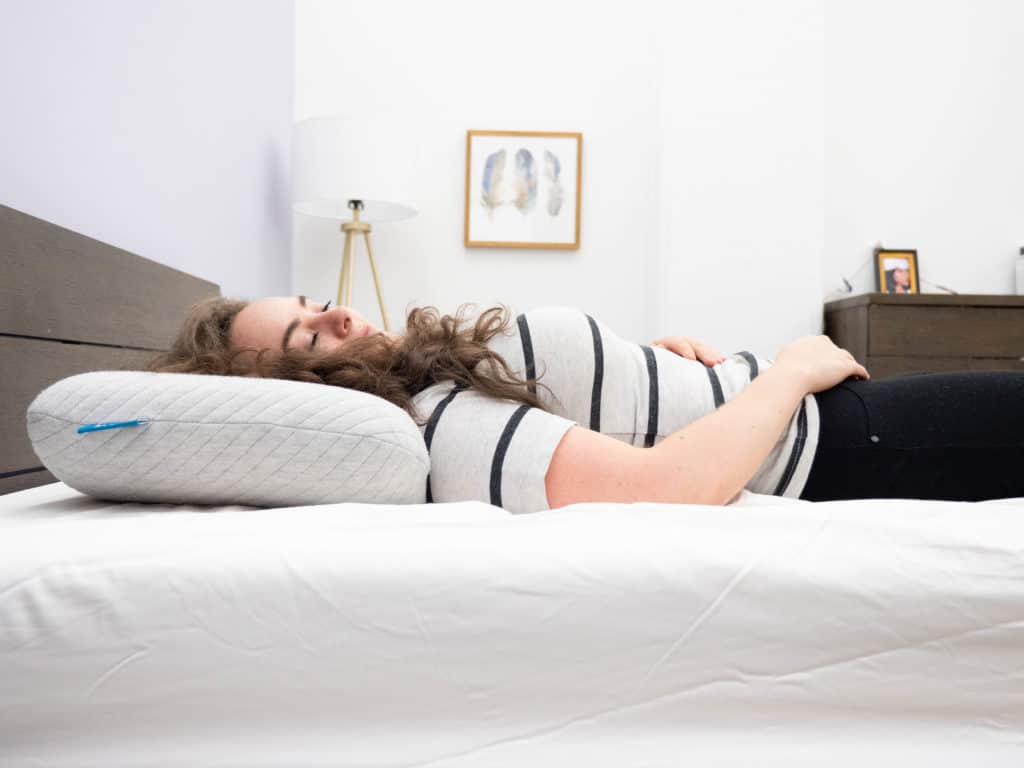 Rolling onto my side was an easy transition for me, though I did sort of bounce into the lateral position. Folks who prefer their foam pillows to have more of that slow sink and release might want to test this pillow first as it does have a very quick response to pressure. Because it's not very lofty, I was surprised by how comfortable side sleeping was with the Leesa. Its buoyancy and medium-firm support kept my posture healthy and my head and neck in happy neutral alignment.
When I'm sleeping on my side, however, I do like a pillow that I can fold and moosh so that I can personalize the loft and firmness a bit. Because this pillow is filled with a solid piece of very buoyant foam, its not very foldable and not at all malleable. It's also not adjustable, so you kind of have to be compatible with the feel and support of it exactly as it comes. As I was lying on my side, though, I didn't feel like the pillow was warming me up at all which I was very happy about.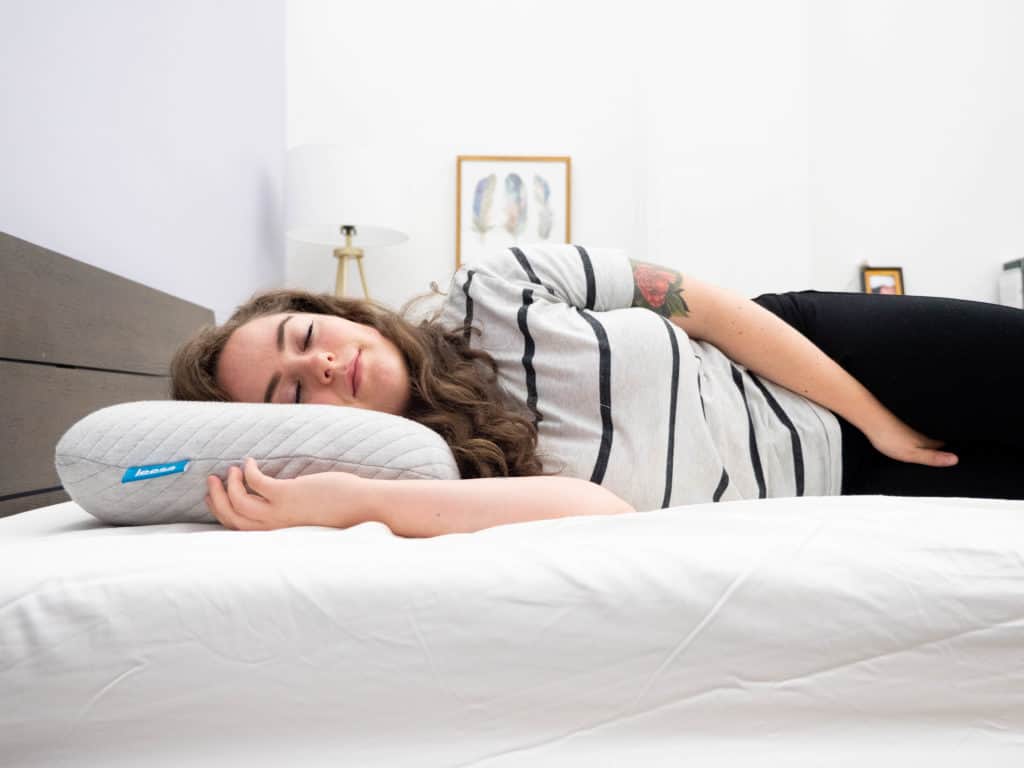 So, I rolled over onto my stomach for the final "all-position" test. It did take me a second to figure out where to put my head, though. The same way that the edges of the pillow puffed up around my head in the supine position made me a little uncomfortable in the prone position. The weight of my head sort of sunk into the middle of the pillow and the sides enveloped my face in an unpleasant way. However, I was happy to see that the weight of my head was enough to compress the foam so as not to elevate my head and crane my neck.
I moved my face to the edge of the pillow so that I could be supported without having my nose and mouth covered. And it worked! Lying in the prone position with my face closer to the edge of the pillow allowed me to enjoy its contouring comfort without having my breathing obstructed at all. I felt totally supported and didn't feel like my head was elevated out of alignment with my spine at all. Although, the Leesa is so bouncy, that I almost felt like if my head weighed any less, it might be pushed up a bit too far.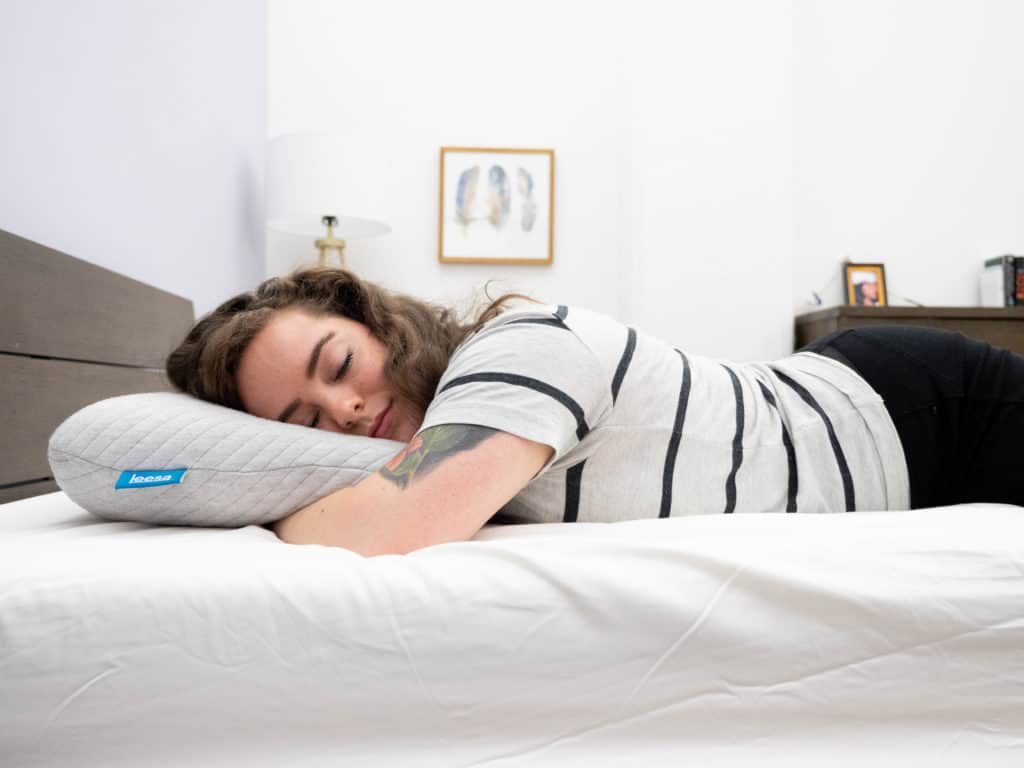 BETWEEN-THE-LEG & UNDER-THE-ARM
When it comes to these styles of sleeping, I do prefer a fluffy, lofty pillow. So, I'm not sure the Leesa quite hit the mark for me.
When using it in between my legs, I didn't feel like my leg was sinking to the bottom of the pillow, and it was supported. However, it comes down to more of a comfort thing. I like a loftier, fuller pillow that's going to give my hips a little bit of a prop and relieve some pressure in my lower back. I didn't really feel that with the Leesa.
The same thing goes for using it to hug under my arm. I prefer a pillow with some lofty weight to it so I can really wrangle it in and let its soft plushness conform to my body's shape. Because of the very bouncy nature of this pillow, it really did not want to be wrangled in.
Ultimately, I would classify this as an all-position pillow as I was able to find comfortable support in every position. I'm also pleased to report that, despite my skepticism, I did not warm up too much using this pillow. I still think that I might cover it with a cooler pillowcase during the summer months, but the breathability of the internal fill seemed to be enough to keep my noggin feeling cool.
However, I would say that this pillow is best for back sleeping. It took a little finessing and re-positioning for me to find the right balance of pressure relief and support when I was on my side and on my stomach, but if you're willing to be a little patient, I think sleepers of all styles could find some comfort here.
LEESA PILLOW COMPLAINTS
There are a few things about the Leesa pillow that some sleepers might consider to be drawbacks:
Not machine washable — So, the good news is: this pillow's cover fabric is machine washable. Just wash the cover in cool water with a mild detergent and tumble dry on low. However, the foam inside this pillow must only be spot cleaned with mild detergent and cold water. You cannot dry it in the machine either, so it must be left to air-dry at room temperature. Air-drying is, of course, not nearly as quick as machine-drying, so this is something to consider!
Not adjustable — The foam inside the Leesa pillow is one solid piece and is not adjustable in any way. The resilient nature of the foam also makes it less easy to fold and manipulate, so if you're a sleeper who likes to be able to fold, squish, tuck, or generally play around with the pillow's shape in order to adjust the loft, you might want to try this pillow before you buy.
Firm and Bouncy — For folks who prefer the feathery-fluff of down or the deep sink of memory foam, this pillow definitely offers a different feel. It's got a very buoyant, quick response to pressure with a firmer level of support. So, again, if you're not sure you're going to be compatible with that type of feel, it's best to take advantage of Leesa's trial period.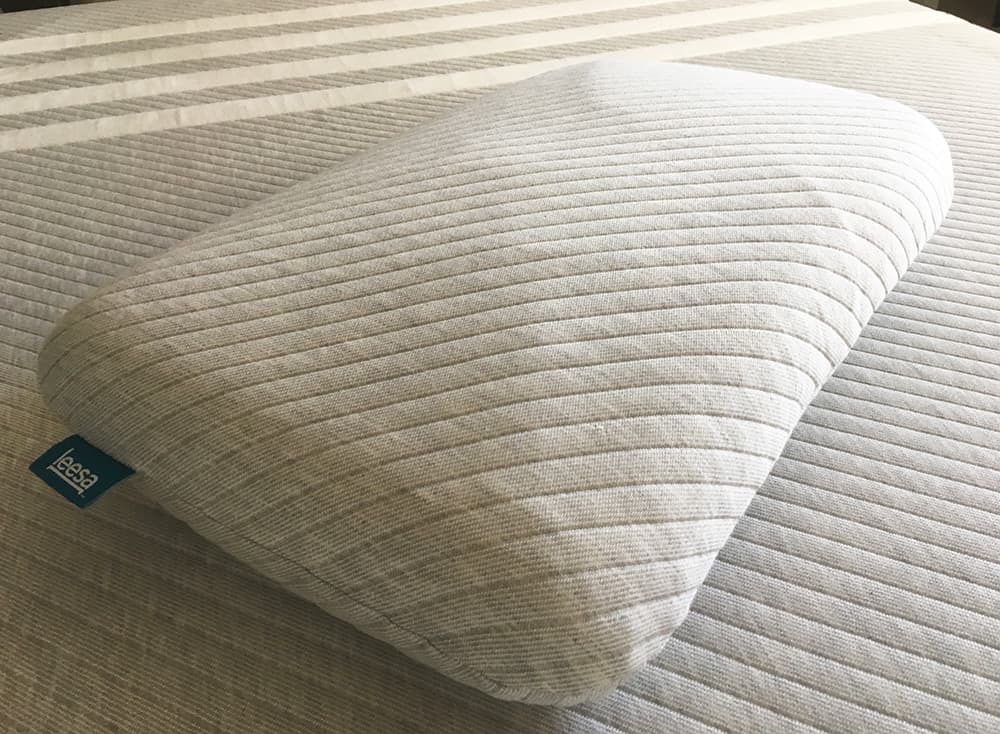 SHOULD I TRY THE LEESA PILLOW?
The Leesa is an all-position pillow that has something to offer every kind of sleeper, but you might especially enjoy this pillow is you're someone who:
Combo sleeps — I found comfortable support and pressure relief on my back, stomach, and side. So, if you know you switch positions during the night, this sleep companion should be there to keep you comfortable no matter how much you roll around.
Likes latex — If you know you like the bouncy resilience of latex but prefer a foam pillow, this offers the best of both worlds. It offers the buoyancy that you're looking for in latex, but offers the body conforming support of foam.
Loves the Leesa mattress — Because this pillow employs some of the same materials used in Leesa's mattress, it does have a similar feel to it. So, if you're already enjoying a Leesa mattress, this pillow might be the perfect complement to your bedtime routine.
ANYTHING ELSE I SHOULD KNOW?
Warranty — This pillow has a 1-year limited warranty
Made in the USA
Free shipping and returns
Trial Period — 30 nights
Sizing — Standard measures 18″W x 26″L x 5″H and King measures 18″W x 32″L x 5″H
Pricing — $89 & $109
Get your Leesa pillow directly from the company!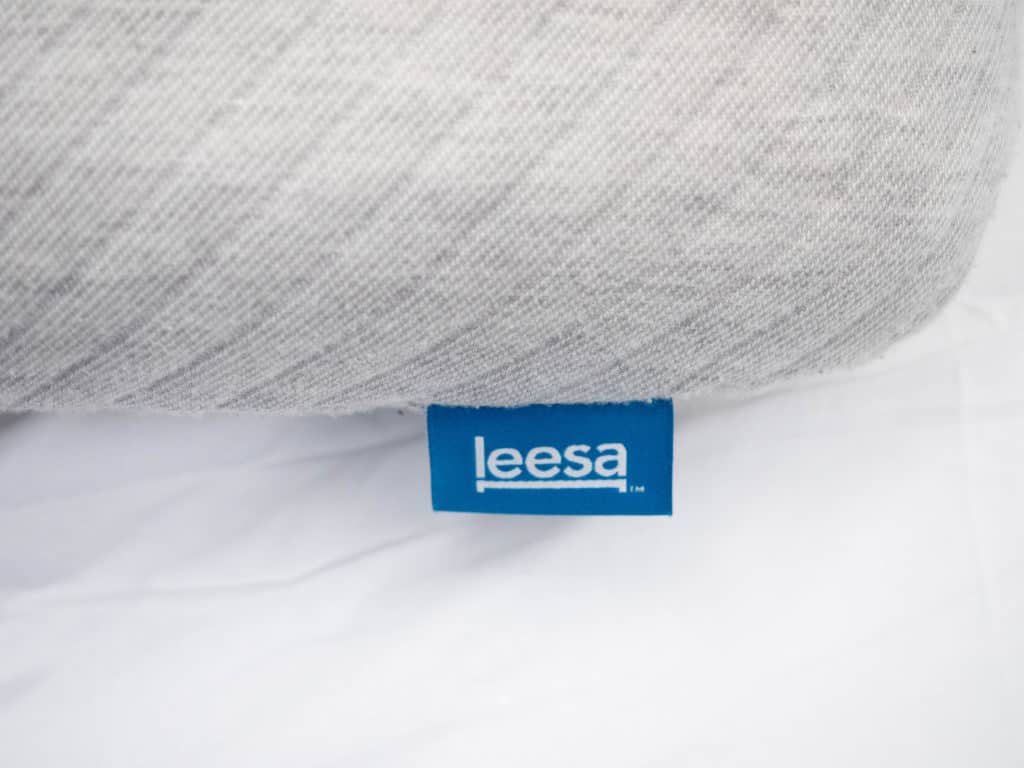 Sarah is the Senior Writer and bedding expert at Sleepopolis. Every week, she personally tests and reviews new pillows, sheet sets, and other sleep accessories. She accompanies every video review with a meticulously detailed article to ensure her audience has all the pertinent info they need for the best shopping experience possible. Perhaps that's why her fans have dubbed her "the most thorough pillow reviewer on the Internet." Having tested everything from sleep trackers to mattress toppers, Sarah's expertise runs deep and is always expanding. She received her degree in Creative Writing from Brooklyn College and spends her free time doing stand-up, making pasta, and hanging with her cats.