The Leesa Legend is a hybrid, bed-in-a-box mattress from Leesa with several great features that might justify the boldness of its name. It's CertiPUR-U.S. certified, made from recycled materials, and features an organic cotton and merino wool cover, so it could appeal to eco-friendly sleepers. 
I've already reviewed the all-foam Leesa Original and the Leesa Hybrid, so I was curious to see how the Legend would stand against its siblings. After putting the mattress through a full range of tests, I found this to be the softest in the Leesa line — but that's not all I analyzed. From construction to feel, firmness level to motion control, breathability to bounce, here's all you need to know about the Leesa Legend mattress.
Is this mattress as legendary as its name implies? Read my full Leesa Legend mattress review to find out! Short on time? Just hop down to my review summary to get the nuts and bolts.
Summer Sale! Up to $400 Off Mattresses!

The Leesa Legend has a soft feel that I love for side sleepers and great bounce so you won't feel stuck in bed. 
Is the Leesa Legend a Good Mattress for You?
Before we get into the nitty-gritty, I want to give you a quick overview of who the Leesa Legend could work best for! Depending on your body weight, height, and preferred sleeping position, the Legend may or may not work for you. While I can't make that decision for you, take a look at some of my recommendations below to help you get there on your own.
Who I recommend the Leesa Legend mattress for
This mattress

should appeal to side sleepers

thanks to its softer feel and zoned support system. Together, these factors let your shoulders sink into the mattress for maximum pressure relief while keeping your hips elevated for healthy spinal alignment.

If you're prone to shoulder pain, you might want to consider the Legend.

Its zoned support system is softer around the shoulders, and the mattress provides plenty of body contouring in this area.

The Legend might also be a

good choice for people who like their bed to have a bit of bounce

. Even though it's on the softer side, you shouldn't feel trapped on this mattress thanks to its great mobility.

All in all, I'd say the Leesa Legend is one of the best luxury mattresses currently on the market.
Who I don't recommend the Leesa Legend mattress for
This bed probably

isn't a great choice for strict stomach sleepers

. Your hips might bow into the mattress in this position, which can lead to back pain. Strict stomach sleepers will probably want a firmer mattress that keeps their hips elevated throughout the night.




Like stomach sleepers,

heavier folks might want a mattress that offers firmer support

. If you fall into this camp, you might find that you drop through the softer layers of the Legend and feel too much pressure from the support layers.

Budget shoppers might want to avoid the Legend, which is more expensive than other beds in the Leesa line.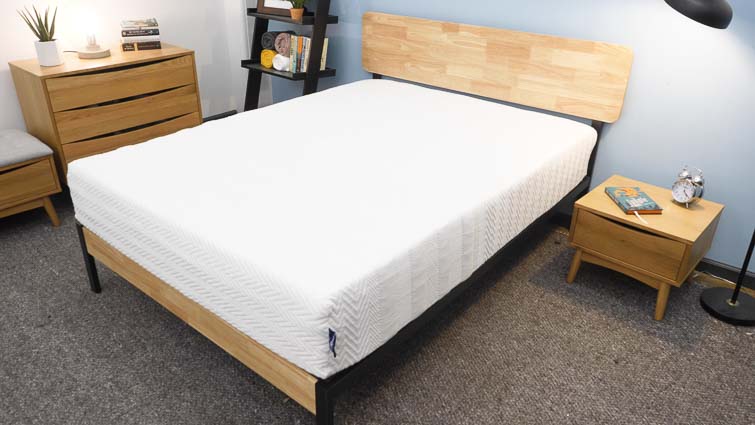 How Firm is the Leesa Legend Mattress?
Let's take a look at the Legend's firmness, but first, a cautionary note: It's important to remember that firmness is subjective. Different body types, weights, and personal preferences will all affect whether individuals deem a mattress soft, firm, or somewhere in between. For reference, I'm about 5'10", 190 lb and prefer to sleep on my stomach.

For me, the Leesa Legend falls at a 5.5 out of 10 on the mattress firmness scale. The industry standard for medium-firmness is 6.5 out of 10, so this suggests the mattress is definitely on the softer side. In fact, I found it to be softer than both the Original Leesa and the Leesa Hybrid.
What makes the Legend so soft? A few factors are at play. The comfort layer just beneath the cover is made up of soft poly foam, and right beneath that is a pressure-relieving memory foam layer. Having two soft layers on top of each other allows for plenty of sinkage into the mattress, which is often a hallmark of softer beds. Finally, the Legend's zoned support system means the bed is likely to feel softer where you need extra pressure relief (cough, at the shoulder, cough).
Summer Sale! Up to $400 Off Mattresses!

The Leesa Legend has a soft feel that I love for side sleepers and great bounce so you won't feel stuck in bed. 
Leesa Legend Mattress Performance
Alright, let's get down to the nitty gritty! You know that it's the softest Leesa mattress around, but firmness is not the only characteristic you'll want to look at when considering a new mattress. Now, let's take a look at other important factors when it comes to choosing a mattress: how it performed in different sleeping positions, how it relieved pain and pressure, and how it might feel for couples sharing the bed. So let's do just that!
Testing the Leesa Legend Mattress in Different Sleeping Positions
Different sleeping positions and weights require different amounts of support. Generally, light sleepers don't require the same amount of support as heavy sleepers. Read on below to see how the Legend mattress performs for sleepers of different weights.
Is the Leesa Legend a Good Mattress for Light Sleepers (Under 130 lb)?
Light Back Sleepers

– I think this bed would be a good option for these folks. Light back sleepers tend to feel mattresses a bit firmer than advertised, so these sleepers should experience medium-firm support with a solid amount of contouring around their lower back.

Light Side Sleepers

– Lightweight side sleepers should find great pressure relief with the Leesa Legend mattress. The zoned support will allow sinkage at their hips and shoulders, giving these folks great pressure relief. Overall, a great pick for these side sleepers!

Light Stomach Sleepers

– Lightweight stomach sleepers need more support than the Legend has to offer. I'd recommend these sleepers take a look at the

Leesa Hybrid

which may offer better support to help stabilize their hips and spine.
Is the Leesa Legend a Good Mattress for Average Weight Sleepers (130 – 250 lb)?
Average Weight Back Sleepers

– I think average weight back sleepers would be okay on this mattress, but for more support I'd steer these sleepers to the

Original Leesa

which has a firmer feel.

Average Weight Side Sleepers

– Average weight side sleepers can rest assured this is an excellent choice for them. These sleepers will enjoy the cradling they'll get at just the right points — thanks to the zoned micro-coil support.

Average Weight Stomach Sleepers

–

Average weight stomach sleepers may find that their hips sink too much into this soft mattress, forcing their body into a U shape — a big no no for back pain. These sleepers might be better fit on one of our

best mattresses for stomach sleepers

.
Is the Leesa Legend a Good Mattress for Heavy Sleepers (over 250 lb)?
Heavy Back Sleepers

– Heavy sleepers might want to look into a firmer option — like one of our

best innerspring mattresses

.

Since it is the softest in the Leesa line, I don't recommend any sleepers over 250 lbs look further into the Leesa Legend.

Heavy Side Sleepers

– See above.

Heavy Stomach Sleepers

– See above.
Leesa Legend Pain Relief Performance
Let's start with everyone's favorite dinner table conversation: pressure relief! This term refers to a bed's ability to relieve tension at sensitive areas such as the hips, lower back, and shoulders. To test out the pressure relief on the mattress, I used my handy-dandy pressure map.
Here's how it works: I roll out the pressure map on top of the mattress, climb aboard, and let the map track my body's force as I move around and try out different sleeping positions on the bed. Low-pressure areas are highlighted in blue and green, while the highest pressure areas show up as yellow and red.
Back Pain – When I stretched out on my back, I wasn't really feeling any pressure points. I did notice that I sank into the mattress a bit, but it wasn't not extreme — not to the point where the dreaded U shape forms. If you spend part of the night on your back, I think you should be okay on this mattress, but you will only experience moderate pain relief here. I also noticed that the bed has great mobility, and it was easy to change positions. In order to get the best back pain relief possible, I recommend trying to sleep more on your side — you'll really notice the relief here — and since this bed makes it easy to change positions, being a back and combo sleeper might just be the perfect recipe to ease your back pain.
Shoulder Pain – This is where the Legend really shines! The soft foam layers on top let me sink into the mattress, especially around my shoulders. I was impressed by the pressure relief, which is a reason I think it's one of the best mattresses for arthritis. At the same time, its zoned support system kept my hips elevated to help maintain nice spinal alignment. Strict side sleepers with shoulder pain might really like this mattress. The same can be said for hip pain — the soft structure sank a tad under my hips in the same way as my shoulders, providing excellent relief.
Hip Pain – Side sleepers with hip pain have come to the right place! The Leesa Legend may go down as legendary in their books as one of the best mattresses to relieve their hip pain. However, I didn't have to spend much time on my stomach to realize that the Legend probably isn't the best fit for strict stomach sleepers looking for hip pain relief. Why you may ask? My hips sank into the mattress, which meant my back was bowing and my spine was out of alignment — this can further hip pain. Spending all night in this position might also cause back pain, so I think strict stomach sleepers should stick to a firm mattress.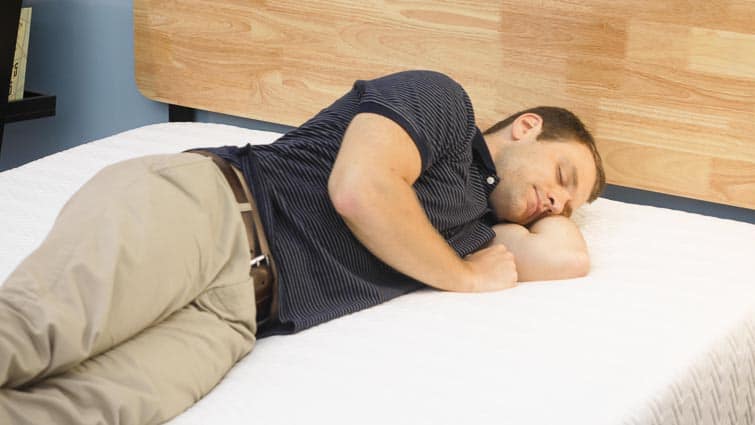 Leesa Legend Performance for Couples
When sharing the bed with a partner, you'll want to keep a few more things in mind while shopping for a new mattress. Features you'll want to consider include motion transfer, performance during sex, cooling, and edge support.
Motion Transfer
If you're not gabbing about Pressure Relief during dinner parties, you're probably chatting about motion transfer! This term refers to the amount of movement that's detectable from one side of the bed to the other. In other words, a motion transfer score lets you know whether you'll feel your sleeping partner's movements if they're prone to shifting around during the night.
To mimic motion transfer, I dropped a 10 lb steel ball from different heights: 4 inches, 8 inches, and 12 inches. Each of these heights represents different movements, from tossing and turning to getting out of bed or full-on jumping. Then I measured the disturbance caused by each of these drops: the bigger the lines, the bigger the disturbance.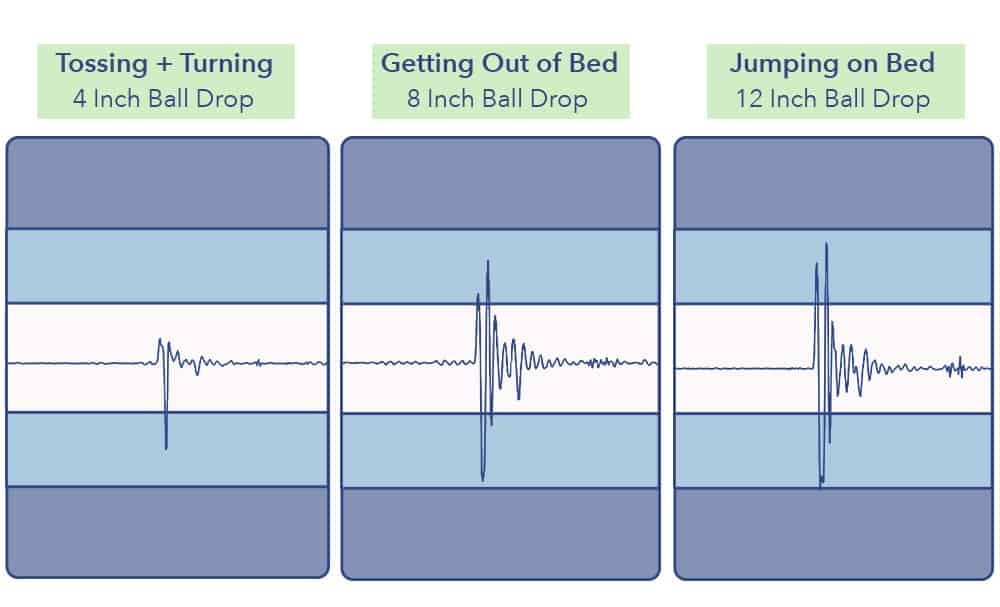 Because this is a hybrid mattress made of both memory foam and coils, I was curious to see how it would perform. I was pretty impressed with the Legend's ability to minimize motion transfer with a 4 inch drop. This means the mattress might do a decent job of isolating a partner's smaller movements. However, I noticed more bounce with the 8 inch and 12 inch drops. This tells me that if, for example, a child or pet jumps into bed with you in the middle of the night, you're going to feel that movement.
Summer Sale! Up to $400 Off Mattresses!

The Leesa Legend has a soft feel that I love for side sleepers and great bounce so you won't feel stuck in bed. 
Sex
The Leesa Legend is a great mattress for sex. The bounce and responsiveness facilitates movements rather than inhibiting them, while the soft top layers keep you comfortable. All in all, this is a soft and comfy, yet responsive mattress — what more could you ask for? Couples should be thrilled with the ease of sexual activity here.
Cooling
While memory foam may have a reputation for overheating, in this bed, it is counteracted with the micro-coils ventilation and top layer's air flow capabilities. The added bounce from the coils that allows for ease of movement also eliminates the tendencies to trap heat as it allows for more airflow. I would highly recommend the Leesa Legend to people who tend to sleep hot or are worried about temperature control.
Edge Support
Yet another winning quality of the Leesa Legend mattress is its edge support. When I sat on the edge of the mattress, the bed maintained its shape — this is great news! Because of the coils in its construction, this soft mattress actually has great edge support. Couples should definitely keep this in mind as it will give you more room to spread out rather than squishing you up against your partner.
What Is the Leesa Legend Mattress Made Of?
Leesa's newest hybrid is similar to the original Leesa Hybrid mattress in that they both feature foam over pocketed coils. But the Legend stands out for being significantly softer and for having a zoned support system, which helps support the hips while offering pressure relief around the shoulders.
Curious about this relatively complex construction? I sliced into the Legend to give you the rundown on what it's made of.
Cover – The Legend's cover is made from organic cotton, merino wool, and recycled water bottles. This combo creates a light, breathable feel. This mattress cover is also hypoallergenic.
Comfort Layer — Below the cover is a comfort layer of hole-punched poly foam. This foam has a quick response to pressure, which helps give the mattress great bounce and mobility. (Translation: You shouldn't feel stuck.) It's also aerated, which helps with breathability — good news for hot sleepers!
Recovery Layer — Next up is a contouring recovery layer made of memory foam. In true memory foam fashion, this layer offers plenty of pressure relief and body-contouring. It also lets you sink deeply into the bed, which is great news for side sleepers who are trying to avoid feeling jammed up around the shoulders.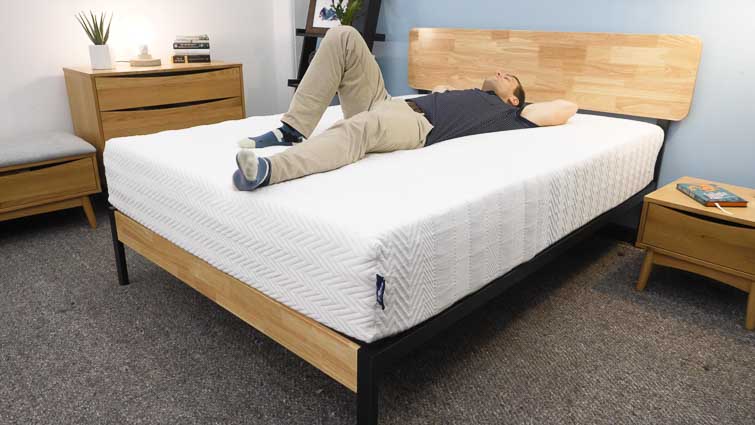 Zoned Support Layer — Here's where things get really interesting! Below its memory foam, the Legend has a zoned support layer that features micro-coils at the head and foot of the bed and firmer poly foam toward the middle of the bed. This serves multiple purposes: The polyfoam helps keep the hips elevated to maintain proper spinal alignment during back or side sleeping (without sacrificing pressure relief at the shoulders), while the micro-pocket spring coils add even more bounce and mobility to the structure.
Transition Layer — Below the Zoned Support layer, you'll find a transition layer made of firmer poly foam. This layer helps (ahem) transition you from the softer layers above to the supportive pocketed coil layer.
Support Layer — The pocketed coils in the support layer create a bouncy, mobile feel akin to a traditional innerspring mattress. But because the coils are individually wrapped and can move independently, the Legend's spring layer does a better job of isolating motion than conventional coils. That's good news for anyone who sleeps with a partner!
Base Layer — Last but certainly not least, you'll find a base layer made up of support foam. This layer helps stabilize the coils and provide a foundation for all the layers above it.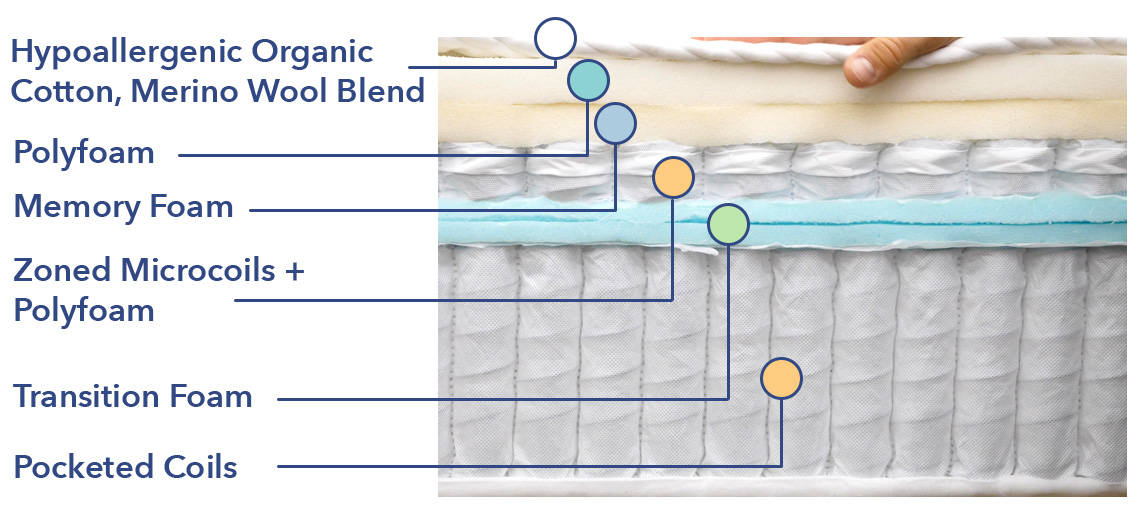 Leesa Legend Unboxing and Off-Gassing
The Legend is a bed-in-a-box mattress, which means it will arrive compressed and will have to be unboxed at home. As with all bed-in-a-box mattresses, you'll need to wait at least 24 hours for this bed to fully decompress. 
As with many new mattresses, the Leesa Legend will likely emit a light smell when it is first unboxed — this is known as off-gassing. Although this smell is not harmful and most consumers say it is not a significant smell, it does come with a hint of a "new mattress" smell. If you experience off-gassing, I recommend leaving the mattress in a well-ventilated room and within a few hours the smell should dissipate!
My Final Thoughts about the Leesa Legend
Now that you're a bonafide Leesa Legend expert, it's time to make the call: Is the Leesa Legend mattress right for you? I can't answer that for you, but to help you make your decision, I've put together a summary of my key takeaways!
Summer Sale! Up to $400 Off Mattresses!

The Leesa Legend has a soft feel that I love for side sleepers and great bounce so you won't feel stuck in bed. 
My favorite things about the Leesa Legend Mattress
First and foremost, I love the soft zoned support this mattress offers. It should provide side sleepers  just the right amount of pressure relief at the shoulders and hips. I think this soft feel might also work well for lighter back sleepers.
I also like how bouncy and responsive this Leesa is. It's uncommon for a super soft mattress to feel bouncy, so this could be a real boon for back and side combination sleepers who need a combination of pressure relief and mobility this bed offers.
My complaints about the Leesa Legend Mattress
On the other hand, I think some folks might wish the Legend offered a bit more support. Stomach sleepers especially might really prefer a firmer mattress. If you're a stomach sleeper, I'd recommend checking out our best mattress for stomach sleepers guide to find a better fit. The firmer original Leesa actually makes an appearance on that list!
I also think that soft feel could mean this mattress is not supportive enough for heavier sleepers. These sleepers need to prioritize  durability, and in my opinion this Leesa won't last long for heavy people.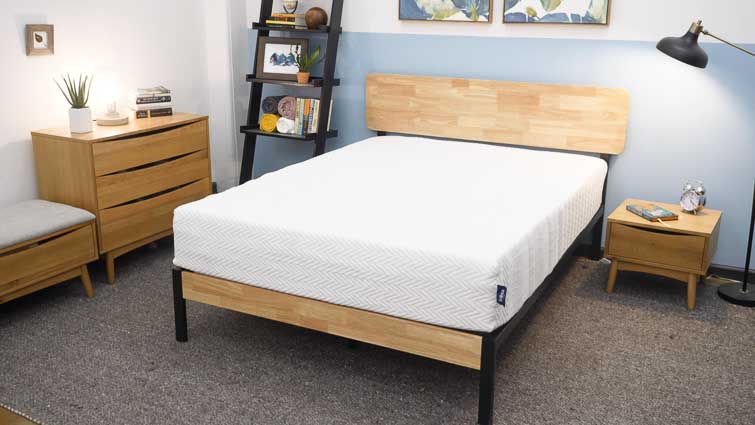 How Much Does the Leesa Legend Cost?
As it is a luxury option, the Leesa Legend's price tag is higher than the other Leesas — but it might just be worth the splurge! Check out the full pricing of the Legend below, and don't forget to head to our Leesa coupon page, or click on one of the coupons in this article, for the latest discount!
Prices listed below will be before discount or offer for each size.
Summer Sale! Up to $400 Off Mattresses!

The Leesa Legend has a soft feel that I love for side sleepers and great bounce so you won't feel stuck in bed. 
| Size | Dimensions | Weight | Price |
| --- | --- | --- | --- |
| Twin XL | 39" x 80" x 12" | 81 lbs | $1,799 |
| Full | 53" x 75" x 12" | 103 lbs | $2,099 |
| Queen | 60" x 80" x 12" | 119 lbs | $2,299 |
| King | 76" x 80" x 12" | 149 lbs | $2,599 |
| Cali King | 72" x 84" x 12" | 149 lbs | $2,599 |
Leesa Legend Mattress Policies and FAQs
Does Leesa offer a sleep trial?
Yes, Leesa offers a 100-night sleep trial.
How is the Leesa Legend Shipped? 
Leesa mattresses are made-to-order in the United States. They're compressed and shipped in a box. You should allow at least a few hours for off-gassing after unboxing your Leesa. Leesa offers free home delivery with all their mattresses.
Does Leesa offer a warranty?
Yes, Leesa offers a 10-year warranty on all their mattresses. This is a limited warranty, so make sure to read it over before you purchase.
Leesa Legend Vs
I've you're shopping for a bed online, you've likely noticed that there are several different brands and models from which to choose. To help you narrow your focus a little bit, I'll compare the Leesa Legend to two of its biggest competitors: the Bear Hybrid mattress and the Puffy Lux Hybrid mattress.
Leesa Legend vs Bear Hybrid
First things first, the Bear Hybrid is our

best hybrid mattress for side sleeper

s.

The Leesa and Bear mattresses have similar qualities —

they're both soft mattresses that don't sacrifice bounce for pressure relief. 

The Bear Hybrid is available in a

twin

, extending its audience to younger folks and making it a perfect choice for college students.

The Bear Hybrid is a bit more affordable.

Learn more in my full

Bear Hybrid mattress review

.
Leesa Legend vs Puffy Lux Hybrid
The Puffy is our

2021 best soft hybrid mattress

but the Leesa Legend stacks up pretty close.

Puffy aims to melt stress and strain away from the body's most common pressure points, while maintaining a cool temperature.

The Puffy Lux Hybrid is close in price to the Leesa Legend, but has a bit lower of a price tag.

Check out my full

Puffy Lux Hybrid mattress review

.
Other Models from Leesa
As I've shared, the Legend isn't the only mattress produced by Leesa. In case you're considering other models, I wanted to give you an idea of how these different mattresses stack up. Here's a quick overview.
Original Leesa
The

Original is an all-foam, bed-in-a-box mattress

, while the Legend is a hybrid mattress that incorporates both foam and coils. Both mattresses layer polyfoam over memory foam, which helps defend against trapped heat — and trapped sleepers!

The Original has a

balanced foam feel

with good mobility. The Legend also has great mobility, but you'll feel the support and bounce of pocketed coils in addition to the top layers of foam.

The Original is firmer than the Legend, so sleepers who prefer a

firmer feel

might want to opt for the original.

The Original

costs significantly less

than the Legend. If you're on a budget, this could be a major factor.

For a deeper look, read my full Leesa Original mattress review!
Leesa Hybrid
Like the Legend, the Leesa Hybrid features a combination of foam and coil layers. Both mattresses are

bouncy yet pressure-relieving

, and both offer more support and bounce than the Original thanks to the inclusion of pocketed coils.

The foam layers in the Hybrid are pretty similar to the ones on the Original Leesa. The Legend is distinct because it's softer and includes micro-coils.

The Hybrid features

great edge support and motion isolation

, which could make this a great option for couples who are looking to utilize the full surface of the bed and don't want to feel each other's movements in the night.

For more information, check out my Leesa Hybrid mattress review
Studio by Leesa
The Studio is an

all-foam mattress

that uses memory foam as the comfort layer for a bit of contouring comfort.

It's a no-frills mattress and has a firmer feel than you might expect from a foam bed.

Stomach sleepers

might prefer the Studio.

The Studio is Leesa's

least expensive mattress option

and I think it's a strong value buy.

Learn more in our Studio by Leesa mattress review!
Take a look at how the Leesa Legend performed on my star rating chart below!
Materials

Comfort

Support

Value

Cooling

Edge Support

Trial

Warranty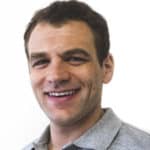 Logan is the content director of Sleepopolis, which means he not only reviews new mattresses every week, but also curates all the comparisons, best of pages, and video guides on the site. He takes a straightforward, honest approach to his reviews and endeavors to give viewers an objective look at each new product he tries out. Logan has perfected his method by personally testing over 200 different mattresses, so he's not only able to discern the overall vibe of a specific bed, but to contextualize its feel within the bed-in-a-box market as a whole. When he's not hopping on a new bed or working with our editorial team to whip up an engaging sleep education guide, you can find him reading books on world history, walking his dog Pepper, or searching for the best cheeseburger in New York City.