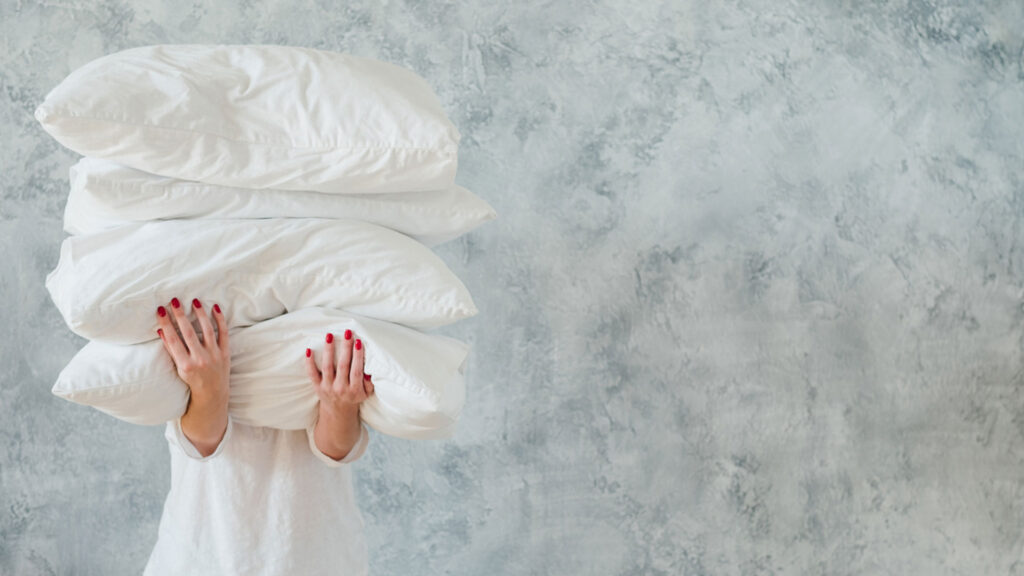 Have you ever thought about your pillow count preference for bedtime and what it might mean? Our pillow choices didn't seem noteworthy until TikTok content creator Zaki Hussain created a humorous TikTok video, speculating about people's personalities based on their nighttime pillow count.
Hussain shared his opinions about individuals who opt for a pillowless sleep experience to those who may tend to go overboard with more than three pillows.
In the video, he seemed to have the utmost respect for people who sleep without pillows, calling them the "David Goggins but for sleeping" referring to the American runner who was admitted into the International Sports Hall of Fame. (1)
Hussain also concluded his video with a verdict on individuals who use more than three pillows during the night.
"At this point, I don't know whether you sleeping on mattress or you sleeping on pillows," he said in the TikTok.
Even though this seems strange to Hussain, it's a favorite among many, specifically in the comment section. One user commented, "4 is the only right answer." Another said "I sleep with 8 pillows, then at least 2 squishmallows." (1)
So what really is the correct amount if there really is one? Now it's time for us to investigate!
What's The Perfect Amount of Pillows?
We decided to speak with a certified sleep coach and founder of Delta Sleep Coaching, Cali Barenfuss, and she proved that there might be some reasons people sleep with multiple pillows. And no, it doesn't have to do with what kind of person they are. (2)
She said that everyone is different, but she found it's most typical for people to use 1-2 pillows for comfort. However, she said you have to be smart when buying pillows because if you go wrong in this part, you might end up feeling the need to use an absurd amount of pillows.
"I have found that many of my clients use more pillows than they should because the type of pillow they had were not as supportive as they should be," she told Sleepopolis. "Once they bought the right pillow for their sleeping position and support needs, they no longer needed the additional pillows unless it is desired for comfort (hugging a pillow) or for added leg support."
So, if you use two pillows, what's the best way to utilize them? She said to place one under your head, but one for added support for your legs.
She also gave us some medical guidelines on what to look out for when searching for the perfect pillow.
"Too thin of a pillow often does not support the head/neck and can cause discomfort or the need to add more pillows, and too thick of a pillow may create an abnormal head position while sleeping causing pain or discomfort in the morning," she said.
Maybe your love for using more than three pillows to go to bed at night goes beyond the signification of what kind of person you are. It might have to do with the pillows you chose in the first place. And for the people who sleep with no pillows, we have no answers for you. 
Sources

1. Zaki Hussain on TikTok. TikTok. September 10, 2023. Accessed September 18, 2023. https://www.tiktok.com/@zakiv4/video/7277202814303014146?_r=1&amp%3B_t=8fdXJve3rBe.

2. About our sleep and insomnia coach. Delta Sleep Coaching. August 9, 2023. Accessed September 18, 2023. https://deltasleepcoaching.com/about/.

Barenfuss, Cali. Personal Interview. September 18, 2023.