The folks at Belly Sleep are big advocates for — you guessed it — belly sleepers. The brand noticed that stomach sleepers' specific needs are often ignored by the bedding market and decided to do something about it! And so, the Belly Sleeper pillow was born.
This soft, low-profile pillow was designed specifically for folks who sleep on their stomachs, and it does a lot to address this sleep position's specific sleep needs. Read on to learn more about how this pillow feels, what it's made of, and why it's such a hit with those who sleep in the prone position.
Short on time? Skip down to my review summary.
See Latest Deals

Is the Belly Sleeper a Good Pillow for You?
Before we get into all the details, let's take a moment to discuss who this pillow will and will not work for. You have different pillow needs depending on your preferred sleeping position, and this pillow is tailored specifically to stomach sleepers, which means it won't feel comfortable to just anyone.
Who should try the Belly Sleeper pillow
Who should not try the Belly Sleeper pillow
What Does the Belly Sleeper Pillow Feel Like?
Next, let's talk a little bit about how it feels to sleep on this pillow. Overall pillow feel is a combination of both firmness and loft. I'll describe both in detail below.
Remember, feel is subjective, and will vary a bit depending on your preferences.
Belly Sleeper Pillow Firmness
The best pillow firmness for you depends on your preferred sleeping position. Stomach sleepers in particular need a soft feel. Luckily for them, the Belly Sleeper pillow has a very soft foam feel. It's made of soft polyfoam that really compresses under your head, allowing you to sink into it a bit for some great pressure relief.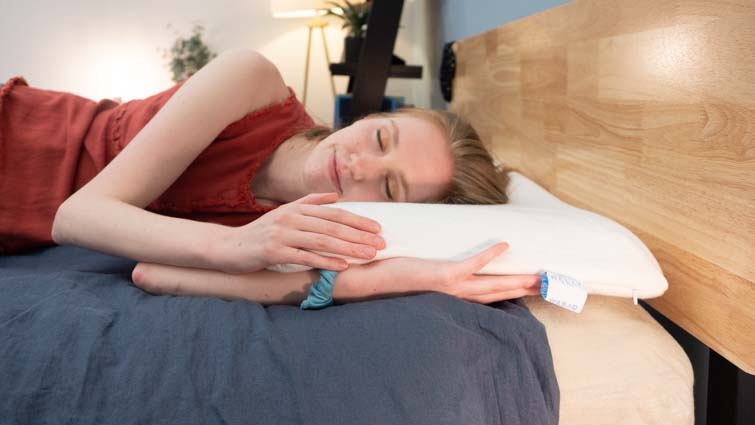 I thought this pillow felt similar to a memory foam pillow because it had a slow response to pressure. But, its poly foam build is slightly more responsive than traditional memory foam, which can be nice for sleepers who like to sink into their pillow a little more quickly.
See Latest Deals

Belly Sleeper Pillow Loft
Loft and firmness work together to create a pillow's overall feel. A soft pillow and firm pillow with the same initial loft will actually have different lofts when you lie down on each, because the softer pillow will compress more underneath your weight.
The Belly Sleeper pillow has an initial loft of 2.5 inches, which is quite low. It compresses when you lie down on it, so its loft is actually slightly lower. This ultra slim loft and soft feel make it a great choice for certain sleepers, and a poor choice for others. Take a look below to see how this pillow performs for a variety of different sleepers.
Side — Side sleepers do best on a firm pillow with a high loft, which is pretty much the opposite of what the Belly Sleeper pillow offers. This thin pillow won't allow side sleepers to keep their spines neutrally aligned, and will drop their heads down below their shoulders. This can lead to neck pain over time, so I'd recommend these folks opt for an alternative pillow option.
Back — Back sleepers who like a very thin feel could potentially like this pillow. However, if you're looking for ergonomic support I'd suggest one of our best pillows for back sleepers instead. Something a bit thicker is likely a better fit for your needs.
Stomach — Stomach sleepers fare best on a soft pillow with a thin profile. They need a pillow that doesn't lift their head up too far, which can bend their neck in an uncomfortable position. This pillow is one of the best pillows for stomach sleepers available because it will help them maintain a neutral spinal alignment, which is the key to avoiding neck and back pain.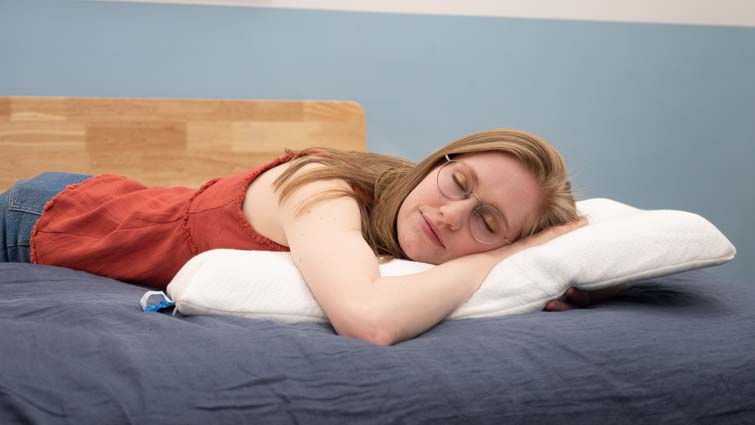 Under the Arm — If you enjoy hugging a pillow at night, the Belly Sleeper may not be the best option for you. It's not moldable or fluffable, so it doesn't feel as cuddly under the arm as another option might. If you like a foam feel but want some moldability, I'd consider a shredded memory foam option, like the Coop Home Goods pillow, instead.
Between the Legs — As a side sleeper myself, I enjoy placing a thin pillow between my legs to reduce rubbing around my knees and keep my spine aligned. The Belly Sleeper pillow is a great between the legs option, and felt really comfortable between my knees. But keep in mind that this is subjective, and someone a bit heavier than me might prefer something a bit thicker that offers more cushioning around the knees.
See Latest Deals

What is the Belly Sleeper Pillow Made Of?
Next up, let's talk about what this pillow is made of!
I'll start out with the pillow cover. The Belly Sleeper pillow uses a bamboo cover that feels incredibly soft and breathable. This cover is also moisture-wicking and odor resistant, which are both great perks. If you're looking to add a little extra breathability to this pillow, I'd actually recommend using it without a pillow case! The removable cover is machine washable and so soft that it actually felt better on my skin than most pillowcases!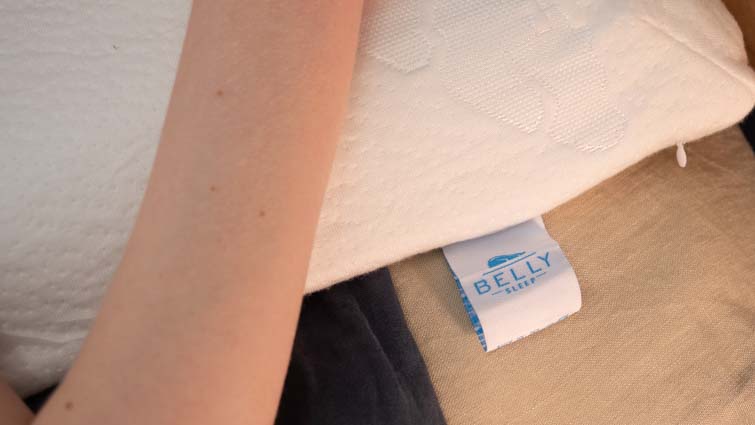 This pillow's internal fill is a solid block of polyurethane foam. It offers some nice contouring and a great soft feel, making it a great material for stomach sleeping. This fill is infused with cooling gel to help encourage airflow throughout the pillow. In my opinion, it feels similar to a responsive gel memory foam. This foam is also hypoallergenic, which is a great perk!
Is the Belly Sleeper Pillow Good for Hot Sleepers?
If you're an especially hot sleeper the original Belly Sleeper pillow might not be the best option for you. Foam pillows tend to be less cooling than other pillow types, even if they're infused with cooling technology. If cooling is a priority for you, I'd recommend checking out Belly Sleep's Cooling Gel Belly Sleeper pillow or taking a look at some of our best cooling pillows.
You could also try pairing your new Belly Sleeper pillow with some of the best cooling sheets to make it work for you!
Belly Sleeper Pillow Sizes and Prices
Take a look at the Belly Sleeper's sizing and pricing info below. Keep in mind that this pillow is offered in standard size and has a fairly standard shape (though it features gently curved edges), which means you can pair it with any pillowcase you like. Belly Sleep actually offers some of their own pillowcases that fit on this low-profile pillow a little more snugly. Personally, I found this pillow's machine washable cover so soft that I preferred using it without a pillowcase!
Price listed will be before discount or offer for each size. Be sure to click on our coupon buttons to snag a deal on this pillow.
| Size | Dimensions | Price |
| --- | --- | --- |
| Standard | 28" x 16" x 2.5" | $79.99 |
See Latest Deals

My Final Thoughts About the Belly Sleeper Pillow
Well folks, we've reached the end of my review! By now, you should know that stomach sleepers thrive on soft, low-profile pillows that offer a little cushioning, but don't force them to crane their necks into an uncomfortable position as they sleep. This means that the Belly Sleeper pillow is one of the best pillows out there for them!
Sleepers who spend the majority of the night in other positions might want to be wary of this pillow, since features that feel great to stomach sleepers can feel uncomfortable to others. But, if you know you enjoy soft, slim pillows, the Belly Sleeper should be right up your alley.
Belly Sleeper Pillow Policies and FAQs
Does the Belly Sleeper pillow come with a sleep trial?
Yes, this pillow comes with a 30-night trial period.
Does the Belly Sleeper pillow come with a warranty?
Yes, this pillow comes with a forever warranty.
How does the Belly Sleeper pillow ship?
The Belly Sleeper pillow will ship for free and arrives slightly compressed in a box. I'd recommend giving it at least 24 hours to decompress before you sleep on it. As an additional perk, Belly Sleeper occasionally offers free 2-day delivery during sales.
How do I clean the Belly Sleeper pillow?
The Belly Sleeper pillow's outer cover is removable and machine washable. The inner polyfoam fill is spot clean only.
Belly Sleeper Pillow Vs
It's always a good idea to compare a pillow you're considering to a few other brands before making a final decision. Below, I'll compare the Belly Sleeper pillow to two other popular pillows for stomach sleepers, the Saatva pillow and the I AM Stomach Sleeper pillow from eLuxury.
Belly Sleeper Pillow vs Saatva Pillow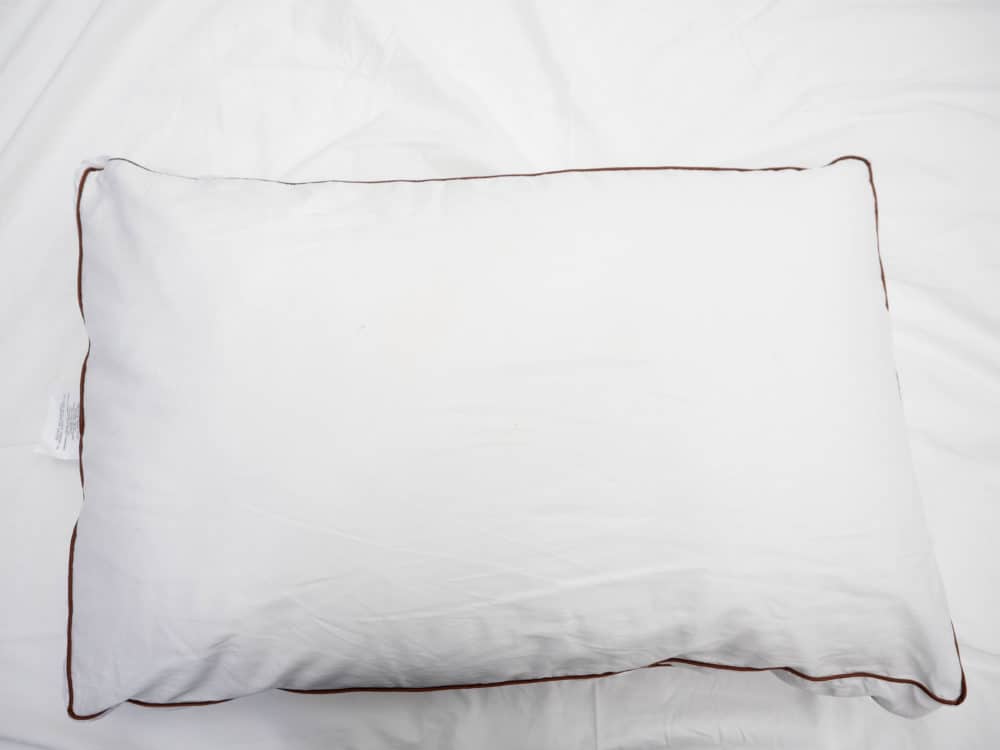 Belly Sleeper Pillow vs I AM Stomach Sleeper Pillow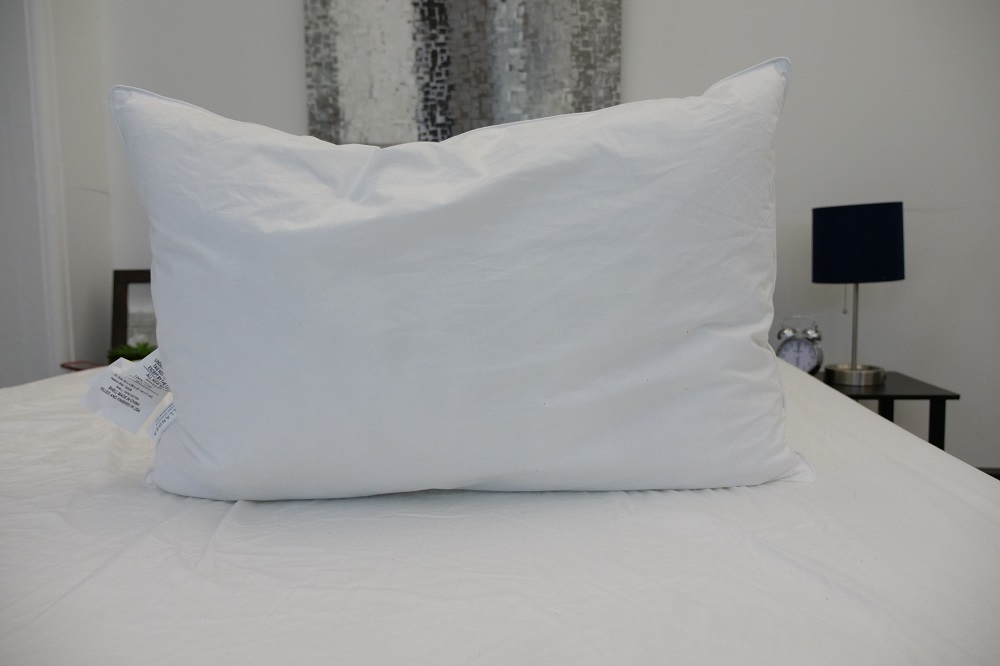 Still not sure if this is the right pillow for you? Check out how we rated it below to make a final decision. And if you're a stomach sleeper looking to get an even better night's sleep, check out some of the best mattresses for stomach sleepers too.
See Latest Deals

Materials

Comfort

Value

Cooling

Trial

Warranty

Durability