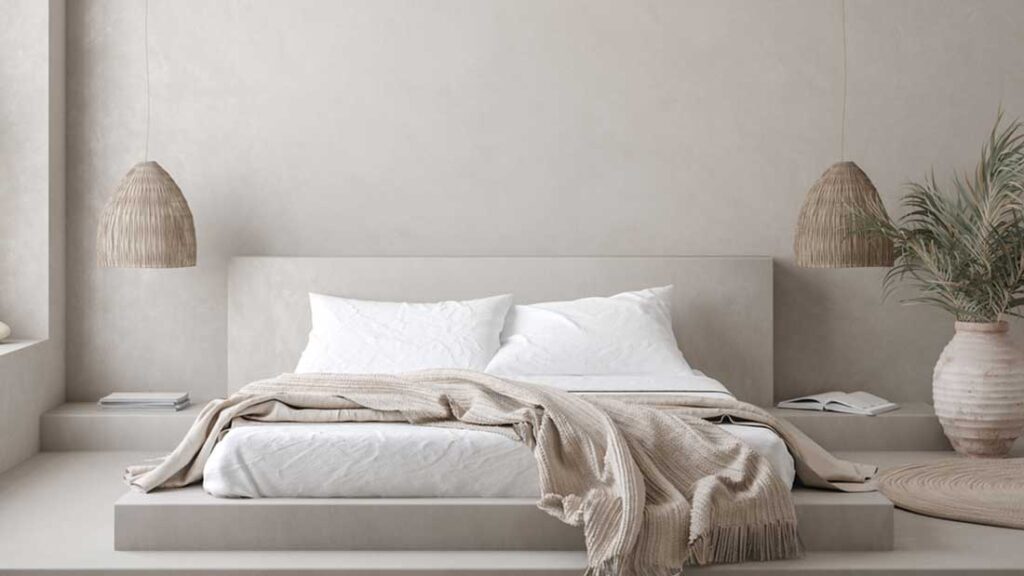 With the busy and bustling lifestyle of A-list celebs, they need quality sleep to stay on top. Best known for her roles in Frozen and The Good Place, Kristen Bell is no exception.
But Bell doesn't buy a high quality mattress or comfy sheets to get the best nights rest. Instead she opts for specific color schemes in her bedroom that will promote the ultimate relaxation for much needed beauty sleep.
We all know about that clean girl bedroom look, with shades of beige and creamy whites for an aesthetically pleasing bedroom. However, besides just being praised by interior designers, these bedroom shades have gained a new meaning. While creating a trendy bedroom with these colors, they can help you relax better at night. Wait, what?
I guess it's time to ditch the melatonin and sound machine. All you need to do is change the colors of your bedroom. But wait, before you start sampling wall colors, let's consult with the experts.
We spoke with some sleep experts to learn more about how certain colors can make you feel more relaxed for bedtime. So, is it time to go into full redecorating mode for your bedroom?
Does Bedroom Color Choice Promote Relaxation? The Experts Weigh In
Why not have an aesthetically pleasing bedroom that also helps you fall asleep at night? We spoke with Lauri Leadley, Founder & President at Valley Sleep Center, and she definitely agrees that you can have the best of both worlds.
She said that with 45% of people struggling to get enough sleep at night, redecorating your bedroom might be worth the try.
"When it comes to promoting relaxation and better sleep, there are a few colors that are often recommended," she told Sleepopolis. "Soft, cool colors like blue and green are known to have a calming effect on the mind and body."
When you incorporate these colors into interior design, Leadley explained it can help promote relaxation by eliminating stress and anxiety. Along with these colors, she said the beige, creams, and light grays that Bell uses are perfect for creating a sense of tranquility.
In fact, Leadley is drawing inspiration from Bell's color scheme while designing her new home. She mentioned that certain colors, like ivory, cream, lotus pod, and alabaster, have a calming effect.
Are you also wondering which colors to stay away from in your bedroom? We have those too.
"I think about 'loud' colors in the bedroom the same way as I do about disruptive, loud music," Leadley said. "Colors that are often associated with a negative impact on sleep include bright and vibrant colors such as red, orange, and yellow."
She said these colors stimulate the brain instead of relaxing us. Even though deep blues and blacks seem perfect bedtime, Leadley said they could actually generate a feeling of weightiness that might make you feel tense.
Colors are important, but what else should you consider having available in your bedroom for a better sleep? She recommends you choose comfortable bedding while investing in high quality sheets and pillows.
"Additionally, having a cozy blanket or throw can add to the overall comfort," she said. "Other items that can promote relaxation include soothing scents, such as lavender or chamomile, which can be achieved through candles, essential oils, or room sprays."
Leadley recommended maintaining a well-organized sleep space to facilitate peaceful sleep, as certain items like TVs, smartphones, clutter, and elaborate decorations can hinder restful rest. This means keeping your sleep space extra organized so you can create an ideal environment for peaceful sleep.
If this is another reason to redecorate our bedrooms, we are all here for it. Let's get to shopping!
Sources

Leadley, Lauri. Personal Interview. July 31, 2023.