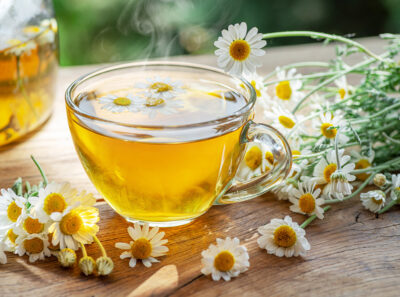 Sleeping better is on many of our wishlists, especially if it can be done with natural remedies like drinking a warm, soothing herbal tea before bed. Many people have found success with chamomile tea and sleep improvement. If you're considering chamomile tea as part of your bedtime routine, here's what we know about its effects on your beauty rest.
Note: The content on Sleepopolis is meant to be informative in nature, but it shouldn't be taken as medical advice, and it shouldn't take the place of medical advice and supervision from a trained professional. If you feel you may be suffering from any sleep disorder or medical condition, please see your healthcare provider immediately.
How Does Chamomile Tea Help With Sleep?
Chamomile (Matricaria recuita) is a flowering plant related to the daisy. Its name is Greek for "Earth apple," which reflects its slight apple aroma, and there are two types — German and Roman.[1]
Drinking a warm beverage before bed can help promote relaxation and a drop in blood pressure in preparation for sleep. But chamomile is thought to help with sleep and other things because its flower extracts and essential oil house over 120 bioactive compounds, such as:[1]
Apigenin, which has antimicrobial and antioxidant properties

Bisabolol, which has antimicrobial and anti-irritant activity

Chamazulene, an anti-inflammatory agent

Luteolin, which offers antioxidant and anti-inflammatory potential
Furthermore, some researchers think chamomile's sleep-promoting effects are due to its compound apigenin binding to GABA receptors in the brain, which helps reduce anxiety and promote sedation. These are the same receptors that bind to benzodiazepines, common anti-anxiety medications.[2][3] Though more research is always helpful, a handful of studies have tested chamomile on sleep.
A

2016 study

examined the

effects of chamomile tea on sleep quality and fatigue

among 80 Taiwanese postnatal women. While the control group received regular postpartum care, the experimental group was instructed to also

drink chamomile tea daily for two weeks

. At the end of the study, the authors found that

the experimental group had significantly better sleep efficiency scores than the control group.

[4]

In a 2017

randomized controlled trial

among 60 elderly individuals in a nursing home, the intervention group received chamomile extract capsules (200mg) twice a day for 28 consecutive days, while the control group received wheat flour capsules (200mg). Their sleep quality was evaluated at zero weeks, two weeks, upon study completion, and again two weeks later. The

researchers concluded that chamomile extract could significantly improve sleep quality among elderly individuals.

[5]

And a 2019

meta-analysis

of three randomized controlled studies concluded that

chamomile appears to be safe and effective for improving the quality of sleep

. However, there was

no significant impact on insomnia

.

[6]
Though anecdotal evidence for chamomile tea's effect on sleep is strong, the available studies are small, and additional research is needed to determine how effective chamomile tea is for improving sleep quality and duration.
Other Benefits Of Drinking Chamomile Tea
Chamomile has been used in natural medicine for centuries for pretty much any ailment. In addition to sleep, some of its other historical uses include digestive conditions, muscle spasms, anxiety, colic, menstrual complaints, skin irritation, headaches, and fever.
As for today, some of the modern uses of chamomile tea include:
Potential Side Effects
Chamomile contains a compound called coumarin, which is a natural blood thinner. For this reason, it should not be used among people who take anticoagulant prescription medications, such as Coumadin (warfarin). This also means it's prudent to avoid chamomile for at least two weeks leading up to and following any type of surgical procedure.[14][15]
Furthermore, chamomile is a relative of ragweed and chrysanthemum, which are common environmental allergens. If you have reactions to these plants, it's also best to avoid chamomile.
Finally, chamomile products may have a mild uterine stimulant effect. One study found it was effective in stimulating labor in post-term pregnancy — but this would not be desired earlier in pregnancy.[16]
It's always a good idea to speak with your healthcare provider before adding chamomile, or any other herbal tea or supplement, to your routine, especially if you are pregnant or taking any medications.
How To Prepare Chamomile Tea And Use It For Sleep
How to Brew Chamomile Tea
Brewing chamomile tea is easy. Simply steep a chamomile tea bag or dried chamomile flowers in hot water for 5-10 minutes. Remove the tea bag or flowers and enjoy the infusion in a mug. Some people like to add cinnamon, lemon, ginger, or orange peel to their chamomile tea. If you dislike chamomile's flavor, you can also brew it with another type of tea, like jasmine, black, green, or hibiscus tea.
How Much Chamomile Do I Need?
There is no standard dosage for chamomile. Most studies using chamomile have included a wide range, from 200-1100 mg daily for up to eight weeks. In general, chamomile is likely safe when used in the amounts found in regular tea bags.[17] So, a good place to start is by steeping one chamomile tea bag to prepare a hot tea and see if it helps your sleep.
What Does Chamomile Tea Taste Like?
Chamomile tea is often described as having a mild, flowery taste with a bit of an apple flavor. Some people also think it has somewhat of a hay semblance with a bitter aftertaste.
Are There Other Ways To Take Chamomile?
In addition to prepared chamomile tea, this herb is sold as dried flowers and in supplemental, extract, and topical forms. The most common way to use chamomile is to consume it as a hot herbal tea.
Some people like to take encapsulated chamomile or flower extract or use chamomile essential oil on their skin. Note that there is no standard dose for chamomile in any form. There have been reports of it causing skin irritation when used topically, and further research is warranted on alternative uses.[18][19]
The Last Word From Sleepopolis
Chamomile tea is a popular beverage that has been enjoyed for centuries for its flavor and potential therapeutic benefits. Many people find that chamomile tea helps them sleep when they prepare it as part of their winding-down routine. While there are no standard guidelines for using chamomile tea for sleep, some evidence suggests its effectiveness. It also has a low risk of side effects for most healthy people. The best way to see if chamomile tea is right for you is to prepare yourself a warm mug before bed.
References
Chamomile. In: Drugs and Lactation Database (LactMed®). Bethesda (MD): National Institute of Child Health and Human Development; February 15, 2021.

Viola H, Wasowski C, Levi de Stein M, et al. Apigenin, a component of Matricaria recutita flowers, is a central benzodiazepine receptors-ligand with anxiolytic effects.

Planta Med.

1995;61(3):213-216. doi:10.1055/s-2006-958058

Srivastava JK, Shankar E, Gupta S. Chamomile: A herbal medicine of the past with bright future.

Mol Med Rep.

2010;3(6):895-901. doi:10.3892/mmr.2010.377

Chang SM, Chen CH. Effects of an intervention with drinking chamomile tea on sleep quality and depression in sleep disturbed postnatal women: a randomized controlled trial.

J Adv Nurs.

2016;72(2):306-315. doi:10.1111/jan.12836

Adib-Hajbaghery M, Mousavi SN. The effects of chamomile extract on sleep quality among elderly people: A clinical trial.

Complement Ther Med.

2017;35:109-114. doi:10.1016/j.ctim.2017.09.010

Hieu TH, Dibas M, Surya Dila KA, et al. Therapeutic efficacy and safety of chamomile for state anxiety, generalized anxiety disorder, insomnia, and sleep quality: A systematic review and meta-analysis of randomized trials and quasi-randomized trials.

Phytother Res.

2019;33(6):1604-1615. doi:10.1002/ptr.6349

Amsterdam JD, Li Y, Soeller I, Rockwell K, Mao JJ, Shults J. A randomized, double-blind, placebo-controlled trial of oral Matricaria recutita (chamomile) extract therapy for generalized anxiety disorder.

J Clin Psychopharmacol

. 2009;29(4):378-382. doi:10.1097/JCP.0b013e3181ac935c

Keefe JR, Mao JJ, Soeller I, Li QS, Amsterdam JD. Short-term open-label chamomile (Matricaria chamomilla L.) therapy of moderate to severe generalized anxiety disorder.

Phytomedicine

. 2016;23(14):1699-1705. doi:10.1016/j.phymed.2016.10.013

Albrecht U, Müller V, Schneider B, Stange R. Efficacy and safety of a herbal medicinal product containing myrrh, chamomile and coffee charcoal for the treatment of gastrointestinal disorders: a non-interventional study.

BMJ Open Gastroenterol.

2015;1(1):e000015. Published 2015 Feb 6. doi:10.1136/bmjgast-2014-000015

Sebai H, Jabri MA, Souli A, et al. Antidiarrheal and antioxidant activities of chamomile (Matricaria recutita L.) decoction extract in rats.

J Ethnopharmacol.

2014;152(2):327-332. doi:10.1016/j.jep.2014.01.015

Malm A, Glowniak-Lipa A, Korona-Glowniak I, Baj T. Anti-Helicobacter pylori activity in vitro of chamomile flowers, coneflower herbs, peppermint leaves and thyme herbs – a preliminary report.

Curr Iss Med Pharm Sci.

2015;28(1):30-32.

Rafraf M, Zemestani M, Asghari-Jafarabadi M. Effectiveness of chamomile tea on glycemic control and serum lipid profile in patients with type 2 diabetes.

J Endocrinol Invest.

2015;38(2):163-170. doi:10.1007/s40618-014-0170-x

Lopez Jornet P, Aznar-Cayuela C. Efficacy of topical chamomile management vs. placebo in patients with oral lichen planus: a randomized double-blind study

. J Eur Acad Dermatol Venereol.

2016;30(10):1783-1786. doi:10.1111/jdv.13770

McKay DL, Blumberg JB. A review of the bioactivity and potential health benefits of chamomile tea (Matricaria recutita L.).

Phytother Res.

2006;20(7):519-530. doi:10.1002/ptr.1900

Segal R, Pilote L. Warfarin interaction with Matricaria chamomilla.

CMAJ

. 2006;174(9) 1281-1282.

Gholami F, Neisani Samani L, Kashanian M, Naseri M, Hosseini AF, Hashemi Nejad SA. Onset of Labor in Post-Term Pregnancy by Chamomile.

Iran Red Crescent Med J.

2016;18(11):e19871. Published 2016 May 14. doi:10.5812/ircmj.19871

Chamomile. National Center for Complementary and Integrative Health. Updated May 2020. Available from:

https://www.nccih.nih.gov/health/chamomile

Drugs and Lactation Database (LactMed®) [Internet]. Bethesda (MD): National Institute of Child Health and Human Development; 2006-. Chamomile. [Updated 2021 Feb 15]. Available from: https://www.ncbi.nlm.nih.gov/books/NBK501808/

Ferreira E, Vasques C, Costa de Jesus C, Diniz dos Reis P. Topical effects of Chamomilla Recutita in skin damage: A literature review.

Pharmacology Online

. 2015.3:123-130.

https://www.researchgate.net/publication/289263589_Topical_effects_of_Chamomilla_Recutita_in_skin_damage_A_literature_review