Chamomile tea has been a go-to herbal remedy for countless ailments going back centuries. Made from dried flowers, this subtle tea is said to help everything from indigestion to the common cold. But its proponents' primary claim is that chamomile promotes relaxation and calm, making it an ideal warm drink before bed to help you fall asleep.
Chamomile tea comes in a number of forms, from lower-cost teabags to loose leaf flowers, to blends that contain other tea types. One of the main benefits of chamomile is that it's uncaffeinated, so it won't add any stimulant to your system as you're attempting to sleep. If you're a tea drinker, chamomile may be the perfect choice to drink before bed to calm your mind. Here are some of our favorite chamomile teas.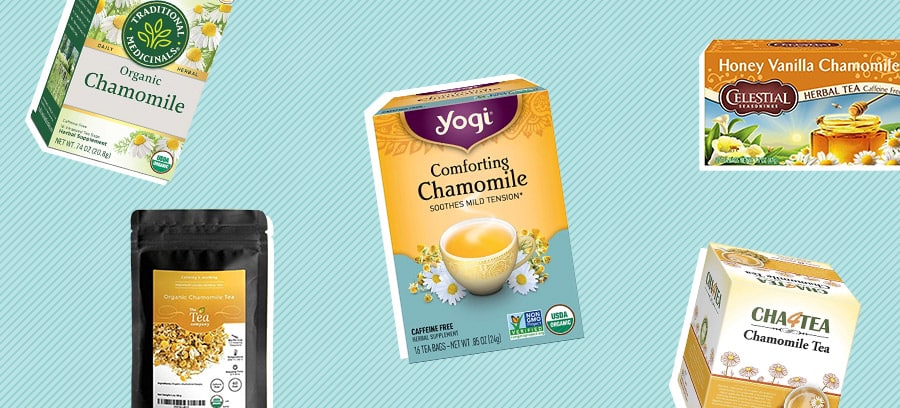 Editor's Pick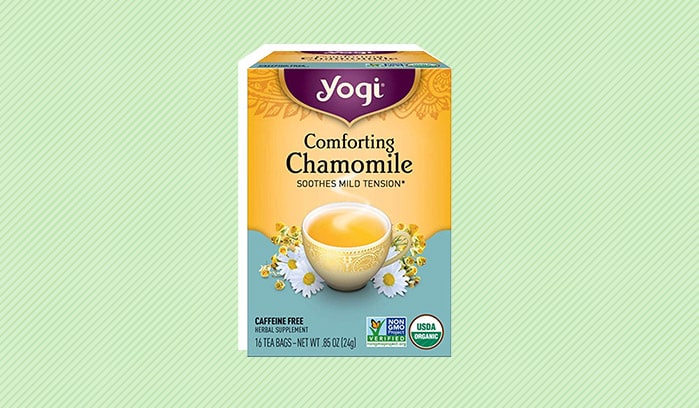 Yogi Comforting Chamomile Tea
Pros:
The tea bags are 100% organic chamomile with no fillers or additives, so you get the effects of the flower without anything else.

All of the packaging is compostable or recyclable which helps reduce landfill waste.

The package comes with 96 tea bags, which means you won't need to constantly reorder.
Cons:
Though some would consider this a positive as it reduces waste, the tea bags are not individually wrapped, which can present an issue if you're looking to transport unpackaged tea bags to work.
Yogi Comforting Chamomile Tea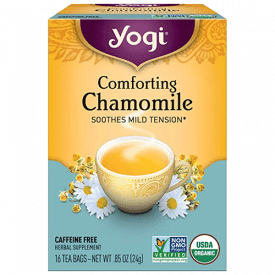 Yogi Comforting Chamomile Tea
This no-frills, all-organic, non-GMO chamomile tea from Yogi has everything you want and nothing you don't, and all priced competitively for the category. These tea packets are perfect for those who may not be serious tea aficionados, but still want the desired effects of chamomile. And, with a recyclable carton and compostable tea bags, you won't need to worry about any added environmental impact while you enjoy your tea. 
Top Contender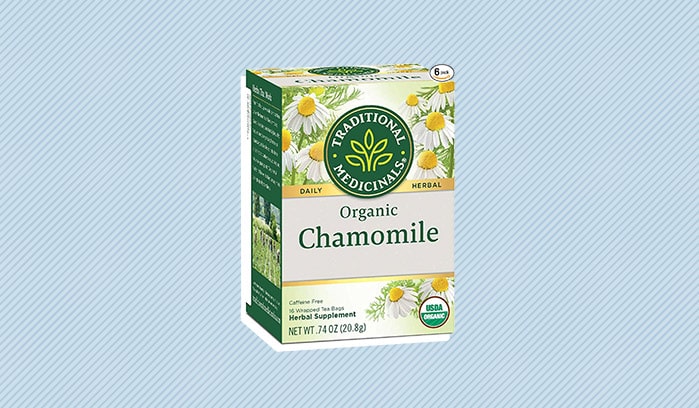 Traditional Medicinals Organic Chamomile Herbal Leaf Tea
Pros:
Each tea bag contains 100% chamomile flower without any additional flavorings.

The tea is non-GMO and certified organic, and the tea bags are biodegradable to help mitigate waste.

The individually wrapped packages help preserve freshness and make the bags easy to transport.
Cons:
The tea bags aren't super full compared to other tea bags in the market, so for stronger flavor you may need to use two bags.
Traditional Medicinals Organic Chamomile Herbal Leaf Tea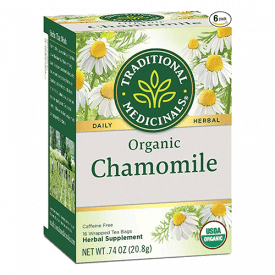 Traditional Medicinals Organic Chamomile Herbal Leaf Tea
Made from 100% dried chamomile flower, these all-organic tea bags are the perfect delivery system for a nice cup of tea before bed. Each of the bags is individually wrapped, which makes it easy for transport and helps preserve the quality of the tea. The tea is non-GMO certified, and doesn't contain any artificial flavoring or additives. For a true expression of what chamomile can do to help you relax, these tea bags from Traditional Medicinals are about as good as it gets.
Best Chamomile Tea Pods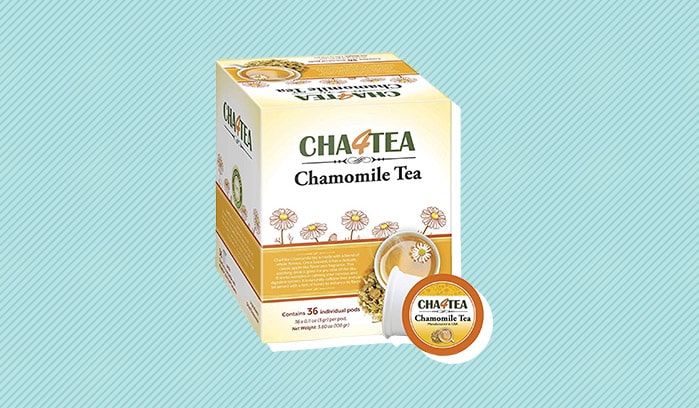 Cha4Tea Pure Camomile Herbal Tea Pods
Pros:
The main pro here is the convenience factor; brewing tea using a Keurig machine is about as easy as it gets.

Even though you're not brewing the tea traditionally, the pods contain pure chamomile flower for the same taste and effect.

The package contains 36 pods, which is a good quantity compared to other K-Cup packages.
Cons:
K-Cup pods are non-biodegradable, which has a negative environmental impact, especially in relation to other ways to make tea.
Cha4Tea Pure Camomile Herbal Tea Pods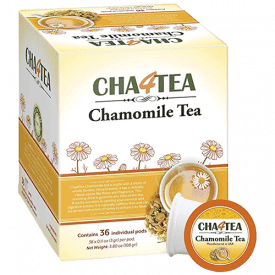 Cha4Tea Pure Camomile Herbal Tea Pods
Many homes and offices have turned to Keurig machines for a quick and easy way to brew a cup of coffee or tea. While herbal teas are a bit niche in the K-Cup market, there are some companies offering chamomile in this convenient form. Cha4Tea chamomile pods provide a great chamomile flavor in easy-to-make pods. The pods don't contain any extra additives, so even if the brewing process is a little unorthodox for tea, it's still the same ingredient you're looking for.
Best Loose Leaf Chamomile Tea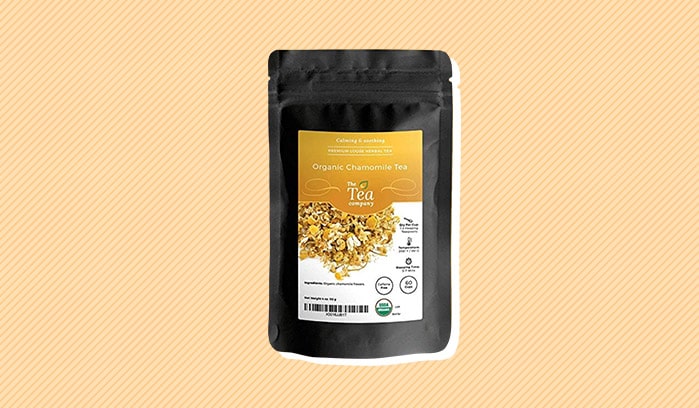 The Tea Company Organic Chamomile Tea with Whole Dried Flowers
Pros:
Loose leaf tea allows you to manage your own level of chamomile in your cup; if you feel like you need stronger tea, you're able to brew using more chamomile, or you can reuse the flowers for weaker tea that extends the life of the package.

There is no additive, tea bags or packaging, so you limit waste as much as possible.

The chamomile flowers are non-GMO and certified organic.
Cons:
For those looking for the traditional convenience of bagged tea, loose leaf may be a more daunting endeavor.
The Tea Company Organic Chamomile Tea with Whole Dried Flowers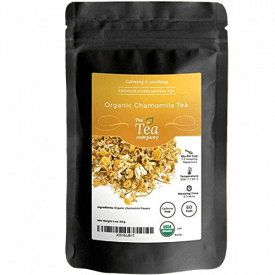 The Tea Company Organic Chamomile Tea with Whole Dried Flowers
Unlike traditional tea bags, loose leaf tea not only allows you to control the intensity of the tea you brew, but they also let you visualize and know for certain the quality of tea you're brewing. The Tea Company's organic chamomile is 100% dried flowers, which makes it easy to see for certain the ingredients you're using. Non-GMO and certified organic, these dried chamomile flowers are some of the best you can get commercially, and the fact that you can control the tea intensity means you're able to extend the life of the package beyond the estimated 60 cups it claims to make.
Best Chamomile Tea Blend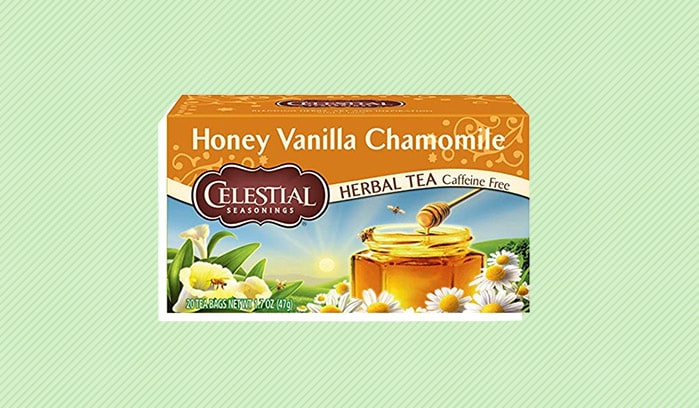 Celestial Seasonings Honey Vanilla Chamomile Herbal Tea
Pros:
The blend of chamomile, honey, vanilla, and citrus provides a more complete flavor and saves you from having to add additional honey to pure chamomile.

The tea bags are biodegradable to help mitigate environmental impact.

Even with a more lengthy list of ingredients than pure chamomile, the tea bags don't contain any artificial flavorings or preservatives.
Cons:
The additional flavors work well with chamomile, but since chamomile is such a subtle flavor, the others can be overpowering; if you want more chamomile flavor, you may be better off sticking to pure chamomile and adding your own blend of flavors.
Celestial Seasonings Honey Vanilla Chamomile Herbal Tea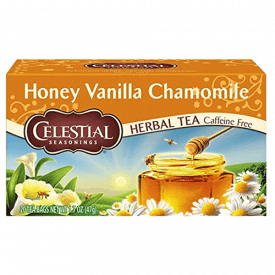 Celestial Seasonings Honey Vanilla Chamomile Herbal Tea
While pure chamomile is prized for its subtle sweetness and floral tones, some people prefer a more intense flavor out of their tea. These Celestial Seasonings tea bags pair chamomile with honey and vanilla to highlight the natural flavors in the tea to create a more robust flavor without sacrificing the intended calming effect of the flower. Additional flavorings like orange peel and lemongrass balance the sweetness with citrus undertones to give the tea a full flavor.
How We Selected the Best Chamomile Teas
It's hard to go wrong with chamomile tea. It's one of the most popular herbal tea options in the world for a myriad of reasons: it's got a great flavor, it's relatively inexpensive, many people swear by its relaxing effect, and a whole lot more. While not all tea is created equal, if you're choosing an all-natural chamomile without additives, there's a good chance you know what you're going to get (though different tea brands can certainly have more intense flavor than others).
Here were some of the things we took into account as we were selecting our favorite chamomile teas.
Brewing Convenience
There are levels to the degree of seriousness people take tea. Some people are super serious about their tea, and have special pots and setups specific for brewing certain types of tea. Many more just want something simple; an easy tea bag that they can seep in water and have a delicious cup before bed. We tried to find the best types of tea for every type of tea drinker, for those willing to go to extra lengths and those who value convenience above all else. 
Quality of the Tea
Quality in chamomile tea doesn't always speak to the variety or the country of origin of the flower so much as how the tea is cultivated. When selecting the best chamomile teas we put special stock in those that were certified organic and non-GMO. While this doesn't necessarily impact the flavor of the tea, it shows that the company is attempting to cultivate in the cleanest and most natural ways, which will ideally be reflected in the cleanness of the chamomile.
Intensity and Flavoring
Teas that are more mass-produced can be lacking when it comes to the flavor intensity of the chamomile they sell. The price you pay can be reflected in the amount of tea per bag; cheaper teas may mean needing two bags to achieve the intensity you enjoy. Likewise, we tended to favor teas without flavorings, because additives (especially if they're artificial) can leave a chamomile tea tasting too sweet or too fake. We tried to offer a good range of options when it came to both price and flavor in chamomile.
Tips for Choosing the Best Chamomile Tea
Choosing the right chamomile will have a lot to do with your level of experience with tea. If you're a loose leaf lover, or you're willing to invest in more expensive boutique tea brands, the right chamomile for you will be vastly different from a person who likes a simple cup of tea in the afternoon to help settle their stomach after lunch. Luckily, with the relative inexpensive nature of chamomile, you'll be able to do some trial and error until you find the perfect tea for you without breaking the bank. Here are some things to consider when looking at chamomile tea: 
Tea Quantity and Storage:

How often do you plan to drink chamomile tea? If you're a person who likes to have multiple cups a day, it may not be worth it for you to spend a large sum of money on a small batch tea. Try choosing a package that includes multiple tea bags without sacrificing quality. Conversely, if you only plan to have a cup a month when you're having trouble sleeping, try and opt for a tea that can be easily stored and won't go stale over time.

Environmental Impact:

Nobody likes to be preached at when it comes to conservation, but a number of tea brands go to extra lengths to ensure that they minimize packaging and make the packaging they use recyclable and biodegradable. If you're given the option between an eco-conscious product and one that isn't, why not opt for the former?
Recapping the Best Chamomile Teas
Chamomile tea is an easy and delicious way to add an herbal remedy into your nightly routine. A quick cup of tea has the potential to help you relax in the hours before bed time, or it can help take the edge off at moments when you're feeling anxious. Relatively inexpensive, easy to blend with other natural flavors, low-maintenance when it comes to brewing; chamomile is one of the most popular teas for a reason.
FAQs
When should I drink chamomile tea?
Chamomile is prized for its calming effects, which can help you to fall asleep. For best results, drink it about a half an hour before bed.
What kind of tea is chamomile?
Unlike green or black tea, which are specific types of plants, chamomile is an herbal tea. It isn't made from a tea plant, and is instead dried chamomile flowers.
Is it OK to drink chamomile everyday?
Chamomile is safe to drink every day, and can potentially have long-term effects when consumed daily, such as helping with high blood pressure.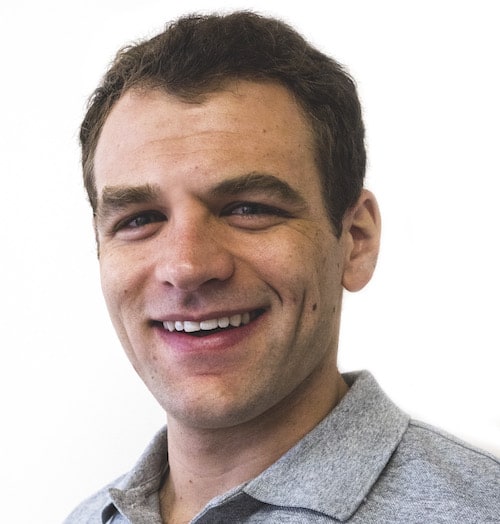 Logan Block
Logan is the former content director of Sleepopolis. As content director, he reviewed new mattresses every week and curated the comparisons, best of pages, and video guides on the site. Logan perfected his method by personally testing over 200 different mattresses, so he's not only able to discern the overall vibe of a specific bed, but to contextualize its feel within the bed-in-a-box market as a whole.