Editor's Note: This article was coauthored by Zoë Ettinger and Madison Schaper.
Headspace and Calm are two smartphone meditation applications. Both apps are meant to help you feel more relaxed and sleep better, and each has a range of stories, courses, and music to help you do so.
Sleeping and feeling better sound great, but can these apps actually make a noticeable difference? To find out, we tested each app for a period of two weeks. We tried all of their features and vlogged about our experience (which you can see in the video below). In the end, we found great things about Calm and Headspace, but found that we each preferred one over the other. 
Read on to learn more, or skip down to our comparison summary for the nuts and bolts. 
Headspace vs Calm: Which is Better for You?
We'll get into all the details about these apps' sleep features below, but first we want to give you a brief overview of what each of these apps does best. Take a look below to see which app we think you should choose based on your needs.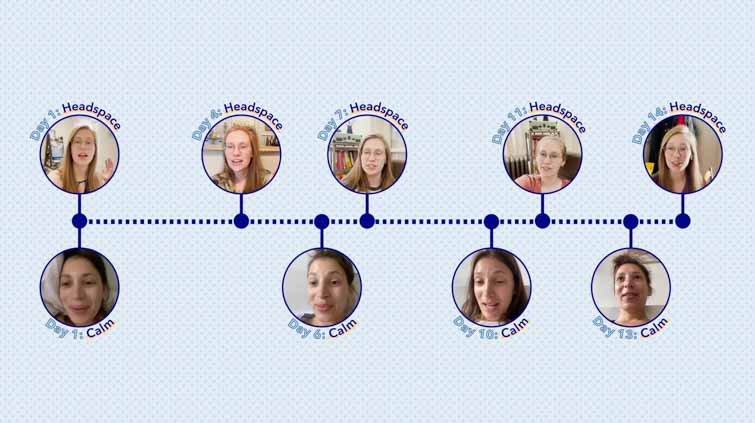 Who Should Buy Headspace
If you don't know how to meditate and want to test out a lot of different techniques,

you should choose Headspace. It teaches you many different meditation techniques through courses, individual meditation tracks, and more. Calm does not teach as many meditation techniques.

If you want to take a sleep or meditation course

, choose Headspace. Its course structure is much easier to follow than Calm's, and the app gives you more resources and techniques throughout its course than Calm does.

If you're a parent who needs help at bedtime

, Headspace could be useful. It has a range of bedtime meditations and resources for kids aged about 3-12 years old. 
Who Should Buy Calm
If you're a

fan of listening to talking as you go to sleep

, then Calm is the app for you. Instead of keeping the TV or radio on all night, you can listen to one of Calm's sleep stories, which are meant to be audio-visual, and put you in a dream-like state. 

If you like white noise

, I'd recommend Calm. The app has nature-based soundscapes ranging from desert to mountain sounds. To me, it sounded just like I was camping!

If you're

interested in the idea of mindfulness

, but aren't sure meditation is right for you, you might prefer Calm over Headspace. Calm has plenty of

short meditation and mindfulness courses

that help you feel grounded, without the time commitment of longer meditations. 

Parents with kids who love bedtime stories

will really like Calm. The app has plenty of great sleep stories for kids!
Headspace vs Calm Sleep Features Comparison
Calm and Headspace are primarily mindfulness and meditation apps, but both have become popular sleep aids. To really hone in on how these apps might improve your sleep, we focused our testing specifically on their sleep features. Read on below for the breakdown of all their different offerings.
Headspace Sleepcasts vs Calm Sleep Stories
Both apps offer stories or podcasts designed to help you drift off at night. Take a look below to learn more about how each app designs this feature.
Headspace
Headspace's Sleepcasts are about 45 minutes each (though Headspace has a few 10-minute options on Youtube if you'd like to test one out there). They feature soothing ambient sounds and a narrator of your choice describing something soothing. For instance, the Salon Nights Sleepcast featured a woman describing pleasant things happening in a salon, and the Temple Rain Sleepcast described the goings-on in a peaceful temple over rain sounds.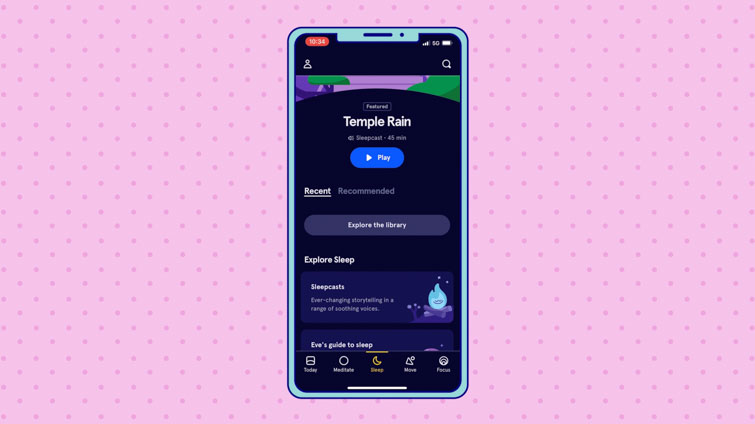 Some Sleepcasts feature a very brief, wind down meditation, which you can fast forward through if you'd prefer not to do it. Personally, I enjoyed the wind downs. A feature of the Sleepcasts that I especially liked is that you can adjust the audio mix to make the narrator's voice louder or softer and the ambient noise louder or softer.
Something else I liked about the Sleepcasts is that they change slightly over time. So if you really like the Salon Nights cast, you can listen to it over and over again and it will vary a little each time to keep you engaged. If you enjoy drifting off to sounds or stories, Sleepcasts are very soothing options that you don't need to pay close attention to. 
Calm
Calm offers a number of Sleep Stories that typically range in length from about 30 to 45 minutes. The stories are whimsical, audiovisual, and nighttime or sleep-centric, and are meant to put the listener in a dream-like state. Titles include "Journey to the Stars," "Festival of the First Moon," and "Dream With Me." Additionally, these stories are narrated by famous voices like Harry Styles, Lucy Liu, and Idris Elba. 
I think these Sleep Stories are great for anyone who finds it hard to sleep without something — be it a podcast, TV show, or movie — playing in the background. The added bonus with these stories is that they'll stop automatically after their endtime, so you don't have to worry about rousing yourself to turn them off, or them waking you up in the middle of the night.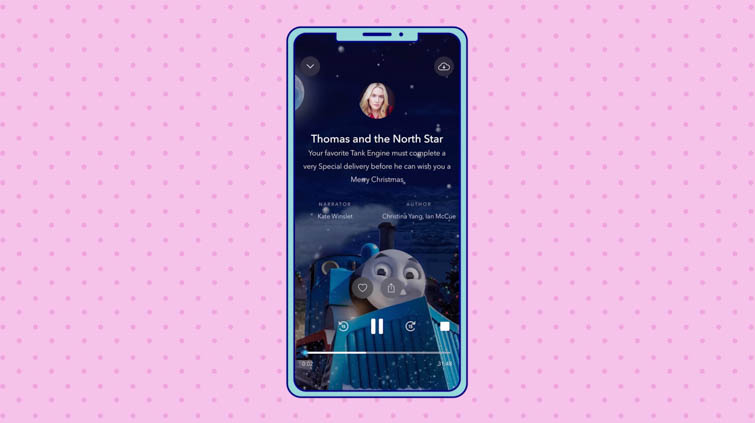 Personally, I found the Sleep Stories to sound a bit like children's books, which I wasn't a huge fan of. However, if you're trying to get restless kids to sleep, these stories could be a great way to do so, and could save you some effort after an exhausting day!
Headspace Soundscapes vs Calm Soundscapes 
Both apps also feature nighttime soundscapes, which are essentially ambient and white noise tracks. We'll discuss each app's offerings below.
Headspace
I enjoyed the Headspace Soundscapes. The app features a lot of pleasant nature sounds, like thunderstorms and rain on canvas. It also features a few non-natural sounds, like a boat engine and laundromat. However, it offered fewer soundscape options than Calm. In general, I enjoyed this feature and found all the Soundscapes I tried very soothing.
Calm
Similar to Headspace, Calm has lots of nature-based Soundscapes. These Soundscapes are based upon specific geographic regions, including Night Desert, Glacier Snowfield, Cornfield, Southwest River Canyon, and many more. What I particularly liked about these Soundscapes was how real they sounded — it was as if I was right there. Anyone who enjoys the sound of white noise will be pleased with this app.  
Headspace vs Calm Sleep and Meditation Courses
Headspace and Calm both offer courses, which feature daily meditations and learnings about topics like sleep, anxiety, and beginners' meditation. Madison took a sleep course on both apps, and will tell you what she liked (and disliked) about each course below!
Headspace
I took a course on Headspace called Eve's Guide to Sleep. Headspace also has a new Netflix show with the same name out now, so if you're interested in learning more and have a subscription, it's worth watching an episode.
Eve's Guide was a five-day course that paired a morning meditation with a nighttime activity. Nighttime activities included wind down meditations, Sleepcasts, sleep music, and soundscapes. Before the course, Eve introduced herself and explained her personal journey with mindfulness and meditation. I really liked that I was introduced to Eve before getting started —it helped me trust her (and her teaching process).
Each daytime meditation taught me something new about how stress and anxiety can make it harder to fall asleep (and stay asleep), and explained how mindfulness and meditation could make sleeping easier. Eve really emphasized that mindfulness and meditation during the day are actually what makes it easier to sleep at night.
Throughout the course I learned several different guided meditation techniques, including noting, body scanning, breathing techniques, and tuning in and out of my environment to be present. One of the meditations was also a light visualization meant to help energize me for the day ahead. I really liked that each meditation taught me a new way to meditate. It really expanded my toolbox, so that I could choose techniques that worked for me once the course concluded.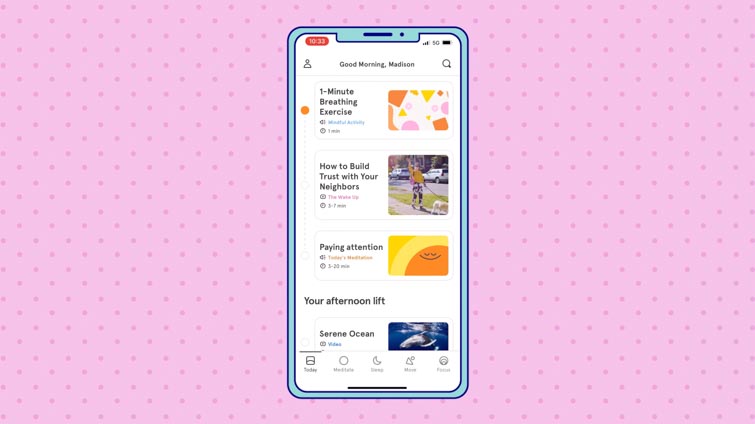 I also liked that the nighttime activity was linked right next to the daytime activity on the course page, which made it easy to find. I appreciated that the nighttime activities were varied, and I felt the course really encouraged me to try each of Headspace's different sleep features at least once to find what worked best for me. Like the daytime activities, the nighttime activities really focused on expanding my toolbox for after the course concluded.
All in all, I really enjoyed this sleep course. It covered a ton of ground in just five days and was an awesome starting point for gathering tools to address sleep issues with mindfulness. It also really emphasized that the best way to improve sleep through mindfulness is with consistency, so any way mindfulness could fit into my existing life was a positive (even if that meant I meditated for just five minutes in the middle of the afternoon).
Calm
I also tried Calm's 7 Days of Sleep course. Like Headspace's course, Calm's course paired morning meditations with nighttime activities, and was focused on using mindfulness during the day to improve sleep at night. However, I did not like this course as much as Headspace's course.
I struggled with the structure of Calm's sleep course. Instead of linking the nighttime activity somewhere easy to find, Calm's narrator suggested the activity towards the end of the morning meditation. This both pulled me out of the meditation (because it sounded like an ad) and made it hard to remember and find the right activity at bedtime.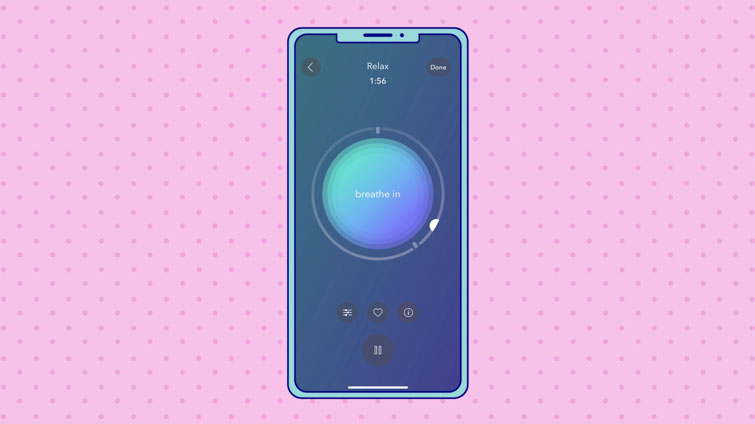 In general, I also enjoyed Calm's meditations less. They included more general tips like journaling and sticking to a sleep schedule, as opposed to in-depth info about mindfulness. And almost all of the meditations used a similar body scan technique, which did not work for me. That made it hard to feel like I was benefitting from the morning meditations, since I couldn't focus during most of them. I also disliked that all the morning meditations were meant to be done as soon as I woke up, instead of anytime throughout the day. That made it harder to fit the course into my lifestyle, and made me feel pressure about meditating the "right way."
I also disliked that the course reused a lot of the same nighttime activities. A lot of the night time activities were also body scans, which make me feel more antsy than calm (no pun intended). All in all, I felt like Calm's course gave me less of a comprehensive tour of the app's sleep resources, and didn't give me as much of a mindfulness toolbox going forward.
Headspace Sleep Radio vs Calm Sleep Remixes
Both apps feature their own playlists meant to help you drift off (or focus during the day). Read on below to learn more about each app's music offerings.
Headspace
Headspace does not offer as many music options as Calm. Personally, I didn't really enjoy Headspace's music offerings. The app's library featured a lot of synth music, which is not something I particularly enjoy. It did have some nice lo-fi and nature playlists that I liked, but they didn't have many offerings. In general, I found my personal music library more enjoyable and relaxing. On the other hand, if you find synth music calming, you might like Headspace's offerings!
Calm
Calm's Sleep Remixes consist of dreamy, relaxing songs made especially for Calm by famous artists like Post Malone, Katy Perry, and Ariana Grande, to name a few. However, these Sleep Remixes aren't the only music you can find on Calm — there's also calming instrumental music that's meant for both daytime and nighttime listening. I really enjoyed the variety of music available on Calm; whether I wanted some ambient music to focus during the workday or some relaxing piano to help me fall asleep, I could find the song for me.
Headspace vs Calm for Kids' Bedtime
If you're a parent looking for help at bedtime, one of these apps might be a nice option for you. They both feature some kid-friendly offerings that you could enjoy.
Headspace
Headspace offers bedtime activities for three age groups — kids under 5, kids aged 6-8, and kids aged 9-12. All their offerings feature guided mindfulness meditation sessions for parents to do with their kids. They include options like listing things you're grateful for and body scans led by Elmo.
This section of the app also features a few options for parents, including "Nighttime SOS" meditations. These sleep meditations are meant to help parents relax and fall back to sleep quickly after waking up with their kids in the middle of the night. Headspace also has an entire "SOS" section separate from the kids section meant to help you sleep better if you struggle with waking up at night.
Calm
Calm has a specific portion of the app called Calm Kids. In this section, you can find children's sleep stories, meditations, lullabies, and soundscapes. Though meditations might seem like too much sitting still for a child, these meditations are only five minutes long and are specifically designed to keep young minds focused. There's even specific meditation series for kids in different age groups, from 7-10, to 11-13, and 14-17. 
Though Calm doesn't have parental de-stressing meditations like Headspace does, I do think the number of children's courses give parents an easy activity to help calm children down. There are currently 73 children's Sleep Stories on the app, so you'll have plenty of variety and won't have to worry about running out any time soon.
Additional Features from Headspace and Calm
We focused on the sleep features when testing these apps, but both apps offer a lot more features to help improve your well-being and meditation practice. Take a look at a few of our favorites below!
Headspace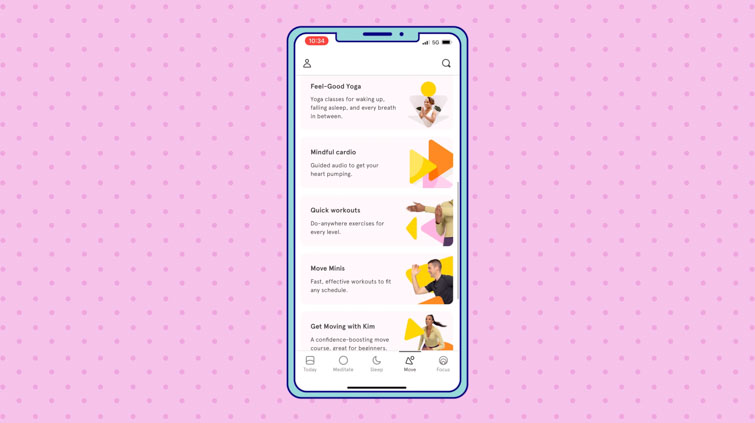 Headspace offers many

mindfulness tips and expert guidance modules

to help you learn things like learn

skillful compassion, address pain and muscle spasms, and even approach anger in a constructive way

. No matter what you're looking to get out of mindfulness, the Headspace app offers a helpful starting point for using meditation to improve your mental health.

Headspace features a

"move" section that offers workout courses ranging from yoga and cardio, to Lincoln Center dance breaks

. If you're looking to reap the benefits of meditation without sitting still, mindful exercise might be for you.

The app offers "Energy Shots," which are essentially

short pep talks from Kevin Hart

, which can offer fun ways to refocus during the workday.

Headspace's

"today page"

lays out several activities for you each day. It includes tasks like deep breaths before you wake up, the

"wake up,"

which is a short video teaching you something new or setting an intention, "

afternoon lifts"

that range from workouts to playlists, and nighttime activities.

It's a great way to find a few resources and choose options that work for your day.
Calm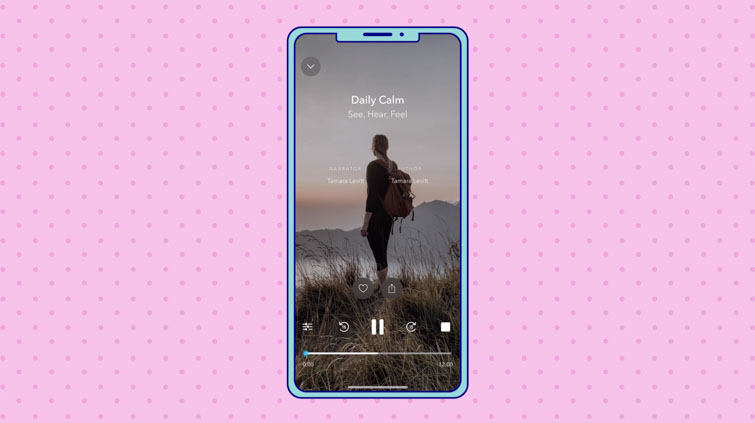 Calm has Daily Trips, which are

short, narrated mindfulness sessions

. I listened to them in the morning while making breakfast or during breaks in the afternoon. I found that they left me feeling more focused and relaxed.

The app has a section called "Quick & Easy" that has a bunch of activities, from

breathing exercises to reflective check-ins, that are just a few minutes

. If you're having a particularly busy day, or just need a moment to relax, this section is a great resource.

Calm has a Mental Fitness section composed of

courses where you can learn a new cerebral skill, from meditation to confidence

. The "How to Meditate" course is taught by a meditation teacher and author and is a great place to start if you've never meditated before.

I really like that Calm has a

guided stretching section

. This is great for before or after workouts, to help you wake up, or if you just need to move around a bit during the day.
Comparing Headspace and Calm Prices and Policies
Pricing is important when it comes to choosing between these apps. Both Headspace and Calm are compatible with iOS and Android, and are available in the App Store. Take a look at the chart below to see monthly subscription prices and annual subscription prices for each.
| App | Monthly Subscription Price | Annual Subscription Price | Lifetime Subscription Price |
| --- | --- | --- | --- |
| Calm | $69.99 | $14.99 | $399.99 |
| Headspace | $12.99 | $69.99 | N/A |
Headspace vs Calm: Best Qualities
Well folks, we've reached the end of our review! We hope this comparison gave you a better idea of which app might be best for you. If you're still unsure, don't worry! These are some of the best meditation apps out there, so you can't go wrong with either. But to help you decide either way, here's a final rundown of our favorite features of each app.
Headspace Best Features
Headspace offers

extremely varied meditation and mindfulness techniques

, so you'll be able to find something that fits in with your existing lifestyle. If you're looking to improve your health and wellness but not sure meditating is for you, you'll want to try Headspace.

Headspace offers

comprehensive, helpful courses

that really teach you the basics and expose you to many different meditation techniques. If you think meditation is just different breathing exercises, try Headspace to learn about all the different ways to be mindful.

Headspace lets you

choose your narrator

when you listen to a meditation track. I find a soothing voice essential to guided meditation, so I like that I never got stuck with a narrator I found grating when using the app.
Calm Best Features
Calm is a great app for anyone looking for a range of activities, from meditation to sleep stories, to soundscapes. The app is really

all-encompassing when it comes to the rest and relaxation space

, and I think most users could find a section that they really like.

Calm has a

range of types and styles of meditative courses and listening

. Whether you're a meditation pro who prefers soft, uninterrupted natural sounds, or if you're just starting meditation and need a guide, you'll have plenty of options.

Calm is a really family friendly app

. The children's section is very built out. It's suitable for children of all ages, and has hours upon hours of sleep stories, meditations, and lullabies.