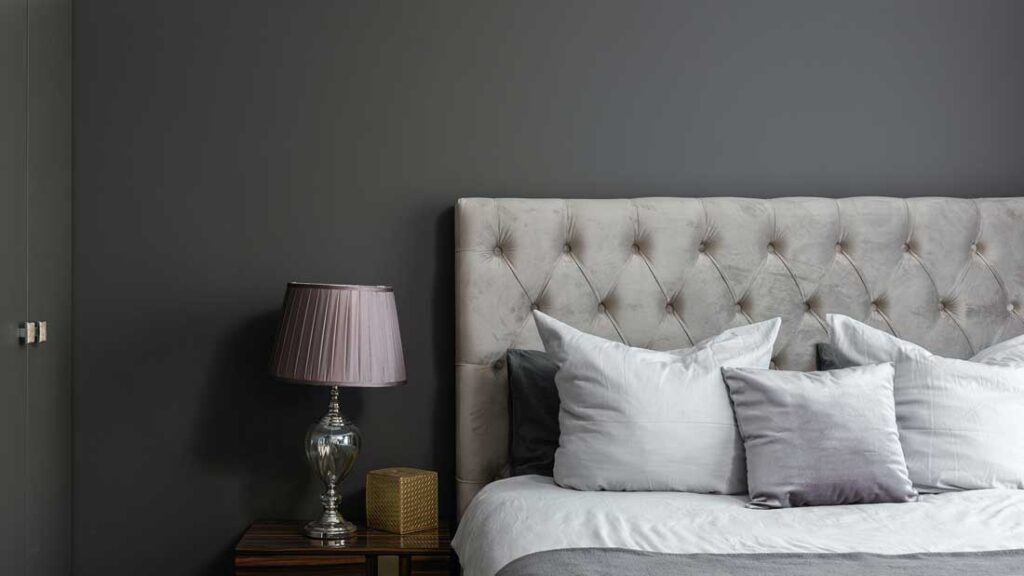 According to Zillow's latest paint color analysis, gray is on trend, and if you're not there already, a few cans of paint can pay dividends at closing. And before you get too excited over your Repose Gray walls, the study found that shade matters too. More specifically, homes with deep gray or graphite kitchens can bump your final selling price up — somewhere to the tune of $2,512 more, and dark gray living rooms can add about $1,755 to your final offer. And while a white kitchen may be stunning on Insta, it could cost you $600 or more when you sell — so says Zillow, at least.
And before you reach for Agreeable Gray, Zillow's survey shows that placement matters too. While gray kitchens and living rooms are money — front doors and bathrooms are another story. The study revealed that cement gray (a mid-tone gray) on your front door is uninviting and could potentially drop your profits by as much as $3,365 (black doors are where it's at, folks). And if you were thinking about an underwater theme with blue hues in your bathroom, opt for earth tones (think terra-cotta brown) instead — it could potentially bring you about $1,624 more than that other house down the block.
Why Is Everyone Gaga For Gray?
Eric Bramlett, realtor, home stager, and owner of Bramlett Residential in Austin, TX, says that gray is "The design world's darling because it's the master of disguise, It embodies warm or cool hues based on its shade and is applauded for its adaptability." Bramlett adds that gray "stands out and seamlessly melds into any design, all at once."
Regarding its incredible popularity in kitchens and living rooms over the years, Bramlett says, "Gray brings balance to these high-energy, frequently visited areas. It dials down the hustle-bustle of daily life, infusing calm and creating an inviting aura."
Brad Smith, Interior Designer and CEO of Omni Home Ideas adds that gray can "be both cozy and sophisticated at the same time. Plus, its neutrality allows for more daring choices in furniture, artwork, and accessories."
After a bit of digging, we found that gray has been enjoying its fifteen minutes of fame for some time now. We found plenty of evidence that the broody hue has been making the rounds on social media as far back as 2016.
Mary Liz was ahead of the curve when she painted her living room wall in "Raccoon Fur" by Benjamin Moore in 2016. We can only guess that it was so good she went back for more in 2021 with a bedroom painted in "Homburg Gray" by Sherwin Williams.
And while some people love posting photos of their Insta-worthy gray walls, others are clearly over it and have been for some time — like Gina and Majka sharing their annoyance with the Twittersphere:
To each their own, we guess.
So What About Bedrooms and Sleep?
While Zillow's survey made no mention of what gray bedrooms can fetch. Smith says, "Gray can work well in bedrooms depending on the shade and what it's paired with, and lighter grays can evoke a serene, peaceful atmosphere conducive to relaxation and sleep." Smith adds, "Gray is also an excellent base for layering different textures and patterns to create interest."
And for those who don't "feel gray" in their bedroom, Smith says, suggests other colors that are known for promoting restful sleep, like shades of blue (known to have a calming effect), soft greens that bring a touch of nature indoors, and warmer neutrals like beige or cream that create a cozy, welcoming vibe."
Sources

Zillow Group, Inc. "Design goes dark: Buyers pay more for homes painted in moody hues," https://zillow.mediaroom.com/2023-06-20-Design-goes-dark-Buyers-pay-more-for-homes-painted-in-moody-hues. June 20, 2023.

Bramlett, Eric. Author interview. June 2023.

Smith, Brad. Author interview. June 2023.