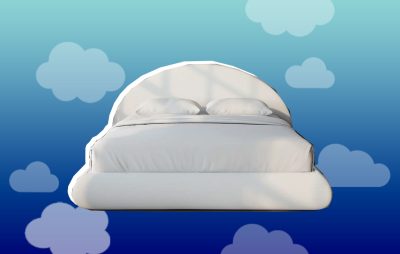 If you have been browsing the home decor side of TikTok lately, you might have come across the "cloud bed." This viral piece of bedroom furniture is seemingly making its way into every TikTok influencer's "aesthetic" bedroom. And with over 120 million views in #cloudbed and over 13 million in #cloudbeddupe on TikTok, there is no doubt "cloud bed" frames are becoming a trend.
So What Exactly Is The Cloud Bed?
A "cloud bed" is a platform bed with soft, plush, cloud-like upholstery around the bed. Most of the "cloud beds" seen on TikTok are white, puffy, and extend past the edge of the mattress — unlike a regular bed frame, which usually doesn't extend past the edge of the mattress. However, there is no official definition of what a "cloud bed" is.
There are several different brands of bed frames currently showcased by TikTok creators, but the original "cloud bed" appears to be the Cloud Slipcovered Platform Bed from Restoration Hardware. This mid-century style bed frame "features a low, footless frame with a plushy slipcovered headboard, 100% goose feather back cushions and all-around wide rail," according to the Restoration Hardware website.
Other "cloud beds" mentioned on TikTok include the Big Sur Upholstered Platform Bed from Pottery Barn and the Tilly Joss & Main bed, available on Wayfair. Another popular bed frame in the hashtag is the SoftFrame bed frame from SoftFrame Designs. The SoftFrame is one of the most commonly featured frames, perhaps because it is a less expensive option. Unlike the other "cloud beds," which are more traditional platform beds, the SoftFrame is a foam frame designed to surround a box spring, giving the appearance of a cloud-like platform bed frame. 
The SoftFrame bed frame has 2.5-inch thick foam panels "made from plush foam and premium upholstery fabric," according to the SoftFrame Designs website. The panels are attached to a piece of fabric, which lays over the top of the box spring. Once the frame is lying over the box spring, the foam panels surround the box spring to create a plush frame surrounding the bed.
Possible Dangers Of The Cloud Bed
While these "cloud bed" platform beds offer an aesthetically-pleasing, minimalist look, there are some possible dangers to be aware of. Brian Dillon from Crafted Beds told Psychreg these extended bed frames could present an issue to sleepers with back or knee pain. 
"When getting into the bed, you'll need to use your knees to support your weight as you bring your body down to the level of the bed, which could cause pain and injury to anyone with previous knee problems," Dillon said. Dillon also noted that "cloud bed" frames tend to be low to the ground, which can reduce stability for sleepers who suffer from back pain.
This is an important consideration for sleepers with mobility issues or who have back and knee pain, but for the average person, a "cloud bed" style of bed frame shouldn't present any major safety issues. For sleepers looking for another option, look for simpler bed frames that are raised higher off the ground and don't feature an extended edge. 
Things To Consider Before Buying A Cloud Bed
If you're feeling tempted by all the TikToks of gorgeous bedrooms featuring "cloud beds," here are a few things to consider before purchasing:
Safety:

As mentioned above, "cloud bed" style bed frames can present some safety issues. If you have mobility issues, back or knee pain, or are prone to tripping as you get in and out of bed, a "cloud bed" might not be the best choice for you. Additionally, it may be easy to stub a toe on these extended frames when getting in and out of bed in the dark.

Price:

While there are less expensive options, like the SoftFrame bed frame and many "cloud bed dupes" available, some of the popular "cloud beds" are fairly expensive. Be sure that the one you choose fits in your budget (our

roundup of the best platform beds

could be a good place to start!). 

Fast-Moving Trends:

Trends can come and go quickly on TikTok, so it's important to consider whether you really want this style of bed frame or whether you are feeling caught up in the hype.

Cleaning:

These upholstered bed frames may require special cleaning or may make it more difficult to vacuum around and under your bed. If keeping a clean bedroom is a high priority for you, be sure you understand how having a "cloud bed" may impact your cleaning routine.

Aesthetic:

Does the fluffy, cloud-like, minimal aesthetic of the "cloud bed" fit your current or desired bedroom aesthetic? Many of the popular TikToks showcasing "cloud beds" have a minimalist, neutrals-heavy, clean aesthetic, but you can style a "cloud bed" in whatever way you desire!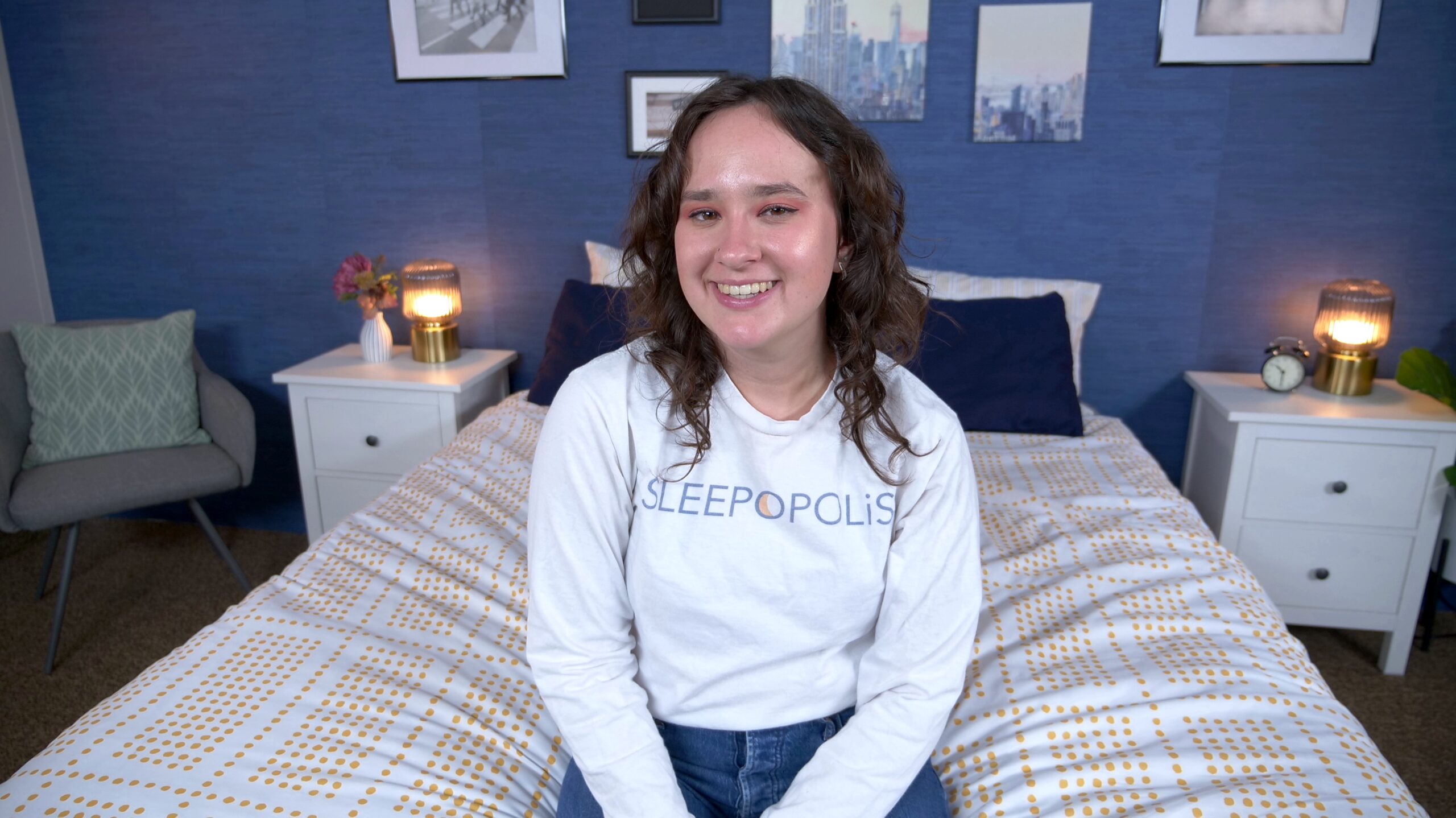 Amelia Jerden
Amelia is a Senior Staff Writer for Sleepopolis. She primarily covers bedding and sleep accessory products in reviews, how-to guides, and more. You can also find her over on the Sleepopolis YouTube channel. Amelia is a graduate of the University of North Carolina at Chapel Hill, with double majors in media and journalism and in dramatic art. Outside of work, Amelia can usually be found on a hike, traveling to a new city, or at her local thrift store.