Using a weighted blanket is a great way to relax your body and mind before bedtime. And though they come in a variety of fabrics, colors, and sizes, they're all designed to apply a therapeutic technique called deep pressure touch. Of course, every sleeper's needs are unique, so how do you know which weighted blanket is the right one for you?
Well, you've come to the right place because I'm about to make your shopping experience a whole lot easier. In this guide, I'm presenting my top four favorite weighted blankets from Amazon, all of which I've personally tested. Plus, I'll leave you with some expert tips and tricks for finding the perfect weighted sleep accessories. Let's get started!
Best Weighted Blankets on Amazon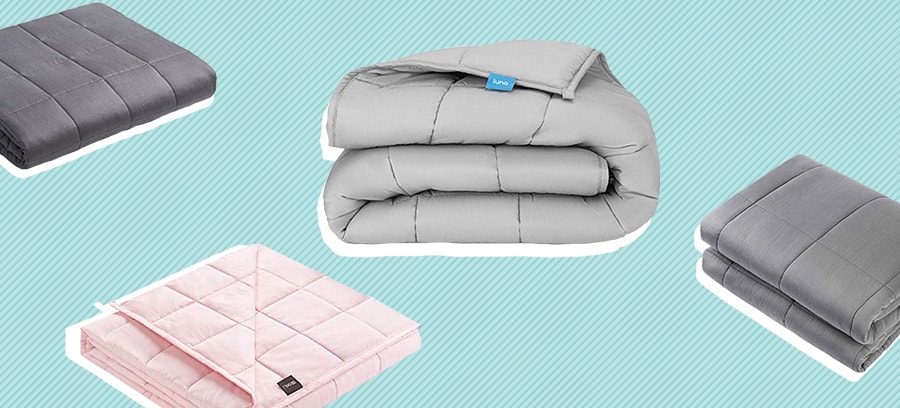 Editor's Pick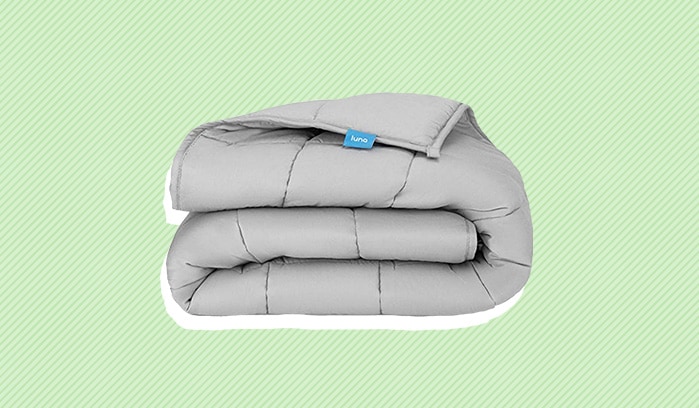 Luna Weighted Blanket
Covered in 100% cotton and filled with hypoallergenic glass beads, this weighted blanket is super soft and soothing. It also features gridded stitching for a perfectly even distribution of pressure. 
Pros
The Luna weighted blanket is hypoallergenic and OEKO-Tex certified, which guarantees that it was made without any harsh chemicals or dyes. 

If you're shopping for the whole family, you'll be glad to know that this blanket is offered in weights ranging from 5 to 30 lbs!

This blanket comes in over a dozen colors and patterns for folks looking to get creative with style. 
Cons 
The larger sizes are a bit pricey at around $120-$165, which might not be compatible with sleepers on a budget. 

While many weighted blankets come with a removable duvet cover, this one does not.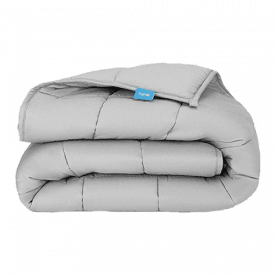 Luna weighted blankets come with 100% cotton covers and well distributed weight to ensure even pressure over the whole body.
Best Budget-Friendly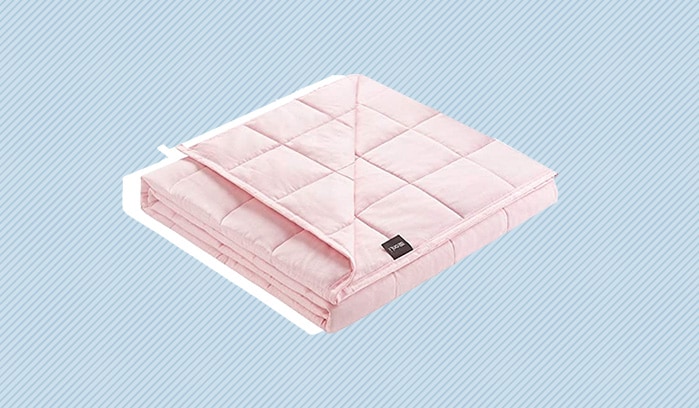 ZonLi Weighted Blanket
Filled with non-toxic glass beads and covered in cotton, the ZonLi weighted blanket ranges from 5 to 20 lbs. Plus, it features about a dozen loops for folks who want to dress it with a duvet cover.
Pros
The largest, heaviest ZonLi weighted blanket is only about $50, making it the most affordable option on this list. 

This blanket is made from non-toxic, hypoallergenic materials, and shouldn't irritate those with allergies or sensitive skin. 

It comes in a variety of solid colors for folks who like to experiment with style, but want to avoid printed patterns. 
Cons 
This blanket only goes up to 20 lbs, which might be a little too light for folks who weigh 250 lbs or more. 

While it's designed to be compatible with a duvet cover, it's important to note that they're sold separately.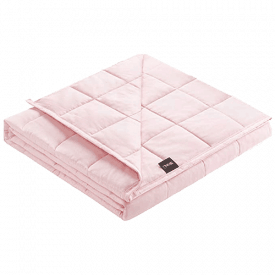 The ZonLi is a great weighted blanket option for those on a budget. It's covered in cotton and filled with hypoallergenic, non-toxic glass beads. 
Best for Heavy Sleepers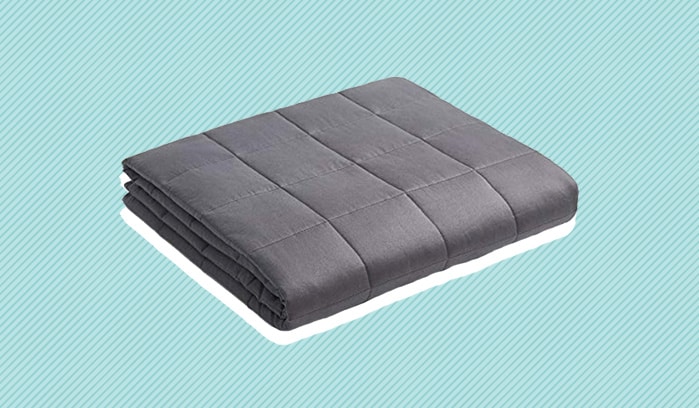 YnM Weighted Blanket
The YnM weighted blanket is covered in breathable cotton, and filled with glass beads. It features gridded stitching for an even distribution of pressure, and can accommodate a wide range of body types. 
Pros 
Heavier sleepers will be glad to know that this blanket is offered in a 30-pound King size option. 

If you're looking for something stylish, keep in mind that this blanket comes in over

twenty

different colors!

Aside from the heavier models, this blanket comes in sizes and weights specifically for kids too. 
Cons 
In my experience, this weighted blanket can get a little too warm for hot sleepers like me!

In order to maintain the integrity of the fabric, you should spot clean this blanket instead of washing it by machine.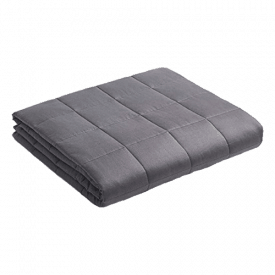 The YnM weighted blanket uses breathable cotton to help sleep cool and can accommodate a wide range of body types.
Best for Kids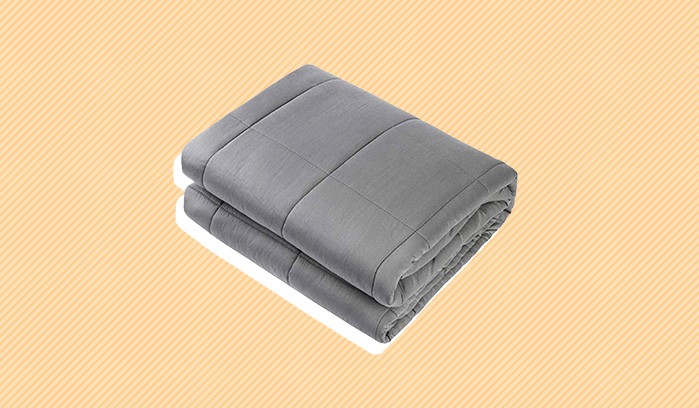 Waowoo Weighted Blanket
This blanket is filled with glass beads and covered in a premium fabric designed to be extra light and breathable. It's offered in a very wide range of weights, perfect for those shopping for the whole family. 
Pros
If you're shopping for small children, take comfort in the fact that this one is offered in a 4-pound option. In my experience, that's as low as it gets! 

This blanket features gridded stitching, which promotes an even distribution of pressure. 

Compared to other weighted blankets I've tested, I found this one to be extra breathable. 
Cons
This blanket is only offered in a gray color, not ideal for folks who prefer printed patterns. 

This is nitpicky, but you can hear the glass beads clink together a bit when you move this blanket around.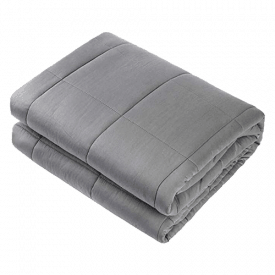 The Waowoo Weighted Blanket comes in a wide range of weights, including lighter options that are great for kids!
Note – These are just our favorites available on Amazon but be sure to check out our Best Weighted Blanket list for some other great options!
How We Choose the Best Weighted Blankets on Amazon
Now that you've seen my top four favorite weighted blankets on Amazon, let's dive deeper into the methodology behind my choices. When you're shopping for the perfect one, there are a several key factors to consider.
Materials & Construction
The first thing to pay attention to is the construction of the weighted blanket, and the specific materials used to make it. Most often, weighted blankets are filled with either glass beads or plastic pellets, but this can vary from brand to brand. That's why I suggest making meticulous note of the "materials description" before you make your purchase.
In general, glass beads are considered preferable to plastic pellets because they tend to offer a more even distribution of pressure. Speaking of which, another key element to look for in a weight blanket's construction is gridded stitching. Essentially, this keeps the weighted material locked inside individual squares to prevent it from concentrating in any one area.
Finally, I consider cover fabric. Most weighted blankets are covered in cotton, but some brand's use bamboo, polyester, or a proprietary material to enhance the blanket's cooling properties (more on this later!). Meanwhile, some blankets are designed to be compatible with duvet covers, which gives sleepers the chance to experiment with different fabrics.
Ultimately, every weighted blanket is different, even if it employs the same materials. That's why it's important to pay attention to all the little details! Once you've found the construction that appeals to you, it's time to pick the right weight.
Choosing the Right Weight
When you're shopping for weighted blankets, pick the one that's closest to 10% of your own body weight. For example, if you're 150 lbs, you're going to be best suited to the 15-pound blanket. You can give or take a few pounds if you fall in between weights but, when in doubt, it's always a good idea to consult your healthcare provider.
If you're shopping for the whole family, make sure the blanket brand offers an appropriate range of weights. Most retailers offer 5 and 7-pound options for kids, but some provide single increments to accommodate a wider variety of ages and body types. If you're shopping specifically for small children, it might be worth it to seek out companies that offer 4, 5, 6, and 7-pound models.
On the other hand, heavier sleepers should make sure the blanket they're interested in isn't too light. For example, if you weigh 300 lbs, you may find that a 25-lb blanket isn't quite heavy enough. So, I suggest taking some time to find brands that offer the exact weight you're going for, and keep an eye out for 30 or 35-pound options.
Cooling & Breathability
Weighted blankets are heavy, thick, and oftentimes pretty warm. Obviously, this isn't ideal for hot sleepers or those prone to night sweats — so what's to be done?
Well, if you're worried that a weighted blanket will make you too warm, I suggest aiming for materials like cotton, bamboo, and Phase Change Material. Cotton doesn't necessarily feel cool to the touch, but it's known for being very breathable. Bamboo is silky, airy, and naturally moisture-wicking; and Phase Change Material is a super-cooling textile that makes fabric feel like it's been refrigerated.
Many bedding brands make weighted blankets specifically for hot sleepers, so take some time to shop around! Just avoid fleece, flannel, and down, as these are known for their excellent insulating properties. Of course, if you want the option to choose between warm and cool, go for a weighted blanket that's compatible with a duvet cover. This way, you can enjoy different feels and fabrics!
Wash Care
Washing a weighted blanket can be kind of a hassle, and care instructions can vary from brand to brand. Personally, I always follow the exact instructions as given by the manufacturer, and I recommend you do the same. That said, I can tell you that most weighted blankets are spot-clean only.
So, to make things easier for you, these are the wash care instructions you're most likely to encounter:
Spot clean weighted blanket with damp cloth and mild detergent
Allow weighted blanket to air-dry
Do not dress with duvet cover or any any bedding until completely dry
There aren't many steps, but the process of cleaning a weighted blanket can be kind of a workout! So, if being able to machine-wash your blanket is a priority, I suggest checking the exact care instructions before you make your purchase.
Pricing
By now, you've probably noticed that weighted blankets can be a little pricey, but don't let that deter you! Folks on a budget should focus on weighted blankets that come only with the insert — no duvet cover included.
Oftentimes, retailers will give shoppers the chance to buy a weighted blanket with or without a duvet cover (which gives you the chance to save some money). You can always buy a duvet cover down the line, as it's not essential to the weighted blanket itself.
Finally, I always encourage you to take advantage of a brand's trial period when it's offered. Being able to personally test a product is a great way to determine if it's really worth the dough!
Sleepopolis Buying Tips
Before I wrap up this review, allow me to impart a few more words of wisdom:
Green Sleepers – If you will only sleep on organic materials, take comfort in the fact that some brands make plant-based weighted blankets. They're a bit harder to find, but it might just be worth the search!
OEKO-Tex Certification – As with all bedding, it's good to keep an eye out for the OEKO-Tex certification. This lets you know that no harsh dyes, chemicals, or pesticides were used in the manufacturing process.
Duvet Covers – If you're planning to use a duvet cover, make sure your weighted blanket has loops that span its perimeter. This way, you can securely fasten the cover to the weighted insert itself, and prevent it from shifting around while you snooze.
Final Thoughts
Well, folks, you're officially weighted blanket experts and you're ready to get to shoppin'. Just be sure to focus on materials, construction, and weight, and then dive deeper into the details. Before you know it, you'll be relaxing under the weighted blanket that's perfect for you! Sweet dreams, everybody.
Sarah is the former senior writer and bedding expert at Sleepopolis. She received her degree in Creative Writing from Brooklyn College and spends her free time doing stand-up, making pasta, and hanging with her cats.