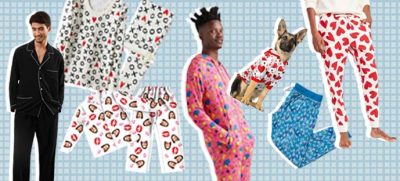 Is there anything more quintessentially adorable than sporting a set of matching jammies with your partner, your bestie, your kids, or even your pup? I associate pajamas with all things comfy and cozy, so getting to share in that coziness with a loved one makes it all the more fun!
While the winter holiday season seems to be the most common time for families and friends to don coordinating PJs, I'd like to argue that twinning with a loved one can (and should) be done at any time of the year —particularly Valentine's Day, a holiday all about celebrating love!
If you're looking for a cozy gift to show your affection for someone special or to add a cute touch to a Valentine's night-in, I've got a roundup of some of the cutest matching jammies the Internet has to offer.
Best Matching Jammies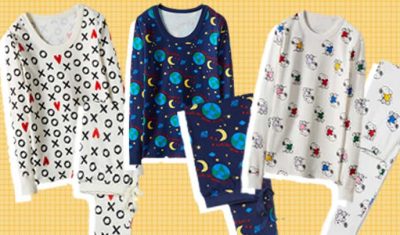 While it was hard to pick a favorite out of all these adorable pajama sets, Hanna Andersson stood out among the pack. The brand offers lots of matching pajama options, but their Valentine's Day set in particular caught my eye. I loved the simple, classic, and charming print options available, such as hearts, Xs and Os, a space themed print that says "to the moon and back," and even a print featuring everyone's favorite beagle, Snoopy.
Hanna Andersson specializes in children's pajamas, but all of their Valentine's Day collection is available in adult sizes. That being said, I think their adorable and whimsical prints are perfect for the holiday of love! The Valentine's Day jammies come in women's, men's, and adult unisex sizes, in addition to baby and children's sizes. However, do be aware the adult sizes only go up to an XXL, so this brand may not be the best pick if you or your loved one wear a larger size. Additionally, the company's pajamas are made from organic cotton in a ribbed knit. They're OEKO-Tex certified to be free from any harmful chemicals or materials.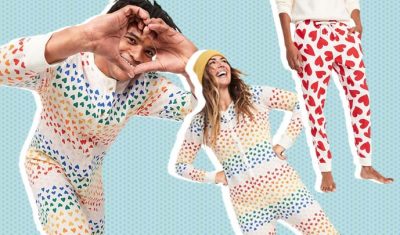 When considering pajamas with cute patterns and sizes for the whole family, Old Navy was a definite contender for the top spot. I love the prints and variety of styles Old Navy is offering for their Valentine's Day collection. They have onesies and pajama sets (for kids and adults!), as well as other adult styles, like camis, sleep shorts, joggers, underwear, and socks. There are great options to match with just about anyone — your partner, your kids, or your besties!
I appreciate that Old Navy has a more inclusive size range, ranging from XS to XXXL in men's sizes and from XS to 4X in women's sizes. Old Navy's pajamas are also some of the more affordable options out there for matching jammies this Valentine's Day.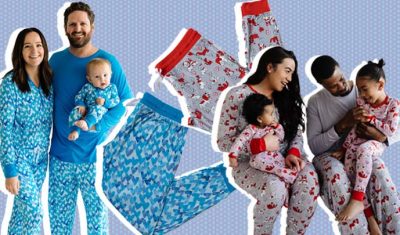 If you're a parent of young kids and want to find some matching pajama sets for this Valentine's Day, I think Little Sleepies is your best bet. While my first two picks, Hanna Andersson and Old Navy, both have pajamas for kids, I think Little Sleepies is the best for parents and little kids.
Little Sleepies has a lot of matching pajama sets in all different themes and colors, including a Valentine's Day collection. I particularly like the prints in the Valentine's Day collection, which vary from cats and dogs to Disney princesses to penguins to mermaids. These are designs that I think will especially appeal to younger kids.
Little Sleepies' pajamas also come in a variety of styles for kids, including onesies for babies and toddlers, long and short two-piece sets for older kids, swaddles and knotted gowns for infants, headbands, and even matching blankets. For the adults, Little Sleepies has two-piece pajama sets for women and men, ranging in size from XS to 3XL. All the Little Sleepies jammies are made of soft, stretchy bamboo viscose, which is fabric made from blended bamboo fibers. They're also all seamless and have no interior tags.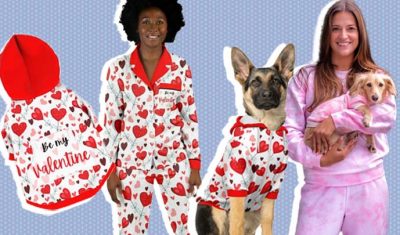 If your Valentine this year is four-legged and furry, I think you'll love these matching V-Day jammies for you and your pet from Etsy shop PersonablePet. PersonablePet makes a wide variety of matching pet and owner pajamas and this Valentine's Day print is exceptionally cute!
The human pajamas are made from a satin, polyester, and spandex blend to give them a soft and silky feel. And the puppy pajamas are a polyester and spandex blend. The shop has many positive reviews from satisfied humans (and their animals), who describe the pajamas as "high quality," "adorable," and "cozy."
While you're snuggled up this Valentine's Day, these matching jammies are the perfect touch to showcase how much you love your pet!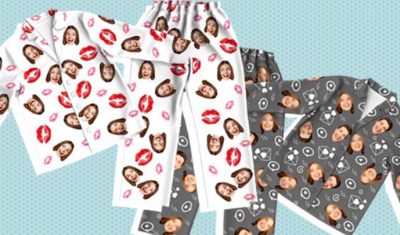 Maybe you're less of the hearts-and-chocolates type when it comes to Valentine's Day and you prefer to show your love through humor. In that case, I have just the matching pajamas for you. CustomFacePajamas is a brand that specializes in…yup, making pajamas customized with your face on them.
Personally, I think it would be hilarious if both people in a relationship got a pair with their partner's face on them. What better way to show your eternal love and devotion than literally wearing their face on your clothes? If you're not in a long-term romantic relationship, I think CustomFacePajamas would also be a great choice for best friends, or even as a gift to your parents or siblings.
If you don't like the idea of printing your face onto clothing, CustomFacePajamas also does pet faces. Surprise your partner with matching PJs featuring your pet's adorable face for the purr-fect pet parents' V-Day gift!
Best Eco-Friendly: MeUndies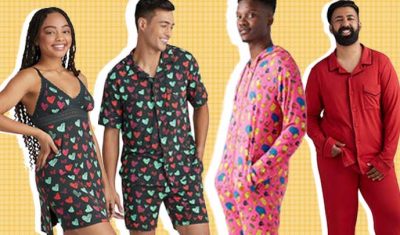 If you're looking for some matching pajamas made from eco-friendly materials, look no further than MeUndies. MeUndies specializes in underwear (as you might guess from the name) and actually makes matching underwear sets. However, they also make super cute modal fabric PJ sets.
Modal fabric is made from beechwood pulp and spun into yarn. MeUndies says their MicroModal fabric is sourced sustainably and uses low-impact dyes to ensure low environmental impact. In addition to being eco-friendly, modal fabric is super soft and breathable.
MeUndies doesn't specifically sell their pajamas as "matching," but they offer the same designs in both men and women's sizes and styles. They've got classic solid color options, as well as fun prints, you and your loved one can match in! MeUndies also has a great size range, from XS to 4XL in women's sizes and S to 4XL in men's sizes.
Looking for something a little more classy, pajama-wise? Nothing says "chic" in the world of sleepwear more than silk. Treat you and your partner to something extra luxurious with matching pajamas from LilySilk.
Like MeUndies, LilySilk doesn't specifically sell their silk pajamas as "matching," but they offer similar designs for men and women with a lot of overlap in color options. There are quite a few style options for both the gents and the ladies, including both long and short two-piece sets.
And to make buying from LilySilk even more luxurious, they'll custom-tailor your pajamas to your exact dimensions for an extra $30. You can also add custom monograms for $25 extra.
Final Thoughts
No matter who you're celebrating love with this Valentine's Day, I hope this roundup helped you find a great set of matching pajamas to make your holiday extra special.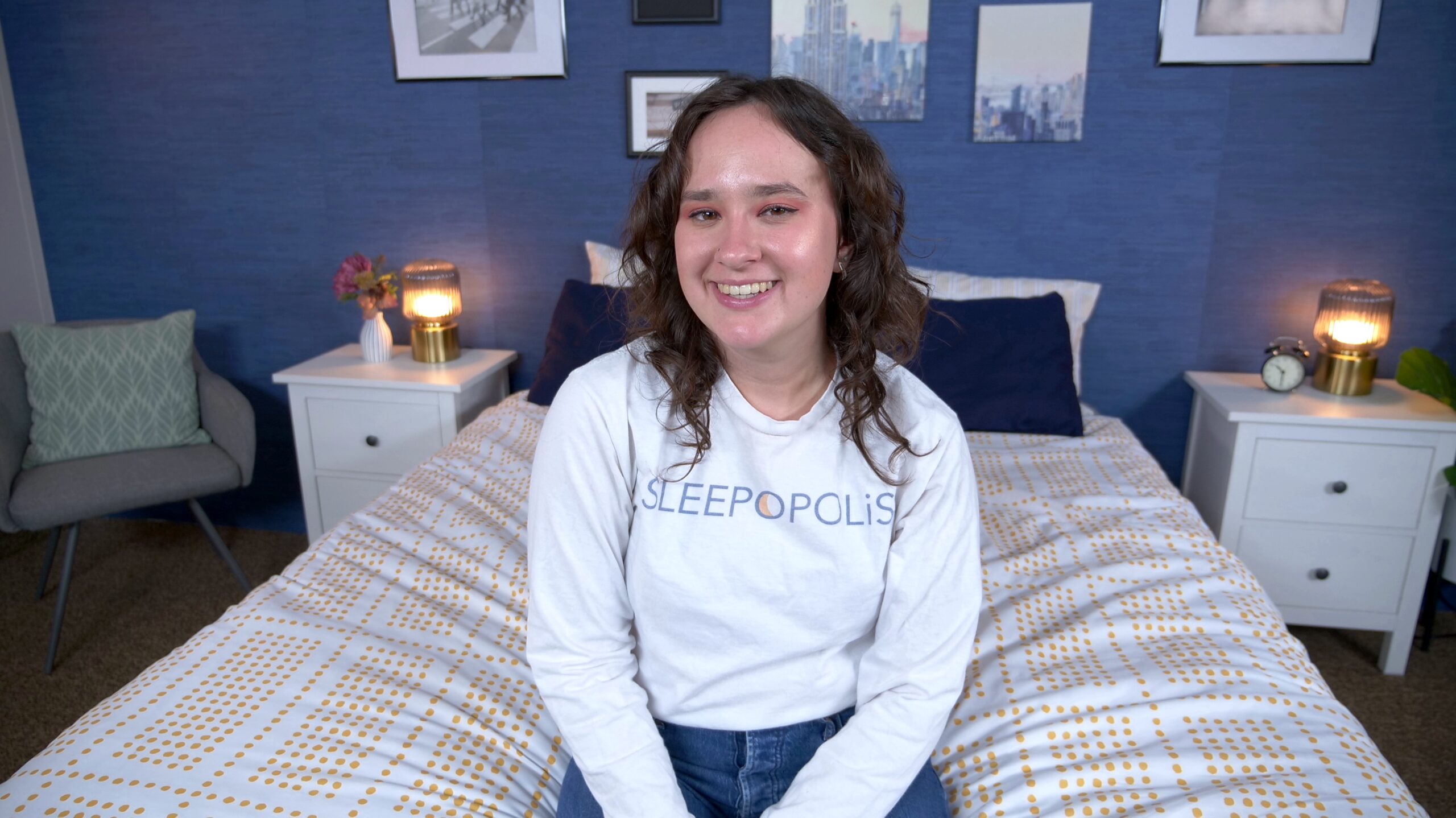 Amelia Jerden
Amelia is a Senior Staff Writer for Sleepopolis. She primarily covers bedding and sleep accessory products in reviews, how-to guides, and more. You can also find her over on the Sleepopolis YouTube channel. Amelia is a graduate of the University of North Carolina at Chapel Hill, with double majors in media and journalism and in dramatic art. Outside of work, Amelia can usually be found on a hike, traveling to a new city, or at her local thrift store.