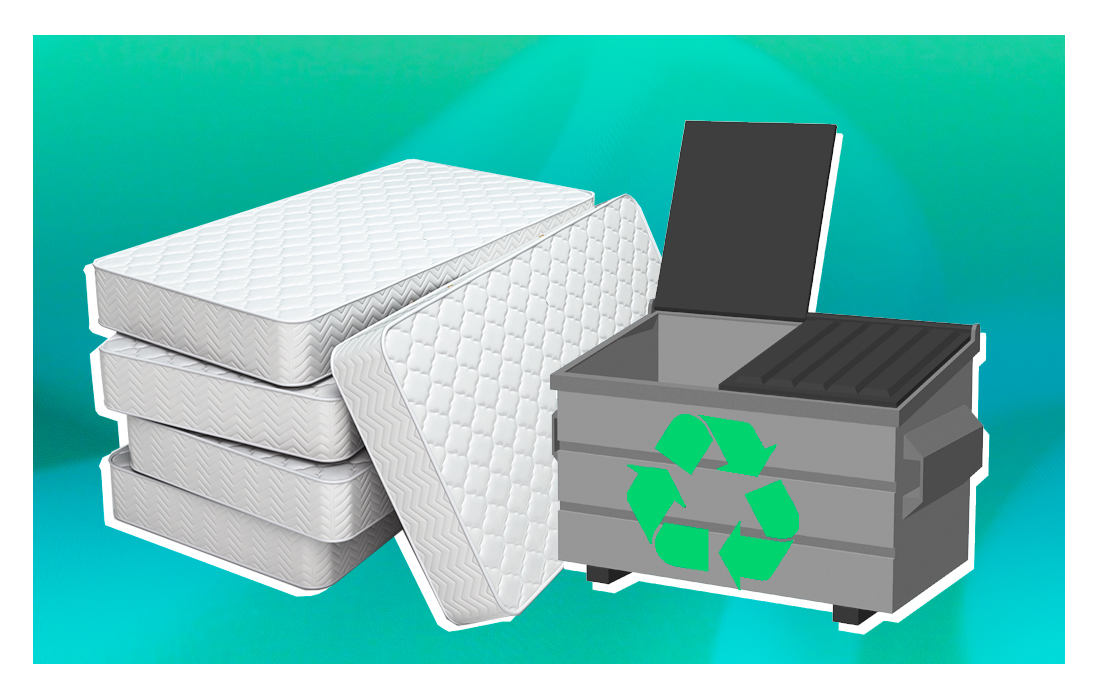 Mattresses often feel like a gentle cradle helping us doze off to La La Land, but physically speaking, they tend to be big, heavy, clunky, and bulky. This can make them a hassle to get rid of and tens of thousands of them are dumped each day in the United States.
If your mattress has served its purpose for you and it's time to replace it, your first stop should be checking how you can recycle it. More than 75 percent of a mattress can be recycled into other products and be kept out of landfills, according to the Mattress Recycling Council (MRC).
Mattress Recycling Purposes
Curious just how the layers of your mattress can be reused? Let's start from the top down.
Cover

: Typically made from various fibers (like cotton, wool, or polyester), these are often reused in carpet padding.

Memory foam or latex foam

: These foams can be shredded and reused in carpet padding. A 2021

UCLA study

also found polyurethane mattress foam can be used to make concrete stronger than traditional production methods while using less energy.

Coils

: These can be used for scrap metals.

Wood frame

: The wood can be turned into mulch, fuel pellets, biomass fuel, or reconstructed into shipping pallets.
Why is it Important to Recycle Your Mattress
Mattresses can destroy trash compactor machines due to their metals and bulky materials, which makes it harder to shred them. A queen-size mattress typically weighs around 50 to 100 pounds (or more), so that's dozens of pounds of materials you could be sending to a better place.
An estimated 22 million mattresses end up in landfills each year. This can be dangerous as mattresses decompose slowly (most take around 50 to 100 years). They have a tendency to absorb hazardous chemicals and become fire hazards while they break down. The chemicals inside them can leak into the ground and then transfer to water sources — creating an even larger environmental issue. For these reasons, it's best to recycle your mattress if you can.
So let's go through the steps of where to begin.
Check Your Mattress Warranty
What I'd first recommend doing is checking your mattress warranty. Every warranty is different and will call for its own qualifiers, but some warranties will cover mattress replacement and removal. So, it's definitely worth checking.
Where to Recycle Your Mattress
If the warranty doesn't pan out for you, then it comes down to where you live. This is where it gets tricky. There's not one easy option or way for everyone to recycle their bed because each state has its own laws and regulations.
California, Connecticut, and Rhode Island
The MRC currently has recycling programs in three states: California, Connecticut, Rhode Island, and a soon-to-be-program in Oregon. If you live in one of these states, there are MRC collection sites near you along with curbside pick-up services you can easily connect with.
Click to find your nearest services for the following:
Other States
However, the majority of us — myself included — do not live in one of those states. The MRC is pushing to get more programs in more places (it requires legislative action), but in the meantime, I've compiled some options for recycling if you live in the rest of the country.
Find the nearest

Bye Bye Mattress

program to you. You can scroll through the online sheet that lists the states in alphabetical order and see what options are available near you.

Search through

Earth911 online

or give them a call at 1-800-CLEANUP to see what options are available.

Schedule a pick-up service through Bedder World. The company's goal is to recycle 100 percent of the mattresses and box springs they pick up. They have operations in over 30 cities in Arizona, California, Colorado, Illinois, Oregon, Pennsylvania, Texas, Virginia, and Washington. Bedder World says they've recycled over one million mattresses to date. Their fees start at $65.

Spring Back Recycling

offers mattress recycling programs in North Carolina, Colorado, Tennessee, Utah, and Washington. Spring Back is also unique in that they employ disenfranchised men — including formerly incarcerated men, recovering drug addicts, and homeless veterans — to help with their disassembling and recycling efforts.

Contact your local municipality's waste and recycling department to see what pick-up programs they offer or any laws they have in place for getting rid of large furniture items. (You can actually get in trouble for incorrectly disposing of a mattress if there are specific city/county/state rules for properly doing so.)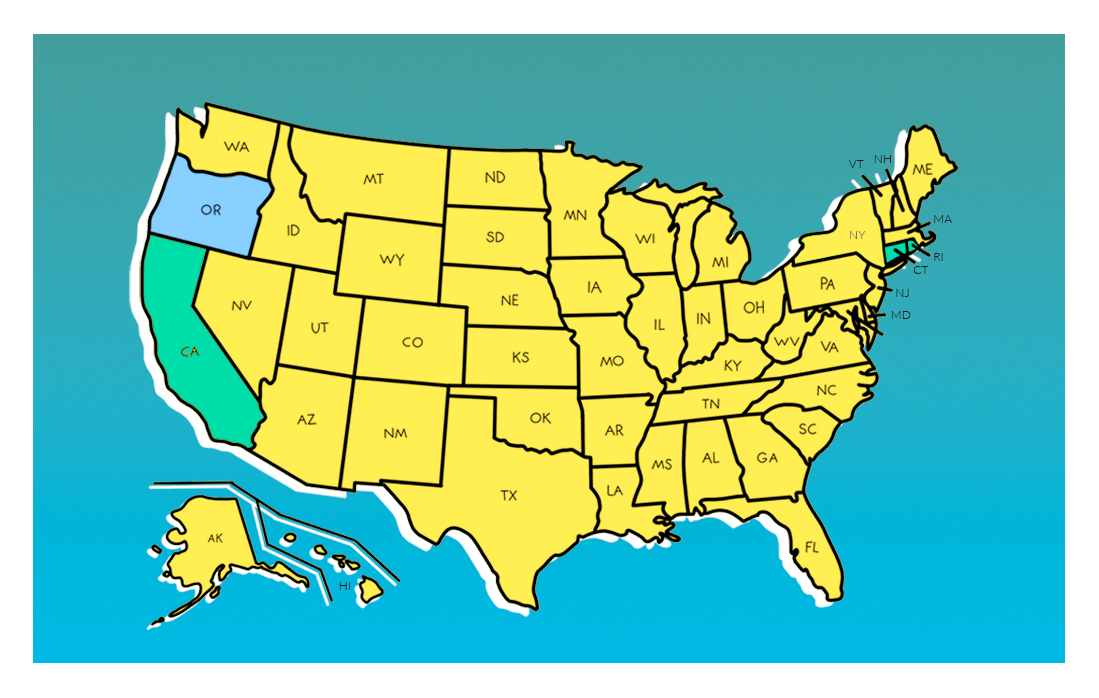 Other Mattress Disposal Options
Since there unfortunately isn't a mattress recycling program easily available to everyone, here are some other great options for getting rid of your bed.
Donate
Check with your local universities, donation centers, homeless shelters, or ministries to see if they accept mattress donations. Many of these places do, but your mattress will likely need to be in good condition.

Examples of centers to contact:

Habitat for Humanity – Restore, Goodwill, the Salvation Army, the Furniture Bank Network, and Furniture Bank Association of America

Go to

DonationTown.org

and see which charities will come to pick up your mattress donation for free.

Post on Facebook Marketplace, Craigslist, or reach out to friends/family to see if anyone needs a new mattress. I'd recommend only doing this if the bed is in good condition.
Pick-Up Services
If you're

buying a new mattress

to replace the old one, ask the company if they'll discard your current mattress for a fee. Many mattress companies offer white glove delivery service, which will include them doing this for you.

Contact Junk King

either online

or by calling 1-888-888-JUNK to get a quote on what it would cost for them to pick up and recycle your mattress for you. They have services in most states.

A last resort — search online for junk removal companies near you that will haul it away for a fee (typically around $50 to $150 depending on the size, but the price can vary).
Final Thoughts
It may not be the easiest of actions to take depending on where you live, but working to find a way to recycle your mattress can help create a sustainable future for everyone. And if your old mattress is still in good shape, you could be giving one of the greatest gifts of all if you donate it — the sweet, sweet gift of sleep.
Bridget Chapman
Bridget is a Certified Sleep Science Coach and the former senior commerce editor at Sleepopolis, where she did everything from test out mattresses to writing about how to fall asleep fast. You can also find her in videos on our YouTube channel. Bridget graduated magna cum laude from San Diego State University with a degree in journalism and a minor in English. Before joining the Sleepopolis team, she was a TV news reporter and worked in cities across the country. She loves spending time outdoors, checking out new restaurants, snuggling with her pets, and of course, getting some quality Zzz's.