Dressing your comforter with a silk duvet cover is a great way to bring a little luxury into your bedroom. Known for its sumptuously smooth feel and irresistible luster, silk is one of the most sought after materials on the market — but it can also be the toughest to shop for! That's why I've rounded up the top four silk duvet covers right here in this guide. Plus, I'll impart my personal tips and tricks for picking the silk duvet cover that meets your unique sleep needs.
Best Silk Duvet Covers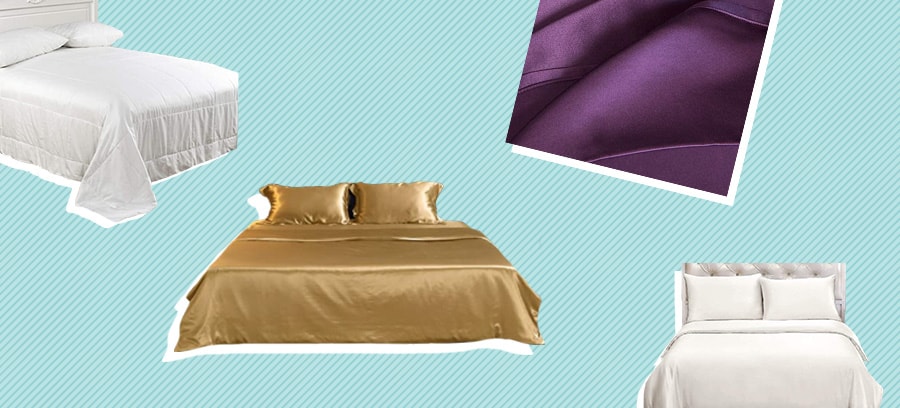 Editor's Pick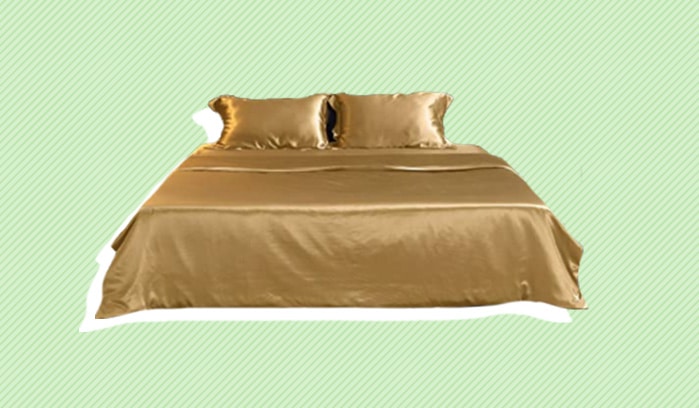 THXSILK 4-Piece Duvet Cover Set
This four-piece set includes a fitted sheet, duvet cover, and two pillowcases, all of which are made from the finest mulberry silk. Plus, this set is offered in a variety of vibrant colors, perfect for sleepers looking to experiment with bedding decor.
Pros
This bedding is made from 100 percent mulberry silk, which is widely regarded as the best silk available thanks to its fine, round threads. 
Every piece of bedding in this set features a luxuriously high momme of 19, which makes it extra durable, shiny, and smooth. 
Folks looking to get creative with style are sure to enjoy the wide variety of colors offered with this set! 
Cons
This set includes four separate pieces of bedding, which contributes to a higher price tag. If you're working with a strict budget, you might want to look elsewhere.
The envelope closures on these pillowcases are in the back rather than on the side, which might bother some sleepers.
Best Style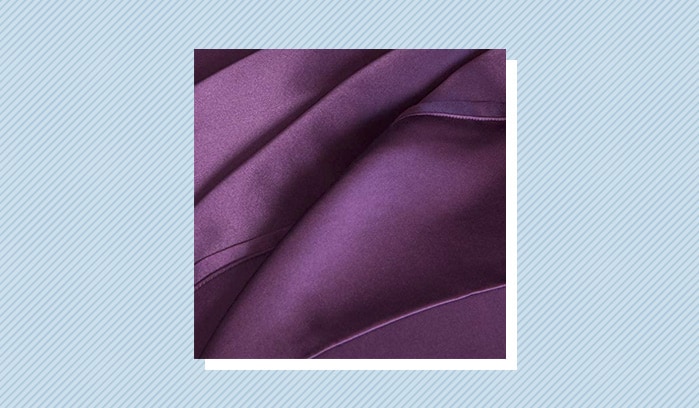 Elle & Alix Silk Duvet Cover
If you're searching for a silk duvet cover that's as smooth as it is stylish, this might be the perfect pick for you. It's made from pure mulberry silk, spun into a satin weave, and comes in a wide variety of bright colors.
Pros
From sage and bronze to eggplant and gold, this duvet cover is offered in many unique and playful colors. Plus, its charmeuse weave enhances the fabric's lustrous sheen. 
This duvet cover is made from 100 percent mulberry silk, a material known for its natural resistance to mold, mildew, and other household allergens. 
This silk has a high 19 momme, which contributes to better durability, resistance to pilling, and overall performance. 
Cons
If you're looking for a full duvet cover set, this probably isn't the right fit for you as it only includes one duvet cover.
This particular duvet cover is only offered in King and California King sizes.
Most Affordable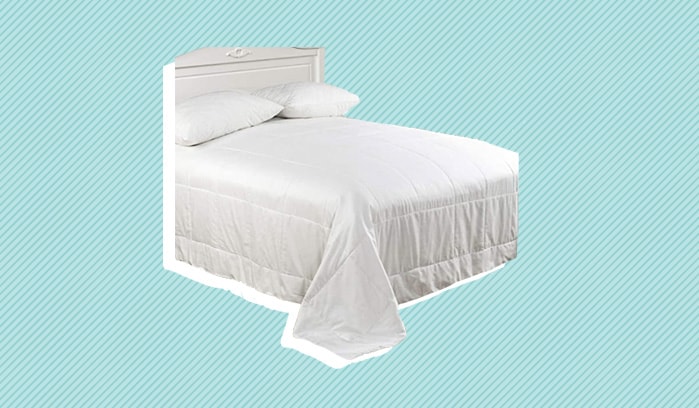 Since Silk Duvet Cover
This duvet cover is made from a blend of silk and cotton, a combination that feels uniquely smooth and breathable. Not to mention, it's more affordable than most pure silk options, making it a great pick for sleepers on a budget.
Pros
Because this duvet cover is made from a blend of cotton and mulberry silk, sleepers can enjoy luxurious materials without the luxury price tag. 
Four internal ties were sewn-in to keep your duvet from shifting around within this cover. 
The incorporation of cotton makes this duvet cover a bit more breathable than duvet covers made from 100 percent silk.
Cons
This duvet cover is blended with cotton, which makes it less lustrous than a duvet cover made from pure silk.
This duvet cover is only offered in white, which is obviously not ideal for those looking to get creative with color.
Most Durable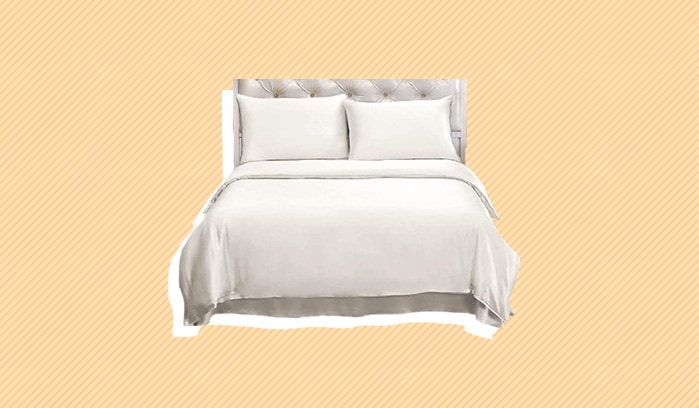 LilySilk Mulberry Silk Duvet Cover
This duvet cover is made from pure mulberry silk, features a high 19 momme, and comes in a variety of colors and printed patterns. Additionally, it's built with eight internal ties and a hidden zipper enclosure to keep your comforter securely tucked away.
Pros
High-momme mulberry silk like this is considered the ultimate in luxury bedding. It's delicate, durable, and has a beautifully lustrous sheen.
This duvet cover comes in neutral colors, vibrant hues, or printed patterns — there's a style for everybody!
A hidden zipper closure keeps your comforter discreetly tucked away, and prevents it from slipping out the bottom of the cover.
Cons
This duvet cover is on the pricey side, and will probably not fit into every shopper's ideal budget.
In order to protect the material, I recommend you hand wash this duvet cover, or have it dry-cleaned.
How We Picked
Okay, sleepers, now that you've seen my favorite silk duvet covers, let's dive into the methodology behind my picks. Ultimately, picking the perfect silk duvet cover has a lot to do with personal preference, but there are some key factors to consider while you shop.
Materials & Construction
There are dozens of different types of silk on the market, but mulberry silk is widely regarded as the best. That's why every duvet cover in this roundup is made from pure mulberry silk (with the exception of the cotton-silk blend). Don't get me wrong — there are many other high quality silks on the market, but mulberry silk is known for having extra long, fine, round threads. Personally, I shop specifically for mulberry silk because it's a pretty safe bet as far as quality is concerned!
Luckily, mulberry silk is also the easiest to find, as it makes up about 90 percent of the world's silk supply. That said, you might come across Tasar silk (made by caterpillars) or Spider silk (spun by Madagascan spiders), but mulberry silk is generally the most durable, lustrous, and delicate.
Aside from materials, it's also important to consider the details of a duvet cover's construction. For example, some feature zipper closures, while others use buttons. Some duvet covers are built with 10 internal ties, while others only use four. These things might seem like small details, but closures and internal ties go a long way in keeping your duvet or comforter discreetly and securely tucked inside its cover. As for me, I prefer a zipper closure, as it tends to do a better job of completely hiding your duvet insert.
Weave
The next thing I look for is weave style, which refers to the way in which the silk threads are spun into a finished fabric. Unlike with cotton, a silk product's weave style is not always explicitly given, in which case it's safe to assume that a plain weave was used. Perhaps the most popular style, a plain weave means that the horizontal threads alternate over and under the vertical threads for a smooth, untextured finish.
Meanwhile, there are a couple other silk weave styles you should keep on your radar! Charmeuse, chiffon, and crepe de Chine are commonly used weave styles in the world of silk, and each one offers a distinct look and feel. Silk chiffon is light in weight and has a transparent appearance (think prom dresses), charmeuse silk is known for being the most lustrous and shiny, and crepe de Chine produces a uniquely crimped texture that's often seen in wedding dresses.
The way a silk duvet cover is woven directly affects how it'll look and feel, so take some time to pay attention to weave style when you're shopping on your own!
Momme
For some sleepers, the term "momme" can be a little confusing. But think of it this way: momme is to silk as thread count is to cotton! Essentially, a high momme usually means that a silk product is going to be exceptionally smooth, durable, and luxurious. That said, some retailers do not list a specific momme, and simply categorize a silk duvet cover as lightweight, medium-weight, or heavyweight instead.
Personally, I prefer bedding brands that let you know exactly how high a silk product's momme is because it really goes a long way in determining overall quality. For context, a momme of 12-15 is considered good quality, a 16-19 momme is considered great, and anything in the 20s is ultra luxurious.
Keep in mind, though, that a high momme is not the only indicator of silk quality; but it can boost color retention, resistance to pilling, and offer better bang for your buck.
Wash Care
Unfortunately, wash care for silk duvet covers can be a little tricky. In general, they must either be carefully washed by hand, or taken to the dry cleaners (which can get a little pricey!). Because of the extra legwork, lots of sleepers avoid silk altogether. But don't worry — I've detailed some simple wash care instructions below that ought to save you some time and money:
To hand wash your silk duvet cover, use cool water and a mild detergent like Woolite or Ecosa.
Next, let your silk duvet cover air-dry away from the sun (sunlight can damage or discolor silk).
Finally, I suggest washing your silk duvet cover separately instead of washing them with silk pillowcases. Ultimately, silk is a very delicate fabric, and you should wash your silk products one at a time.
At the end of the day, there's no denying that silk bedding is relatively expensive, so it's worth it to protect your investment with proper wash care. And remember — it's always a good idea to check the exact care instructions as given by the bedding brand itself before you start washing!
Pricing
As I just mentioned, it's no secret that silk can get pretty pricey. That said, cost is influenced by a variety of factors like type of silk, weave style, and even the popularity of the retailer who sells it. So, are you supposed to know if a silk duvet cover is really worth the money?
Well, there's no way to know for sure, and there's always a little risk involved with any new bedding purchase. That's why I suggest keeping an eye out for trial periods, as these handy policies offer sleepers the chance to personally test a product before fully committing. For example, if your silk duvet cover comes with a 30-day trial period, that means you have a full month to see how you like it! If, after the trial period is up, you decide it's not the right fit for you, simply send it back for a full refund.
Of course, if no such trial period is offered, keep in mind that high momme mulberry silk is a very safe bet when it comes to quality.
Sleepopolis Buying Tips
We're almost at the end of my guide, so let's recap a few helpful highlights that'll guide you in your search for the perfect silk duvet cover:
Style – Silk duvet covers come in all different colors, prints, and patterns, so take some time to determine which style appeals to your personal aesthetic! Additionally, you might want to browse a bedding brand's color selections before you commit to a specific product.
Hair & Skin – Lots of sleepers praise silk for its beauty benefits, especially the way its smooth texture treats hair and skin. That said, pure silk is generally better for these purposes, as blended materials (like silk/cotton, for example) can produce more friction or crease more easily.
OEKO-Tex Certification – Regardless of whether or not you have allergies, I always recommend keeping an eye for the OEKO-Tex certification. This certification guarantees that no harmful dyes or chemical irritants were used in the manufacturing process, which can help to protect your skin and keep allergens at bay.
Final Thoughts
Now that you've seen my top four favorite silk duvet covers and learned all about how to shop for the perfect one, you're well on your way to picking the bedding that's best for you! Just be sure to focus on weave style, momme, and the type of silk used, and you'll be enjoying sweet dreams in no time. Happy shopping!