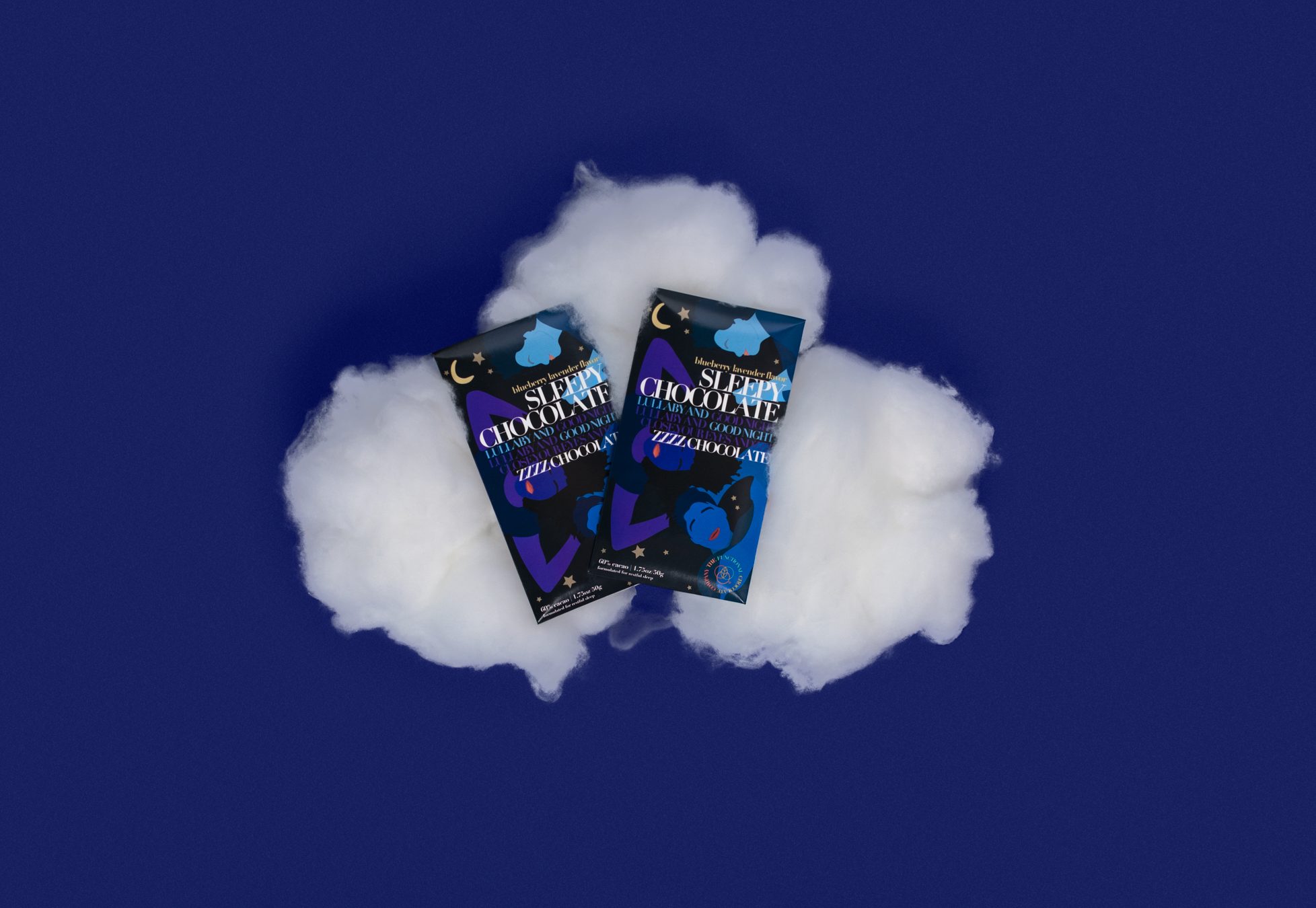 Could chocolate be the best remedy for your insomnia? If you're anything like me, you were told at a young age not to consume chocolate before bed because the caffeine will keep you awake. However, the Functional Chocolate Company is challenging that concept with chocolate bars designed to target trouble spots. They have various bars for problems such as low energy, lack of focus, and PMS. Here at Sleepopolis we still have one lingering question: Does it really work?
This week, I'm trying out the Functional Chocolate Company's Sleepy Chocolate and seeing if it really could help with falling asleep faster and sleeping more soundly like the company says. Keep reading for my full review or skip down to my summary if you're in a hurry.

The Sleepy Chocolate by the Functional Chocolate Company challenges the concept that you shouldn't eat chocolate before bed. It's designed to be not only a tasty treat with vegan ingredients, but also a helpful sleep aid.
What is the Sleepy Chocolate Made Of?
The Functional Chocolate Company prides itself on its ingredients. Every chocolate is vegan, gluten free, GMO free, cholesterol free, plant based, and ethically sourced.
The most notable ingredients in this dark chocolate are chamomile extract, lavender extract oil, valerian extract, lemon balm extract, magnesium glycinate, pharma GABA, passion flower extract, L-Tryptophan, vanilla bean extract, blueberry crystals, and, of course, melatonin*. I'm going to dig into each of these ingredients and what they do more later on in this review.
This product does not contain any psychedelics and is not intended to cause any inebriation. 
What Does the Sleepy Chocolate Taste Like?
I thought the Sleepy Chocolate tasted very strongly of lavender and chamomile. The chocolate is marketed as blueberry lavender flavor, but I definitely tasted a lot more lavender than blueberry. In my opinion, the chocolate was very tasty, but that's coming from someone who likes the taste of lavender. The serving size is only two squares, so it was a nice treat before bed. The squares aren't too big, so I think they'd be easy to eat even if you're not a fan of the lavender and chamomile flavor.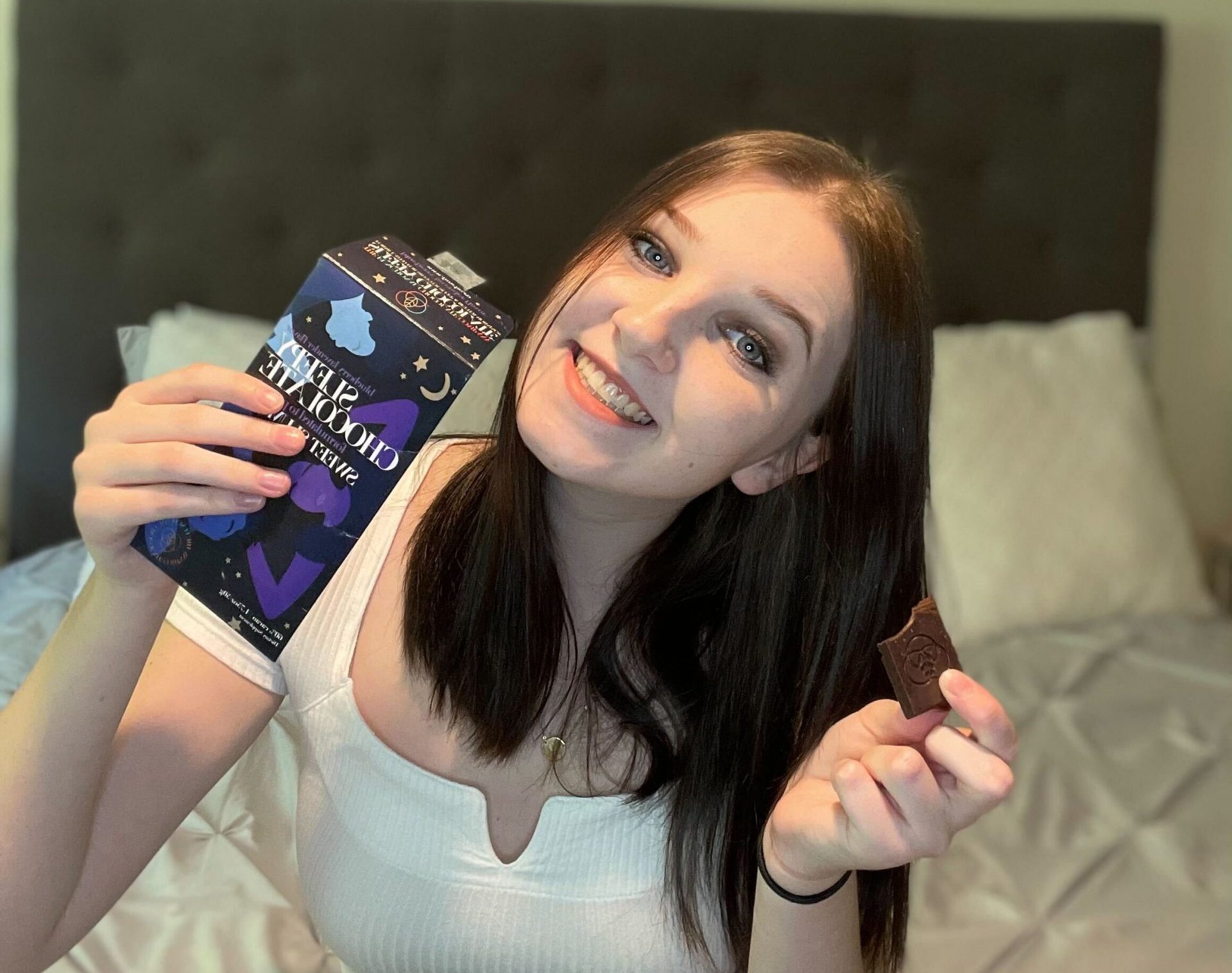 My Experience with the Sleepy Chocolate
I have one word to describe my experience with this chocolate -– WOW. I am thoroughly impressed with the results of this chocolate. Each bar comes with six squares of chocolate, so it lasts three nights if you adhere to the serving size. I think that this chocolate lives up to what it promises!
I usually start to wind down and relax around 11 p.m. However, I often am unable to actually fall asleep until around 1 a.m. I ate the Sleepy Chocolate at about 10 p.m. each night, and I found myself feeling extremely drowsy pretty quickly. The sleepiness kicked in about 20 minutes after initially consuming the chocolate, and I was completely out in less than an hour. Being able to fall asleep two hours earlier than usual was a great feeling.
I was curious to see if the chocolate would help me stay asleep. As a combination sleeper, I find myself tossing and turning between different positions throughout the night, often waking myself up in the process. After eating the chocolate, I noticed that I didn't wake up in the middle of the night. I'd describe myself as "sleeping like a log," which my sleep marks in the morning could definitely attest to (I always say that you know the sleep was good if your skin has an imprint from your sheets in the morning). That means I stayed in the same spot sound asleep the whole night.

The Sleepy Chocolate by the Functional Chocolate Company challenges the concept that you shouldn't eat chocolate before bed. It's designed to be not only a tasty treat with vegan ingredients, but also a helpful sleep aid.
How Does the Sleepy Chocolate Work?
Two squares of the Sleepy Chocolate are considered one serving and are 16.66 grams and 84 calories, according to the product label*. In one serving, 470 milligrams consist of a proprietary sleep blend of chamomile extract, lavender extract oil, valerian extract, lemon balm extract, magnesium, Pharma GABA, passion flower extract, L-Tryptophan, organic bourbon vanilla ground bean extra, all natural bitter block, non-GMO wild harvested blueberry crystal, and melatonin.
Let's break down a few of these sleep-enhancing ingredients and discuss the science behind them. The Sleepy Chocolate is considered a dietary supplement with one gram of dietary fiber per serving. As always, consult your doctor with any questions or concerns before consuming.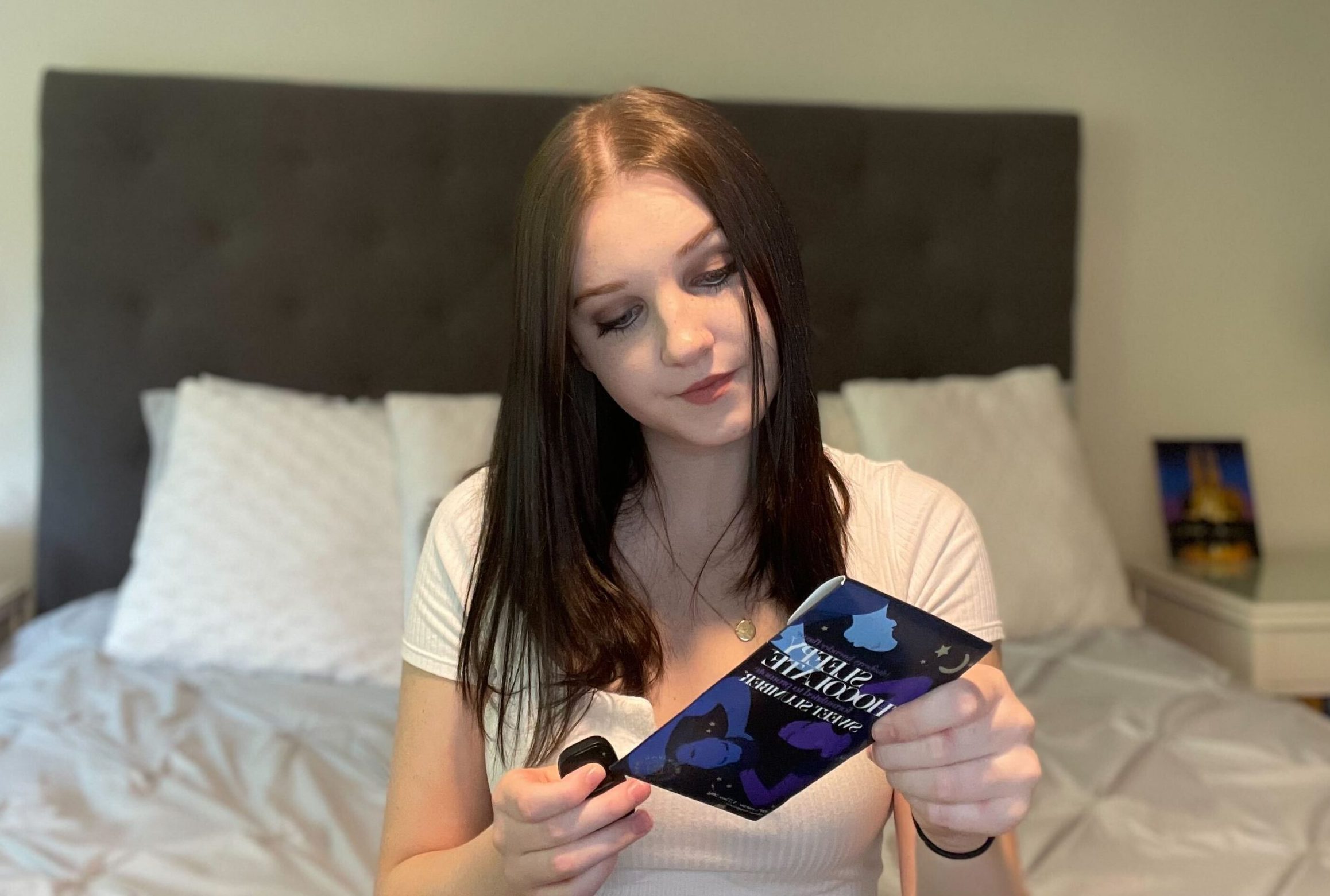 Melatonin (1mg per serving)
Most people have heard of this ingredient before. This hormone is naturally produced by the body in response to darkness to help you fall asleep. However, melatonin can be taken as a supplement to give you a boost if you have trouble sleeping. It's important to note melatonin is not regulated by the FDA and is considered a diet supplement.
The Cleveland Clinic recommends starting with one milligram of melatonin when first using it as a supplement and then increasing it by one milligram each week (not exceeding 10 mg) until you reach your desired effect. There's one milligram of melatonin in a serving of the Sleepy Chocolate.
Pharma GABA
GABA is a neurotransmitter that helps regulate your sleep. Increasing the amount of GABA in your system can have calming and sleep-inducing effects. Basically, it aids your body in letting you wind down and sleep. The official PharmaGABA website gives more information if you want the nitty-gritty scientific details. 
Valerian Extract
Valerian root is a super common ingredient in sleep supplements. It's been used since the middle ages to help with symptoms of insomnia and restlessness. Valerenic acid and valerenol, compounds found in valerian root, act on GABA receptors to increase the amount of GABA in the central nervous system.
Magnesium Glycinate 
Many consume less magnesium than they should. This ingredient is a popular one that many consume regularly since it is reported to have many benefits, such as reducing anxiety.
L-Tryptophan
L-Tryptophan is an essential amino acid, which means the body can't produce it and it must be consumed via food. L-Tryptophan increases sleepiness and can help you fall asleep quicker and stay asleep longer.
*Restrictions and regulations on supplements may vary by location. If you ever have any questions or concerns about a product you're using, contact your doctor.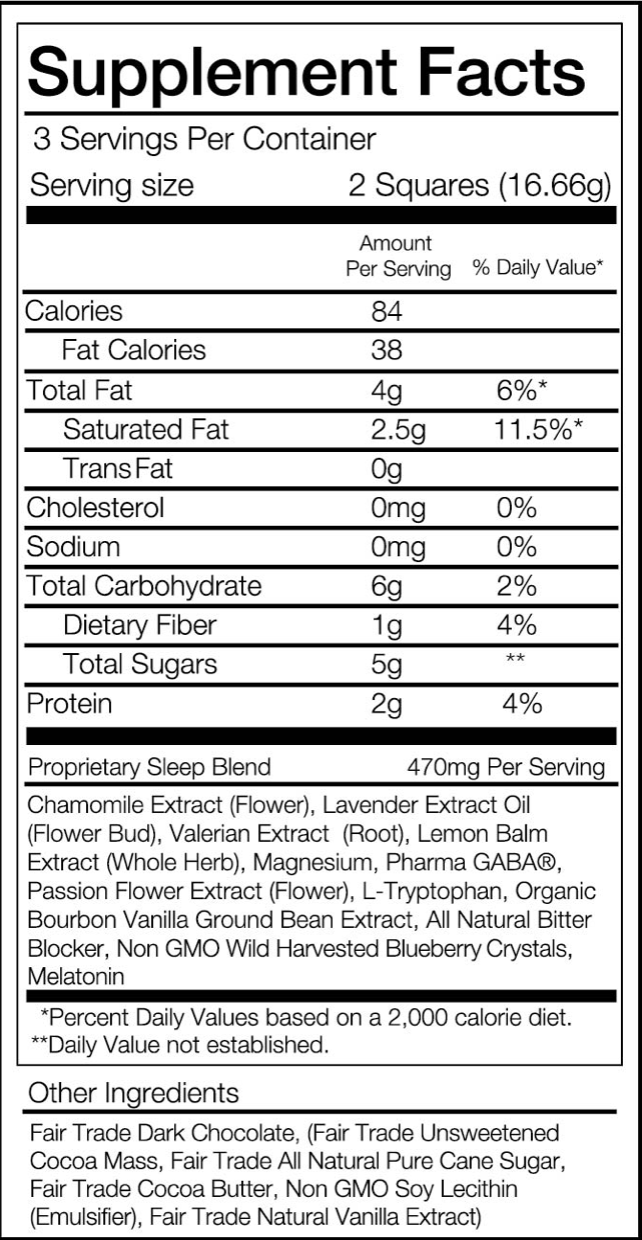 Final Thoughts
I would definitely recommend this chocolate! I think it got the job done as far as sleep supplements go, and I have no complaints about its effects. This chocolate could be a good option for people who are trying out melatonin to see how it affects them. Again, it's wise to follow the advice from experts when it comes to these supplements and talk to your doctor first. Johns Hopkins sleep expert Luis F. Buenaver, Ph.D, says that less is more when it comes to taking melatonin, and one to three milligrams is recommended about an hour before bedtime. He says that most people are safe to take it nightly for a few months but should take breaks to see if their sleep is fine without the supplement.
Since the bar only lasts three nights, it may not be the best option for people looking to take a sleep supplement nightly. This chocolate may be better suited for people who occasionally have trouble sleeping. For tips on natural ways to help with insomnia, view our guide on how to fall asleep fast and our guide on understanding your circadian rhythm. Check out the frequently asked questions for information about pricing, shipping, and more.

The Sleepy Chocolate by the Functional Chocolate Company challenges the concept that you shouldn't eat chocolate before bed. It's designed to be not only a tasty treat with vegan ingredients, but also a helpful sleep aid.
FAQ
How much does the Sleepy Chocolate cost?
Each Functional Chocolate Company bar is currently $7.49 (before shipping).
How does the sleepy chocolate ship?
The chocolate has a shipping fee of $10, which brings the cost to a grand total of $17.49 for just one bar of chocolate. Orders over $40 receive free shipping.
How much chocolate do I eat?
The serving size is two squares per night. Each chocolate bar comes with a total of six squares.
How many calories are in Sleep Chocolate?
There are 84 calories per serving and three servings per container.
Who can consume Sleepy Chocolate?
Sleepy Chocolate can be consumed by anyone over the age of 12. As always, talk to your doctor before taking any supplements.
Other Products To Try
Riley Otis
Riley is the former editorial intern at Sleepopolis. She's a firm believer that there's nothing better than a good night's sleep. Riley is a student at Elon University and currently working towards a degree in journalism and creative writing. In her free time, she loves to paint, cook, and spend time with family (especially her pets).