Air mattresses can be a great choice for customers looking for a temporary bedding situation. However, many people are under the impression that air mattress are cheap, easily damaged, and not comfortable for sleepers. While this can be true, the majority of these setbacks only occur if the air mattress is not supportive enough to keep the sleeper elevated and comfortable.
In general, most standard inflatable beds can hold up to 300 pounds. However, this typical weight limit can vary significantly based on the air mattress's size, construction, and any additional features that might have been added. That's why we're here — to explain just how much weight an air mattress can hold.
Air Mattress Weight Limit
For the majority of sleepers, an air mattress's 300-pound weight limit may not sound like a problem. However, it's important to keep in mind that this weight capacity only applies to one sleeper. What happens if you sleep with a partner?
Of course, there are larger air mattresses designed to accommodate two sleepers, but even for these inflatable beds, the weight limit is usually still around 300 pounds combined. For lightweight couples, this may work out. But if two average-weight sleepers (say, а 190-pound man and a 140-pound woman) try to sleep on that airbed together, it will most likely not be able to support them properly, leading to discomfort, pain, and damage to the bed.
Let's get into how to solve this problem. Here are the general guidelines to refer to when looking at different air mattress sizes.
Twin Size: An air mattress of this size is typically only going to support 300 pounds for a single sleeper. Most couples will not be comfortable on a twin air mattress because they won't have enough room to spread out.
Full Size: This air mattress can usually handle a bit more weight (400–450 pounds). While a full size air mattress can typically support two sleepers, we still believe that this bed is slightly too small to fit two people comfortably.
Queen Size: This is the best air mattress size for couples, as it is large enough to accommodate two sleepers, and its typical weight capacity is 500–600 pounds.
King Size: Although it's bigger than a queen mattress, a king size air mattress has the same weight capacity of 500–600 pounds. So it's also a good option for couples.
Even with these size parameters, how do you know if an air mattress will be supportive, comfortable, and durable? Don't worry, we're not done yet. Just because you have the right sized inflatable bed might not mean that it's the one for you. Let's take a deeper look into exactly what air mattresses are made of (spoiler alert: It's not just air).
Air Mattress Construction
Fortunately, many high-quality air mattresses are constructed with heavy-duty materials that can offer you a higher weight limit, as well are more comfort and stability. So what are air mattresses made of? Most of the inflatable beds constructed today feature one of these support systems in their design:
Air coils: This is the most common support system used in air mattress construction. Air coils are inflatable pillars that are evenly distributed inside the mattress in order to create more stability across the surface of the bed. This helps sleepers feel supported on the air mattress, no matter if they are in the center of the bed or the edge.
Air beams: These are pretty similar to air coils, but instead of pillars, air beams are thin ribs that lie across the mattress, enhancing the overall supportability of the inflatable bed. Once again, this helps the air mattress to keep its shape, despite the movements of the sleeper or sleepers.
Chambers: Some air mattresses are divided into two independent chambers, each with their own air flow. These chambers may have air beams or coils inside, which also help with the stability of the mattress, but the chambers also add a supportive rib in the center of the bed. This creates a more even weight distribution on the mattress, making it a great pick for couples who don't want their partner's weight disturbing their side of the bed.
These support systems help to increase the overall stability, and in turn, comfort, of your inflatable mattress. The increased durability is advantageous for heavier sleepers, as it helps to ensure that the inflatable bed won't collapse under the sleeper's body weight.
The only downside is that the thicker materials, the heavier the air mattress weighs. This could be an issue for customers looking for a small, easy-to-store air mattress to keep in their guest bedroom, or for campers who have to carry their mattress in their packs for a longer distance. When buying an air mattress, you'll want to decide what's more important to you: durability or portability.
Air Mattress Options
We've explained that air mattresses can be a supportive and stable option for many customers looking for a temporary bed, either for themselves or their guests. However, you still may not be convinced that these inflatable beds will offer you enough comfort during the night. Let's take a look at some options that might change your mind about the comfort level of air mattresses.
SoundAsleep Dream Series Air Mattress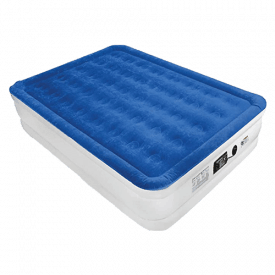 The SoundAsleep Dream Series Air Mattress is a tall, sturdy air mattress that won't sink in the night.
This air mattress includes a no-slip bottom cover that makes sure that the inflatable bed won't move around on slip on your hard wood floors during the night. The top and bottom covers of this air mattress are also puncture and water-resistant, so sleepers won't have to worry about their bed getting damaged after use.
King Koil Air Mattress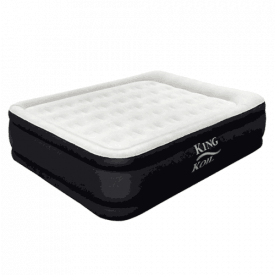 The King Koil Air Mattress is an incredibly versatile air mattress as the built-in pump makes it great for outdoor and indoor adventures.
This air mattress includes a quilted cover, raised edges, and a built-in pump. The raised edges on this inflatable bed make sure that sleepers won't fall off the side of the mattress, while the quilted cover adds comfort and pressure relief to the sleeper.
Intex Comfort Plush Elevated Airbed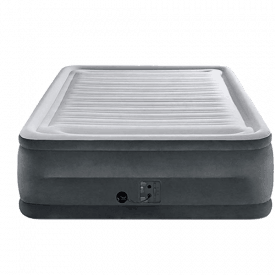 The Intex Comfort Plush Elevated Airbed features a lot of fantastic characteristics at a price that won't break the bank.
This bed includes a built-in raised pillow and elevated sides. This is great for sleepers on the go, as they won't have to worry about bringing their own pillows or sheets. Also, the elevated sides on this air mattress help to secure bedding on this mattress, and they keep the sleeper stable during the night, even on the edges of the bed.
Final Thoughts
As a final note, when buying an air mattress, the number-one thing to keep in mind is the weight capacity. Getting an inflatable bed that is durable enough to support both you and your partner's weight should lead to a better night's sleep without pain or discomfort.