Snoozing with a supportive pillow is a great way to guard against neck pain and relieve pressure throughout your whole body. Of course, they come in all different shapes, sizes and materials, which can make picking the perfect neck pain pillow a little tricky. But don't worry, shoppers — I've rounded up the best pillows for neck pain right here in this guide. So keep reading to discover the one that meets your unique sleep needs.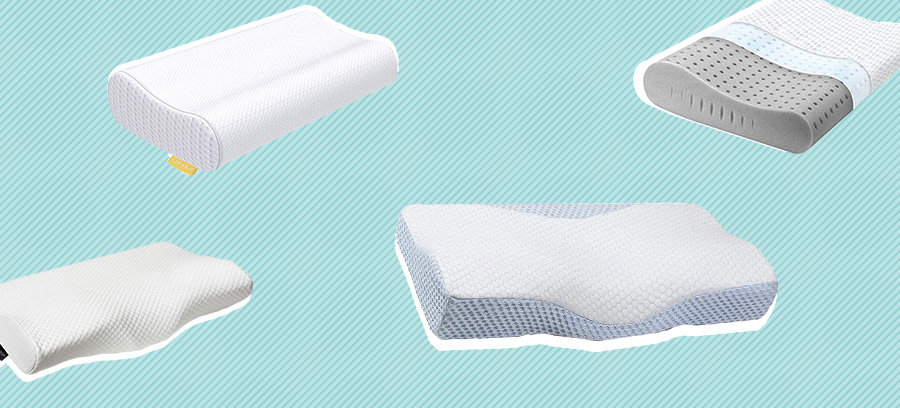 Editor's Choice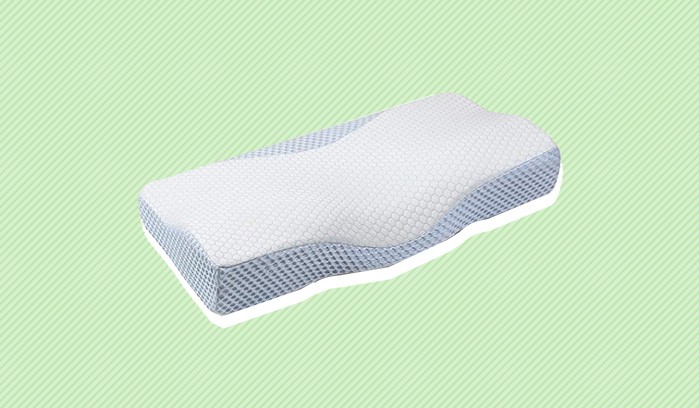 MOKALOO Cervical Pillow
Covered in an icy-cool pillowcase and filled with dense memory foam, this cervical pillow is perfect for hot sleepers looking to alleviate neck pain. Its contoured design cradles the head, relieves shoulder pressure, and promotes neutral spine alignment. 
Pros
This pillow is covered in a proprietary fabric that was crafted to feel super soft and cooling on the skin. Plus, it's easily removable and machine washable. 

The memory foam in this pillow is dense, supportive, and durable. Additionally, its contoured shape conforms to the precise shape of your head, neck, and shoulders. 

Depending on which way you flip this pillow, you can enjoy two different lofts to accommodate your body type and sleeping positions. 
Cons
While the pillowcase is machine washable, the memory foam itself must only be spot-cleaned with a damp cloth and mild detergent. 

Stomach sleepers will probably find that this pillow is too lofty and firm.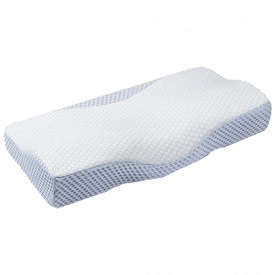 Best for Side Sleepers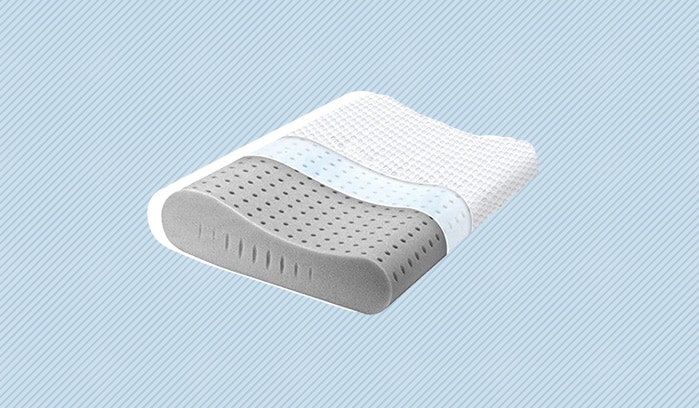 Milemont Memory Foam Pillow
Side sleepers searching for a supportive memory foam pillow are sure to enjoy this one. It's covered in soothing bamboo, filled with moldable memory foam, and contoured to promote neutral alignment of your head, neck, and spine. 
Pros
This pillow is covered in bamboo, a material known for its breathability and moisture-wicking properties. 

The memory foam in this pillow is dense, supportive, and ventilated for better airflow. 

This pillow's ergonomic design is built to alleviate pressure at the neck and shoulders whether you sleep on your back or side. 
Cons
You can wash this pillow's removable cover fabric, but the memory foam can only be spot-cleaned and air-dried. 

If you prefer a soft, fluffy pillow, you should probably look elsewhere. This one is firmly supportive with a moldable memory foam feel. 
Milemont Memory Foam Pillow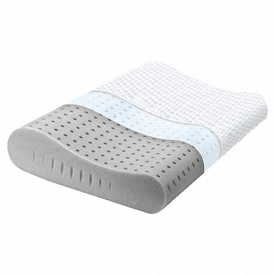 Milemont Memory Foam Pillow
The Milemont Memory Foam Pillow is supportive and has a great ergonomic design to alleviate pressure.
Most Affordable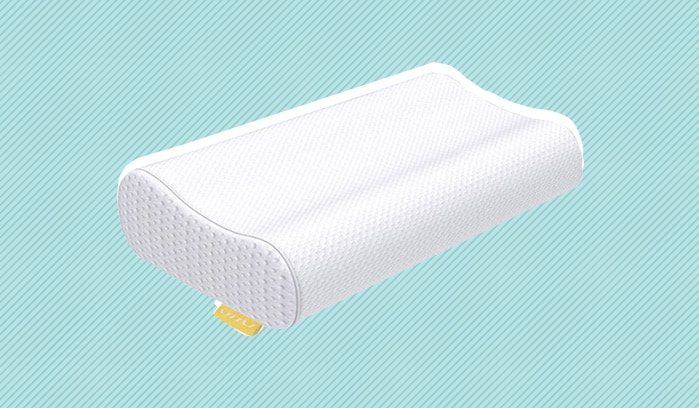 UTTU Sandwich Pillow
This pillow is covered in bamboo, filled with memory foam, and features an adjustable loft to accommodate sleepers of different body types. Plus, it's very reasonably priced, which makes it a particularly good pick for shoppers on a budget. 
Pros
This pillow's cover fabric is removable, machine washable, and made from a super breathable bamboo-based fabric. 

Back and side sleepers are going to be most compatible with this cervical pillow's contoured design. It's also surprisingly affordable, ideal for folks on a budget! 

This pillow comes with a removable foam layer in order to accommodate sleepers of different heights. 
Cons
This pillow has a firm feel and contoured shape that's not ideal for stomach sleepers. 

In order to protect the foam in this pillow, you must not machine wash or dry it.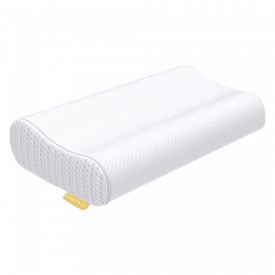 The UTTU Sandwich Pillow is great for back and side sleepers and can be adjusted for sleepers of different heights.
Best for Back Sleepers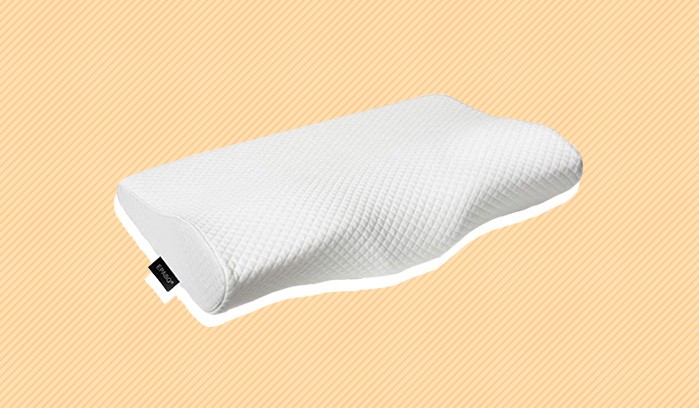 EPABO Contour Memory Foam Pillow
This ergonomically shaped pillow was designed to cradle the head and neck in every sleeping position, but is especially supportive for back sleepers. It's filled with memory foam that was molded to conform to the exact contours of your head and neck when you're snoozing in the supine position. 
Pros
The cover fabric is made from a proprietary blend of rayon and polyester, and feels soft and soothing on the skin.

Back sleepers are sure to enjoy the way this pillow's molded contour cradles the head and neck in order to promote neutral spine alignment. 

Stomach sleepers can flip this pillow around in order to enjoy a softer, lower-lofted area. 
Cons
While it's a pretty good deal for its high quality, this pillow isn't going to fit in every shopper's budget. 

Hot sleepers may find that the memory foam in this pillow traps body heat and warms up throughout the night.
EPABO Contour Memory Foam Pillow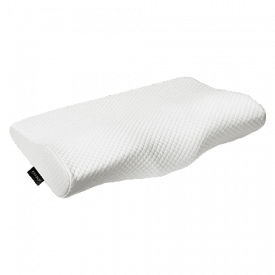 EPABO Contour Memory Foam Pillow
The EPABO Contour Memory Foam Pillow has a soothing feel and is great for back sleepers.
How We Picked
The key to alleviating neck pain is keeping neutral spine alignment, and every pillow I've listed in this roundup is designed to promote healthy posture. Of course, what works for a stomach sleeper won't necessarily work for a back or side sleeper, which is why your sleeping position is the first thing to consider when shopping for a pillow. With that in mind, let's dive into the methodology behind my picks, and talk more about neutral spine alignment.
I want to point out that the advice in this guide is meant to help shoppers find the sleep accessories that suit them best, and should not replace advice from a medical professional. If you experience ongoing neck or back pain or discomfort, it's best to seek council from your healthcare provider as soon as possible.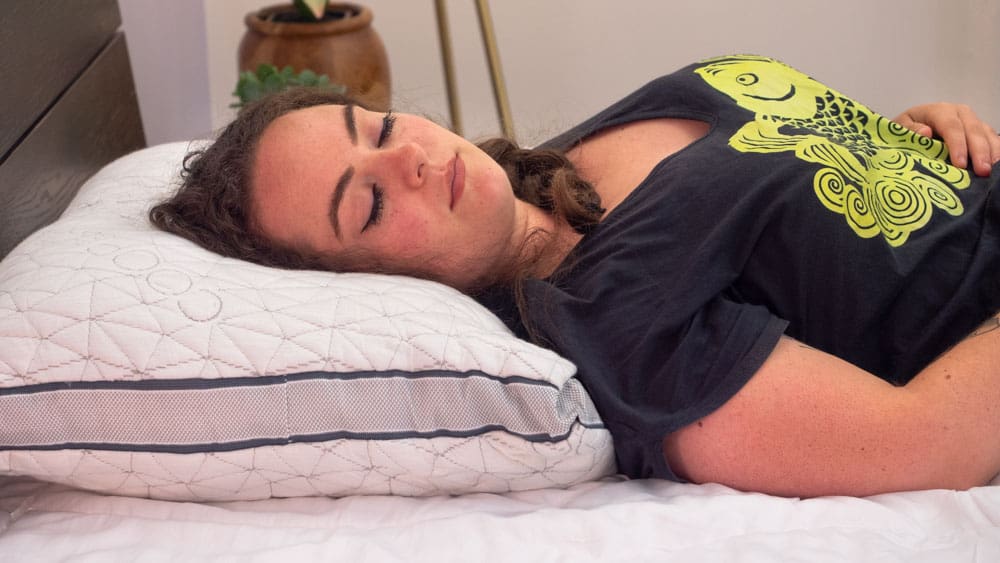 Sleeping Position – Your pillow and sleeping position should always work together to support a neutral spine. An easy way to determine if your spine is in neutral alignment is by making sure that your ears are in line with your shoulders, and your chin is in line with your sternum.
Stomach Sleeping – Back and side-lying positions are most conducive to healthy spine alignment. Stomach sleeping has the potential to position the upper cervical spine at end-range rotation or extension, which can result in a strain on the neck, abdomen, and lumbar region. However, if you do sleep on your stomach, aim for a pillow with a low loft and a soft firmness rating.
Neck Pain – Every body is different, and the causes of neck pain vary from person to person. For example, the sleeper who suffers from joint-related neck pain might not need the same pillow as the sleeper looking to alleviate nerve irritation. Take some time to pinpoint exactly where your neck pain is coming from before you begin pillow-shopping.
Pillow Maintenance – Though many sleep accessories are designed to last for a year or more, sleepers should check up on their pillows every 6-8 months. If you find that your pillow has lost its shape, or is no longer providing proper support, replace it as soon as possible.
Okay, we know that neutral spine alignment plays a key role in alleviating neck pain, but there's more to consider when you're on the hunt for the perfect pillow! Let's take a closer look.
Loft
The loft (or height) of a pillow is one of the most important factors when you're pillow shopping. Unfortunately, there is no one-loft-fits-all rule, and each sleeping position requires a different loft in order to maintain a neutral spine. Let's take a look at the best loft for each sleeping position, one by one.
Side Sleeping – The important thing to remember about side sleeping is that when you're on your side, your shoulder is propping your body up. That said, side sleepers need a pillow with a taller profile in order to lift the head and neck in line with the spine. Additionally, a pillow with a higher loft serves to relieve pressure in the shoulder, and make sure that it's not bearing the brunt of your body's weight.If, when you're lying in the lateral position, you feel like your shoulder is digging into the mattress or that your head is sinking downward, your pillow is probably not lofty enough. In general, side sleepers should aim for a pillow with a profile of 4 inches or higher. Of course, our bodies are all shaped differently and those with broader shoulders might need a higher lofted pillow than those who are more petite. Just remember — neutral spine alignment is the most important thing!
Stomach Sleeping – When it comes to pillows, stomach sleepers need the opposite of what side sleepers need. Finding the perfect stomach sleeper pillow can be a little tricky as this position puts you at greater risk of straining your neck, and putting pressure on your lower back or abdomen. That's why choosing a pillow with a very low loft is particularly important for stomach sleepers.If a pillow is even slightly too lofty, your head will be craned upwards, out of alignment with your spine. When you're in the prone position, it's best to look for pillows with a loft of 2 inches or lower. Some stomach sleepers may find that they are more comfortable without using a pillow at all, but finding a thin, compressible pillow will provide a cushy buffer between you and the mattress.
Back Sleeping – Although back sleepers have a little more room to experiment as compared to side and stomach sleepers, it's best to aim for a pillow with a medium loft. A medium lofted pillow helps to relieve pressure at the neck and shoulders while also holding the head in neutral alignment with the spine. And when I say "medium," I mean a loft of about 3 inches high.A pillow that's too lofty will crane your head upwards, which will likely result in neck and shoulder pain. Meanwhile, a pillow that's not lofty enough will leave you lying flat on your mattress and, well, that's not very comfortable is it? It may take a little trial and error, but finding the perfect loft is essential to alleviating neck pain.
Firmness
Once you've found the loft that perfectly matches your sleeping position, the next thing to think about is firmness. Again, the best firmness rating typically depends upon your preferred sleeping position, so let's take a look at each one.
Side Sleeping – If you primarily sleep on your side, go with a pillow that's medium-firm to firm. A firmer pillow will do a better job of holding your head in line with your neck and spine, and prevent it from sinking down over the course of the night. Firm pillows can take a little more time to get used to, but a soft pillow doesn't provide enough support for the side-lying position.
Stomach Sleeping – If the prone position is your go-to sleep style, aim for a pillow that advertises a soft to soft-medium firmness rating. A pillow that's too firm can prevent your head from falling in line with your spine (especially if the loft isn't low enough). A soft, compressible pillow allows your head and neck to support the natural C-curve of your spine.
Back Sleeping – Like with a pillow's loft, back sleepers can play around with different levels of firmness until they find what's most comfortable, keeping in mind that neutral spine alignment is the most important thing. Additionally, back sleepers may find that materials that tightly conform to pressure (like memory foam) are ideal for keeping the head securely cradled.
Speaking of materials, let's talk about some of the most popular internal fills, and which sleepers might be most compatible with which.
Internal Fill
The world of pillows is vast, and the types of materials used ranges quite a bit! However, there are some pillows that tend to do a better job of maintaining shape over time, so let's take a look at what those pillows are made of.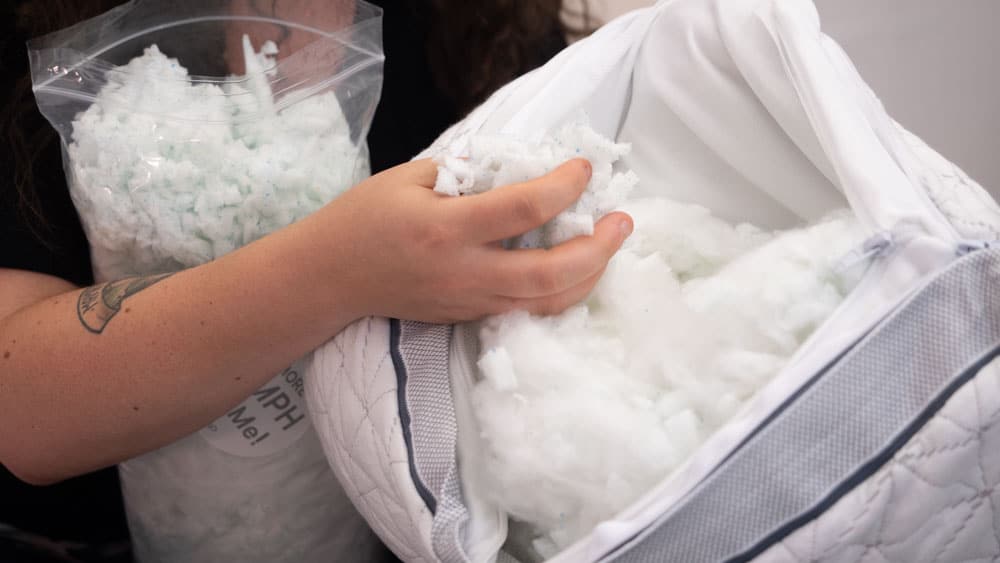 Here are some key factors to keep in mind when you're deciding on a pillow's internal fill:
Memory Foam – Memory foam is one of the most popular pillow fills on the market, and was originally created to ease NASA astronauts' journeys into space! It's known for its slow response to pressure, and does a great job of conforming to your body's shape.That said, memory foam tends to be a bit more dense as compared to other materials, so it's going to be particularly compatible with back and side sleepers who need a firmer feel. Stomach sleepers can sleep on memory foam, but should make sure that the pillow has a very low loft of 2 inches or fewer.
Latex – Latex pillows are typically lighter in weight as compared to memory foam pillows, and are known for a bouncy-quick response to pressure. This buoyant resilience helps the pillow to maintain its shape over time, which lends itself well to all sleeping positions.However, sleepers who prefer a deep sink into the pillow might not be as compatible with latex. Remember: latex is ideal for those who prefer to rest on top of the pillow.
Down & Down-Alternative – Down and down-alternative pillows are ideal for stomach sleepers because they offer a feathery feel that's compressible into a very low loft. They also tend to be fluffy with a soft firmness rating which, again, is better for stomach sleeping. Back and side sleepers can enjoy them too, but side sleepers should make sure that the pillow is amply stuffed and provides a loft of 5 inches or higher.Additionally, down and down-alternative pillows are easier to fold and shape, which might come in handy for sleepers who like to tuck their arms beneath their pillow!
Shape
When you're shopping for pillows, you'll notice that there are two main shapes from which to choose: traditional and contoured. A traditional shape is what you're probably most familiar with, and features a rectangular design with an even loft on both sides.
A contour pillow, also known as a cervical spine pillow, features an ergonomic design meant to tightly conform to the shape of your head, neck, and shoulders. Back and side sleepers who need a little extra help maintaining neutral spine alignment might be most compatible with contour pillows as they are intended to adapt to your shape, and hold the head in line with the neck.
Some contour pillows are built specifically for side sleepers, and usually look like a long letter "J." Meanwhile, some contour pillows are shaped like a boomerang with two high-lofted sides, and one lower-lofted center. These are great for both back and side sleepers, and frequently come with adjustable fills so folks can adjust the firmness. If you do opt for a contour pillow, take some time to carefully consider which shape is best for your body and sleeping position.
Stomach sleepers must only sleep on a traditional pillow with an even loft, as a contoured shape could easily throw the spine out of neutral alignment. Remember: stomach sleepers need a soft, thin pillow with an even loft on both sides.
Price
Your sleep accessories should never break the bank, and it's ideal to find a pillow at a great price point. However, I find that a pillow that's very inexpensive can be a warning sign of low-quality materials, so it's always best to research a bedding brand before financially committing. For example, sometimes what companies market as memory foam is actually only 5% memory foam and 95% some other material. Yes, the perfect pillow is a worthy investment, but you should always make sure you're getting exactly what you wanted.
Personally, I prioritize bedding brands that offer a good trial period, warranty, and return policy. This inspires confidence and lets me know that brand proudly stands by its product. Not to mention, having the chance to test a pillow before you buy it gives you some time to really determine whether or not it's worth the money.
Sleepopolis Pro Tips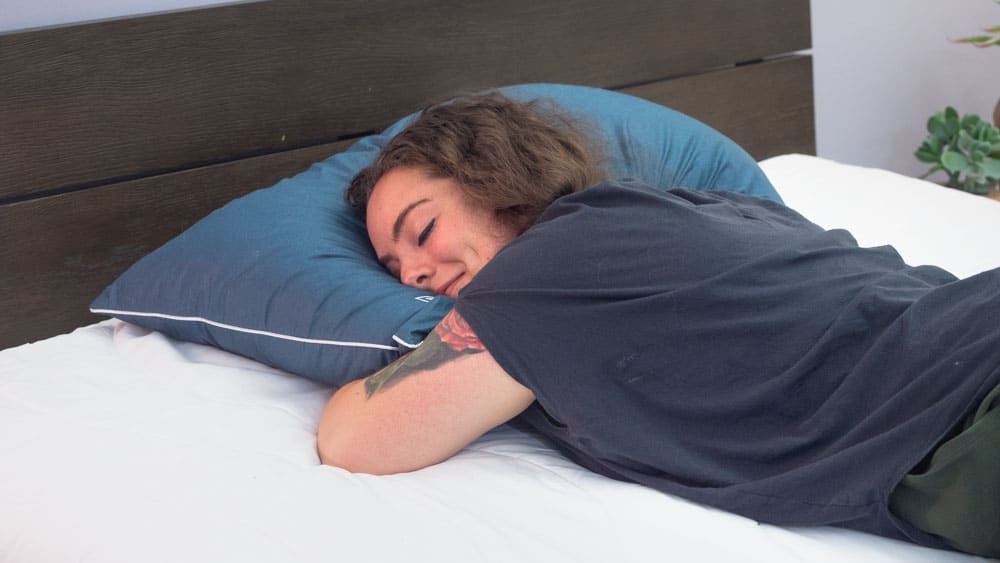 If you're still experimenting with which sleep position works best for you, get a pillow with an adjustable fill. Being able to customize the internal fill allows sleepers to adjust the loft and firmness until it meets their unique needs.
If you're a memory foam fan, keep in mind that this material is often not machine washable. It's not always the case, but if you're looking for a low maintenance pillow, be sure to check the wash care instructions before you make your purchase.
Sleepers who run hot or are prone to night sweats should aim for pillows that are naturally moisture-wicking and/or breathable. For example, shredded memory foam is more breathable than a solid piece of foam, and bamboo-based fabric is typically more moisture-wicking than cotton.
Final Thoughts
Now that we've reached the end of my guide, you're that much closer to finding the pillow that's perfect for you. Just remember to take your time and carefully consider all your options. Afterall, the right pillow can dramatically improve the quality of your sleep, and a good night's sleep is always worth the effort!
Sarah is the Senior Writer and bedding expert at Sleepopolis. Every week, she personally tests and reviews new pillows, sheet sets, and other sleep accessories. She accompanies every video review with a meticulously detailed article to ensure her audience has all the pertinent info they need for the best shopping experience possible. Perhaps that's why her fans have dubbed her "the most thorough pillow reviewer on the Internet." Having tested everything from sleep trackers to mattress toppers, Sarah's expertise runs deep and is always expanding. She received her degree in Creative Writing from Brooklyn College and spends her free time doing stand-up, making pasta, and hanging with her cats.