For many of us, the word "bed" invokes more than an image of a mattress. We also picture bedding, pillows, and maybe most of all, the frame that supports the mattress. A bed frame not only helps to determine how a bed looks, but how its components function. A mattress on a platform frame may have a different feel from one on a sleigh bed, while frames constructed from materials such as metal or wood will have their own unique attributes.
Bed frames come in a wide variety of styles, materials, and price ranges. With so many frames to choose from, how do you decide which one is best for you? Below are my top five picks for queen bed frames, the most popular size with most buyers. I tested frames in a number of different categories to help you find the perfect model for your sleep needs and personal style.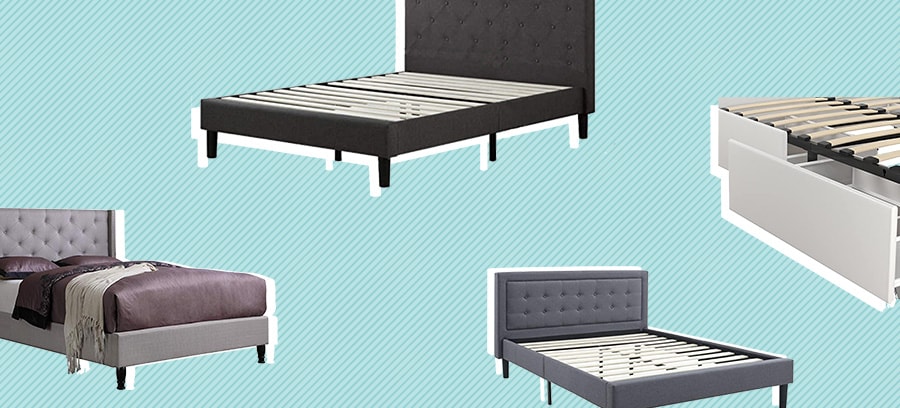 Editor's Pick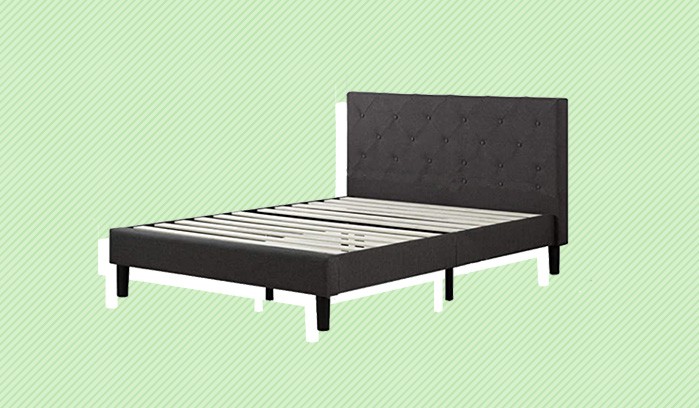 Zinus Shalini Upholstered Diamond Stitched Platform Bed
My choice for editor's pick is the Zinus Shalini Diamond Stitched Platform Bed. This charcoal gray platform bed is upholstered in a classic diamond button pattern and includes wooden slats and legs in a dark stain. The clearance between this frame and the floor is 7 inches, leaving plenty of room for standard-size underbed storage boxes. The bed comes ready to assemble. 
Pros: 
Looks sharp. With its modern-classic aesthetic and clean lines, the Shalini platform bed is a head turner. My two year-old memory foam mattress and simple white bedding looked fresh and new on this frame, a testament to the thought the design folks at Zinus put into this model

Easy-to-assemble. I put this frame together using the tools that came with it in about 40 minutes

Price. The Shalini is not only sturdy and attractive, it's a bargain
Cons:
Durability. One of the headboard buttons felt a little loose after a week of use, which could be a durability issue over the long term

Low to the floor. Folks who need a higher bed frame due to mobility issues or personal preference may want to look for a higher profile option
Best Faux Leather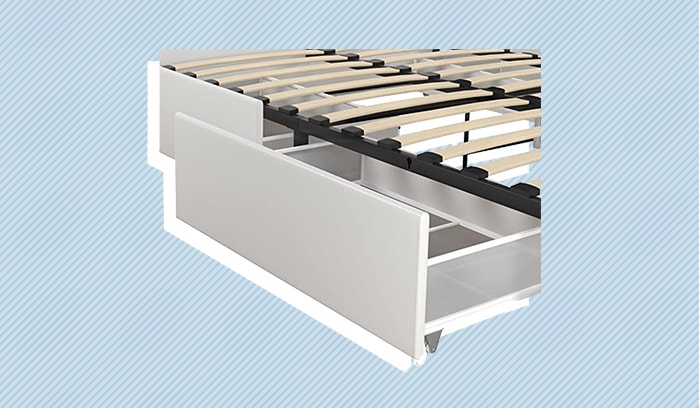 DHP Dakota Upholstered Platform Bed with Storage Drawers
My pick for best faux leather bed frame goes to the DHP Dakota Faux Leather Bed Frame. This sleek frame gives me trendy retro vibes and the urge to spend all day under the covers. Made from wood and metal with vinyl fabric, the Dakota comes in black, white, or brown. This bed also includes four handleless drawers for easy and convenient storage. 
Pros: 
Comfort. I found the cushioned headboard to be a nice, plush place to lean back against at the end of a long day

Chic. I tested the white version of this bed, which gave my room a stylish look without overpowering my minimalist decor

Easy instructions. This bed was fairly simple to put together even with the underbed storage drawers
Cons:
Cost. Chic comes at a price, even if the leather is faux. Expect to shell out a bit more for this bed frame than you might for one made of other types of fabric

Drawer system. Sliding the drawers in and out felt a bit clunky, something to be aware of if you use your underbed storage frequently
Best for Style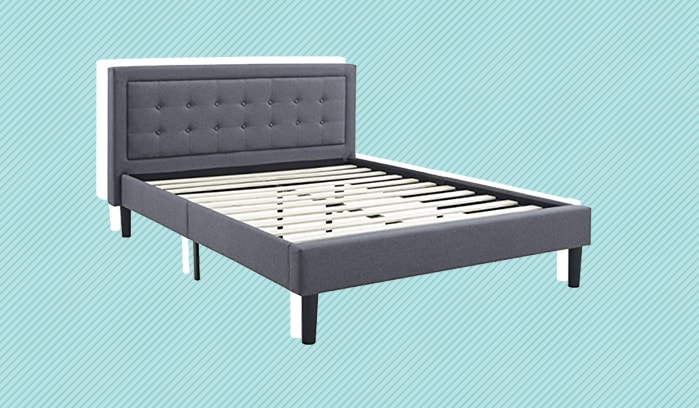 Classic Brands Mornington Upholstered Platform Bed
My nod for best style in the queen bed frame category goes to the Classic Brands Mornington Upholstered Platform Bed. This tufted medium-gray bed is designed to be used with a mattress alone and doesn't require a box spring. The Mornington is also available in a light oatmeal beige and comes in full, queen, and king sizes. This frame includes all parts, tools, and instructions.
Pros: 
Design. The Classic Brands Mornington is a chic combination of modern and classic. The tufted headboard felt well-padded and solid and was especially comfortable during long reading binges

Quality. From the upholstery to the pine slats to the assembly instructions, the Mornington felt well-made and smartly designed

Quiet. If you like an upholstered bed that doesn't squeak or creak, this one is worth a close look
Cons:
Not for really heavy folks. This bed supports a total of 700 pounds, so keep that in mind if you and your partner are above average weight

Hefty box. Bringing it inside probably won't be a one-person job
Best Bargain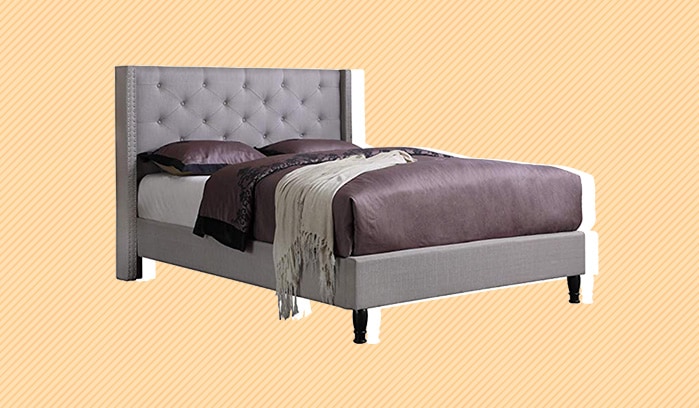 Home Life Premiere Classics Tall Headboard Platform Bed
My choice for best bargain is the Home Premiere Classics Tall Headboard Platform Bed. What makes it a bargain? It doesn't look like one. This riveted upholstered bed frame is upholstered in a silvery-gray linen and has a stylish traditional appearance. The Home Premiere Platform bed can be purchased in twin-king sizes and comes with a 5-year warranty.
Pros: 
Substantial. This bed has a weighty, solid look and feel. The Home Life Premiere Platform will be the focal point of any bedroom — it certainly was in mine

Upholstery. I was particularly impressed by the silver rivets, which give the bed a classically elegant vibe

Legs. Many bed frames in this price range skip over details such as leg design. Not the Home Life Premiere Platform bed, whose attractively carved legs give the frame a nice finishing touch 
Cons:
Width. This frame was a bit wide for my mattress, which left about an inch of open slat space on one side. Be sure to measure your mattress carefully to make sure it will fit this frame snugly

Low to the floor. Though the headboard is tall, this frame is fairly low profile and close to the ground. It may not be the best choice for those who prefer a higher bed
How We Picked
What you need in a bed frame depends on how you'll use it, what feels comfortable to you, and your own personal style. There are a few essentials to keep in mind when you're on the hunt for the perfect bed frame:
Frame Type
Common types of bed frames include:
Panel: A panel bed is typically made using flat wood panels for the head and footboards. Side rails capable of supporting a mattress and base are other features of panel beds, which tend to be on the taller side when compared with other types of frames
Platform: Platform beds are one of the most popular frame options because they don't require a box spring or foundation. Most platform beds include wood, metal, or heavy-duty plastic slats as well as slat reinforcement bars for larger sizes such as queen and king. Some platform models come equipped with underbed storage drawers, a great option for folks who need a little extra space
Canopy: A canopy bed features 4 posts linked to an overhead frame that may be used to hang fabric, drapery, or mosquito netting. Though many older canopy beds were made of elaborately carved wood and other traditional styles, modern canopy frames often have clean, contemporary lines
Four-Poster: Four-poster beds are not linked to an overhead canopy. These frames are distinguished by four tall posts, whereas the posts of low-poster beds are shorter. The post of half-poster beds are taller at the head and shorter at the foot of the bed
Sleigh: Sleigh beds are so named because of the curved sleigh-shape of the head and footboards. Sleigh beds have a more traditional look and are typically made from wood
Materials
The primary materials used in bed frames are wood and/or metal, as well as foam and fabric in upholstered models. When buying a bed frame, know the materials used by the manufacturer, how they typically perform, and how long they can be expected to last.
The most common woods used in bed frames are:
Pine – A soft wood used in frames and slats. Light in color with a knotty appearance that gives a bed frame a distinctive look
Maple – A durable, medium-to-hard wood that can be stained easily. Naturally light in color
Oak – A durable and very hard wood used in higher-quality furnishings
Beech – A light-colored medium-to-hard wood often used to make chairs and toys
Mahogany – A strong, reddish-brown wood that may be used in more expensive bed frames
Laminates and veneers – Thin layers of higher quality or more attractive woods over fiberboard or other less expensive materials
Metal may be used in bed frames for components such as bolts, slats, rails, or for the head and footboards. The most common metals used in bed frames are:
Steel – Steel is often used in components such as rails and feet and may be used in head and footboards, as well
Wrought iron – Wrought iron beds typically have curved head and footboards and a unique, traditional look
Iron – Black metal such as iron may be used in bed frame rails and parts
Foams and fabrics have become popular materials in bed frames, which are often upholstered for comfort and style. Common upholstery materials include:
Poly foam – Poly foam is a synthetic, spongy material used for cushioning. This type of foam is often less expensive than other foams
Memory foam – Memory foam is responsive to heat and pressure and tends to have more sinkage than poly foam. Memory foam may be more expensive than poly foam but is typically more durable
Polyester – Polyester is often used to make headboard and side rail upholstery, and is typically less expensive than natural fabrics
Velvet – Velvet made from cotton and/or polyester has become a popular fabric for headboards. It typically has a soft feel and an elegant look
Leather – Both natural and faux leather are durable but may be scratched or torn. Faux leather has a similar look but may not wear as well as natural leather, which can acquire an appealingly distressed look over time
Mattress Type
Bed frames are typically best suited for particular types of mattresses. For example, a platform bed frame is appropriate for use with a mattress without a foundation or box spring. A frame without slats will require a foundation in order to support the mattress.
Know how tall your mattress should be to fit properly in your new bed frame. A low-profile mattress may not be high enough for some frames, leaving gaps at the head and footboards. Other bed frames are designed for a lower profile mattress that won't hide too much of the frame or prevent leaning back against the headboard comfortably.
Sleepopolis Tips
If you're still not sure which bed frame is best for you, consider the following tips:
Take measurements – Measure the size of your room and your mattress (and box spring, if you use one) before deciding on a bed frame. Make sure it will fit in your bedroom with space to walk around on at least two sides. The right bed frame should also fully accommodate the width and length of your mattress
Don't forget height – Many a bed frame buyer has set up their new purchase only to realize it feels too low or too high. Check out bed frames in stores before buying if you're unsure which height is best for you
Keep style in mind – A bed is often the center of attention in a bedroom, so make sure it fits with your personal aesthetic. If you like a warmer, more traditional look, you may want to opt for a wood frame in a sleigh or canopy shape. Modern minimalists might prefer leather, simple fabrics, or metal
Last Word From Sleepopolis
A bed frame can be an important furniture purchase that adds to your home's aesthetic and lasts for many years. When shopping for a bed frame, let your personal style and sleep needs be your guide. Know the materials used to make the frame and how they can be expected to perform over time. Choose a frame that works with your existing mattress and bedding to maximize your comfort and help you enjoy healthy sleep.
Rose MacDowell
Rose is the former Chief Research Officer at Sleepopolis. An incurable night owl, she loves discovering the latest information about sleep and how to get (lots) more of it. She is a published novelist who has written everything from an article about cheese factories to clock-in instructions for assembly line workers in Belgium. One of her favorite parts of her job is connecting with the best sleep experts in the industry and utilizing their wealth of knowledge in the pieces she writes. She enjoys creating engaging articles that make a difference in people's lives. Her writing has been reviewed by The Boston Globe, Cosmopolitan, and the Associated Press, and received a starred review in Publishers Weekly. When she isn't musing about sleep, she's usually at the gym, eating extremely spicy food, or wishing she were snowboarding in her native Colorado. Active though she is, she considers staying in bed until noon on Sundays to be important research.