Being able to adjust the angle at which you rest can be a great way to optimize your sleep experience — perhaps that's why adjustable bed frames have become so popular. Picture it: you're catching up on your favorite shows, sipping some tea, and enjoying a massage, all without leaving the comfort of your bedroom. Sounds pretty dreamy, right?
In this review, I'll be taking a close look at the adjustable base from Nectar Sleep. Now, many of you may already be familiar with Nectar's mattress, as the brand has swiftly risen in popularity since its founding in 2017. And since Sleepopolis has already tested and reviewed the Nectar mattress, this review is all about that base. So, let's take a look at how to set it up, how it works, and all the fun features it has to offer.
Nectar Adjustable Base Video Review
How Do I Set Up The Nectar Adjustable Base?
Before I show you how to set up Nectar's adjustable base, just remember that while this base was built with the Nectar mattress in mind, you don't need a Nectar mattress to enjoy it. Feel free to use any mattress compatible with the dimensions of the frame (sizes include twin XL, full, queen, and split king).
Assembling the Nectar adjustable base is relatively simple, and no tools are required. Every base comes with easy-to-follow assembly instructions. In total, it took two of us about 8.5 minutes to assemble it. However, because it's mostly made of metal, it's quite heavy, with a queen size weighing about 149 pounds. Because of that, we do urge you to enlist some help from friends.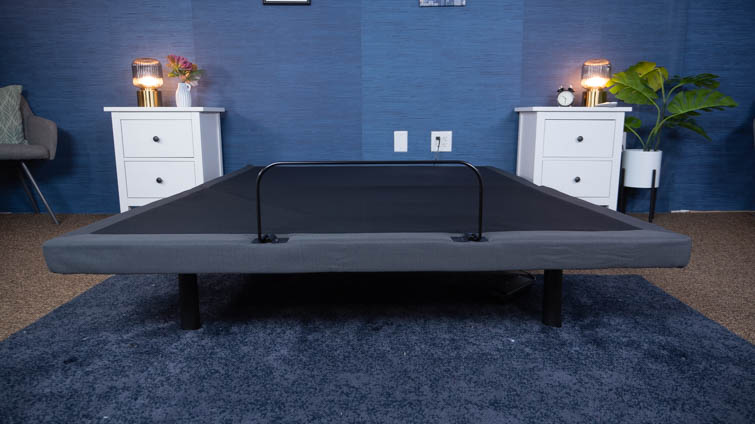 We recommend following the directions Nectar provides, but let me give you a sense of what setup looks like:
First off, you're going to want to clear a space in your bedroom large enough for the frame to fit.
When you first open the box, the frame (with is made of steel covered with upholstered fabric) will be folded. First, remove the plastic and then turn the base upside down before unfolding it. Then, attach the legs (you can tighten the legs with an Allen wrench if you like). This base comes with 8-inch and 3-inch steel legs, along with 2-inch extenders, so you can pick the height that works best for you.
After this, you can flip your frame back over and attach the motors to the frame by sliding pins through the motor slot attached to the frame.
Insert the mattress retainer bar into the grommets on the base (just slip it in — this is so your mattress won't slip off the base).
This frame comes with a power cord that is plugged into a box beneath the base. We recommend using a surge protector with this plug.
And just like that, you're ready to enjoy your adjustable base.
How Does The Nectar Adjustable Base Work?
Okay, the hard part is over, and your base is ready for action. So, all that's left to do is navigate your remote control.
Every Nectar adjustable base comes with one remote control (AA batteries included), and it's already synced and ready to use. I was happy to see that the buttons are self-explanatory, especially considering there are 19 of them! But if you do get confused, there is a labeled picture of the remote on the back of your assembly instruction manual, indicating exactly what each button does.
If you have trouble remembering where exactly you last threw your remote, have no fear. The Nectar Adjustable Base is now able to be controlled using an app. This app has all the same features and buttons as the remote, but you don't have to worry about losing it between your cushions. Just keep your phone nearby, and you'll be good to go.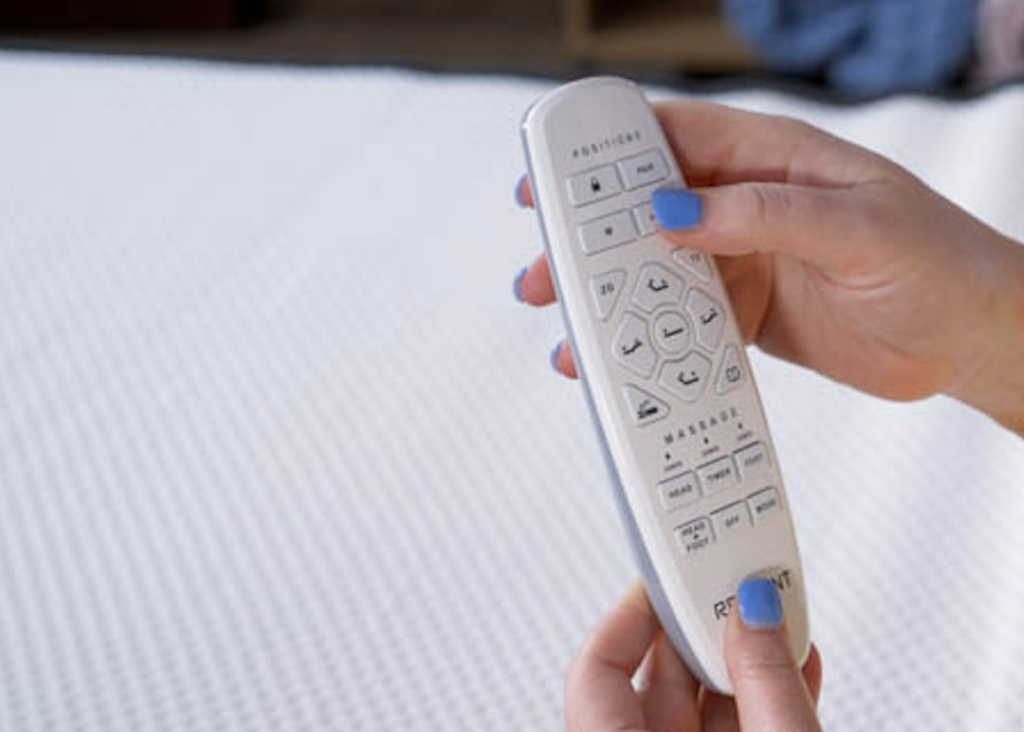 Starting with the basics — sleepers have the option to raise and lower the head and/or foot of the bed. To raise the head of the base, click the upward arrow on the button that reads, "head," and to lower it, press the downward arrow. Same thing goes for the foot of the base — just use the arrows on the button that reads, "foot."
No matter which end of the base you're adjusting, hold the button down until you've reached your desired position. When you release your finger from the button, the base will stop moving. But when you do find that perfect position, you can easily save it to your remote. This adjustable frame comes with one customizable position preset. So, when you find your ideal comfort zone, you don't have to worry about finding those exact angles again. Just push one button, and you're good to go.
In my experience testing this base, it was fairly quiet when switching positions and moving the head and feet up and down. However, the massage setting (which we'll talk about later) was pretty noisy and rumbly. This isn't a dealbreaker by any means, but it is something to keep in mind when deciding which presets to use at which times.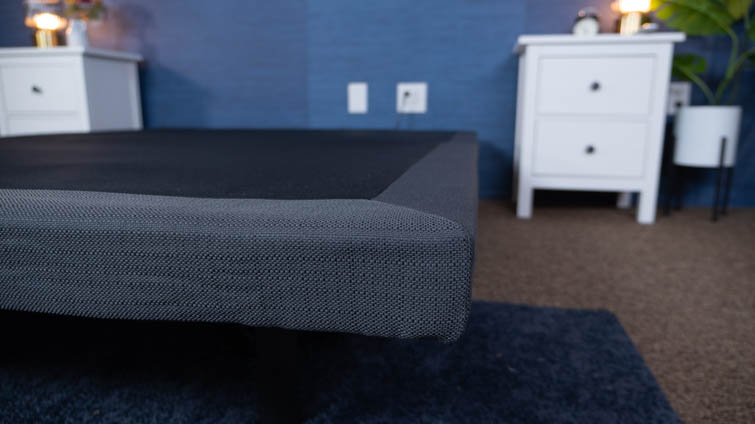 Need a mattress to go with your new base? Read our full Nectar mattress review.
Nectar Adjustable Base Preset Positions
We've seen how you can personalize your perfect positions, but the Nectar adjustable base comes with some preset features of its own.
The top row of buttons on the remote each access a position preset by Nectar. In order to switch to these presets, you only need to press each button once, and when you do, the base will automatically transition to that position. These presets include a TV-watching preset, reading preset, and, of course, a flat surface preset. All of these are programmed into both the remote and the app, so you can easily find them when you're ready to switch it up.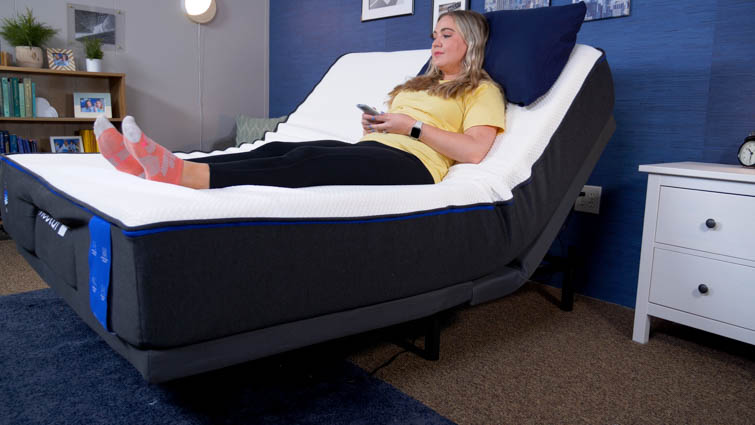 The Nectar Adjustable Base also has some more unique settings that come with it, which aren't found in most frames.
The "Anti-Snore" button takes the base to a position with the foot totally flat, and the head just slightly raised. As the name suggests, this is meant to reduce snoring, as sleeping with your head somewhat elevated has been shown to help keep your breathing clear. But don't worry — the Anti-Snore position is still flat enough so that sleepers can roll around during the course of their slumber. We recommend talking to your doctor first, though, if you plan on using this base to help with snoring.
There's the "ZG" button (which stands for Zero Gravity). This setting takes the base to a position that's meant to make the sleeper feel "weightless." How, you ask? Well, both the head and foot of the base raise in a way that's designed to optimize weight distribution, enhance blood flow, and provide this feeling of floating on top of the mattress. Personally, I found this position to offer the most pressure relief for my lower back.
Nectar Adjustable Base Special Features
Now, I know what you're thinking. What about that bedtime massage I mentioned, right?
Well, there are two buttons on the remote labeled "head" and "foot" without arrows under the Massage section of the remote. Press the "head" button to activate the massage setting at the head of the base, and the "foot" button to get some vibration going at the foot of the base. If you'd like to experience both at once, hit the "Head + Foot" button. There are three different modes and three different instensities you can choose from for both your head and feet.
As we stated earlier, there is a slight humming noise when using this feature, so light sleepers or sleepers who prefers complete silence might find it difficult to fall asleep while the massage setting is on. But if you want to set a timer for your massage, push the button that reads, "Timer" once for 10 minutes, twice for 20 minutes, and three times for 30 minutes.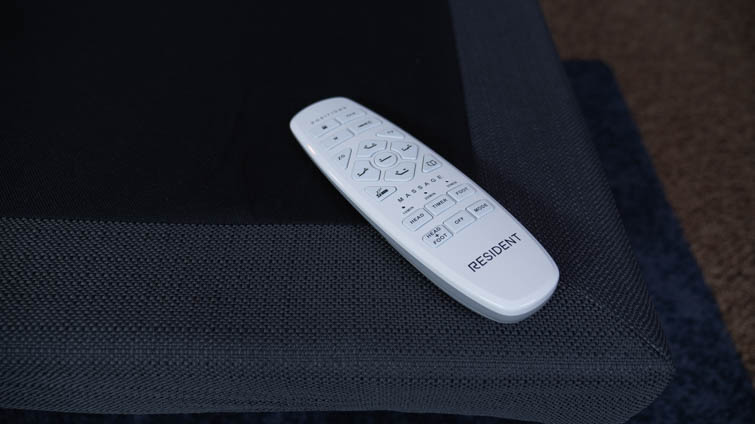 There's also a flashlight button that turns your remote control into a mini flashlight near the top right of the remote. It's not extremely bright, but it could come in handy if you're searching for something on your nightstand in the middle of the night.
There is one last special feature that comes with the Nectar adjustable base — USB ports. This base includes four USB ports that you can use to charge your phone, tablet, or any compatible device that needs a charge.
Should I Buy A Nectar Adjustable Base?
So, we've seen what this adjustable base can do… But let's recap its highlights one more time so you can decide whether it's the right one for you.
Customizable Settings — Sleepers can create a customizable position preset using either the app or the remote.
Nectar Preset Positions — The remote comes with six positions already preset by Nectar. These include the anti-snore button, zero-gravity button, massage setting, TV-watching preset, reading preset, and flat surface preset.
Massage Features — Sleepers can enjoy a little bedtime massage, and adjust the intensity of the vibrations to their liking using the "mode" button.
Charging Station — Four USB ports allow sleepers to charge their smart devices without ever having to leave the comfort of their bed.
Anything Else I Should Know?
Sizes — Twin XL, full, queen, split king
Pricing — $1,399–$2,798 (before discounts or coupons)
50-Night Trial Period — You have 50 nights to test this base before fully committing.
3-Year Limited Warranty — Full details on Nectar's website.
Free Shipping & Returns within the U.S. — An additional fee will be tacked on to Hawaii and Alaska deliveries.
Remote Control Batteries Included
This base does not come with a headboard, and it is not compatible with one.
A queen-size Nectar Adjustable Base can support up to 750 pounds.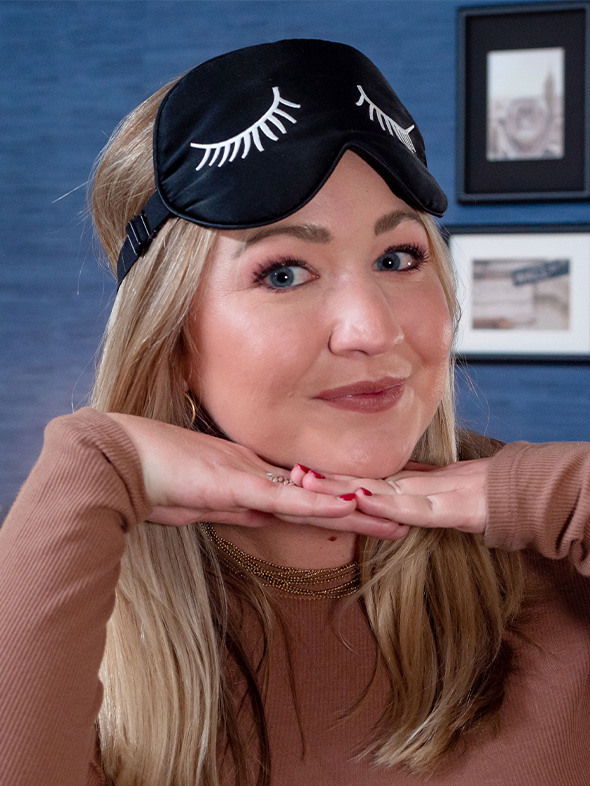 Bridget Chapman
Former Senior Product Editor
About Author
Bridget is a Certified Sleep Science Coach and senior editor here at Sleepopolis. From testing mattresses to writing about various sleep health topics, her goal is to help you get a good night's sleep. You can also find her in videos on our YouTube channel. Bridget graduated magna cum laude from San Diego State University with a degree in journalism and a minor in English. Before joining the Sleepopolis team, she was a TV news reporter and worked in cities across the country. She loves spending time outdoors, checking out new restaurants, snuggling with her pets, and of course — getting some quality Zzz's.