A wooden bed frame is a classic item of furniture that can last for years and, in some cases, generations. Despite the popularity of bed frames made from metal and upholstery, wooden bed frames are still preferred by many sleepers for both style and function.
Wooden bed frames come in a wide array of styles, materials, and price ranges. With so many to choose from, how do you decide which one is best for you? Below are my top four picks for wooden bed frames. I tested frames in a number of different categories to help you find the perfect model for your sleep needs and personal taste.
Best Wooden Bed Frame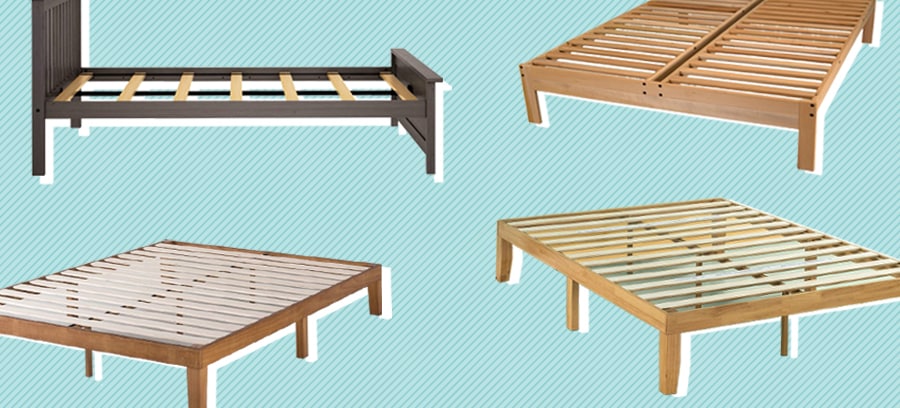 My choice for editor's pick is the Zinus Moiz 14 Inch Wood Platform Bed. This solid wood bed comes without a headboard and is available in both a standard and a deluxe style with a thicker platform frame. The clearance between the Moiz frame and the floor is 8 inches, leaving space for standard-size underbed storage boxes. The bed comes ready to assemble.
Pros:
Looks rustic-chic. With its classic aesthetic and clean lines, the Zinus Moiz was one of the most stylish wooden beds I tried. This frame would look great on its own or with a wooden or upholstered headboard.
Style options. Both the standard and deluxe options are stand-outs and are available in a natural or espresso finish.
Price. Solid wood of this quality at this price is a great bargain.
Cons:
Quality control. The center support just barely reached the floor, something to keep in mind if you sleep with a partner or need a lot of stability under your frame.
Assembly. The Moiz took a bit longer to put together than some other Zinus beds I've tried.
My pick for best wooden bed frame for kids is the Max & Lily Solid Wood Full-Size Bed. This traditional-style painted frame comes in 6 classic finishes, including white and blue. The Max & Lily frame includes tools and instructions and doesn't require a box spring. Sizes include twin, trundle, and twin and full bunk beds. Optional drawers are also available.
Pros:
Design. The Max & Lily has a classic look and slatted headboard that will appeal to kids of all ages.
Quality. This bed frame felt well-made and durable. The headboard is stable and solid, a plus for active kids.
Non-toxic finish. The Max & Lily frame has a non-toxic low VOC finish that makes it a great choice for toddlers and kids with respiratory issues.
Cons:
Price. This bed frame costs a bit more than others I tested of similar material and design.
Assembly. The Max & Lily bed was tricky and time-consuming to put together, but the finished product was well worth the effort.
My nod for best style in the wooden bed frame category goes to the Nomad Plus Platform Bed. This unfinished, solid poplar bed is made in the US and comes in twin-king sizes. No box spring or foundation is required for this frame, which includes a 5 year warranty and all parts, tools, and instructions.
Pros:
Design. The Nomad Plus bed has a solid, rustic look that would look as chic and inviting in an urban apartment as a country house.
Quality. From the solid wood slats to the assembly tools, the Nomad Plus felt well-made and durable.
Drawer option. Folks who need a little extra storage space can purchase under-bed drawers that are constructed from the same wood and roll easily out of sight.
Cons:
Squeaky. The noise may be a result of my assembly, but be aware that this bed may creak a bit.
Leg angle. Folks who stub their toes easily be warned — the legs of this bed are flush with the frame, making them easy to kick while walking.
My choice for best bargain is the Mellow Naturalista Classic Solid Wood Platform Bed. This mid-century modern-style frame comes without a headboard and has a stylish traditional appearance. The Naturalista Platform Bed can be purchased in twin-king sizes and has 8.5 inches of underbed clearance.
Pros:
Price. This frame is made with weighty solid wood and is an excellent bargain, too.
Finish options. The 4 available finishes would suit both modern and traditional interior design styles. I tested the pine, which has a nicely versatile, oaky tone.
Assembly. The Naturalista comes with a complete set of tools and took me just 20 minutes to put together.
Cons:
A bit wobbly. I had to tighten some bolts after a night of sleep on this frame to make it feel more stable.
Creaks. The Naturalista can be a bit noisy when climbing in and out of bed, something to keep in mind if you're looking for a quiet bed frame.
How We Picked
Your choice of a wooden bed frame should depend on your decor, how you plan to use it, your budget, and your personal sleep needs. Here are the important metrics to remember when you're looking for the perfect wooden bed frame:
Frame Type
Common types of wooden bed frames include:
Panel – A panel bed uses flat wood panels for the head and footboards, as well as side rails that support the mattress and foundation or box spring. Panel bed are often taller than other types of wooden bed frames
Platform – Platform beds don't typically necessitate a box spring or foundation. Most platform beds include wood, metal, or plastic slats and slat reinforcement bars for larger sizes like queen and king
Canopy – Canopy beds are constructed of 4 posts connected to an overhead frame that is often used to hang fabric. Traditional style canopy beds are typically made of carved wood, though modern styles tend to have a simpler and more contemporary design
Four-Poster – Four-poster frames have four tall posts, while the posts of low-poster beds are short. Half-poster beds are taller at the head of the bed and shorter at the foot
Sleigh – The head and footboards of sleigh beds have a curved shape reminiscent of a traditional sleigh
Materials
Wooden bed frames typically utilize wood for the main structure and wood or metal for the support components such as slats and rails. When choosing a wooden bed frame, know which materials were used in the bed's construction and how they can be expected to hold up over time.
The most common woods used in bed frames are:
Pine – A soft wood used in frames and slats. Light in color with a knotty appearance that gives a bed frame a distinctive look
Maple – A durable, medium-to-hard wood that can be stained easily. Naturally light in color
Oak – A durable and very hard wood used in higher-quality furnishings
Beech – A light-colored medium-to-hard wood often used to make chairs and toys
Mahogany – A strong, reddish-brown wood that may be used in more expensive bed frames
Laminates and veneers – Thin layers of higher quality or more attractive woods over fiberboard or other less expensive materials
Metal may be used in a wooden bed frame for parts like bolts, slats, and rails. The most common metal used in bed frames is steel, which is often more durable when used in structural components than wood.
Mattress Type
Each bed frame is designed for use with a particular type of mattress. For example, a platform bed frame can support a mattress without a foundation or box spring. A frame without slats will require a foundation to support the mattress.
To make sure your new bed frame will work with your mattress, know the dimensions of both. The right bed frame should be able to fully accommodate the width and length of your mattress. A high-profile mattress will require a head and footboard of a particular height, while a low-profile mattress will work best on a frame that won't leave gaps around the edges.
Sleepopolis Tips
Still not sure which wooden bed frame is best for you? Consider the following tips:
Know how you'll use it. If you're furnishing a master bedroom, you may prefer the look of a higher end wood such as mahogany or oak. Function and price may be more important factors for a wooden bed frame in a guest or child's room
Measure your bedroom and your mattress when considering a new bed frame. Make sure the frame will fit in your bedroom with room to spare, if possible
Factor in height. Bed frames vary widely in terms of how high they sit off the floor. If you're not sure which height is best for you, try out bed frames in a store before buying
Keep decor in mind. A bed frame can be a room's focal point, so make sure it fits with your personal style. Folks who like a more traditional look may like a frame in a sleigh or canopy shape. Fans of modern decor might prefer a simple platform bed with a contemporary headboard design
FAQs
How long do wooden bed frames last?
It depends on the frame and the materials used to make it. Harder woods such as oak and maple are typically more durable than softer woods, and can last for decades if cared for properly.
What if I don't like my new bed frame?
Many bed frames, particularly those purchased online, can be returned for a refund or exchange. Be sure you understand the return and exchange policies before you buy any new item of furniture.
How do I clean a wooden bed frame?
Check your warranty and manufacturer's instructions for specific advice on how to care for your bed frame. Most wooden furniture can be dusted with a soft cloth and cleaned with a diluted blend of water and mild dish detergent. Do a spot test with the solution in an inconspicuous place before using.
Last Word From Sleepopolis
A wooden bed frame can be one of the most significant items of furniture in a home. Your choice of wood and style of frame will help to determine how long the frame lasts and how much it costs. When shopping for a wooden bed frame, know the materials and dimensions you prefer. Choose a frame that accents your decor, fits your mattress, and works with the way you sleep to maximize your comfort and help you enjoy healthy slumber.