Wooden bed frames are sturdy, durable, and ideal for many designed-focused buyers. Bed frames made of wood won't rip or stain, like many of their upholstered counterparts, which may be nice for people who never want to buy a bed frame again (most of us!).
Now, looking for the best bed frame can be challenging – but that's why you have us. We've reviewed countless bed frames and narrowed down the best ones to choose from. Read on to learn more.
Best Wooden Bed Frames 2023
Expert Opinion
Helix's Wood Bed Frame has a minimalist look and is designed for durability and easy assembly. It's compact, leaving you with more bedroom space for other items. It has a modern aesthetic that easily blends with any bedroom design. And, if you frequently toss and turn at night, reviewers say that this bed hardly squeaks at all.
What Customers Say
Customers say this frame is comfortable, durable, and easy to assemble or disassemble. However, some customers did note the frame creaking when they moved on the bed. They also noted the pieces don't always slot together perfectly for a flush fit.
Pros of the Helix Wood Bed Frame
Durability that promises low wear and tear without the need for frequent repairs.
Customers rave about how easy it is to assemble and disassemble.
Tons of reviews say the Helix Wood Bed Frame is quiet, so it won't squeak if you're a tosser/turner.
Cons of the Helix Wood Bed Frame
Some people don't love the minimalist design.
It is incompatible with headboards.
Do you like this bed frame? You can click here to get the best deal. Or check out our Helix Wood Bed Frame review to learn more.
Expert Opinion
This bed frame is sturdy and built with high-quality wood. It strikes a healthy balance between elegance, easy assembly, and comfort. Expect an easy assembly and no squeaks when moving around in bed. Most importantly, it offers all these features for an affordable price; it's no surprise that it's always flying off of shelves.
What Customers Say
Customers praise this bed frame for its sturdy structure and excellent wood design, offering a fine wood finish that can easily complement any interior decoration.
Pros of the Zinus Linda Wood Platform Bed
It offers great value for money.
It's easy to assemble; two people can handle the job in under an hour.
It is durable and squeak-free.
Cons of the Zinus Linda Wood Platform Bed
Customers often complain about excessive packaging.
It doesn't come with slat holders, making it look more bare.
Do you like what you see? Click this link to find the best deal.
Expert Opinion
The Avocado City Bed Frame is second to none. It is strikingly beautiful, handmade with hardwood in a Los Angeles woodshop. With a smooth finish and elegant look, this bed will likely draw compliments from anyone who comes into your bedroom. It's eco-friendly and can be built without any special tools — what could be better? The main drawback is its high price.
What Customers Say
Customers say this bed frame is sturdy and beautiful, looking great in virtually every room you place it in. It's very easy to put together, saving them time and effort they can put to use elsewhere.
Pros of the Avocado City Bed Frame
You can assemble it without specialized tools.
It's made with eco-friendly materials. Avocado says the wood the frame is built with is sourced from responsibly managed forests. The frame is made in a Forest Stewardship Council certified factory and is GREENGUARD Gold certified for emissions.
It adds beauty to interior decorations.
Cons of the Avocado City Bed Frame
It is costly compared to other wood bed frame options.
It's not as compact as other options.
Do you want an eco-friendly, stylish bed frame? Find the best deals here.
Expert Opinion
Looking for a wood bed frame with a high-end aesthetic? Look no further than Thuma's The Frame. This frame is made entirely of rubberwood, with slats for support. You can choose between a wooden headboard or a plush PillowBoard, as well as choose between multiple wood finishes. And as luxurious as this frame looks, it's also super easy to assemble at home, as it uses Japanese joinery for a simple set-up and a beautiful, minimalist aesthetic.
What Customers Say
Customers note how easy it is to set up the Thuma bed frame, as well as complimenting the design and overall look of the frame.
Pros of the Thuma Bed Frame Frame
It's easy to assemble.
Thuma provides a 100-night sleep trial period.
Using eco-friendly and recycled materials, Thuma has prioritized sustainability with this frame. It even has a GREENGUARD Gold certification.
Cons of the Thuma Bed Frame
It is pricier than some other wooden bed frames.
The Thuma bed frame has a somewhat unsightly black screw on the front.
Think the Thuma bed frame could be right for you? Click here to find the best deal. Or check out our Thuma Bed Frame review for more details.
Expert Opinion
The modular design of this bed frame is its main selling point. You can easily add or remove bed panels based on your needs and customize your setup with add-on furniture like bedside tables and under-bed storage. It's made from birch plywood with a birch veneer, is easy to assemble, and sits very close to the ground (which can be good for shorter people). Setup is super easy and doesn't require any tools, which is perfect for people who aren't too handy. The steel supports give it some extra umph in the durability department.
What Customers Say
Customers say this bed frame is easy to set up and looks stylish in different interior design situations. It has a minimalist aesthetic that's perfect for studio apartments.
Pros of Floyd's The Bed Frame
This frame's easy assembly is ideal for many shoppers.
The bed frame's modular, flexible design allows for customization.
It looks stylish.
Cons of Floyd's The Bed Frame
This frame is made with less sturdy wood, compared to some competitors.
Customers report the headboard is prone to wobbling.
Are you a fan of this bed frame? Ensure you find the best deal here.
What to Look for In A Wooden Bed Frame
Choosing the right wooden bed frame will depend on your design preferences, your space, weight and height, and budget. Here are some of the main things to consider:
Design
What do you want your bed frame to look like? Some people like minimal, sleek designs, while others like stylish, detailed designs. It all comes down to what you love. But overall, look for a bed frame with solid wood quality, supportive slats, and a well-built headboard and footboard that keep you comfortable at night.
Size
The size of your bed frame might just be the most important factor. You'll need the right size for your mattress but also for your space. If you live in a small apartment, you should be looking at compact — possibly foldable — bed frames. If you have a large space, you can use bulkier bed frames without the inconvenience.
Another factor with size is how far off the ground the frame is. This might matter more for people who are shorter or who have difficulty getting in and out of bed. Add together the height of your mattress and the height of your frame for the total height of your bed.
Price
Price is usually on the minds of shoppers, especially for big purchases like a bed frame. You'll find frames in price ranges across the board, from as low as $200 to several thousand dollars. Higher prices usually come with better quality, but this isn't always the case. Take your time to shop around and consider reviews before making any decisions.
Weight Capacity
How much weight can your bed frame hold? Most bed frames will state the maximum weight they can support, so use this information while shopping. If the total weight on the frame (including the mattress) is well above the capacity, this can quickly lead to damage like splitting and squeaking.
Installation
How easy is it to install your wooden bed frame? Some frames are easy for anyone to install, while some require specialized tools and handymen to set up. Consider whether or not you're handy or know someone who is and is willing to help you out. Hate the idea of tools and instruction manuals? Opt for a bed frame that's super easy to set up.
FAQs
Which brand of wooden bed is best?

Helix is our top pick of wooden beds we've reviewed because of its ideal balance of comfort, elegance, compactness, affordability, and ease of installation. However, there are many great options out there.
What is the best bed frame wood material?

Mahogany is the best bed frame wood material because of its long-term durability and strength.
What type of bed frame is the most sturdy?

Metal bed frames tend to be the most sturdy. They are not susceptible to cracking and breaking like wood. The tradeoff is their tendency to rust and squeak due to body movements, which may impact your sleep quality.
What are the best bed frames?

We think the best bed frames include the Helix Wood Bed Frame, Zinus Linda Wood Platform Bed, Avocado City Bed Frame, Thuma's The Frame, and Floyd's The Bed Frame. That said, the best bed frame for you will ultimately come down to your budget, design, and preferences.
Best Wooden Bed Frames 2023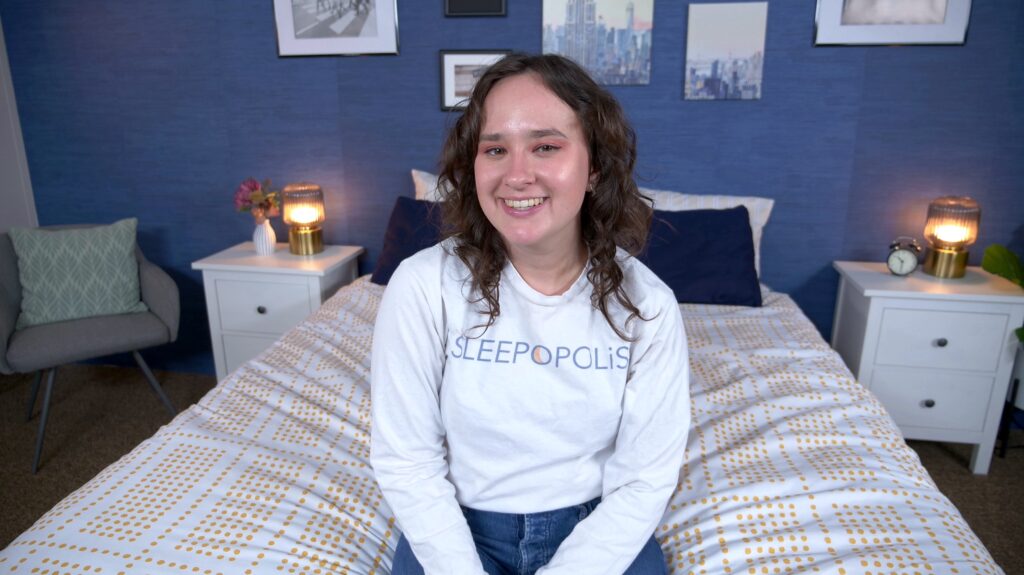 Amelia Jerden
Senior Staff Writer
About Author
Amelia is a Senior Staff Writer for Sleepopolis. She primarily covers bedding and sleep accessory products in reviews, how-to guides, and more. You can also find her over on the Sleepopolis YouTube channel. Amelia is a graduate of the University of North Carolina at Chapel Hill, with double majors in media and journalism and in dramatic art. Outside of work, Amelia can usually be found on a hike, traveling to a new city, or at her local thrift store.