Is it time to get rid of that squeaky box spring or bed frame? Well you're in luck. Purple has just released their brand new Purple platform bed frame foundation and is looking to take your bedroom by storm!
Will this platform bed live up to the standards set by Purple's incredibly popular mattress? Continue reading below to find out!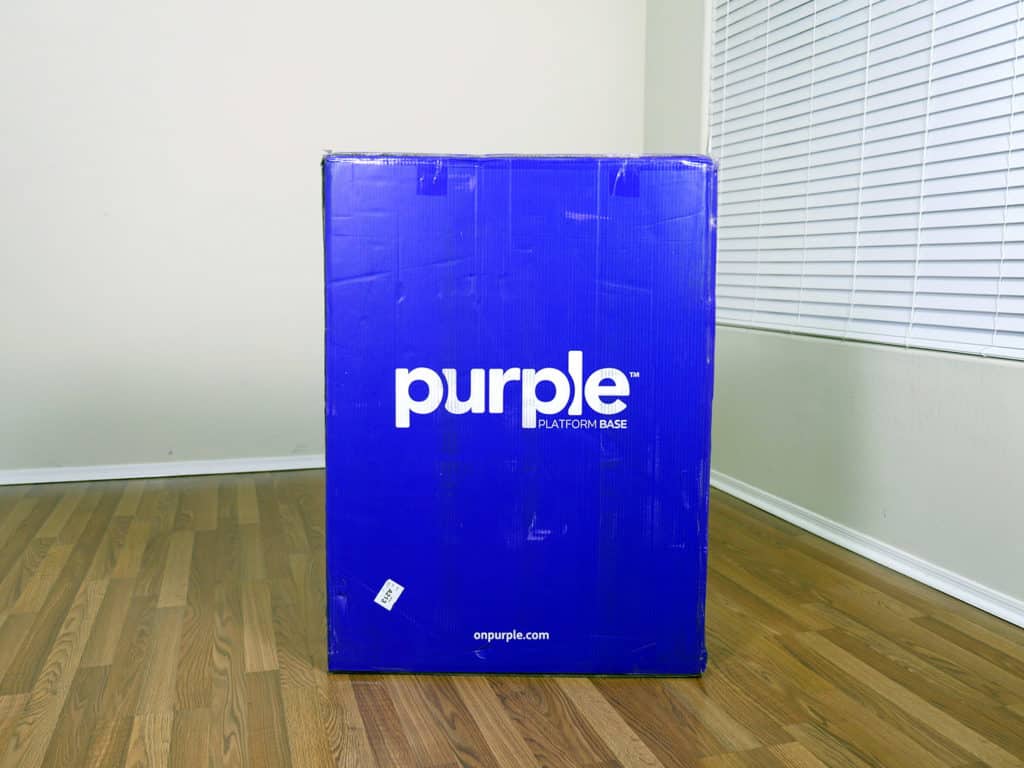 Don't have time to read the full review? Click here to jump on down to the review summary.
Construction & Materials
The Purple platform bed is constructed from a combination of steel slats and screws. With regards to the slats, they sit 5.5″ apart and are built with two layers. To clarify, the bottom layer of slats sits perpendicular to the top layer, which helps create a more supportive foundation as a whole. Additionally, each corner of the platform bed contains a supporting beam, which tightens to its adjacent leg for extra stability.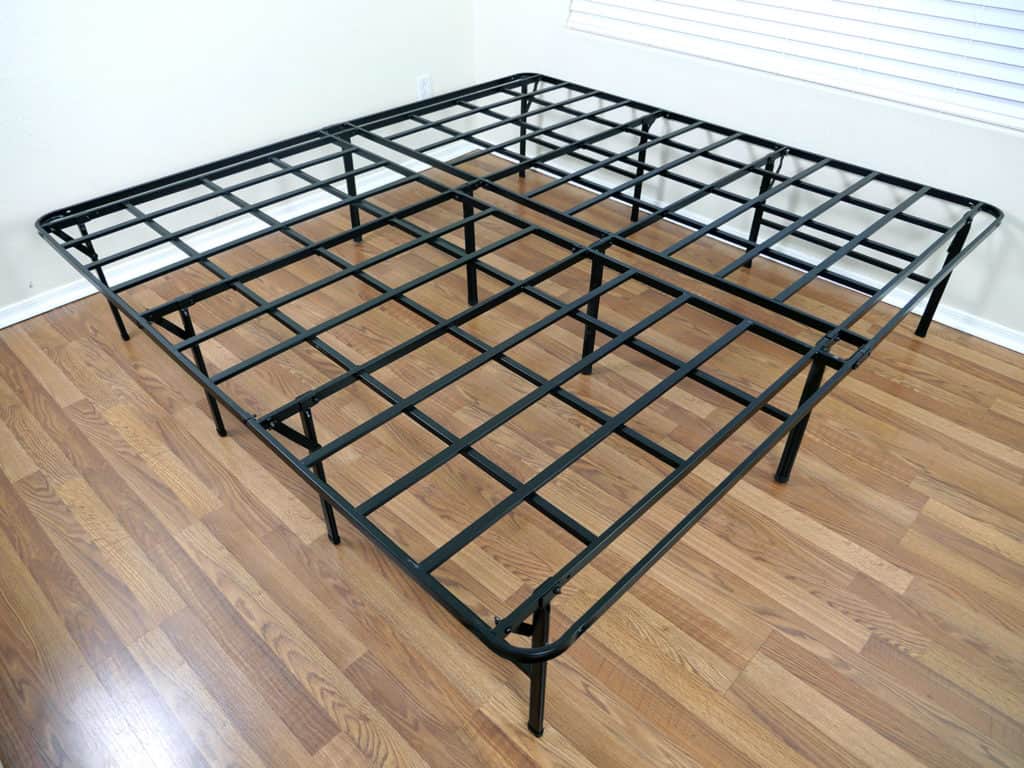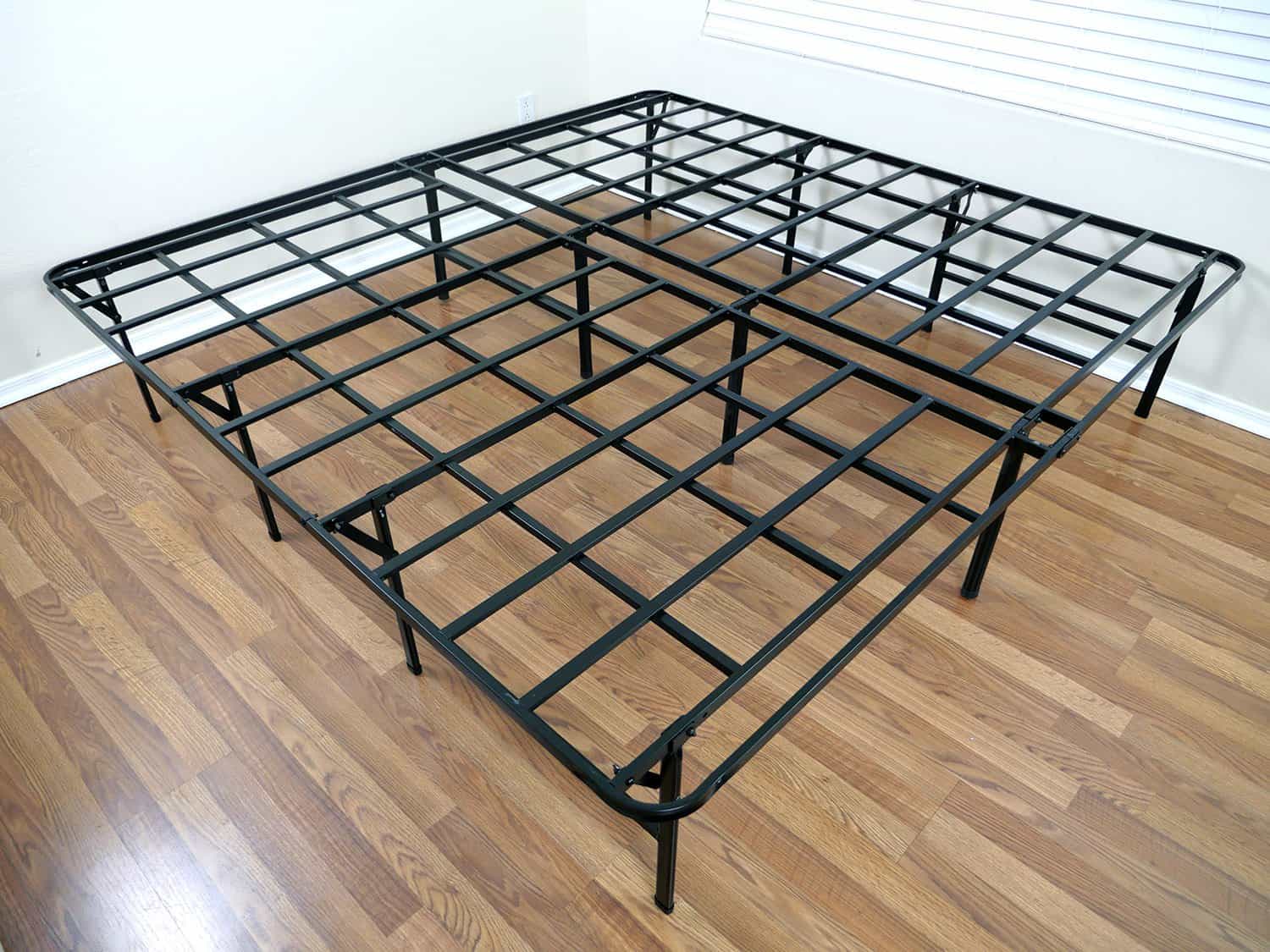 Assembly
Assembling the Purple platform was quite easy. That said, it did take slightly longer than I initially expected. To begin with, I removed all of the parts from the box and spread them out on my floor. After doing so, I grazed over the instructions on how to piece everything together and began the process.
For starters, I unfolded each base (includes 2 for a King size foundation) and tightened up the support beams for each corner of the base (a total of 4). This was a simple task. Next up, I took the middle extenders and attached them to the two Twin XL frames, bringing them together to form a King size base. This was probably the most time consuming portion of the assembly process. By no means was it difficult, but it took time to finagle the small screws into their respective slots and tighten them up with the tool that Purple includes in the packaging.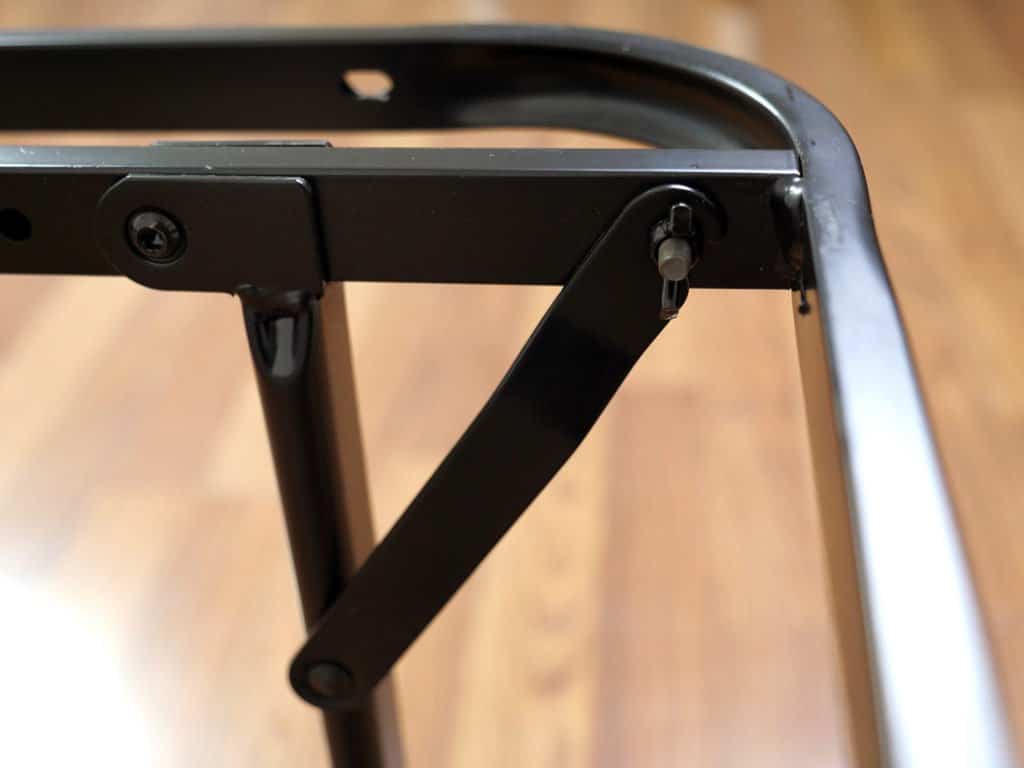 After tightening all of the legs and screws, the King size Purple foundation took me right around 30 minutes to fully assemble. Now, I may not have taken the best approach to tightening the screws into the base, but it seemed as if there were not many options. Therefore, I went with what felt quickest. All things considered, the Purple platform bed was easy to assemble.
Support & Noise
Although the aesthetic appeal of the Purple foundation is nothing extraordinary, the support this platform bed offers is no joke. The slats sit 5.5″ apart and contain dual support from the top and bottom bars. Due to the perpendicular slatted construction, the slats are able to support more weight and absorb pressures that most foundations (at this price point) cannot. Additionally, the row of central support legs help to further reinforce support along the middle of your mattress.
With regards to the weight this foundation can support, it is rated for up to 4,600 pounds. There should be no support issues for even the heaviest of sleepers.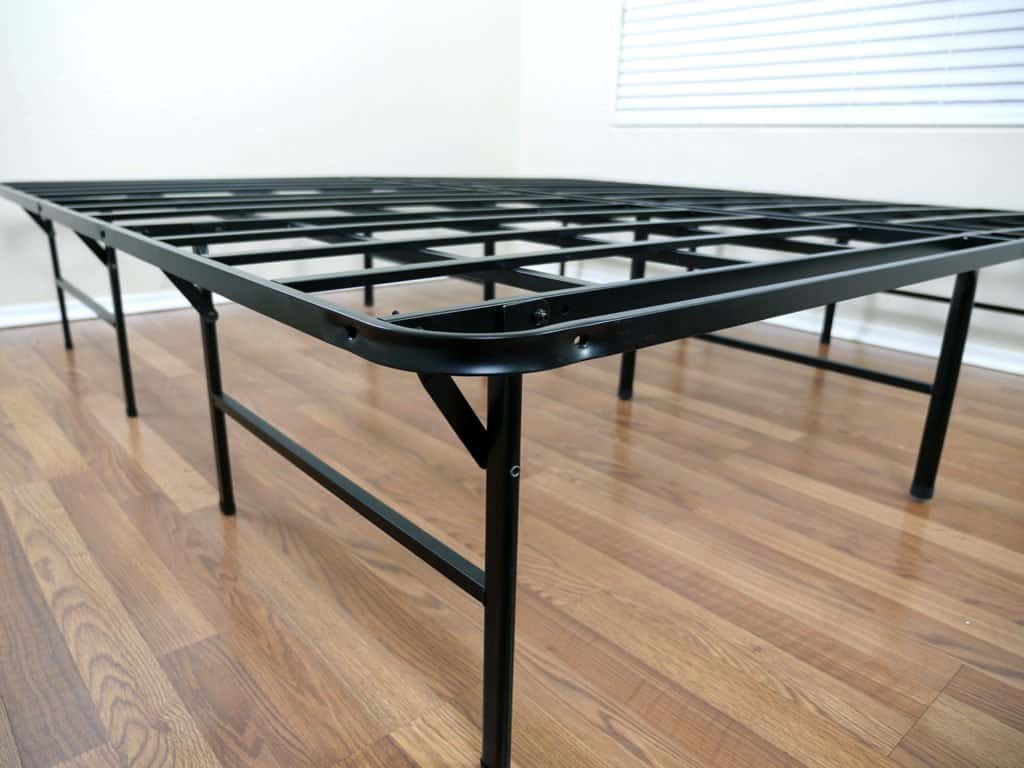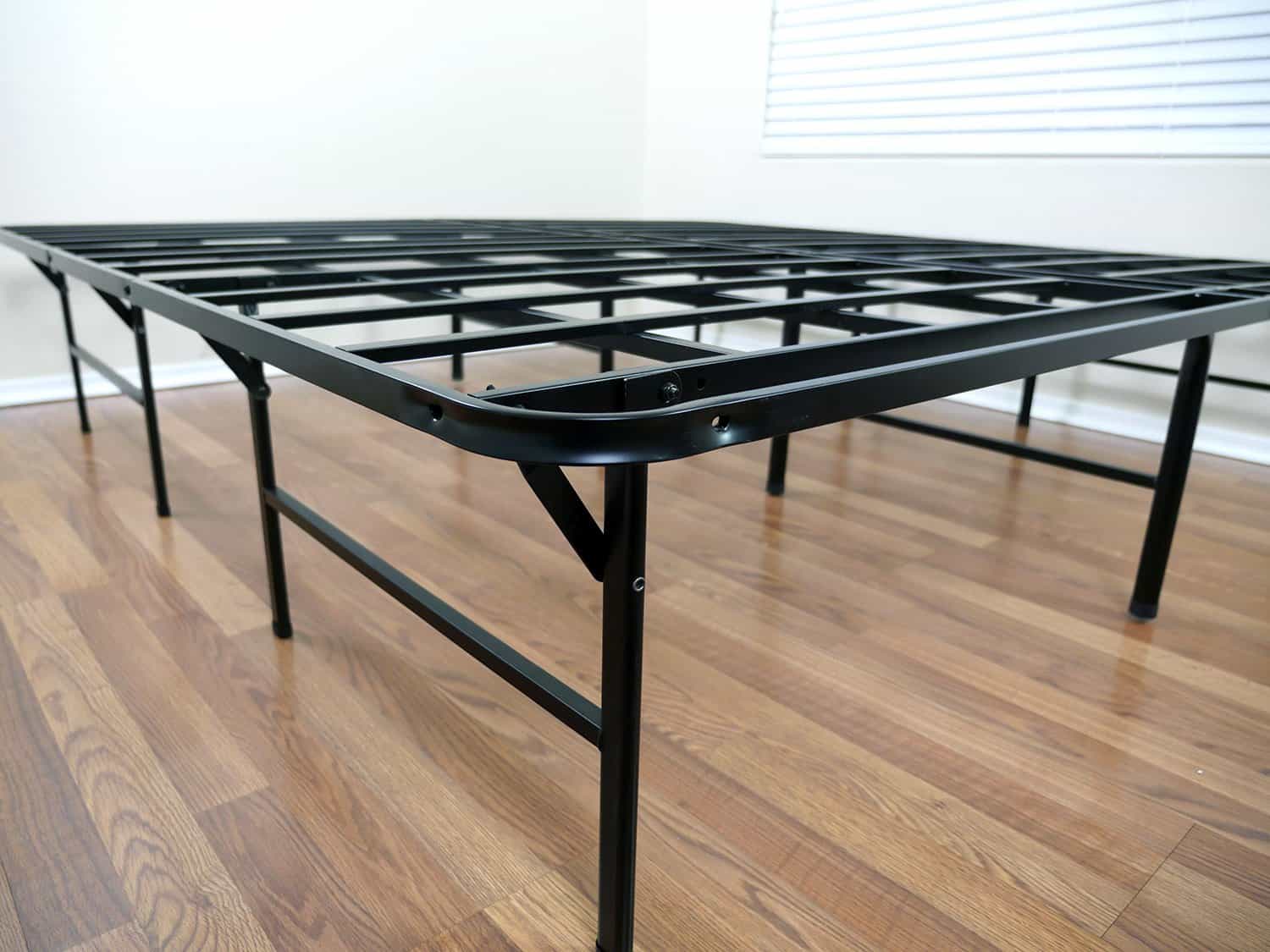 Next up, let's talk about noise. Many bed frames, especially metal ones, tend to be on the louder side. However, the Purple platform was surprisingly quiet. I used a 10″ all foam mattress for my tests. From standard lying position changes, to quickly sitting on the bed, amorous activities, and medicine ball drops, there was no significant noise generated from the foundation / frame. The only way I was able to get the frame to make noise was via a flying leap high enough that the mattress bounced off of the frame itself. Outside of flying gymnastics there isn't much that will cause the frame to be noisy.
Durability Tests
Once I had the platform bed fully assembled and ready to roll, I put it through a short series of tests. These tests were put into place to provide insight on how sturdy the foundation is from different angles, positions, and weights.
Shake Test – during this test I walk around the platform bed and literally shake it from every angle. This test was designed to measure how much force can be placed on the foundation without the screws or other parts coming loose.
Sitting Drop Test – as I stood up and plopped my butt onto the mattress / platform bed, there was no sign of damage. The foundation was able to support the weight of the mattress and myself easily.
Standing Drop Test – the standing drop test did put a little more stress on a direct point on the foundation. That said, the mattress softened my landing and the frame was able to take the pressure without encountering any damage.
Flop Test – the flop test can be otherwise thought of falling into bed after a long day at work. For this test I drop all of my weight in an abrupt manner and assess any possible damage. Again, there was no noticeable sign of damage.
Jump Test – I jump on the bed trampoline style, making a point to put extra weight into the support beams to put them under greater pressure. At the conclusion of this test there was no noticeable damage.
Hammer Test – finally, the hammer test. On this test I take a literal hammer and beat several of the metal supports. After several hard hits there was some slight scratching and denting, but no where near enough that it seems like it would effect the performance of the frame.
All in all, the Purple platform bed passed my tests without any significant damage.
REVIEWS: More Sleepopolis bed frame & foundation reviews
Pricing
| Size | Price |
| --- | --- |
| Twin XL | $129 |
| Queen | $174 |
| King | $189 |
| California King | $189 |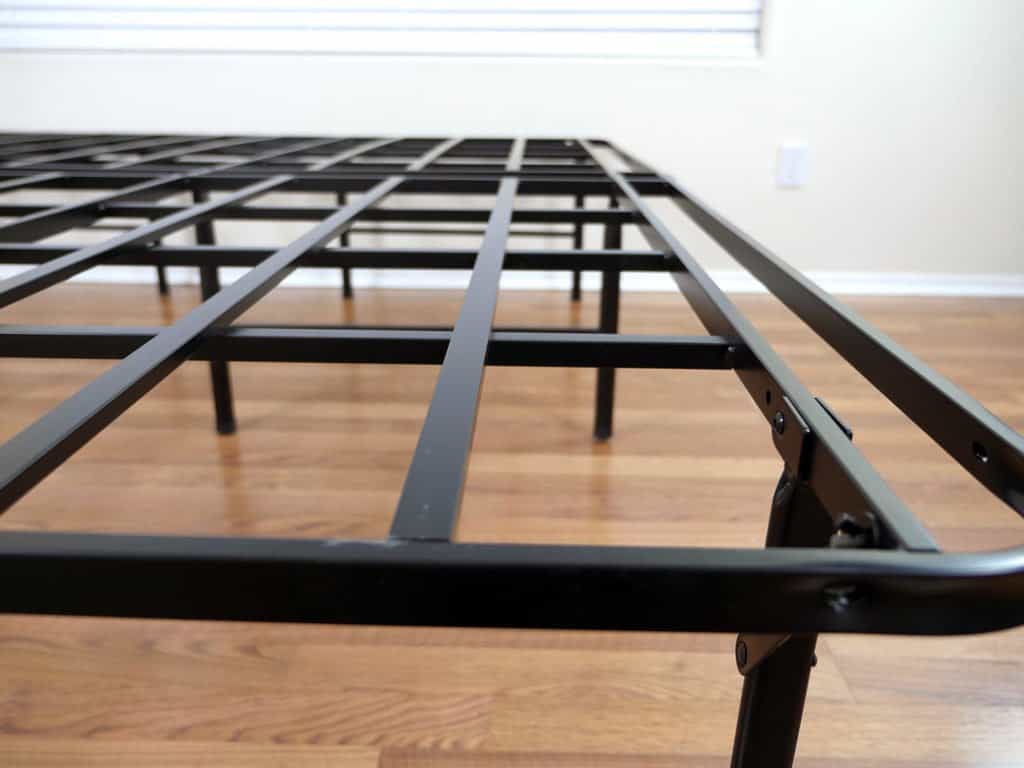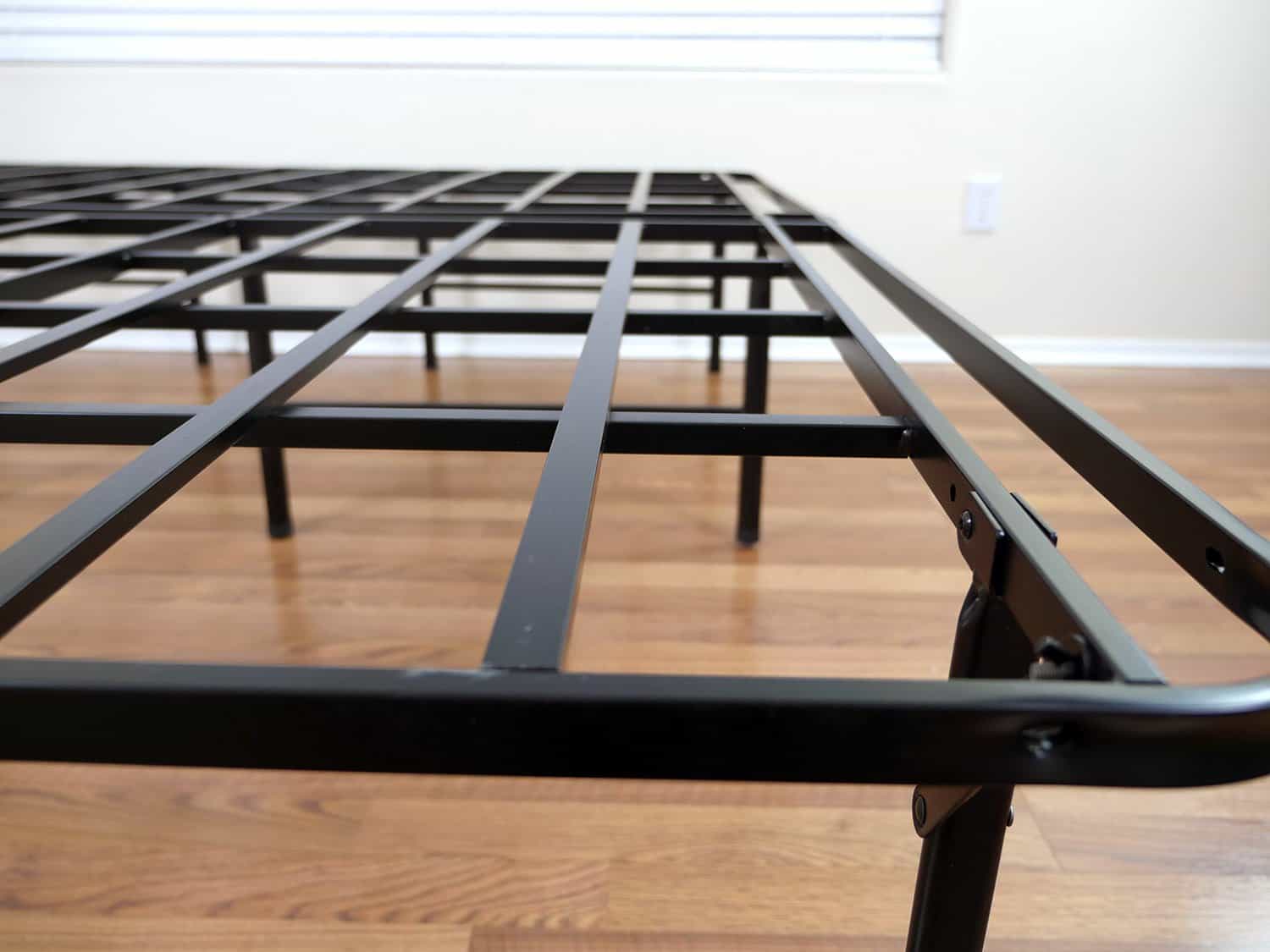 Other Details
Lightweight construction – fully assembled, the Queen size foundation weighs a total of 45 pounds. This makes for much easier maneuverability.
Headboard – while Purple does not include a headboard they do include accessories and a bracket so that you could add your own, if you desire.
Height – 16.5″ with room of storage under the bed
Sizes – available in Twin XL, Queen, King, and California King
Warranty – lifetime
Trial – none
Who should buy the Purple platform bed frame?
Overall, I really like the Purple platform bed frame. It has a simple and minimalist style, excellent construction and durability, and is capable of tremendous support at up to 4,600 pounds. The price point is a bit higher than other similar metal frames I've seen, but it also feels like this is a step up in total performance and quality. Having both a primary horizontal support structure + a secondary supporting row of steel beams below help to reinforce the overall support capabilities of the frame.
I would recommend the Purple platform bed frame to sleepers who:
Want a lean, modern, and minimalist style – the utilitarian style is simple and clean. The platform is first and foremost designed to support your bed frame and won't distract from other more interesting focal points in your room. That said, you can still attach a headboard if you desire.
Want excellent support – The Purple platform is capable of supporting up to 4,600 pounds. There's no much more you could ask from a bed frame.
Want under bed storage – the Purple frame sits 16.5″ off of the ground, offering ample storage under the bed, while still giving you a low profile and clean look.
Want to get rid of the box spring – you won't need a box spring (for most mattresses, double check with your manufacturer). Simply put your mattress directly on the Purple platform bed frame and you're done.
Looking for more info on the Purple platform bed? Jump on over to OnPurple.com to check it out!
Utilitarian Design, Absurd Support
Materials

Support

Noise

Build Quality

Durability

Warranty

Value
Summary
The Purple platform bed frame is designed with functionality over form. It has no significant style touches to it, but instead is aimed to simply provide the best support possible. This foundation supports up to 4,600 pounds, sits 16.5″ off the ground (great for storage), and is equipped with a lifetime warranty. For those who desire a simple, modern platform bed, it is an excellent value for the money.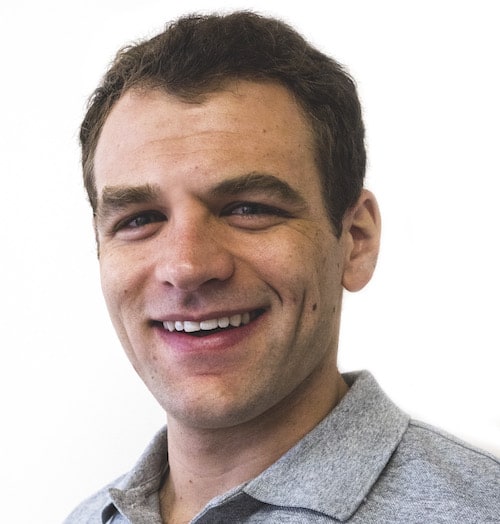 Logan Block
Logan is the former content director of Sleepopolis. As content director, he reviewed new mattresses every week and curated the comparisons, best of pages, and video guides on the site. Logan perfected his method by personally testing over 200 different mattresses, so he's not only able to discern the overall vibe of a specific bed, but to contextualize its feel within the bed-in-a-box market as a whole.