A box spring is a bedding essential, a foundation for your mattress that provides shock absorption and support. The right box spring can help improve the durability of your mattress and reduce sagging and premature wear. Some mattress manufacturers mandate the use of a box spring as a condition of the warranty, making the right selection of foundation even more important.
Modern iterations of the box spring offer great options for just about any sleeper. So how do you choose the right one for your budget and sleep needs? Read on. I've tested four models for comfort, durability, and support to help you find the perfect foundation for your budget and sleep needs.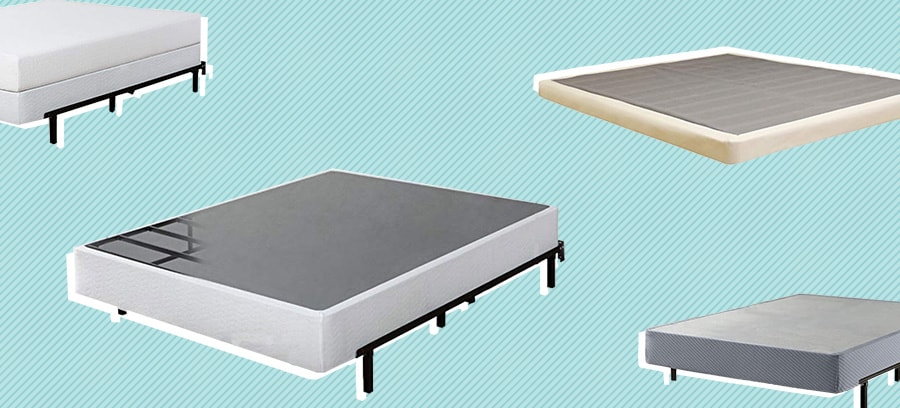 Editor's Pick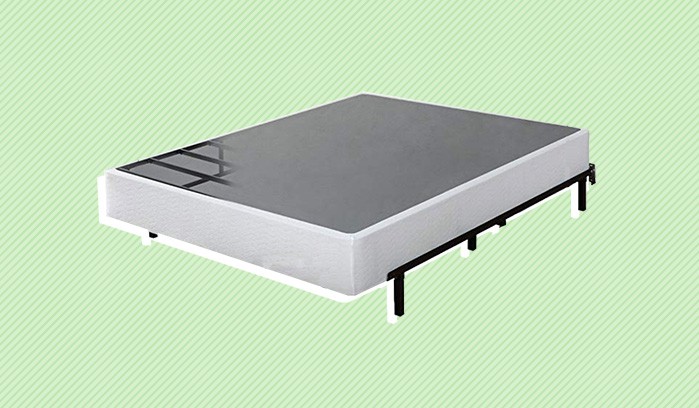 Zinus Sleep Master Smart Box Spring
My choice for editor's pick is the Zinus Sleep Master Smart Box Spring. This lightweight foundation can be quickly assembled or taken apart, making it a breeze to get up and down stairs or through narrow doorways. Solid workmanship and simple-to-follow instructions make the Sleep Master a standout among other box spring options.
Pros:
Comes with tools. I didn't have to dig around for screwdrivers or Allen wrenches to assemble this box spring, a plus since I (like many people) don't keep a lot of tools on hand
Solid steel structure. The Sleep Master box spring is constructed from steel, which feels more durable and substantial to me than a box spring with a wooden frame
Slim profile. The Sleep Master is 9 inches deep, which is similar to many other box springs and is a popular height that won't raise a mattress beyond the comfort level of most folks
Cons:
Light frame. Though the light frame makes the Sleep Master easier to move than other some heavier box springs, it may not hold up as well if you and/or your partner weigh more than average
Noise. I detected a bit of a squeak after assembly which wasn't a problem, but this may be a downside for those in search of a quieter option
Best Box Spring Replacement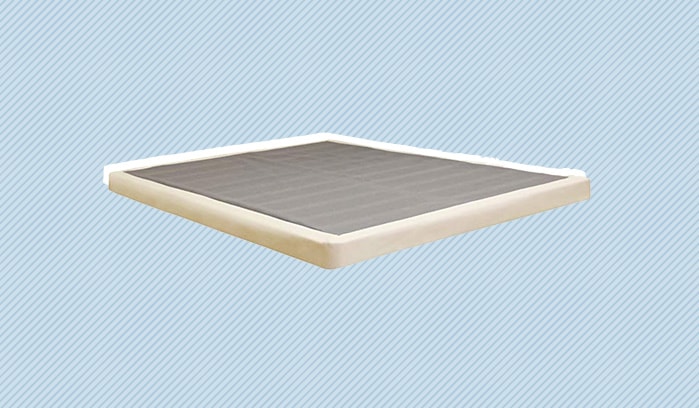 Classic Brands
Don't need a full box spring but want a little lift and support for your mattress? Check out the Classic Brands Instant Foundation. This clean, low-profile model is my pick for best box spring replacement. The 4 inch version offers a slight-but-substantial boost to any mattress and is appropriate for any material including memory foam.
Pros:
Height options. The Classic Brands Foundation comes in high and low profiles and is available in either metal or wood. There's also a frame set option for folks who like a more traditional box spring feel
Assembly. I'm not known for my handyman skills, but was able to put this box spring replacement together in 20 minutes flat
Ultra low profile. If you prefer the look of a mattress on a platform bed but need extra support that won't create too much distance from the floor, check out the 4 inch version of the Classic Brands Instant Foundation
Cons:
Creaks. I found the wood slat of this box spring replacement to be a bit noisy when I switched sleep positions. The metal version may be quieter for those who value silence while they sleep
Cover size. The cover on the queen size model I purchased was a tight fit — this may have been a manufacturing flaw but it could be an issue for some buyers
Best Bargain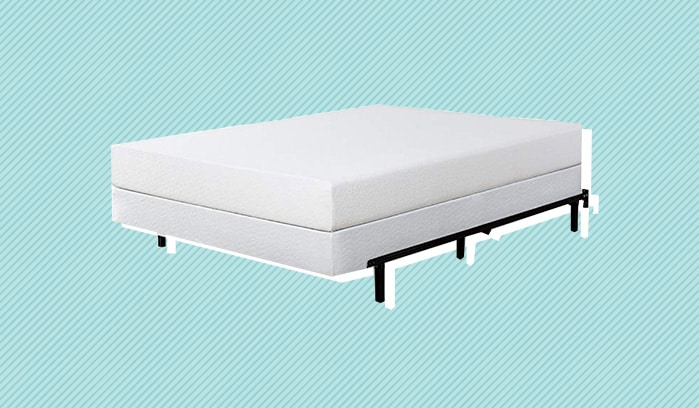 Zinus Armita 7 Inch Smart Box Spring
My pick for best bargain is the Zinus Armita 7 inch Smart Box Spring. Like the 9 inch Zinus Sleep Master, this 7 inch model is made of steel support beams and arrives ready to assemble. The Arminta is a great choice for those who prefer a lower profile box spring or a bed that sits closer to the floor.
Pros:
Price. The Zinus Arminta is one of the lowest priced of all the steel construction box springs I tried. Add in solid craftsmanship and compact packaging and this box spring is hard to beat
Design. If you like the look of a sleek, modern bed, the Arminta may be worth a try. From its streamlined steel frame to the soft, removable cover, this box spring was fashioned with aesthetics in mind
Quiet. I didn't hear a peep — or creak — out of the Arminta box spring after several nights of continuous use. If being able to change positions without squeaks is a priority, this box spring should be on your short list
Cons:
Size. The queen-size version of the Arminta was a hair too small for my mattress. If generous diameter is key for you, make sure you know your mattress measurements before purchasing this or any other box spring
Slat width. Though the manufacturer says this box spring can be used with a memory foam mattress, I found the slats to be a little wide to support a memory foam model
Most Durable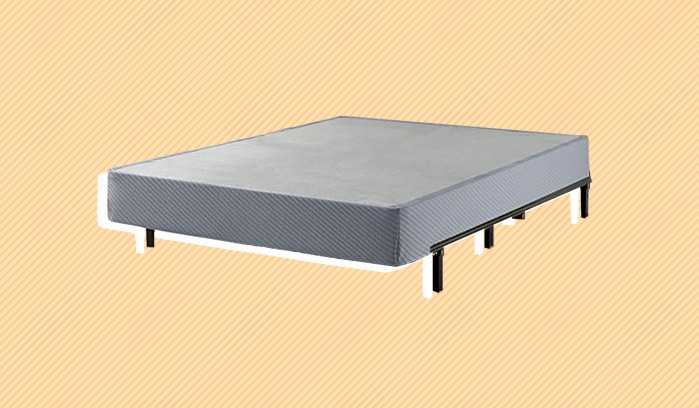 Best Price Mattress Box Spring
The Best Price Box Spring with Heavy Duty Slat Foundation is my choice for most durable box spring. This solid steel-frame model is well-constructed and comes in twin through king sizes. The slat width will work for any material material including memory foam. The standard 9 inch profile is suitable for most sleepers and can be used in a metal or wooden bed frame.
Pros:
Heavy duty. If you're a bit on the heavier side or like to pile lots of pets and children on your bed, take a look at the Best Price Box Spring. This model felt rock-solid and durable, like the kind of box spring that might perform for years
Cover. This box spring gives you two choices of color, navy or gray, both available in an attractive dot pattern with two zippers to make them easier to put on and remove
Noise, or lack thereof. The Best Price Mattress didn't make a sound despite being put through its paces for several days. If you need a box spring that can stand up to pillow fights, look no further
Cons:
Price. Durability comes at a slightly higher cost, which may be a dealbreaker for some folks
Heavy. This box spring was the heaviest of all the ones I tried — no surprise considering its solid steel construction. Be prepared if you live alone or need to lug this foundation up a flight of stairs
How We Picked
In choosing box springs to review, we focused on a few important factors. These are helpful to think about no matter which kind of box spring you're considering, regardless of budget. When checking out options for a new mattress foundation, keep the following in mind:
Materials
Box springs were once constructed from a wood frame and metal coils. Today, more modern versions of the mattress foundation are typically made from a steel frame and slats without coils, as well as a cover that may be removable.
The most durable box springs are typically made of steel that doesn't creak or warp and can support the weight of a mattress and one or two sleepers. Wood can also be durable but may be more subject to creaking, cracking, and pests. When shopping for a box spring, look for quality materials that can support your mattress and body weight without sagging.
Durability
Most box springs have a 3-5 year warranty but may last much longer depending on the materials and how the box spring is used. When looking for a box spring that can stand up to years of use, do your homework. Is the frame made from soft pine or solid steel? Are the slats well-secured or loose after assembly? Weight limit is important, too. The higher the weight limit, the more likely the box spring is to last, especially if you and/or your partner weigh more than 200 pounds each.
And don't forget — a great deal may seem like less of a bargain if it doesn't hold up. Keep budget in mind but shop for the long-term whenever possible.
Profile
Box springs range in height from around 4 inches to 9 or more. When deciding on a high or low profile box spring, know your needs as well as your mattress. Do you want your mattress in a higher position so you don't have to bend low or potentially lose your balance? Do you prefer the look of a bed that's closer to the ground? How about your partner, children, and pets? Consider how you use your bed on a day to day basis to help pinpoint which box spring profile is best for you.
Price
Buyers of all budgets can find a box spring to suit their needs. When it comes time to shop, decide what's most important to you. A steel frame that's both durable and quiet might set you back a bit more than a wood frame with a shorter expected life.
Size
Box springs are typically available in all sizes from twin to California king. To make sure your new box spring will fit your mattress, know your measurements. Size descriptions on websites may not be enough. Some box springs can be a bit smaller than mattresses of the same size category, so be careful to check diameter and dimensions.
Sleepopolis Tips
To make choosing a new box spring simpler, check out the following tips:
Decide how you'll use your box spring. Will you be putting it in a room meant for children or guests? Is it a purchase for a master bedroom? A box spring that will be used nightly will need to be more durable than one used only on occasion
Check out the warranty. Most manufacturers offer a 3-5 year warranty on box springs with some exceptions. Make sure you understand the terms and conditions of the warranty and how long you can expect your new box spring to last
Give it a try. Not sure which box spring is right for you? Head to a mattress store to compare models, ask questions, and see how different box springs feel in person
Consider alternatives. Do you need a box spring for comfort or to abide by your mattress's warranty, or would another option suffice? Some folks do well with a simple platform bed or box spring replacement, while others need the height and support that only a box spring can provide
FAQs
Can I use my box spring without a bed frame?
Most box springs are intended to be used on a bed frame that doesn't apply undue pressure on the structure as a whole.
What's the difference between a foundation and a box spring?
Typically, nothing. The terms are usually used interchangeably.
Do all bed frames require a foundation of some kind?
Many types of beds don't require a foundation, for example, platform beds, Murphy beds, adjustable beds, and folding beds.
Last Word From Sleepopolis
The right box spring can support your mattress, keep it from sagging, and help it last longer. A box spring can also help make going to bed safer and more comfortable for folks who need a more elevated sleeping surface. Finally, the right box spring can provide a great aesthetic for your bedroom, making slumber a more pleasant experience and promoting healthy sleep.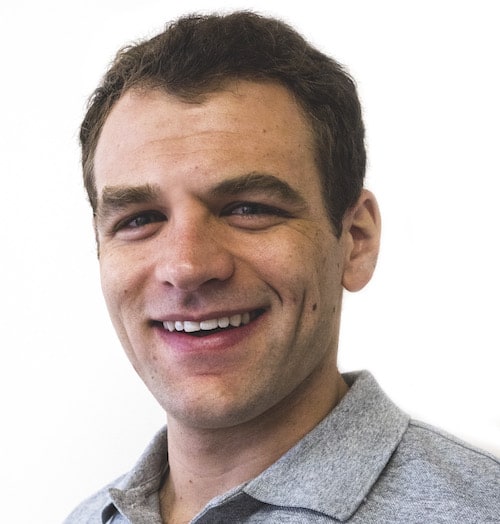 Logan Block
Logan is the former content director of Sleepopolis. As content director, he reviewed new mattresses every week and curated the comparisons, best of pages, and video guides on the site. Logan perfected his method by personally testing over 200 different mattresses, so he's not only able to discern the overall vibe of a specific bed, but to contextualize its feel within the bed-in-a-box market as a whole.