Don't let the name deter you: Husband pillows can be a serious boon for any bedroom. These oversized, upright pillows have armrests and offer partial or full-back support — allowing you to prop yourself upright while reading, watching TV, doing a crossword, and so on. While the moniker stems from heteronormative tropes (the idea being that leaning into the pillow is like leaning back onto a husband's chest), people of all genders and relationships can benefit from a husband pillow.
How do you find the best husband pillow for your needs? Start by thinking about whether you want partial or full back support, whether neck support is important to you, and whether you have strong preferences around colors, materials, or extra features. Then appraise our roundup with those considerations in mind.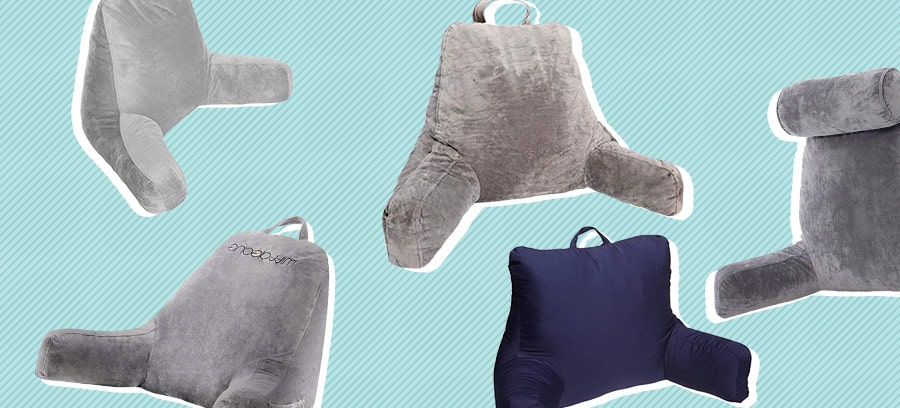 Editor's Choice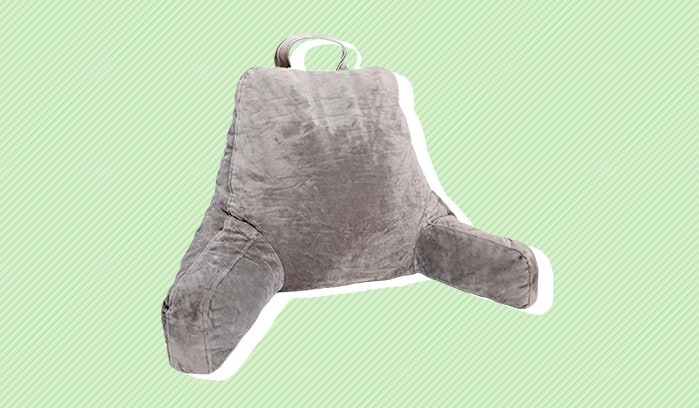 Soothing Company Reading Pillow
Pros:
The pillow is filled with shredded memory foam, which conforms to your body and is a little more breathable than solid memory foam (thanks to the fact that air can flow between the shredded pieces).
The arms each feature a side pocket to store a phone, TV remote, book, or other personal item. There's also a larger pocket on the back of the pillow, and the extra-large size comes with a neck roll.
The cover is removable and machine-washable, which makes cleaning easy.
There's a handle on top of the pillow, which makes it easy to transport between rooms.
Cons:
The pillow will arrive vacuum-packed, and it can take several days for the foam to fully expand and the pillow to become usable. Also, the foam might have a strong chemical odor for a bit until it off-gasses. 
It only comes in one color, so hopefully you like grey or you're out of luck!
Contender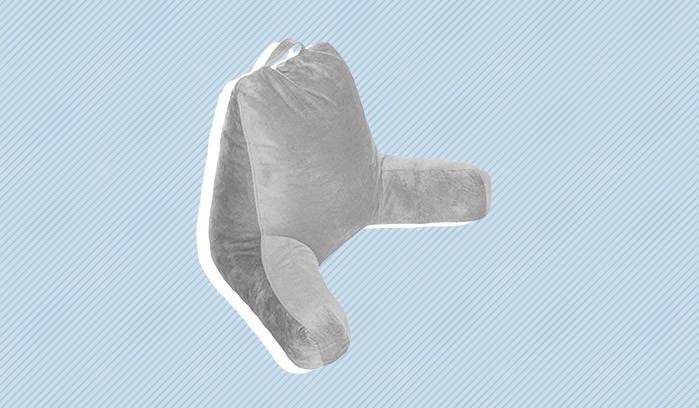 Milliard Reading Pillow
Pros:
The pillow is filled with high-density memory foam, which provides support while conforming to your body.
The pillow is adjustable. You have the option of adding or removing stuffing (which is shredded memory foam) to tailor the feel to your preferences. The company sells extra stuffing for people who like an overstuffed pillow.
The zippered cover is removable and machine-washable, so the pillow is easy to care for.
The handle on top of the pillow makes it easy to move between rooms.
Cons:
When it first arrives, the pillow might have a strong odor that can take several days to fully off-gas. 
The pillow doesn't stand up super well on its own, so you'll probably need to prop it against something in order to get proper support. 
Best Neck Support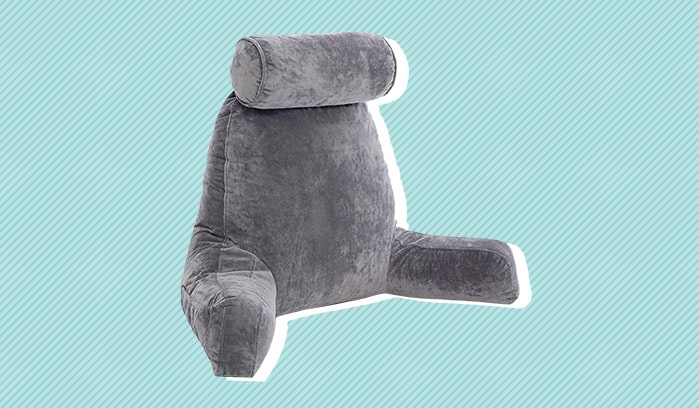 Husband Pillow Big Backrest
Pros:
As the name suggests, this is a big pillow. It offers sturdy support across the upper body as well as a detachable neck roll that helps support the neck.
The zipper on the side lets you access the shredded memory foam inside the pillow, so you can move it around or add/remove foam to tailor the pillow to your comfort preferences. (You can purchase additional foam from the company.)
It comes in tons of colors, so you can customize the look to your preferences and bedroom decor.
The pillow has a number of useful features including a side and back pocket for storing small personal items and a removable cover for easy washing.
Cons:
The pillow is pretty pricey and won't be accessible to all budgets. 
The pillow might arrive with a smell, so you may need to let it off-gas for a few days before using. The foam will also need a day or two to fully expand. 
Best Back Coverage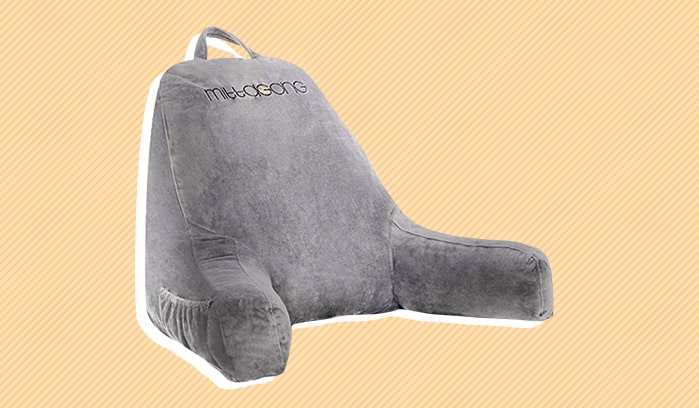 mittaGonG Backrest Reading Pillow
Pros:
The pillow is taller than many husband pillows, so it's more likely to provide full-back support. It also features longer armrests than many other options.
The 100% velour cover is removable and machine-washable, so it's easy to care for.
The top handle makes it easy to transport the pillow from room to room.
The pillow is filled with shredded memory foam, which offers a balance of comfort and support.
Cons:
The pillow arrives compressed and can take several days and manual fluffings to fully expand. 
The pillow doesn't do a great job of providing support without a firmer surface behind it. 
Best Bargain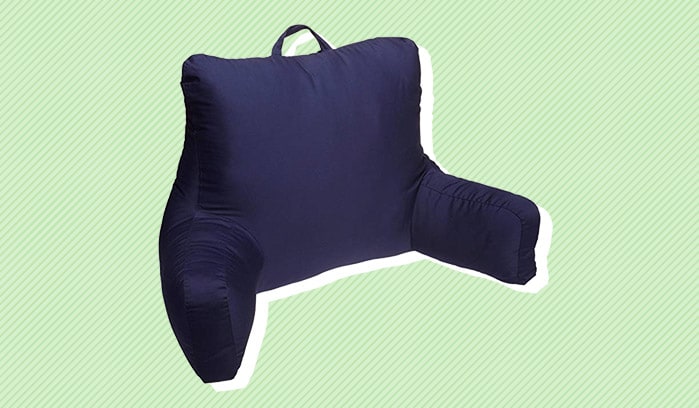 Brentwood Originals Brushed Twill Backrest
Pros:
This is a budget-friendly husband pillow that still offers sturdy support.
The handle on top of the pillow makes it easy to transport from room to room.
The pillow comes in five colors, so there's some room for customization.
Cons:
The cover is not removable, so the pillow is spot-clean only.
The pillow does not offer coverage for the upper back and neck, so it won't suit people who are looking for full-body support. 
How We Picked
There are a lot of husband pillows on the market, so it took some time to whittle down this list. To do that, we focused on the following criteria.
Aesthetics
Most people will want to tailor the look of their husband pillow to their bedroom decor, so we included options with different designs, colors, and so on. While there's not huge variety when it comes to the overall shape of a husband pillow, you should be able to customize one of these options to your preferences.
Ease of Care
Because many people move their husband pillow from room to room or use it while snacking, drinking, and so on, these pillows can be prone to stains, spills, and other accidents. For this reason, it's important that your pillow be easy to keep clean. With one exception, every option on this list features a removable, machine-washable cover.
Functionality
Husband pillows can come with a range of added features, and some will appeal to you more than others based on your personal needs.
For instance, some husband pillows only provide partial back support, while others offer full-back support and some come with a neck roll for added neck support. Other features might include pockets, carrying handles, adjustable stuffing, and so on. We included husband pillows with a wide range of functions so you can choose according to your needs.
Related: Best Pillow for Neck Pain
Materials
For the most part, the options on this list are filled with shredded memory foam. This is an ideal substance for husband pillows, because it provides a mixture of support and body-contouring comfort. In some cases, you can adjust the level of filling to really customize the pillow's feel to your personal comfort preferences.
Sleepopolis Buying Tips
Trying to find the best husband pillow for you? Consider the following:
What kind of support do you need? Do you have long arms and want full coverage from the armrests? Are you okay with partial back support, or do you want a pillow that covers your whole back? How about neck support? Your support preferences will really narrow down your options.
What features do you want? Do you want your husband pillow to have pockets on the armrests? How about a carrying handle, adjustable filling, or a removable cover? Think about the functionality that most appeals to your needs.
Do you have a strong color preference? Many husband pillows come in limited color options, so if you have strong feelings about color this can be an easy way to rule out a ton of options.
The right husband pillow can make your bedroom better by keeping you comfortable during relaxing activities such as reading, doing crosswords, listening to music, just plain lounging, and so on. To find the right one for you, think about your support needs, your preferences when it comes to features and colors, and your budget. Then get ready to feel like you're being hugged by a loving husband, wife, partner, girlfriend, boyfriend, best friend — you name it!