When it comes to picking the perfect nursing pillow, there are a lot of things to consider. Not only do you want it to be supportive for your child, but you also need to make sure that it's actually comfortable for you to use. Plus, you'll likely want it to be versatile enough to be utilized for both breastfeeding and floor activities, such as napping and tummy time. It's an important investment that you won't want to make lightly… so how in the world do you ensure that you're making a good one? Well, I'm so glad you asked!
In this guide, I'm going to introduce you to some of the best nursing pillows on the market. Though they differ in terms of style, construction, and price, they're all solid examples of how useful and impactful a great nursing pillow can be. After I go over my picks, I'll also make sure to share the methodology I used to select them, so you know exactly what to look for in your own search. Then, I'll wrap things up with a few expert tips you can employ to improve your buying experience!
Best Nursing Pillows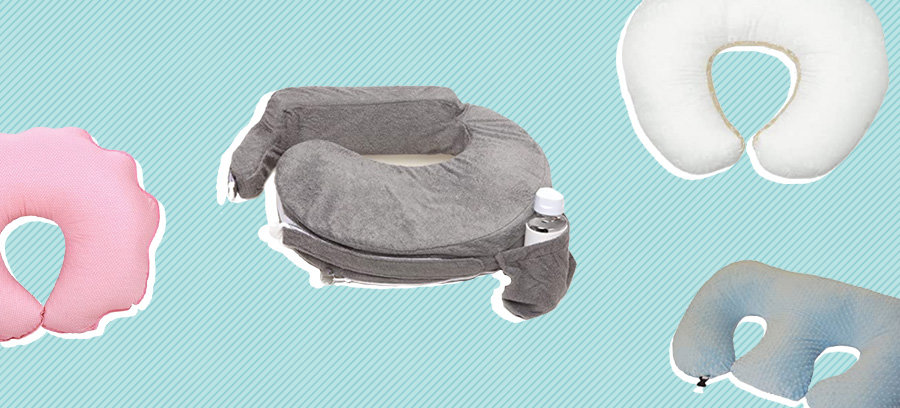 Editor's Choice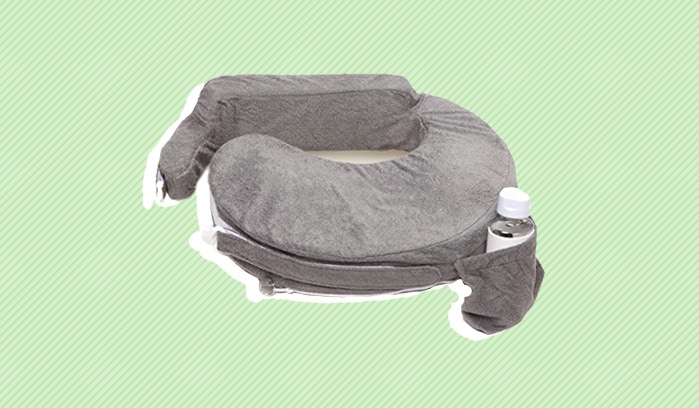 My Brest Friend Deluxe Nursing Pillow
If you're after an ultra-comfortable pillow that also happens to be highly supportive, look no further than this option from My Brest Friend. Featuring a wrap-around design that snaps into place, this is a super sturdy accessory that alleviates tension at the lower back while keeping your newborn nice and secure. 
Pros
The pillow essentially functions as a cozy table top upon which your kiddo can easily rest while you breastfeed. 

I also like that the wrap-around design brings a little added support and comfort to the parent wearing it. 

In general, this is a souped-up nursing pillow that could work wonders for folks on the prowl for something a little more luxurious. 
Cons
This is one of the more expensive nursing pillows available online, so may not be the best fit for budget shoppers. 
My Brest Friend Deluxe Nursing Pillow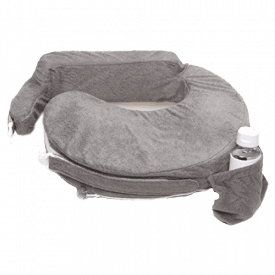 My Brest Friend Deluxe Nursing Pillow
My Brest Friend Deluxe Nursing Pillow has a great wrap-around design for added support and essentially becomes a table top to rest your child.
Most Versatile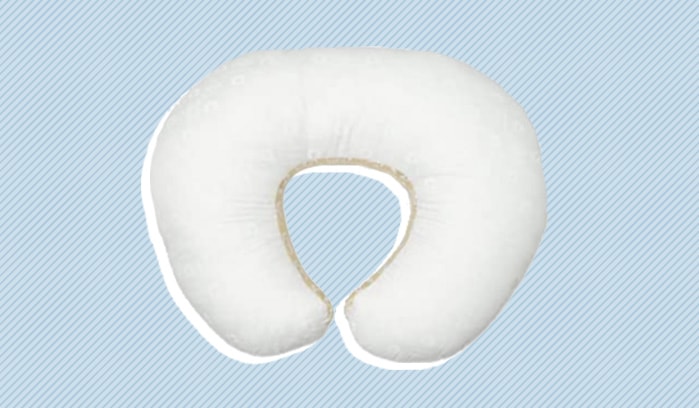 Boppy Bare Naked Nursing Pillow and Positioner
The Boppy Bare Pillow is one of the most popular nursing pillows on the market. And for good reason! Not only is it comfortable and compact, but it's also incredibly versatile. It's great for breastfeeding, tummy time, napping, crawl support, and much, much more. It's also machine washable, which makes it easy to clean up any messy spills. 
Pros 
With a classic U-shape, this pillow is great for propping up baby while you breastfeed. 

It can also be placed directly on the floor, so can easily be used for tummy time and naps. 

In general, this is a fantastic option for folks who want that "classic" nursing pillow feel at a price that won't break the bank. 
Cons
One downside is that this pillow doesn't come with a cover, so you'll need to buy one of your own. 
Boppy Bare Naked Nursing Pillow and Positioner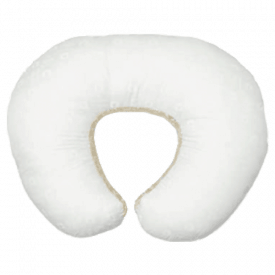 Boppy Bare Naked Nursing Pillow and Positioner
The Boppy Bare Naked Nursing Pillow and Positioner can be placed directly on the floor for folks that want a classic nursing pillow feel.
Most Affordable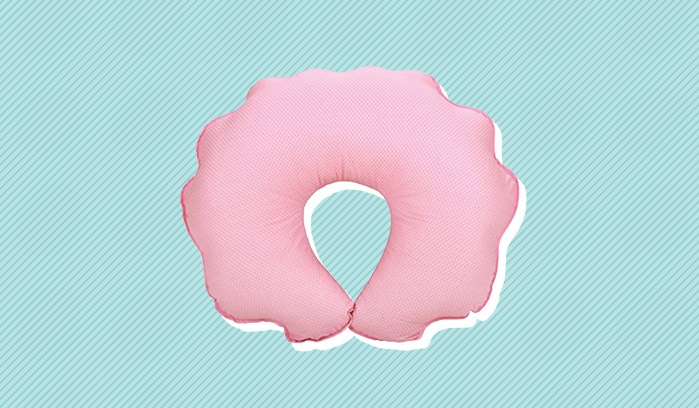 Leachco Cuddle-U Basic Nursing Pillow
Shopping on a budget? Then you may want to take a look at the Cuddle-U basic nursing pillow from Leachco. The U-shaped design is perfect for breastfeeding and supporting your little one during tummy or nap time. Plus, the pillow has a fun seat wrap features that allows you to secure your baby's waist for even more support. 
Pros
Nursing pillows can be quite expensive, so it's always nice to land on a budget model like this one that's just as effective as pricier options. 

I also really like the seat wrap, which allows you to strap in your baby for added support. 

All in all, a solid option for parents looking for a versatile pillow to be used for nursing and other activities. 
Cons
Unfortunately, the cover on the Cuddle-U is not removable, so may not make for the easiest wash care. 
Leachco Cuddle-U Basic Nursing Pillow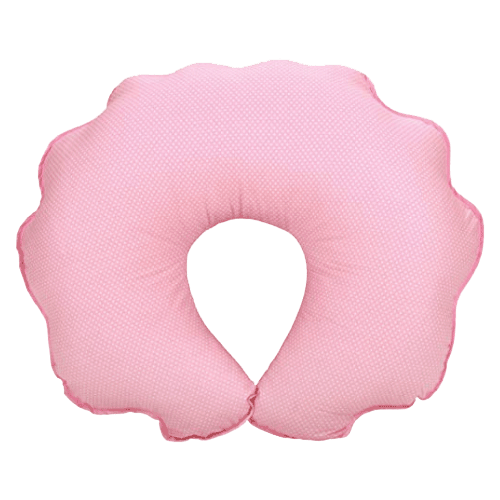 Leachco Cuddle-U Basic Nursing Pillow
The Leachco Cuddle-U Basic Nursing Pillow features a seat wrap for added support and comes in at an affordable price.
Best for Twins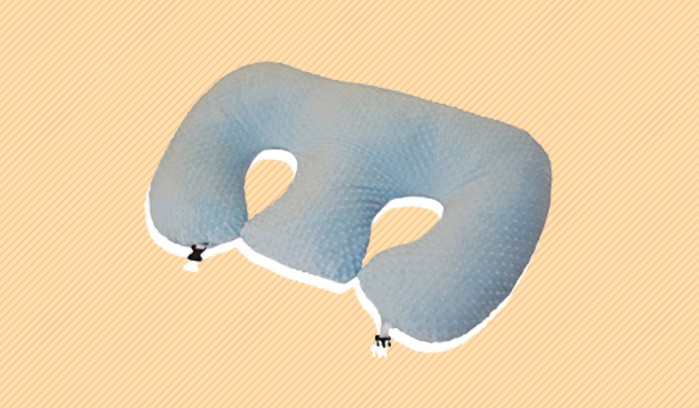 THE TWIN Z PILLOW
If you're nursing two bundles of joy, the Twin Z pillow is definitely the one for you. Featuring a double-U design, this pillow is able to support two babies with ease. But what's especially great about this accessory is that it's highly versatile. Not only is it good for breastfeeding, but it can also be used for tummy time on the ground, napping on a bed, or propping up your little ones as they're learning to crawl! 
Pros
Obviously, this pillow is going to be a real winner for anyone trying to nurse two babies at the same time. 

It's also highly supportive, so could work for folks who are looking to get a lot of use out of this pillow. 

In general, this could make a great investment piece because of its all-around versatility. 
Cons
This pillow really isn't going to be a practical choice for parents with only one nursing baby.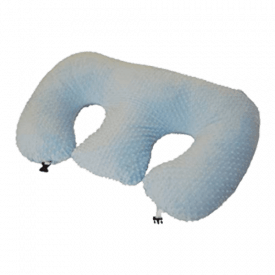 The Twin Z Pillow is highly supportive and is great for anyone try to nurse two babies at once.
How We Picked
Now that we've gone over my picks, let's take a minute to chat about how I picked them. You can think of this section as an introduction to the major factors you'll want to consider when shopping for a nursing pillow of your own.
Shape
Shape is a crucial characteristic to consider when buying a nursing pillow! The shape of your pillow can impact both the support and comfort of your nursing experience, so landing on the right one for you is going to be super important.
The most popular shape is by far the U-shaped crescent, intended to either wrap around the stomach or back of the nursing parent. This shape provides support to the lower back and cushioning to the baby while you nurse. Another favored shape is the full-on wrap-around pillow, which closes the gap of the crescent to fully encircle the adult. This shape provides even more support to the lumbar region and can be great with parents who suffer from aches and pains. Less common are standard, rectangular pillow shapes, which may not offer as much comfort to the parent or child.
If you're unsure about what shape to go with, feel free to grab a few different models! That way, you can move through shapes depending on your needs in the moment.
Usage
It's also important to think about how you'll be using this pillow! Are you going to be using it just for breastfeeding? Do you want to incorporate it into tummy time with your newborn? Do you want to be able to use it as a napping pod for your little one while you're getting ready in the morning? Thinking about how this pillow is going to fit into your care routine will help you to figure out what shape you need and how supportive you'll need the pillow to be.
Support
Speaking of support, this is going to be a major factor to consider when shopping for a nursing pillow. Not only does this accessory need to comfortably support your baby during a crucial time of growth, it also needs to support you while you nurse. Breastfeeding can put a lot of strain on the shoulders, midsection, and lower back, so finding a pillow that alleviates tension is going to be crucial.
To do this, I'd recommend snagging a pillow that has a wrap-around design with buckles or straps. This helps to secure the spine and bring a bit more stability to feeding time. You may also want to consider buying a pillow with a more dynamic foam fill that's able to contour to the body.
As far as supporting the baby is concerned, a fantastic nursing pillow should be able to hold up a child without any help from the parent. So, if you're breastfeeding, you can rest easy knowing the pillow will keep the child secure while you're using your hands for other things. A flimsy pillow may not be great for hands-free use, so that's definitely something to keep in mind on your search.
Wash Care
Considering how messy nursing can be, it's important to find a nursing pillow that can be easily washed. Many come with handy slip covers that can be zipped off and tossed into the washing machine. Others feature water- and stain-resistant fabrics that are easily spot cleaned. So, when researching a nursing pillow of your own, make sure to take note of the wash care details. If no information is listed, I'd recommend moving on!
Sleepopolis Tips
Still not sure how to find the nursing pillow that's going to be perfect for your unique needs? No worries! I'm going to round out this guide with a few expert tips you can use to improve your search.
Read as many customer reviews as you can! Breastfeeding is a highly personal endeavor, so it's important to see what other parents thought of the pillows they ended up buying.
Remember that you're going to be using this pillow a lot, so it's important to land on one you really like. This is not a purchase to be made lightly, which is why it's crucial to do your research.
If ease of care is important to you, I recommend going with a bare pillow and dressing it with different slipcovers. That way, you can always have covers in the wash and ones available for use.
FAQs
What are the best nursing pillows?
The best nursing pillows are comfortable for the child and supportive for the parent. They typically feature machine-washable covers as well as versatile designs that allow them to be used for naps and tummy time practice.
Are nursing pillows worth it?
Definitely! While every nursing situation is different, many parents find nursing pillows to be useful tools for supporting a great breastfeeding experience.
What are nursing pillows used for?
Nursing pillows are used to support the child during breastfeeding. Not only do they bring a bit of stability to a wriggling infant, but they can help ease a parent's aches and pains while they're bent over their feeding baby.
Wrapping Up
Well, that about does it for this guide to the best nursing pillows. When searching for one of your own, make sure to keep a tight focus on how you want to use it, how you want to clean it, and how versatile you need it to be. Then, you'll be able to land on the nursing pillow that's 100% right for you and your kiddo's unique needs.