Snoozing with a supportive pillow is a great way to keep healthy posture, and guard against neck and back pain. That said, every sleeping position requires something different, which can make the whole pillow-shopping experience a little confusing! But don't worry, folks, I'm here to help you find the right one.
In this guide, I'm presenting my top four favorite pillows, along with expert tips and tricks for finding the one that's tailored to your unique needs. I picked something for all positions (and price ranges) so everyone can find their perfect fit. Let's get started!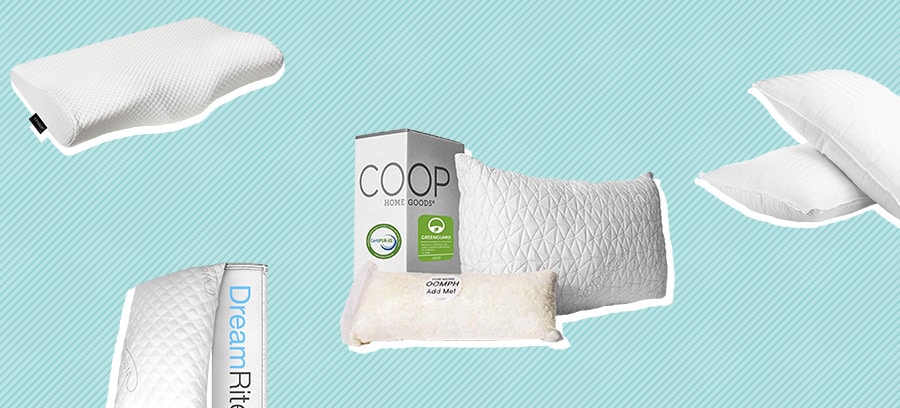 Editor's Pick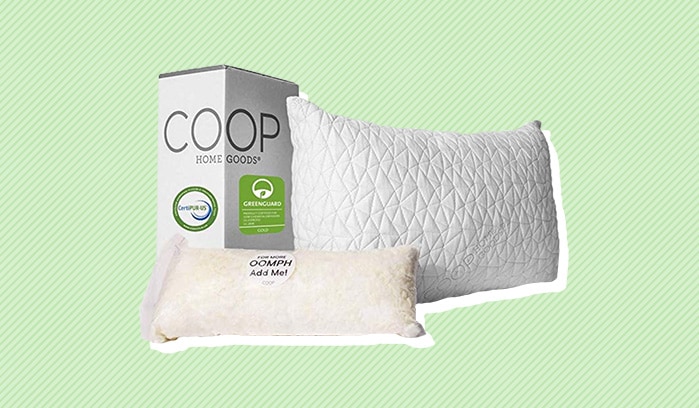 Coop Home Goods Memory Foam Pillow
Covered in a bamboo-based fabric and stuffed full of shredded memory foam, this pillow is luxuriously soft and fluffy, Not to mention, it features an adjustable fill so that sleepers of all styles can customize the loft to their liking.
Pros
The cover fabric is made from a blend of bamboo and polyester, both of which are naturally moisture-wicking. If you're prone to night sweats, this might be a great pick for you!
If you need to adjust the loft or firmness of this pillow, simply reach in and manipulate the stuffing until you're satisfied.
This pillow is CertiPur-US certified, and made right here in the U.S.A.
Cons
While you can adjust the fill, stomach sleepers should remove a considerable amount of stuffing in order to reduce the loft to safe height.
In order to prevent damage to the memory foam, it's best to spot-clean this pillow, or wash the cover fabric by itself.
Best for Stomach Sleepers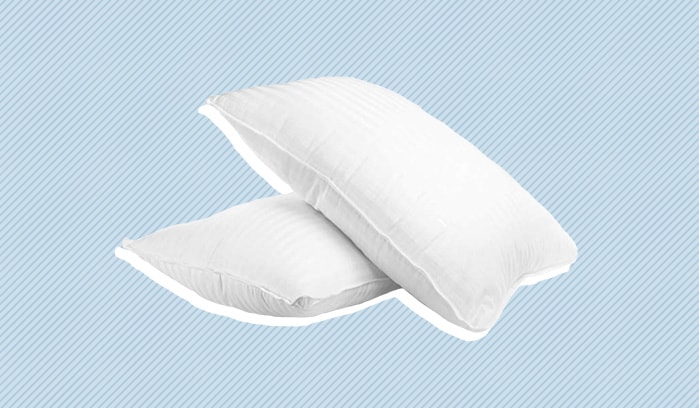 Beckham Hotel Collection Gel Pillow
If you're shopping for a super soft pillow with a feathery feel, this one's going to be right up your alley. It's covered in cotton and filled with a fluffy down-alternative that's extra resistant to mold and mildew.
Pros
This pillow can compress into a low loft of less than 2-inches, making it ideal for stomach sleepers.
If you love the feel of real down (but don't want to sleep on any animal products), this is probably the right pillow for you!
This pillow is machine washable and dryable, which makes maintenance nice and easy.
Cons
Side sleepers or those who prefer a firmer pillow should look elsewhere, as this one has an extra soft feel.
This pillow is only offered in a Queen size, which might not be ideal for folks who sleep on a King-sized mattress.
Best for Neck Pain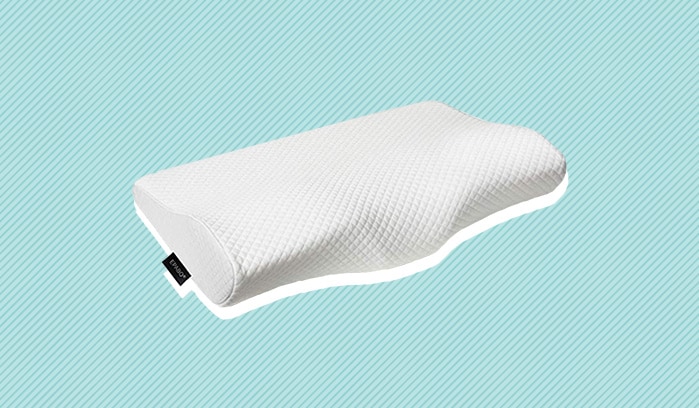 EPABO Contour Memory Foam Pillow
Filled with memory foam and covered in a proprietary fabric, this pillow is ergonomically designed to help sleepers alleviate neck pain. Plus, it was manufactured to be extra resistant to allergens and dustmites.
Pros
This pillow is designed to conform to the precise contours of your head, neck, and shoulders in order to relieve pressure and promote healthy posture.
The cover fabric is made from a proprietary blend of bamboo and polyester, both of which are great for hot sleepers.
Back sleepers are going to be particularly compatible with this pillow, as it cradles the head and neck and has a medium loft.
Cons
This is not a traditionally shaped pillow, so it looks a little odd inside a pillowcase.
If you prefer a fluffy feel, this probably isn't the one for you. This pillow offers a moldable feel with a super slow response to pressure.
Best for Hot Sleepers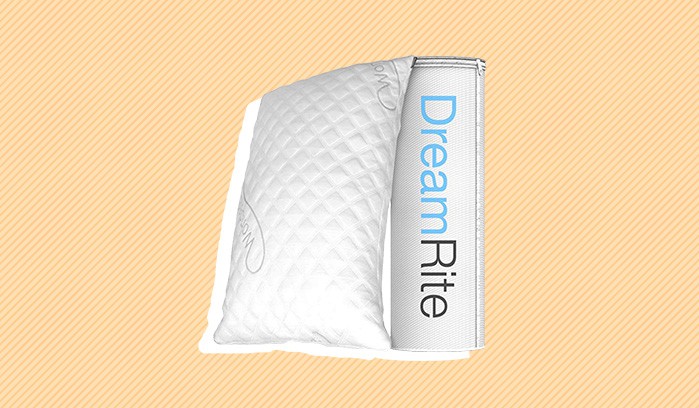 Dream Rite Shredded Memory Foam Pillow
This pillow is covered in a moisture-wicking blend of bamboo and polyester, perfect for sleepers who run hot. Not to mention, it's stuffed full of shredded memory foam and down-alternative, which combine to offer a plushly supportive feel.
Pros
If you're looking for a cooling pillow, you'll be glad to know that this one is moisture-wicking and ultra-breathable.
Sleepers have the option to adjust the internal fill in order to personalize this pillow's loft and firmness.
This pillow's cover fabric is hypoallergenic, resistant to dustmites, and easily machine washable.
Cons
This pillow is not completely machine washable — only the cover fabric.
Stomach sleepers may have to remove quite a bit of internal fill in order to reduce the loft to an appropriate height.
Note – These are just our favorites available on Amazon, for more great pillow options check out our list of Best Pillows!
How We Picked
Alright, sleepers, now that we've seen my personal favorites, let's dive deeper into the details of pillow-shopping. When you're searching for the perfect pillow, there are some key factors to keep in mind.
Sleeping Position
There's no one-pillow-fits-all rule, and sleep is something we all do differently. That said, there are some helpful guidelines to follow in order to land on the level of loft and firmness that's best suited to your go-to sleep style. So, let's take a look at each position below:
Side Sleeping – In general, side sleepers need a pillow with a lofty profile and firmer feel. A loft (height) of 4" or higher serves to hold your spine in neutral alignment, while relieving pressure at the shoulders and hips as well. A firmer level of support will prevent the pillow from losing its loft over the course of the night.
Back Sleeping – Back sleepers should typically stick to a medium level of loft and firmness, but have a little room to experiment. Just make sure that your pillow isn't so lofty and firm that it's craning your chin toward your chest. Remember — neutral spine alignment is the name of the game!
Stomach Sleeping – In order to maintain neutral spine alignment, stomach sleepers must pick a soft pillow that can be compressed into a low loft. A low of 2-inches or less will support the natural C-curve of your spine, and alleviate lower back pain when you're in this position.
If you're still experimenting with the sleeping position that works best for you, I suggest picking a pillow with an adjustable fill. Being able to manipulate the internal fill is a great way to customize the loft and firmness to your liking!
Materials & Construction
Once you've found the loft and firmness that support your preferred sleep style, it's time to focus on materials and construction. Some pillows are traditionally shaped, while others are ergonomically designed. Some are filled with moldable memory foam, while others are stuffed with fluffy feathers. The world of pillows is vast, so let's take a look at the materials you're most likely to encounter.
Memory Foam – Memory foam is known for its modability and slow response to pressure. If you like to deeply sink into your pillow, this might be the right material for you. Additionally, it usually makes for a firmer, denser pillow, which can be particularly well-suited to side sleepers.
Latex – Often considered memory foam's counterpart, latex pillows are lightweight with a super quick response to pressure. If you prefer to rest on top of the pillow instead of sink down into it, this might be the material for you. Plus, it's all-natural, making it a great eco-friendly choice.
Down & Down-Alternative – Both down and down-alternative pillows are known for being extra soft and fluffy. They can usually compress into a very low loft, which makes them especially compatible with stomach sleepers. But keep in mind that real down is considerably more expensive than down-alternatives.
Once you've found the materials that support you best, consider whether you want a traditionally shaped pillow, or one with a contoured design. Contour pillows are typically best suited for sleepers who need a little extra help maintaining neutral spine alignment, as they're designed to conform to the exact shape of your head and neck. Traditionally shaped pillows, on the other hand, are more versatile and more likely to be compatible with all positions.
Cooling & Breathability
Keeping your body at a cool, comfortable temperature can help you fall asleep faster, even if you're not a hot sleeper. That's why it's worth it to find materials that promote breathability, wick sweat, and keep you from warming up throughout the night.
Of course, some fabrics are much more cooling than others! If you're looking for a pillow that actually feels cool to the touch, keep an eye out for Phase Change Material. It's a super-cooling textile that, in my experience, makes fabric feel like it's been refrigerated. It's moisture-wicking too, which helps keep those night sweats at bay.
If you're not necessarily in the market for something that feels extra cool, go for pillows with superior breathability. For example, pillows filled with shredded materials do a much better job of promoting airflow as compared to pillows filled with one, solid piece of material. But if you do opt for a pillow that's filled with one piece of foam, try to find foam that's ventilated for better breathability.
Finally, I suggest picking cover fabrics that are naturally airy and moisture-wicking. Bamboo, Tencel, polyester, and linen are all great examples of fabrics that don't feel cool to the touch, but still do a great job of regulating body temperature.
Wash Care
The truth is, wash care differs for every pillow, and there are no hard and fast rules to follow. Just keep in mind that every material demands a different level of care, so it's very important to read the exact instructions as given by the bedding brand.
I will say that memory foam is very rarely machine washable, and real down is often dry-clean-only. If easy wash care is a priority for you, you might want to aim for pillows that can be washed and dried right at home. Regardless of which materials you choose, be sure to read the instructions on the pillow's tags and the brand's website before you throw it in the wash!
Pricing
Pillow prices range quite a bit, and depend on a variety of factors. Materials, construction, size, and popularity of the bedding brand itself can all influence the cost of sleep accessories. That said, folks on a budget might want to prioritize brands that offer trial periods.
A trial period gives shoppers the chance to personally test a product before fully committing to it. The terms of a trial period may vary across retailers, but they're all intended to give you an opportunity to really determine if a pillow is worth the dough.
Sleepopolis Buying Tips
We're nearing the end of this review, so allow me to impart a few more expert tips before you start shopping for the perfect pillow:
Allergies & Sensitive Skin – Sleepers with allergies or sensitive skin should keep an eye out for OEKO-Tex and CertiPur-US certifications. Both indicate that no harmful chemicals, dyes, or insecticides were used in the manufacturing processes.
Stomach Sleepers – Even if a pillow looks too lofty for stomach sleeping, that doesn't mean it's necessarily true! As long as it's soft enough to compress into a low loft, you're good to go.
Adjustability – If you're a combo sleeper or still figuring out which position you like best, I can't overstress the importance of an adjustable fill. Being able to customize the loft and firmness is a great way to find your perfect comfort zone.
Final Thoughts
Now that you know everything there is to know about pillow shopping, you're well on your way to finding the perfect one. Just remember that your pillow's most important job is to promote healthy posture, and then you can focus on all the other details that appeal to your individual needs. Happy shopping and sweet dreams!
Sarah Riccio
Sarah is the former senior writer and bedding expert at Sleepopolis. She received her degree in Creative Writing from Brooklyn College and spends her free time doing stand-up, making pasta, and hanging with her cats.