Relaxing in bed with a good book can be the perfect way to unwind after a busy day. However, most pillows aren't ideal for supporting healthy posture while sitting upright in bed. But that's where reading pillows come in! Not only do they prevent slouching, they can turn your bed, sofa, or even floor into a cozy reading nook. They're firm, ergonomically designed, and usually shaped to fill in the space at your lower back for plenty of support. And thankfully, there are a ton of reading pillow options available online. But which ones are the best? Well, I'm so glad you asked!
In this guide, I'm going to introduce you to the absolute best reading pillows on the market! Though they differ in terms of style, construction, and price, they're all designed to support bookworms as they snuggle down with their favorite reads. To make this list even more useful, I'll be breaking down my picks into different categories so you can navigate to the ones most relevant to your needs.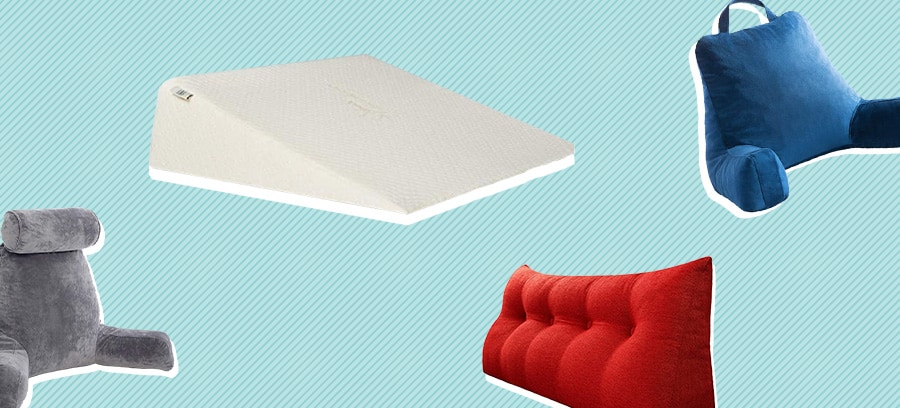 Editor's Choice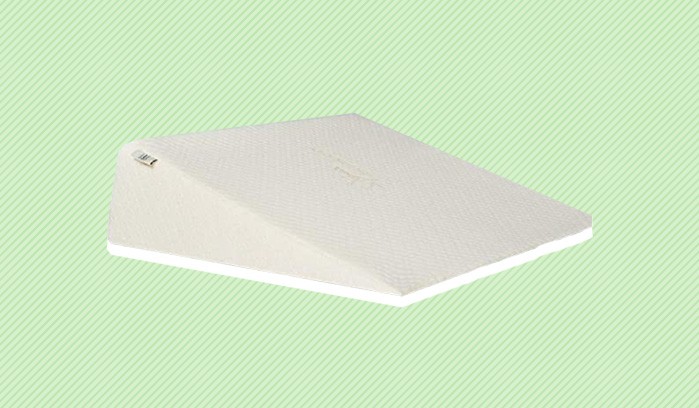 Brentwood Home Zuma Therapeutic Wedge Pillow
If you're looking for an alternative to the chair-like reading pillows you often see on the market, this gently sloped pillow from Brentwood Home could be a real winner. The design provides plenty of support to the sleeper while also working to keep the shoulders nicely cushioned. An all-around great pick for those who love to lounge in bed.
Pros
Aside from its ergonomic design, I appreciate its soft bamboo cover, which makes the pillow breathable and cooling.
Though it's quite long, this pillow isn't very bulky, so it could be a great fit for those with limited space.
I also like that you can choose between three different heights, which could endear it to a wider range of customers.
Cons
There's no wrap around feature here, so may not be the best option for folks looking for something a little cozier.
Best Classic Vibe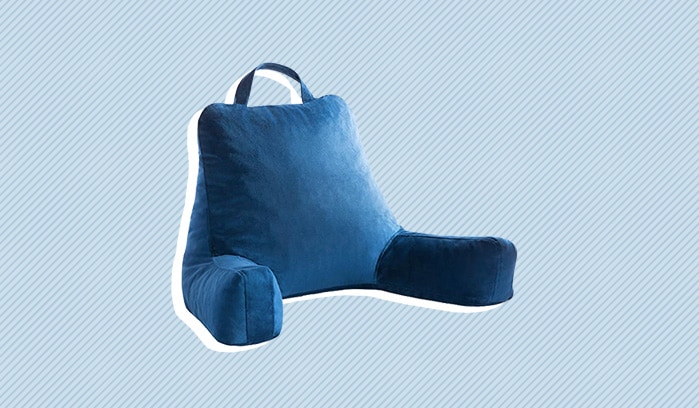 Linenspa
For something a little more traditional, consider this reading pillow from Linenspa. Amply stuffed with shredded memory foam, this chair-like accessory is exceedingly soft and gentle, so could be great for those who like a little extra cushion. Plus, all the materials here are CertiPUR-US certified, marking them as toxin- and chemical-free.
Pros
It comes in the classic neutral tones of navy blue and stone gray, which are great for common areas of the house.
With multiple size options varying in height from 22 to 29 inches, this pillow caters to people of varying heights and needs.
A solid, affordable choice for those looking for an adult-size, full support reading pillow that has both back- and armrests, with the option of a neck pillow as well.
Cons
There is no removable cover so this pillow should be spot cleaned only.
Most Comfortable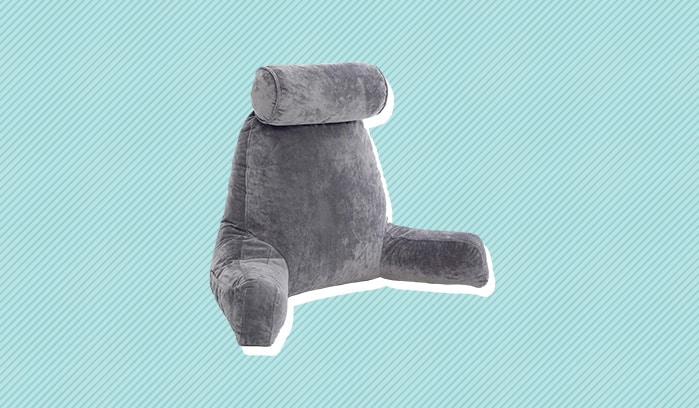 Husband Pillow
If you want to feel hugged and cuddled by your reading pillow, you may want to consider this model from Husband Pillow. Covered in luxurious microplush and stuffed full of supportive foam, this pillow is a cushiony dream. Plus, it's got an adjustable loft, so you're able to remove foam to modify the feel as you see fit.
Pros
The smaller detachable pillow can be adjusted to provide neck support where it's needed, giving the Husband Pillow a maximum height of 31 inches. The extra pillow also doubles as an under-the-knees cushion to alleviate pressure on the joints.
The filling is made from memory foam pieces, which can be added or removed to adjust the pillow to the preferred firmness.
The removable cover is made of soft microplush and comes in many colors. Additional covers can also be bought separately for those who want to change up the look.
Cons
This pillow is a little pricier than other reading pillow options on the market, so may not work for those on a tight budget.
Best for Sharing
WOWMAX
This large and in charge reading pillow from WOWMAX is the perfect accessory for bookworm couples. It comes in several different sizes, the largest of which is a whopping 76" wide, marking it as a great cushion to share with your bed mate. It's also highly supportive, firm, and available in an array of fun colors!
Pros
The removable corduroy cover and tufted design gives off a stylish texture, and the classic shape blends well into bedroom decor—a reading pillow that doesn't look like a reading pillow.
It can be flipped to use for stomach reading or as an elevated sleeping aid.
Perfect for a pair sharing a full, queen, or king size bed, but also works against the length of a twin bed set against a wall.
Cons
There are no armrests for support like the more popular reading pillow shape.
How We Picked
When searching for the best pillows, we factored in several considerations: firmness, size, shape, and cleaning. Thinking about each category helps reflect on the quality of a product and who it's best suited for.
Firmness
The reading pillows on our list all have foam filling to provide a comfortable feel that's firm but not stiff—ideal for supporting the back while sitting up, whether it's on the bed, couch, or floor. Some options come with zippered access to the filling to allow for customization. While sleeping or body pillows can be quite soft, a reading pillow should not only be cozy, but also sturdy.
Size
We looked for products that supported adult size, but also included products that had smaller options for children or for other people who aren't necessarily looking for full back support. A few options include detachable neck pillows, which when used add to the overall size. Most items we reviewed come in different measurements, with larger sizes available at higher prices.
Shape
We included both the popular reading pillow shape that combines back support with armrests, as well as triangular wedge pillows that provide a supported slope design. A reading pillow with armrests is a cozy choice that works well on and off the bed, with a design that can be used by the whole family. As sleep aids, wedge pillows are designed to help with conditions like acid reflux and snoring while promoting better circulation and breathing; the shape also lends itself well to upright back support, making it a nice choice for reading pillows that can also be used to make sleeping more comfortable.
Cleaning
When used in bed, reading pillows won't necessarily need constant cleaning. However, it's a good idea to do routine washing and there's always the occasional spill. Moreover, if used by children or in areas in the home with more activity (like the couch in the living room or on the floor in a kids' reading corner), easy cleaning is an important consideration. That's why most of the products we highlighted have removable covers that are machine washable.
Price
Several of the products on our list fall within a similar price range, especially considering there are multiple size options that vary the price point up and down. When looking at higher-priced products, we considered size and other special features (i.e., pockets, access to filling, washable covers) that could justify higher costs. Overall, we were looking for items that are a good value for the price.
Buying Tips
Finding the right reading pillow means considering size, comfort, quality, and other preferences. We've put together a few helpful points to think about while weighing the options.
Where and by whom will the reading pillow be used?




Who will be using the pillow will determine the size, most importantly, but also other features. Reading pillows in kids' rooms, student dorms, or shared spaces would benefit from the easy cleaning option of a removable, washable cover. Someone who does a lot of work from bed could use extra pockets to keep necessary items nearby. Think about the features that align with these factors.

Consider any physical needs to determine the best kind of support.For example, if neck discomfort is an issue there are added neck support pillows that offer relief; armrests can be helpful to rest on to relax tense shoulders; firmness is important for lower back support. Some people also use these types of pillows for health reasons to aid upright or reclined sleep.

Are you looking for a reading pillow that's also multifunctional?




Aside from reading in bed, these pillows may be used for activities like watching TV on the sofa or playing video games on the floor. If the pillow will be moved around a lot and used by different people, something that's easy to carry and clean is a good idea. For those who want a pillow that can also be used for sleeping, look into wedge-shaped options.
Whether it's enjoying a magazine or movie in bed, playing video games in the living room, or diving into a novel first thing Sunday morning, reading pillows are terrific for anyone who could use extra comfort and support while lounging.
Sarah Riccio
Sarah is the former senior writer and bedding expert at Sleepopolis. She received her degree in Creative Writing from Brooklyn College and spends her free time doing stand-up, making pasta, and hanging with her cats.