With the variety of blackout curtains currently available on the market today, it is rare to see a set that are, well, all black. Today I am reviewing the Best Home Fashion Basic Thermal Insulated Blackout curtains in black. Below I share my thoughts on the design, effectiveness of this style and recommendations for where these curtains may best be utilized.
Best Home Fashion Blackout Curtains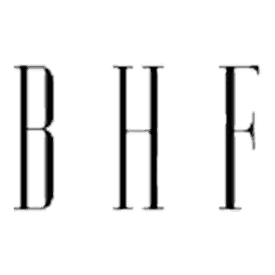 Best Home Fashion Blackout Curtains
A triple-weave construction ensures these curtains block out every last speck of light.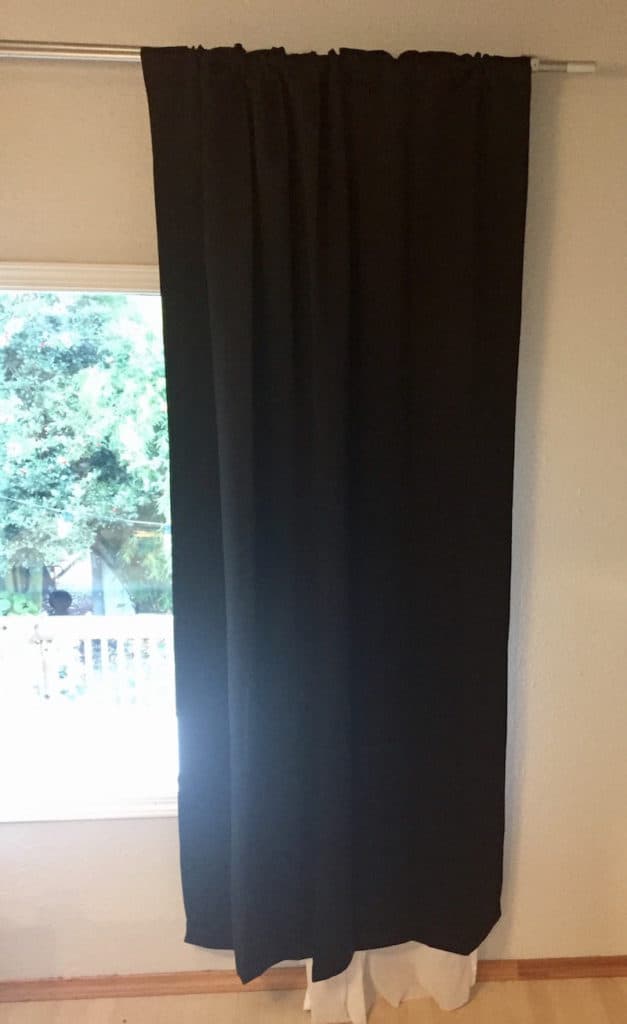 More info: Check out my full blackout curtain reviews page.
Basics
The Best Home curtains are 100% polyester, have a triple weave fabric construction to block out sunlight and harmful UV rays, and provide insulation against the heat and cold. The curtains include both back tab and rod pocket hanging styles in addition to matching tie backs. The two panels measure 52 inches by 84 inches.
These curtains come in 7 different sizes:
42" x 63"
40" x 84"
52" x 54"
52" x 63"
52" x 72"
52' x 84'
52' x 96".
They also come in 23 different colors: beige, dark grey, black, navy, sky blue, burgundy, grey, chocolate, olive, sage, pink, green, purple, orange, brick, wheat, royal blue, violet, moss, avocado, cardinal red, mauve and mustard.
Instructions and Care
Well packaged and presented, the Best Home curtains were painless to open and seamless to install. To hang the curtains, simply unwrap and choose either the back tab or pocket hanging style (as you can see in the photos I chose the pocket hanging), the process is simple and painless for both options. Next, just insert the rod through the tab or pocket and slide to preferred window placement. The curtain could get a little snug when using the pocket hanging, don't force the curtain – I initially did this and the fabric got stuck. Take your time, and if possible install with a partner – it makes the process a lot easier, especially when dealing with longer curtains,
The Best Home curtains are are trimmed and wrinkle free (read: very low maintenance- a bonus). If you need to clean, machine wash in cold water and tumble dry on low.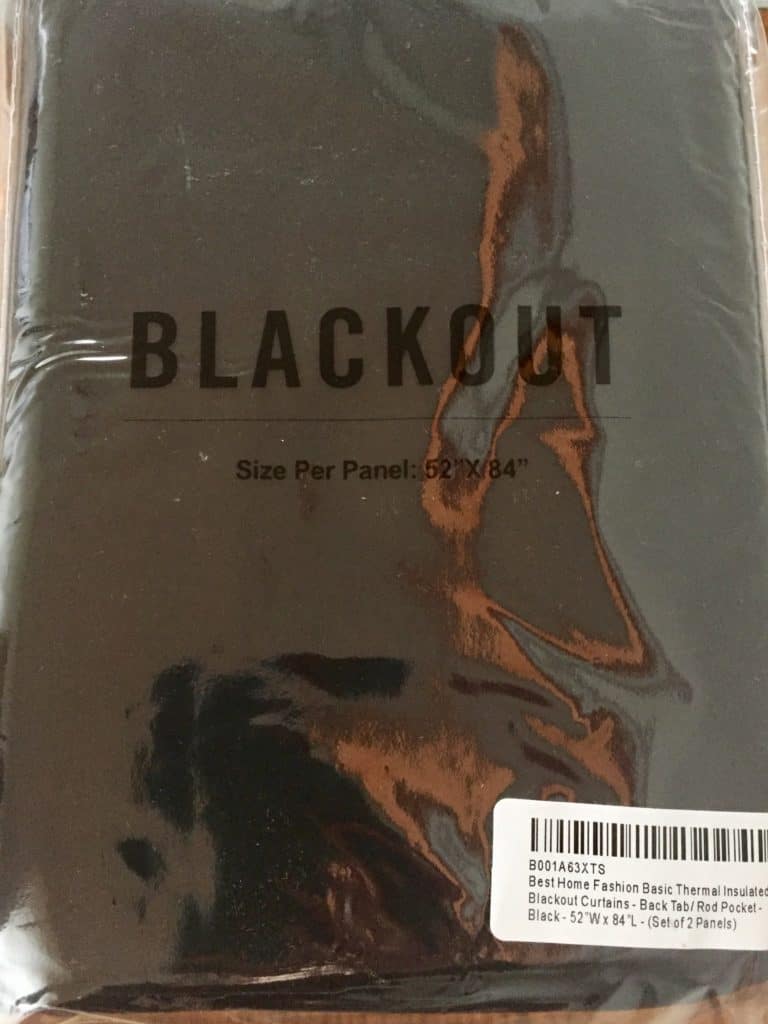 My Experience
I am a sucker for good branding, and of all the blackout curtains I have seen the Best Home curtains had great presentation. Though superfluous for many, the logo caught my eye right away. After taking a closer look at the style and fabric, it was instantly clear which environment would best suit this product.
The Best Home curtains are lighter in weight than many of their counterparts. However, after enjoying an afternoon movie with my family after they were installed, I determined that the long curtains are perfect for a media space or theater. Since black curtains provide a rather dramatic backdrop, these need a rather dramatic environment, hence why I would not recommend them in a living space. Though, I live in Seattle and our year-round goal is to soak up as much light in our homes as possible.
As far as function is concerned, the Best Home curtains in black functioned well and successfully blocked the light. The additional insulation provided could work well in a finished basement that has been converted to a second living space (if your basement is anything like mine, this is especially helpful during the winter months). The one downside is that the fabric is a bit slick in appearance (the material resembles a pair of black pants I owned in college, unfortunately not a compliment).
That said, this is not a fashion show. If a dark environment is what you are creating, The Best Home curtains darken the room well for the price point. As I mentioned, we used them during a daytime movie and it made a noticeable difference in our space. Since there is no additional liner, there is a slightly larger gap between the fabric and the window, but for this purpose it was really a non-issue. And, many reviewers who did use this for daytime sleep felt otherwise.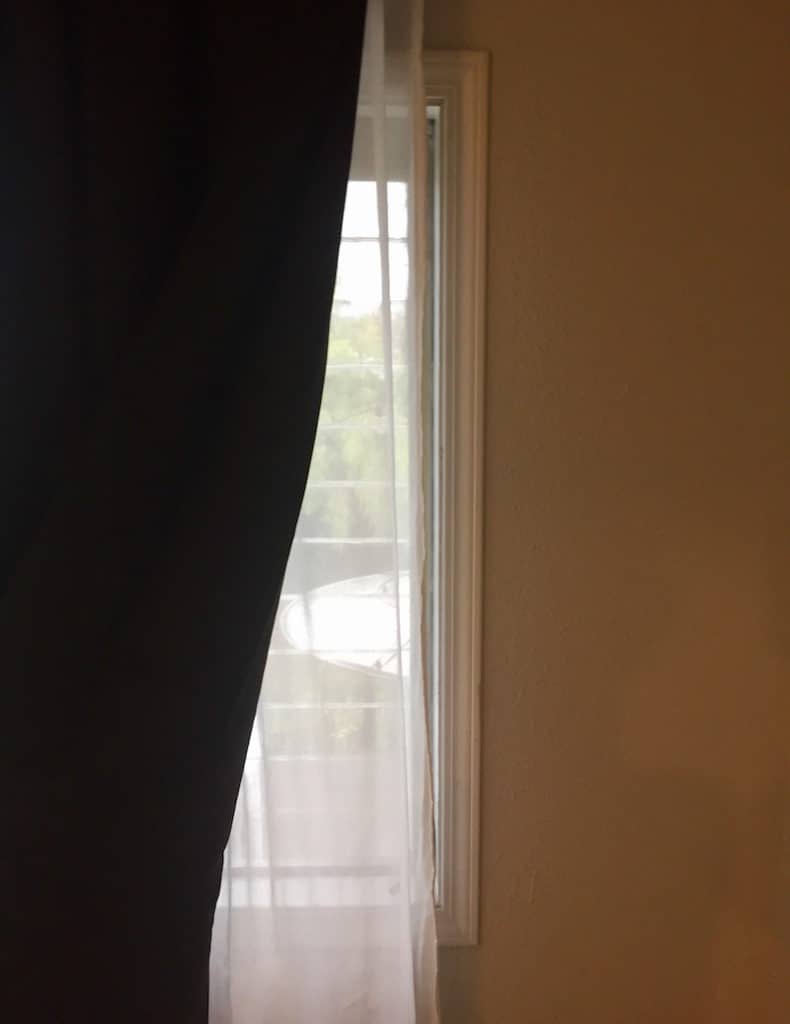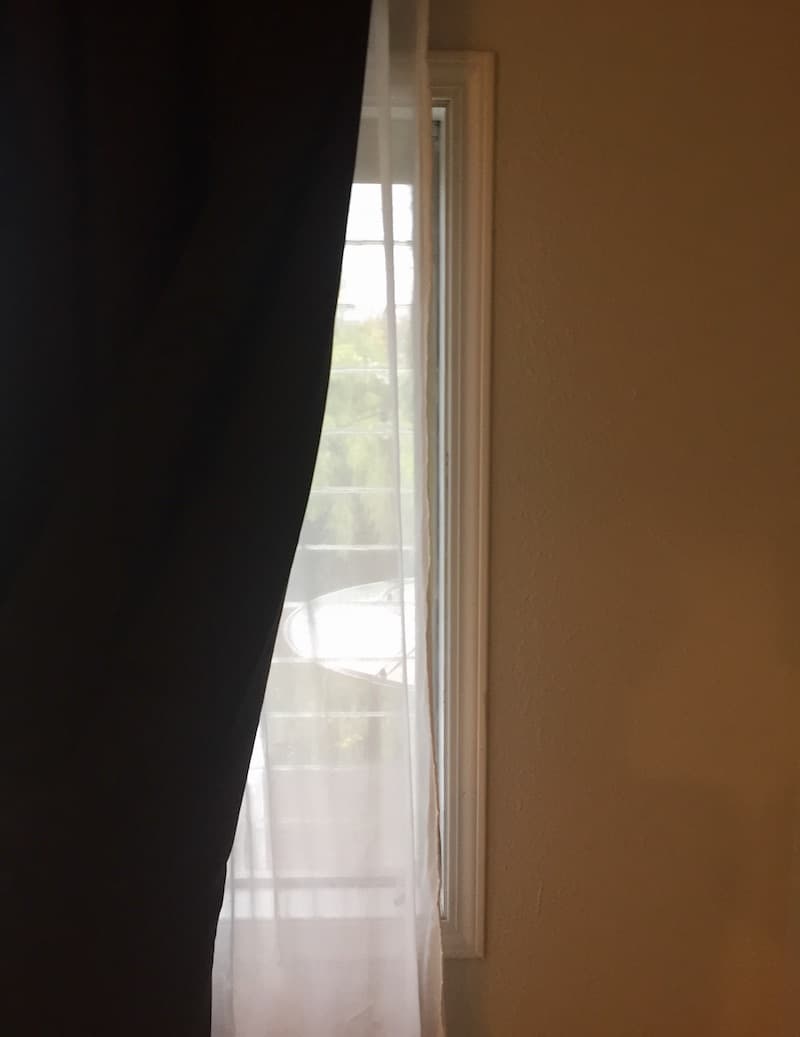 Pricing and Availability
A set of two panels sell for $30 on Amazon, they are a popular purchase and available through both the Amazon site and Bed, Bath and Beyond.
Common Praise and Complaints
Of the over 5,000 reviews 74% of customers gave The Best Home curtains (in various shades) 5 stars.
"These are excellent curtains for the price. They truly are nearly blackout dark–I bought the olive for my bedroom and there is only the FAINTEST amount of light when the sun hits on them DIRECTLY. My boyfriend now no longer needs to wear a sleep mask and I haven't see any light penetrate through the longer red curtains in our living room. They are also very insulating. Maybe not the miracle cure I was looking for for our cold bedroom, but they make a *noticeable* different when we shut them at night. Their sound baffling properties are also excellent in downtown Boston. The only way these could get better is with the easier sliding grommets. But overall they are just excellent."
The negative feedback was along the same lines with my experience. Fine to darken a room, but not 100% blackout curtains, at least in my experience.
"I bought these curtains for light control in a room I use as my home theatre. So I am very sensitive to the amount of light that gets through. While I'm certainly happy with the look and feel of these curtains, they certainly (in my location, with afternooon sunlight shining directly on them) are NOT "blackout" curtains. I can't estimate the percentage of light, but you can see the sunlight shining on them, and they are nowhere near dark enough for my purposes. Back to the drawing board for me … this was unfortunately a waste of my money."
Final Thoughts
For the black set of the Best Home curtains I think there a specific purpose. The color is dramatic and potentially difficult to pull off in a room in your house other than one meant for a media room or home theater.
The look and feel of the curtains is nice, though not as hefty and thick as the more expensive options I have reviewed (which have also included multiple layers). The single panels do succeed in blocking on most light, I would venture closer to the 85% mark, in my personal experience. That is not enough for me to use them in my bedroom, especially since black should provide the best darkening results.
All that said, these are a fair price point for the quality you get, and the variety of colors and sizes, it seems there is something here that could work for most anyone.
The Best Home curtains receive the nod for the following categories:
Good for a home theater or media room – they definitely darken a room well for a midday movie viewing and the dramatic black feels appropriate for this type of setting
Budget friendly, this is an option that will not break the bank and provides good results for the price you pay.