When it comes to sleep masks, the market is pretty saturated. Some masks promise total darkness. Others promise they're fit perfectly on your face, or that they can block out distractions around you. But are all of these features really necessary? Or is simple better? Keep reading to find out how the very simple P&J Health 100% Natural Silk Sleep Mask stacks up against its fancy competition.
Looking for a quick read? Click here to jump to the summary.
P&J Health 100% Natural Silk Sleep Mask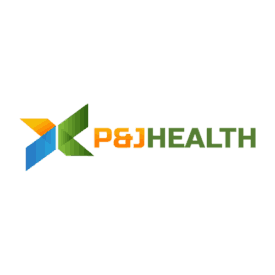 P&J Health 100% Natural Silk Sleep Mask
Crafted with smooth silk, this P&J Health sleep mask could be great for those in need of a little luxury.
Looking to improve your sleep mask game? Check out my best sleep masks for every occasion!
First Impressions
The unadorned P&J Health 100% Natural Silk Sleep Mask is so plain that outside of its packaging, there's literally no way to tell what mask you're holding. And even in its packaging, good luck figuring it out: the translucent plastic bag the mask comes in is unadorned, save for a "Made in China" sticker and a barcode label with the words "100% Natural Silk Sleep Ma…tion for Men&Women (Black) NEW" on it. So when it arrived at my house in a box full of other sleep masks, it took quite a bit of sleuthing and the process of elimination to figure out just what mask it even was.
But why should we care about labels? It's a sleep mask for crying out loud! And, judging from appearances, a well-made one. The promised 100% silk on the front and back of the mask is extremely soft to the touch, sandwiching a light layer of padding. And the strap slides to adjust instead of employing Velcro—which immediately gives it a few extra points in my book.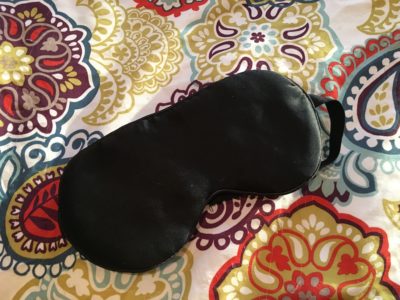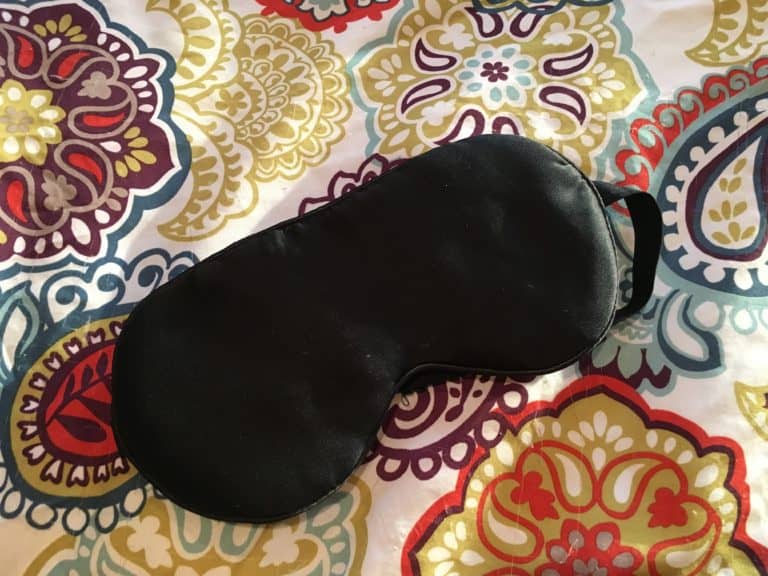 My Experience
The P&J Health Mask is easy to put on and adjust, but it's not easy to get the adjustment quite right. I struggled to find the right balance of tightness in the strap, so that it would stay in place above my ears, and tightness in the mask itself, so that there wasn't too much pressure in my eyelids. Ultimately, I decided to sacrifice some of the fit of the former for the comfort of the latter, hoping that when I lay down, the mask would stay in place.
And for the most part, it did. I'm a side sleeper, and I was able to get into a comfortable sleeping position quickly and without making many adjustments to the mask. And as I had hoped, the strap, when anchored by the weight of my head, did not slip while I was sleeping.
The P&J Health Mask is not a mask that will let you experience total darkness. Because it's flat, rather than contoured to the shape of your eyes and nose, no seal forms to block out the light and the mask curls up a bit at the cheekbones. That being said, if you don't mind a little pressure on your eyelids, you can tighten the mask such that it puts enough pressure on your eyes that they stay closed, so any light coming in should have a minimal effect. For me personally, I sacrificed darkness for comfort—by the time the mask was loose enough that it didn't feel too tight across my eyes, it was also loose enough that there was noticeable light leakage coming in from below.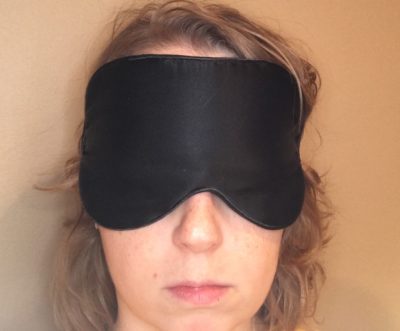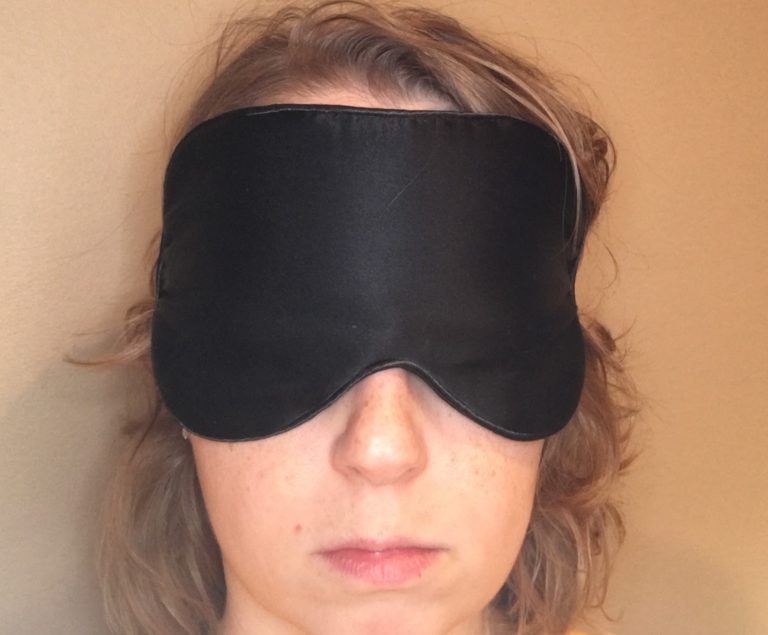 Napping with the Mask
This balance between light leakage and eyelid pressure becomes especially delicate if you're wearing the mask for a daytime nap. Although I'm not always a great sleeper, one thing that rarely keeps me up is a little light. Unless it's shining directly in my eyes, I can still sleep with light in the room, so while total blackness is a "nice-to-have" feature, my priority with a sleep mask is always more comfort than darkness.
That being said, for folks who are very light-sensitive, you're probably going to find that there's too much light seeping in through the looser parts of the mask—especially if you adjusted the strap to relieve eyelid pressure. Everyone is different—and masks will fit everyone differently—so I can only speak from my own experience but I'd wager that this isn't a great mask for anyone who needs absolute blackout conditions to catch some Z's. Fortunately, the mask is inexpensive enough that you can try it out with very little risk.
Of course, another priority for me with sleep masks, because I'm most inclined toward wearing them for when I nap, is that they don't smudge my makeup (because who wants to wake up from a power nap and look like the Hamburglar?). Because the P&J Health mask sits right up against your face, without any sort of buffer, it also rubs your lids and lashes—which means it rubs off your makeup. This should be a non-issue for folks who don't wear makeup, or who will only be wearing the mask overnight, but because any time I spend fixing my makeup is time I could have spent napping, it's something that I care a lot about.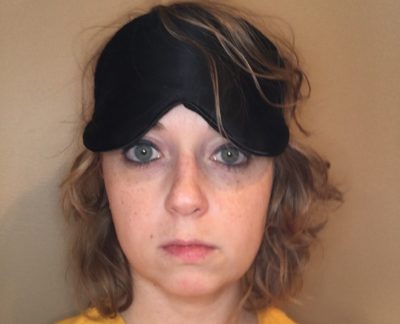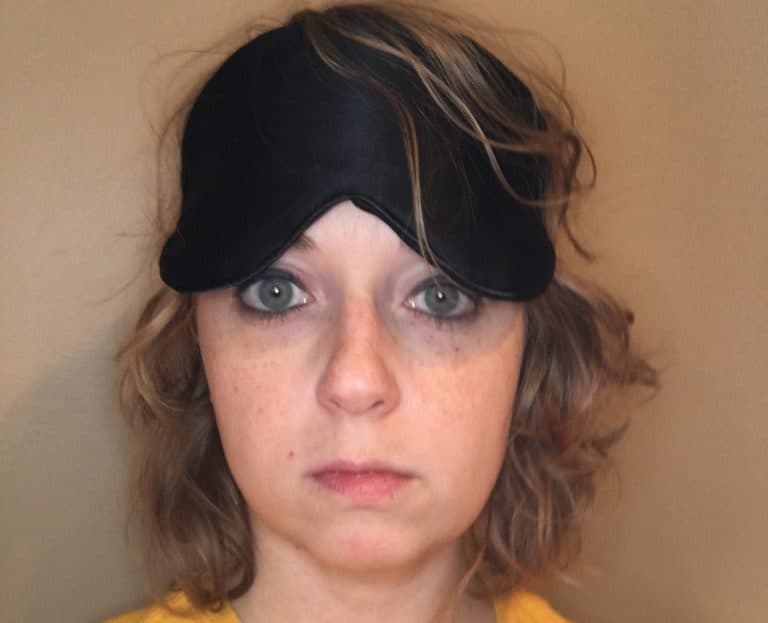 My Ratings
Comfort: 7/10
Adjustable strap: 7/10
Blackout: 5/10
Good for side-sleepers: 9/10
Wear with makeup: 5/10
Price: 8/10
Common Praise and Complaints
Five-Star Review: "Does what you need it to. It's soft, flexible and you forget you are wearing it."—Once I figured out the right adjustment for the head strap, I did find the P&J Health mask to be very comfortable and lightweight. I didn't exactly forget I was wearing it, but it wasn't obtrusive, either.
One-Star Review: "I could have [gotten this mask] for free in a business-class travel kit."—The mask does look a lot like the masks you might be given on a flight, but it's bigger and made from a much, much nicer fabric (silk) than any mask I've ever been given by an airline.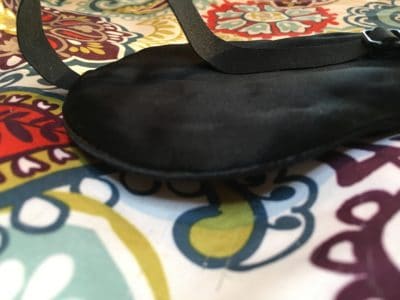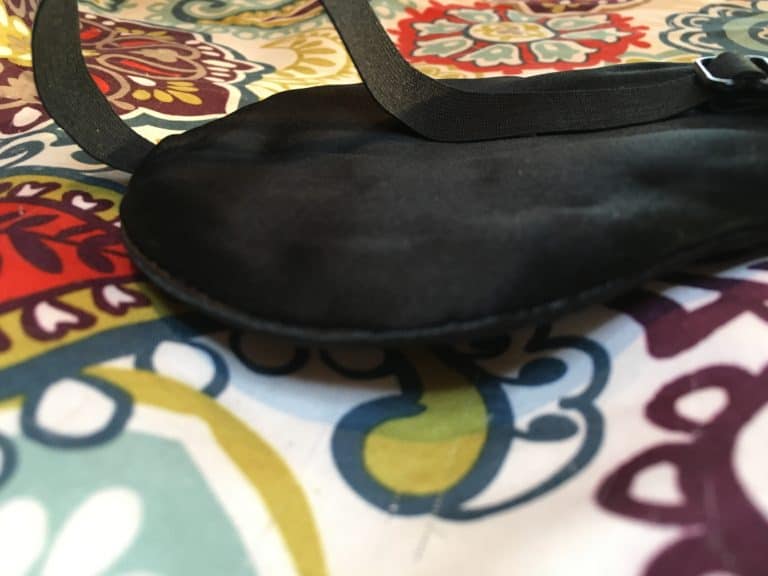 Basic Information
Price: $12.99 on Amazon
Sizing Options: None
Color Options: Black
Materials Used: 100% 19mm natural mulberry silk
Comes With: Nothing—not even a label telling you about the manufacturer!
Other Options: none
Return Policy: Standard Amazon policy applies
Manufactured In: China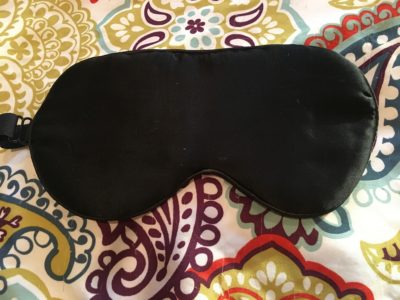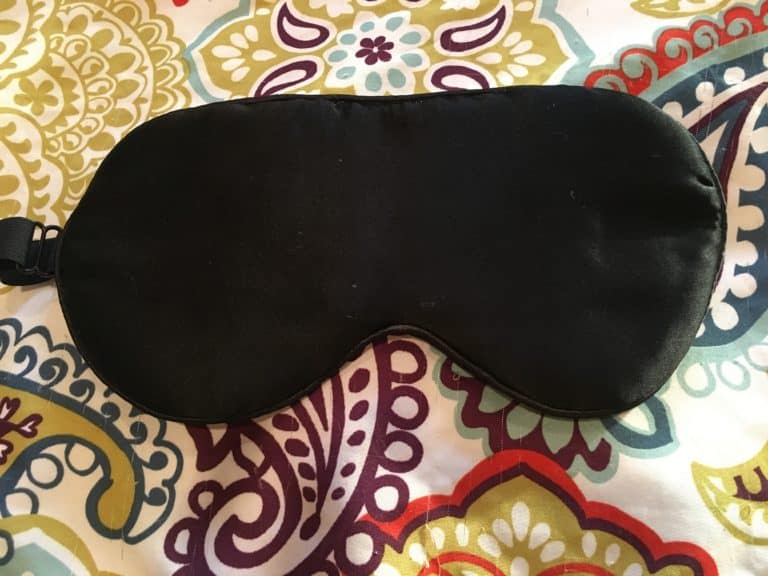 Final Thoughts
The P&J Health 100% Natural Silk Sleep Mask lacks any of the bells and whistles of fancier, more expensive masks, but it's still a very comfortable (once you make the necessary adjustments) and sufficiently effective sleep mask—and unlike some of those more expensive masks, it's very comfortable for side sleeping. If you want total darkness, this mask might not be what you're looking for—but if you just want something to make rooms darker and say to anyone around you (your spouse or your fellow passengers) "do not disturb," it will do the trick. Makeup wearers beware, though: if you wear this mask for a midday snooze, you will need to reapply.
Ready to Buy? Grab this sleep mask on Amazon!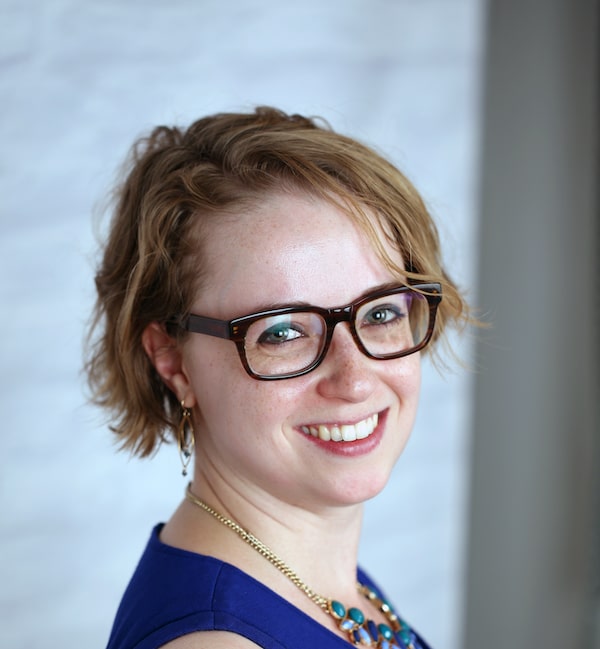 Jillian Ashley Blair Ivey
Jillian Ashley Blair Ivey is a Philadelphia-based writer, editor, and communications strategist. She has a BA in English from the University of Pennsylvania, an MFA in Creative Writing from Rutgers, The State University of New Jersey at Camden, and has published under her own byline at publications including DAME Magazine and The Frisky.