Weighted blankets are praised for the ability to make you feel happy, sleepy, and relaxed by releasing melatonin and serotonin in the body. So, if you're looking for a way to calm your little ones before bedtime, you might find that using a weighted blanket does the trick! But with so many different options out there, it can be tough to know which weighted blanket is the right one for your kids.
To help you in your search, I've rounded up the top four weighted blankets for kids right here in this guide. Plus, I'll impart my personal methodology behind weighted blanket shopping so you have all the information you need to make the best buying decision. Let's get started!
Best Weighted Blankets for Kids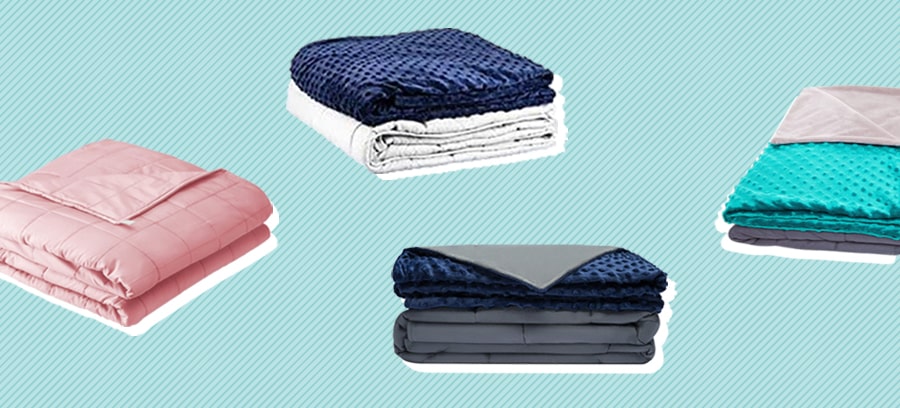 Editor's Choice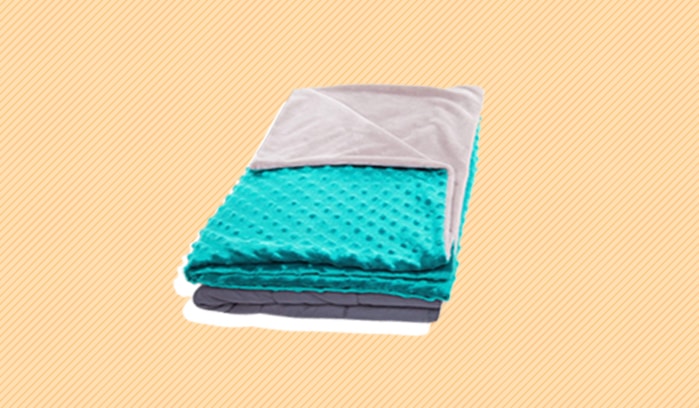 Hazli Weighted Blanket
This two-piece weighted blanket set comes with a super soft duvet cover, as well as the weighted insert itself. It's offered in three different weight options for kids ranging from 60 to 80 pounds, and comes in a variety of fun colors as well. 
Pros
The duvet cover is removable, machine washable, and covered in a

very

soft minky material that feels exceptionally soothing on the skin. 

The weighted insert is filled with tiny glass beads, all of which are sectioned off with gridded stitching for an even distribution of pressure. 

This weighted blanket comes in several vibrant colors, ideal for kids looking for fun styles! 
Cons
This blanket is a pretty good value for its quality, but still might be out of some shoppers' price range. 

While the removable duvet cover is machine washable, the weighted insert must only be spot-cleaned in order to protect the materials.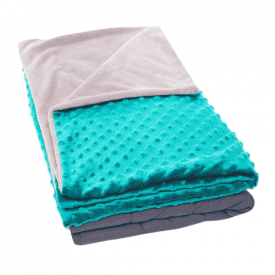 The Hazli Weighted Blanket is comes in a variety of colors and is evenly weighted for a nice distribution of pressure.
Most Affordable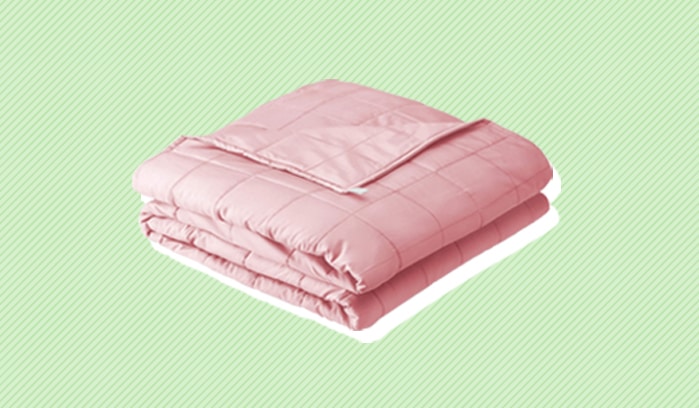 Bare Home Weighted Blanket
Shoppers searching for a weighted blanket that won't break that bank should definitely give this one a try. It's covered in 100% cotton, filled with hypoallergenic glass beads, and offered in several different weight options for kids and teens alike. 
Pros
This blanket is offered in many different weight options, and can accommodate sleepers weighing anywhere between 70 and 300 pounds. 

Unlike many weighted blankets, this one can be machine washed on a gentle cycle (but it must be left to air dry!). 

It's very reasonably priced considering the high quality materials used, making it a great pick for folks on a budget. 
Cons
This blanket does not come with a duvet cover, only the weighted insert itself. 

You may hear the glass beads clink together as you shift your body beneath the blanket. 
Bare Home Weighted Blanket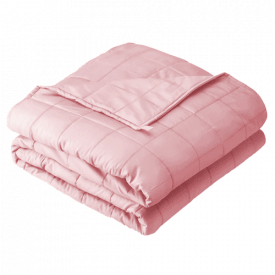 Bare Home Weighted Blanket
The Bare Home Weighted Blanket is machine washable and reasonably priced.
Best for Teens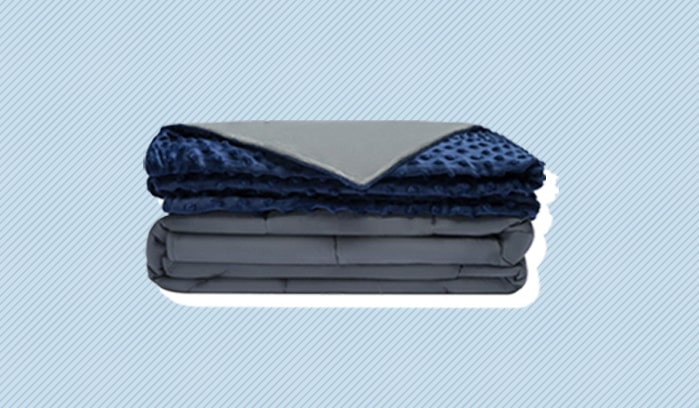 Quility Weighted Blanket
With weights ranging from 5 to 30 pounds, this brand offers blankets for kids, teens, and adults. They're filled with hypoallergenic glass beads and covered in a super soft duvet cover that features dozens of minky dots for extra sensory stimulation. 
Pros
This blanket features a removable duvet cover that can be washed and dried right at home. Plus, it's covered in a very soft minky material that feels really cozy on the skin. 

Not only does this blanket come in different weight options, but it's offered in different sizes too! 

It's available in several colors and printed patterns, perfect for teens looking to get creative with style.
Cons
This weighted blanket is a little on the pricey side, and might not fit within every sleeper's budget. 

In order to prevent any damage to the weighted materials, you should spot-clean this blanket with a damp cloth and mild detergent.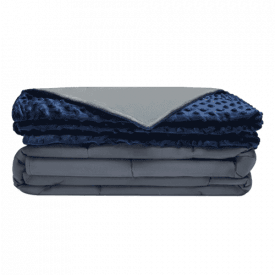 The Quility Weighted Blanket comes in several different color and weight options.
Softest Feel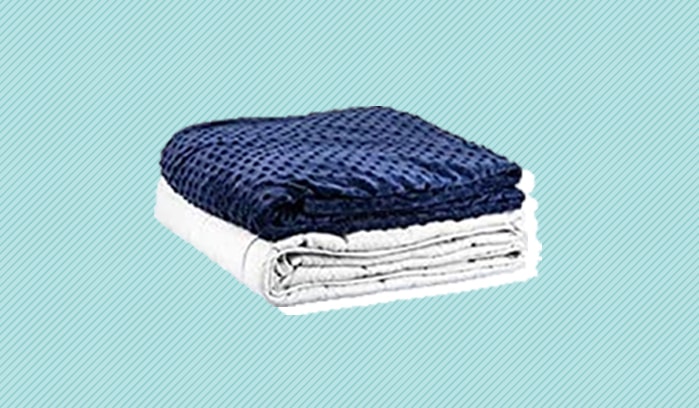 Roore Plush Minky Weighted Blanket
This weighted blanket was crafted to be extra plush and soft, making it a perfect pick for kids. It's offered in 5 and 10-pound options, features a removable duvet cover, and comes in a variety of bright colors.
Pros
This blanket is filled with glass beads that are evenly distributed for a balanced and cozy feel. 

Its duvet cover is made from a velvety-soft material designed to enhance this blanket's soothing properties. 

The duvet cover is removable and can be easily reattached by using about a dozen internal loops. 
Cons
This blanket is designed for kids, which means adults or those shopping for the whole family should look elsewhere. 

This blanket should only be spot cleaned and then left to air dry in order to prevent damage to the materials.
Roore Plush Minky Weighted Blanket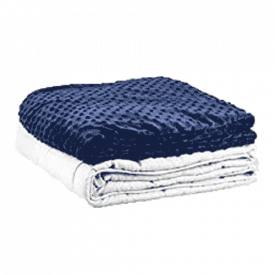 Roore Plush Minky Weighted Blanket
The Roore Weighted Blanket has a removable duvet cover with a velvety-soft feel.
How We Picked
Alright, folks, now that you've seen my four favorite weighted blankets for kids, let's dive into the methodology behind my picks. After all, there are some key factors to consider when you're searching for the perfect weighted blanket.
Materials & Construction
When I'm picking a kid's weighted blanket, the first things I consider are how it's made, and what it's made of. For the most part, weighted blankets are filled with either glass beads or plastic pellets, but you might occasionally encounter a proprietary material. Personally, I prefer glass beads as they tend to offer the most balanced feel and even distribution of pressure.
When it comes to construction, a key feature to look for is gridded stitching. Essentially, gridded stitching prevents the weighted material from falling to the bottom or the blanket or concentrating in any one area. Remember — an even distribution of pressure will help ensure that you fully benefit from the blanket's stress-relieving properties.
Next, I look at the weighted blanket's cover fabric, and whether or not it comes with a duvet cover. Most weighted blankets are covered in cotton or polyester, but some feature bamboo-based, Tencel, or other cooling cover fabrics. If your child tends to warm up at night, it might be a good idea to aim for one of those cooling materials.
Meanwhile, some weighted blankets come with removable duvet covers which, in my opinion, is ideal. Not only do they provide an extra layer of protection for your weighted blanket, but they give you a chance to experiment with different fabrics and feels. Just keep in mind that every weighted blanket is different, and it's important to pay attention to all the details of its construction.
Choosing the Right Weight
Once you've landed on the right materials, it's time to pick the perfect weight! And don't worry — it only requires a little bit of math.
All you have to do is pick the blanket that's closest to 10% of your own body weight. For example, if your child is 70 pounds, they'll be best suited to the 7-pound blanket. If you're shopping for a teen who's closer to 100 pounds, go with the 10-pound blanket.
Don't worry if your child falls in between weights — you can give or take a few pounds. That said, I always recommend consulting your healthcare provider just to make sure you're picking the right weight for your child's needs.
Cooling & Breathability
As I mentioned earlier, those prone to night sweats or warming up throughout the night might want to aim for weighted blankets that feature cooling materials. But even if you're not a naturally hot sleeper, remember that weighted blankets are thick, heavy, and not particularly breathable.
That's why I suggest keeping an eye out for materials like cotton, bamboo, and Phase Change Material. Cotton and bamboo are natural materials known for great breathability, while Phase Change Material is a super-cooling textile that's moisture-wicking and soothing on the skin.
On the other hand, hot sleepers should avoid materials like fleece, flannel, and down, as these fabrics are known for their warm and insulating properties. Personally, I recommend picking a weighted blanket that's compatible with a duvet cover. This way, you can alternate between warming and cooling fabrics as you see fit!
Wash Care
When it comes to wash care, weighted blankets can be a bit of a hassle. And while specific instructions vary from brand to brand, it's pretty uncommon for a weighted blanket to be machine washable and dryable. That said, be sure to follow the exact care instructions as given by the manufacturer itself in order to prevent any damage to the materials.
To give you an idea of the care instructions you're most likely to encounter, I've listed a step-by-step guide below:
Remove duvet cover (if you have one) and wash on a cool, gentle cycle. Tumble dry on low heat.
Spot clean weighted blanket with damp cloth and mild detergent
Allow weighted blanket to air-dry until no longer damp
As you can see, wash care isn't exactly complicated, but it's not as easy as throwing the weighted blanket in the washing machine either. And because weighted blankets are relatively expensive, it's important to protect your investment with proper maintenance.
Pricing
Speaking of cost, it's worth noting that weighted blankets can be pretty pricey! But don't worry — shoppers on a budget will probably find that weighted blankets without duvet covers are considerably less expensive. And once you save up a little more dough, you can always buy a duvet cover later on.
Additionally, some retailers offer trial periods which, in my opinion, can really relieve some purchasing pressure. A trial period gives you a set amount of time to personally test a weighted blanket to see how you like it. If, once your trial period is up, you decide it's not the right fit, just send it back for a refund!
Sleepopolis Buying Tips
Okay, sleepers, before we wrap up this review, let's recap a few helpful highlights:
Weight Options – If you're shopping for the whole family, make sure the retailer offers an appropriate range of weights. Remember — your weighted blanket should be about 10% of your own body weight.
OEKO-Tex Certification – I always recommend keeping an eye out for the OEKO-Tex certification, regardless of the type of bedding you're searching for. This certification guarantees that no harmful dyes, chemicals, or pesticides were used in the manufacturing process.
Internal Loops – If you're planning to dress your weighted blanket with a duvet cover, make sure it has loops on all four corners. This will keep the weighted insert securely fastened within the duvet cover, and minimize shifting while you roll around in bed.
Final Thoughts
Now that you've learned how to shop for weighted blankets and took a close look at my personal favorites, you're that much closer to picking the perfect one. Just be sure to pay attention to all the little details, and your little ones will be relaxing under a weighted blanket in no time. Happy shopping!
Sarah is the Senior Writer and bedding expert at Sleepopolis. Every week, she personally tests and reviews new pillows, sheet sets, and other sleep accessories. She accompanies every video review with a meticulously detailed article to ensure her audience has all the pertinent info they need for the best shopping experience possible. Perhaps that's why her fans have dubbed her "the most thorough pillow reviewer on the Internet." Having tested everything from sleep trackers to mattress toppers, Sarah's expertise runs deep and is always expanding. She received her degree in Creative Writing from Brooklyn College and spends her free time doing stand-up, making pasta, and hanging with her cats.