This past week I had the opportunity to attend Las Vegas Market, one of the largest mattress, bedding, furniture, and decor conferences in the world. Las Vegas Market hosts hundreds of exhibitions from across the US and the world, showcasing their newest products and innovations.
Las Vegas Market was unlike anything I have ever experienced. There were 10 floors dedicated just for mattresses and bedding. Each floor had around a dozen different companies. It took me a solid 2 days to tour the various exhibits, and I've brought back the absolute coolest products that you need to see!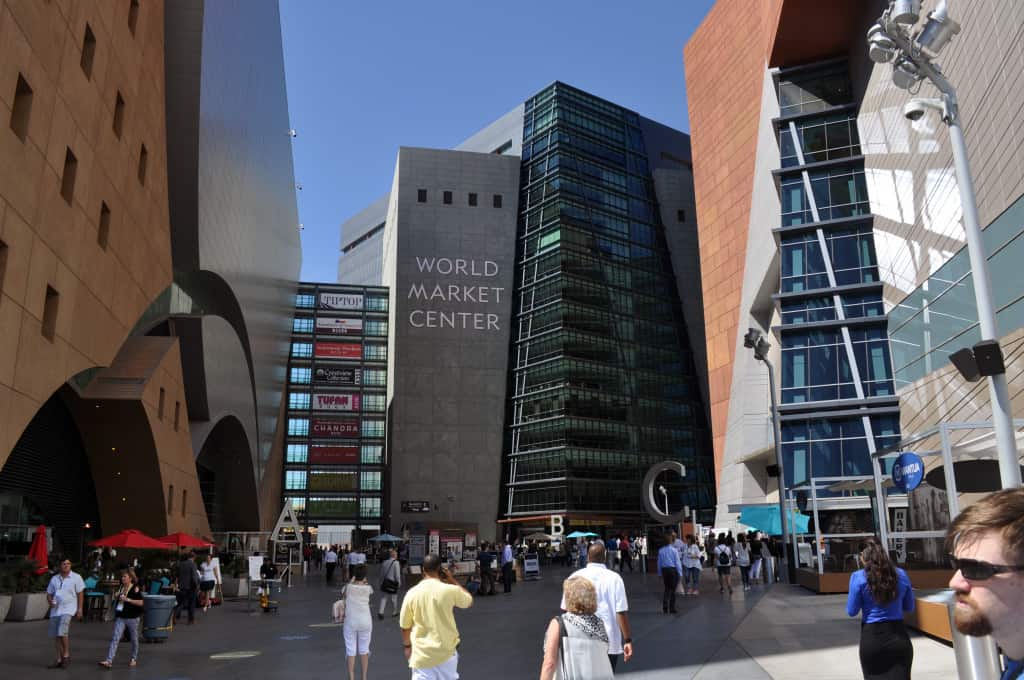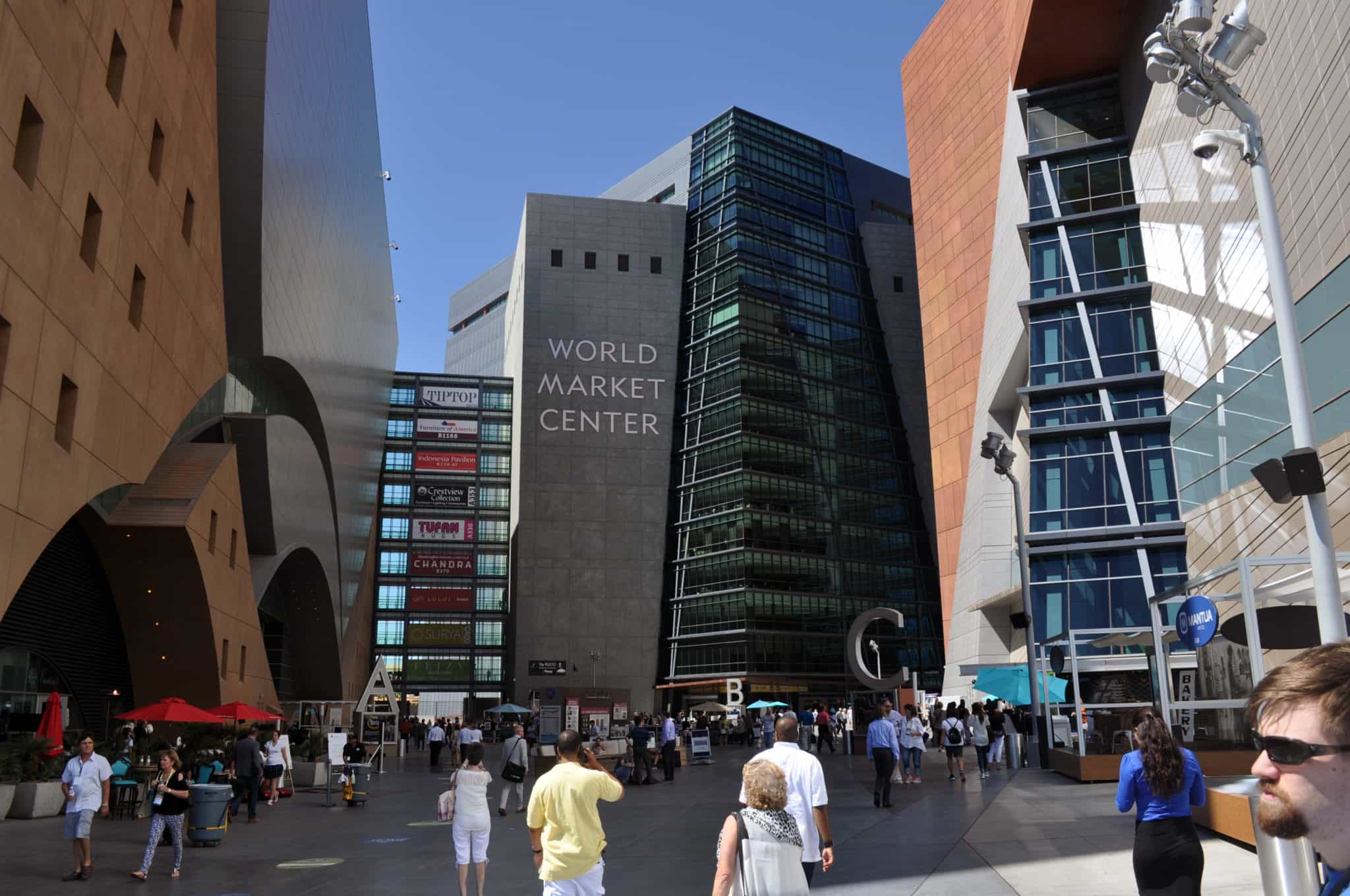 Quick side note if you're wondering…you can expect full reviews and analysis of all of the following products on Sleepopolis ASAP. I'll be researching and reviewing these over the next 4-8 weeks.
BedGear Performance Bedding
BedGear makes pillows…a ton of pillows. They believe (and I strongly agree) that it's not enough to just have one or two types of pillows. Each sleeper is unique. Height, weight, shoulder breadth, sleeping position, and other factors dramatically influence the type of pillow that's best suited for you. Even if you have an amazing mattress…the wrong pillow could completely change the feel of your bed and negatively impact the quality of your rest.
BedGear has a line of 44 different pillows, each with a slightly different construction, height, and feel, specifically designed with a unique sleeper's profile in mind.
In addition to their fitted pillows they also make sheets, protectors, toppers, and other bedding products. BedGear's sheets are another item I'm very intrigued by. The sheets have a delightfully soft and cool feel.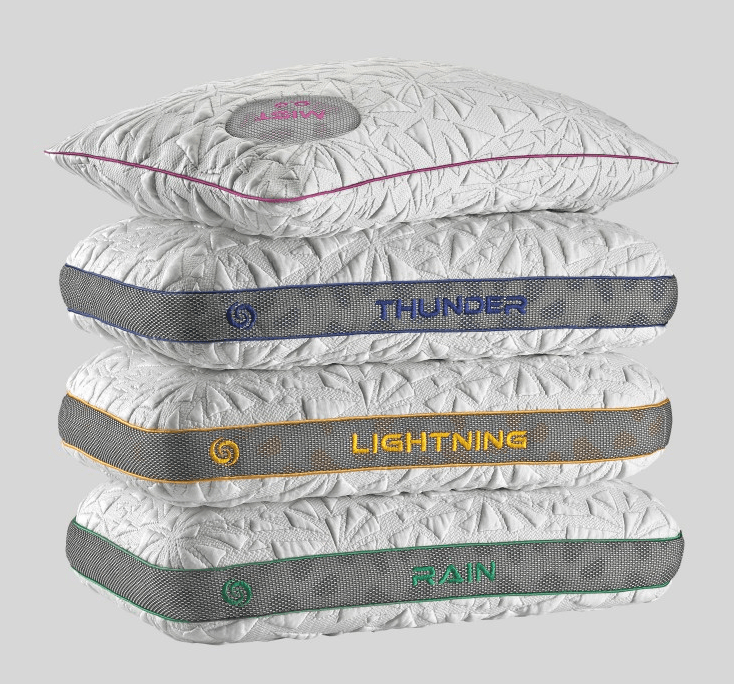 Thomashilfen Therapeutic Mattresses
Thomashilfen started as a medical supply company, focusing specifically on mattresses, wheel chairs, and therapy chairs. Their mattresses have helped people with serious medical conditions find dramatically improved comfort and sleep. They are now available to all consumers…which is great news if you'd like to see one of these beds in your own home.
The Thomashilfen therapy mattresses are built using a carbon fiber support frame and pressure adjusting support paddles. There are dozens of paddles that make up the base. These paddles respond to each minute movement on the surface of the mattress, continually adjusting support throughout the night. An interlocking foam system sits atop the carbon fiber frame that is also designed to offer adaptive support and improved cooling.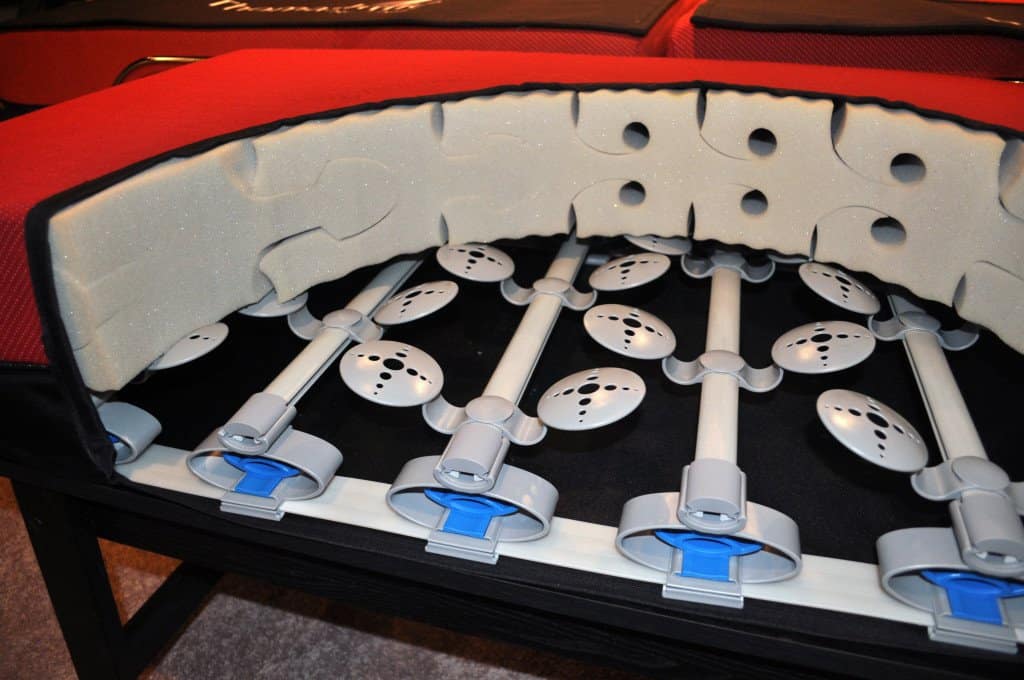 Thomashilfen offers specific mattresses for those who suffer from the following conditions:
Dementia
Parkinson's disease
General pain
Wheel chair bound
Ulcers
PureCare Bedding
Luxury bedding is an area I have been researching more lately. You can expect to see many more reviews and tests from Sleepopolis in the bedding category over the coming months.
PureCare has created a collection of sheets. There are 4 sheet varieties, each focusing on 1 of the 4  elements of nature.
Frio – mineral based cooling fiber blended with soft Tencel threads.
SeaCell – antioxidant-filled textile built from the extracts of seaweed.
Celliant – infused with ~50% Celliant fibers. Celliant is a patented thermo reactive thread. It turns body heat into infrared light, which has been shown in studies to improve oxygenation of the body. Improved oxygenation results in better internal temperature regulation, reduced muscle pain, and improved cellular regeneration.
Bamboo – bamboo rayon blended threads.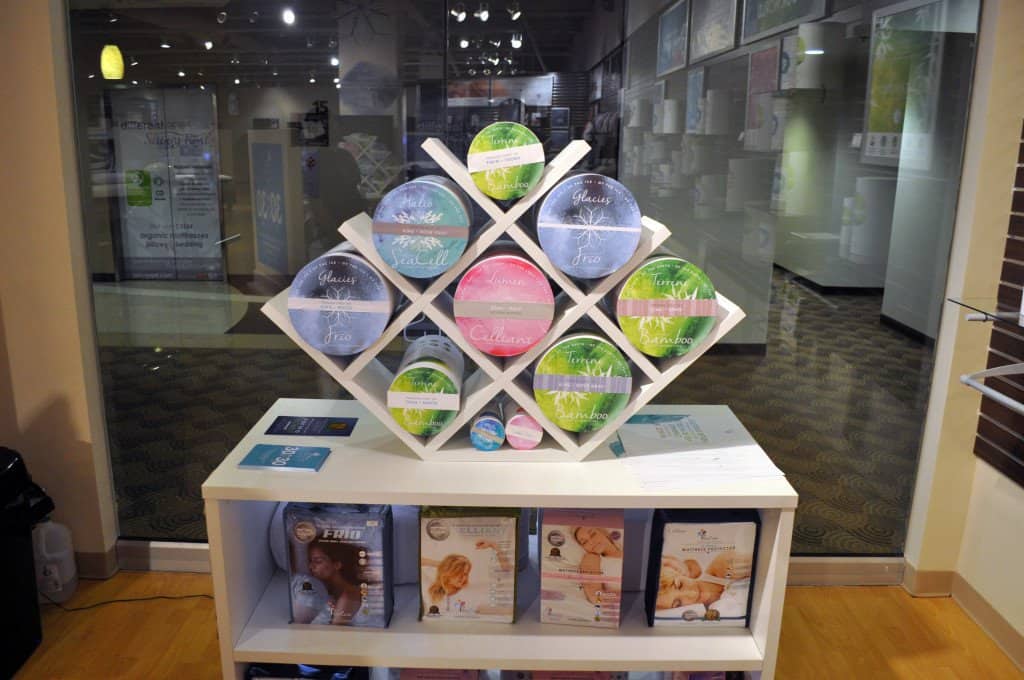 Snap Bed Frames
Snap bed frames (aka "Sn@p") is a new designer frame set from the Fashion Bed Group. They are designed to ship in a long flat box from USPS.
Since they ship directly from the factory, they are quite affordably priced (especially considering the build quality and aesthetic choices). They haven't officially launched yet, but prices are likely to range from $399 to $699.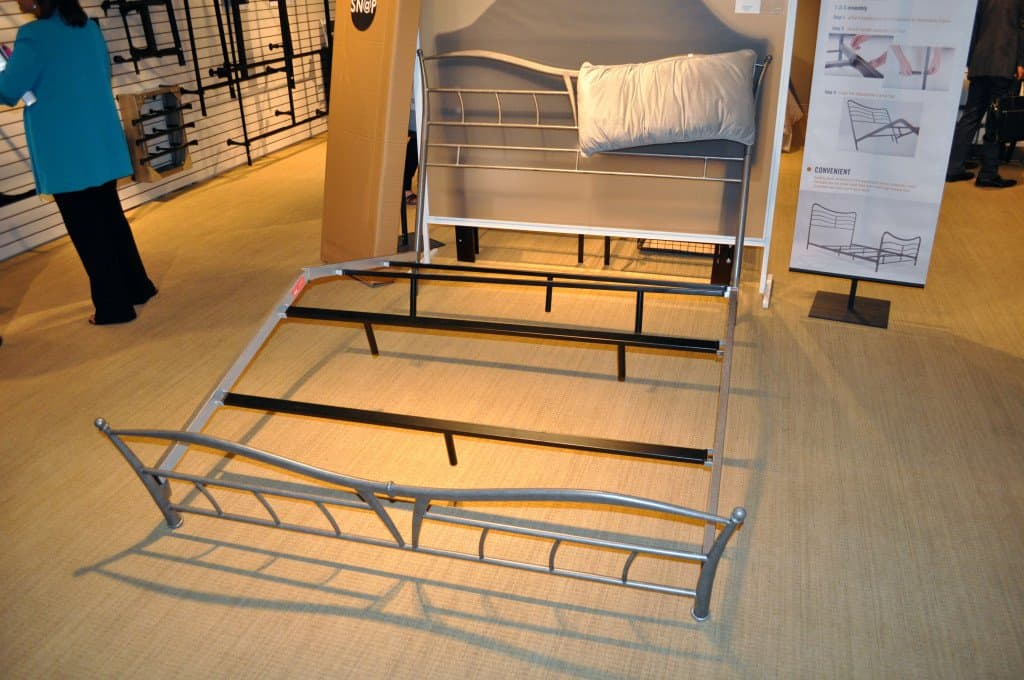 Setup is very easy. Simply remove the frame from the box and it snaps into place at several major connection joints. Takes about 15 minutes to setup. A very cool frame that comes in lots of options. The Sn@p frame seems like it would be ideal for anyone already ordering their mattress online.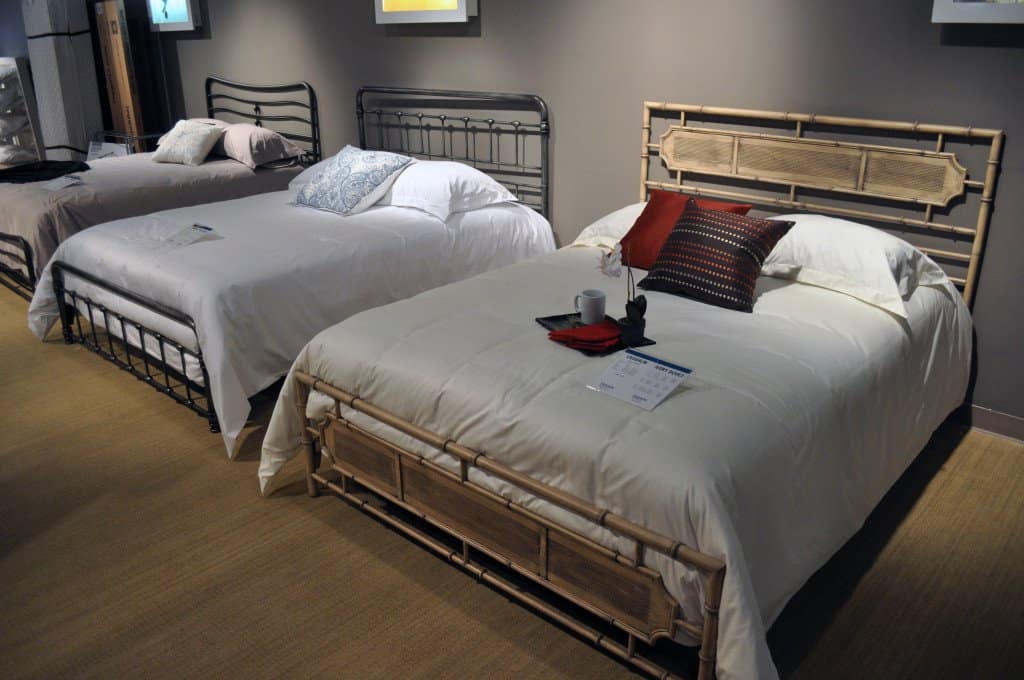 Danican
This Danish American company is building one of the first European styled mattresses available online in the US. They have several mattress models available. Most are a bit on the leaner side, around 8″ thick. However, despite the slightly leaner profile they aren't cutting corners. The base foam is a little leaner, but the top comfort layers are thick.
The flagship Danican mattress combines 1″ of memory foam atop 2.5″ cooling gel on a 4.5″ support foam. Their cooling cover and gel layer is certainly interesting. In my initial feel and lie test at Las Vegas Market, I was impressed. This is another one I'm very interested to review, you can expect it ASAP on Sleepopolis.
All of their mattresses come compressed in a box for fast and easy shipping.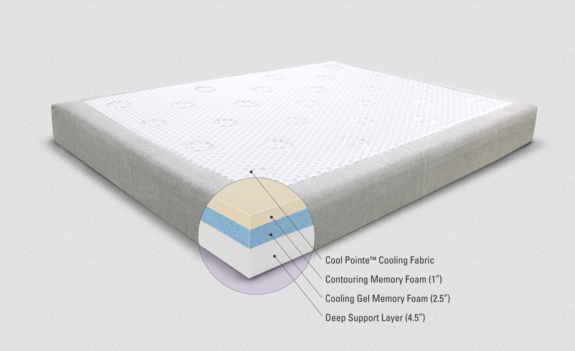 Honorable Mentions
Below is a quick list of honorable mentions and other upcoming products I'm going to be keeping an eye on.
Technogel – one of the coolest and interesting gel technologies I came across. It's virtually a liquid and does a great job of absorbing heat. Disappointingly, their mattresses are only available in retail stores (which most likely means it has an inflated and unreasonable price). However, it sounds like they may be considering a direct-2-consumer experience also.
Nature-Pedic – Nature-Pedic has been working on a new mattress that comes compressed in a box, designed and priced for the online market. Their new mattress is launching 9/1/15. Nature-Pedic tends to be a bit on the higher end of prices, but for an all natural / organic product, they aren't unreasonable.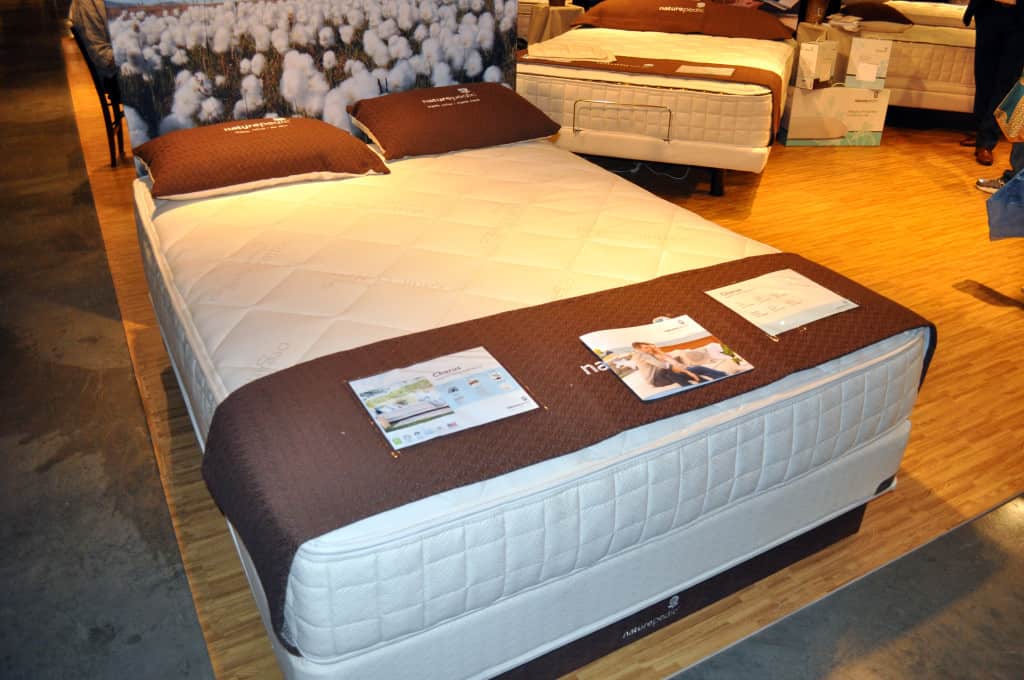 Revive Sleep – Revive Sleep is another manufacturer that's predominantly focused on their retail business; however, they are also diving into the direct-2-consumer market later this year with their "Voilá" mattress (not sure if that's the final spelling they will use). Their new mattress will launch 10/15/15.
Rize Adjustable Bed – finally…an adjustable bed frame that actually has a measure of design and aesthetic consideration. Built by Mantua, the Rize adjustable collection has a sharp style that won't take away from your bedroom's decor. Their Contemporary and Revolution Rize foundations look as nice as any adjustable foundation. I'm hoping I can do an in-home test to see if their function lives up to their form.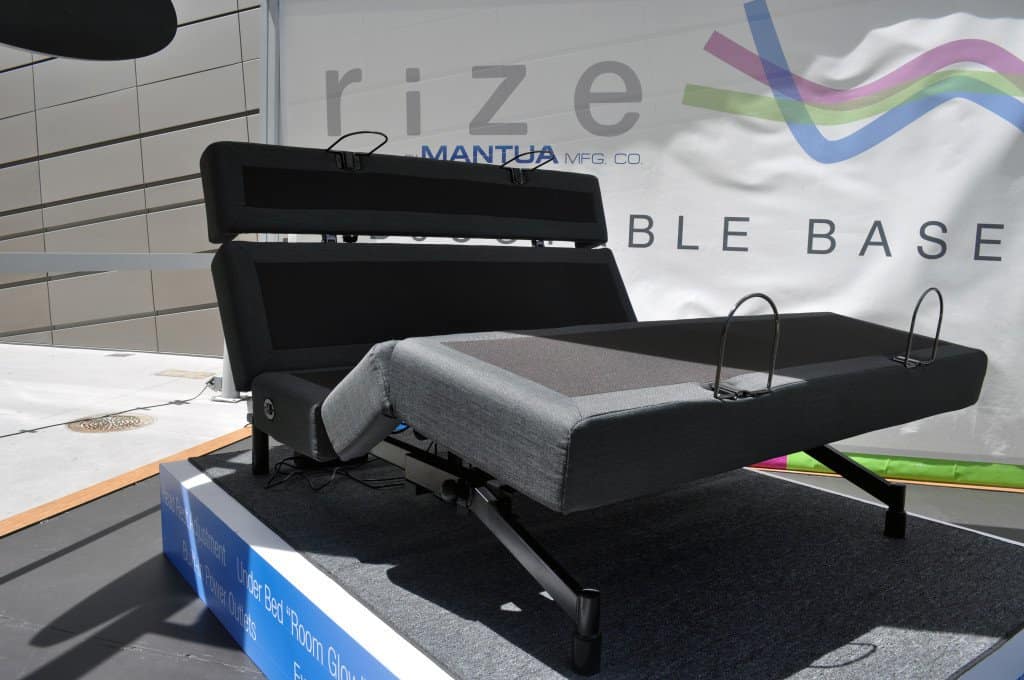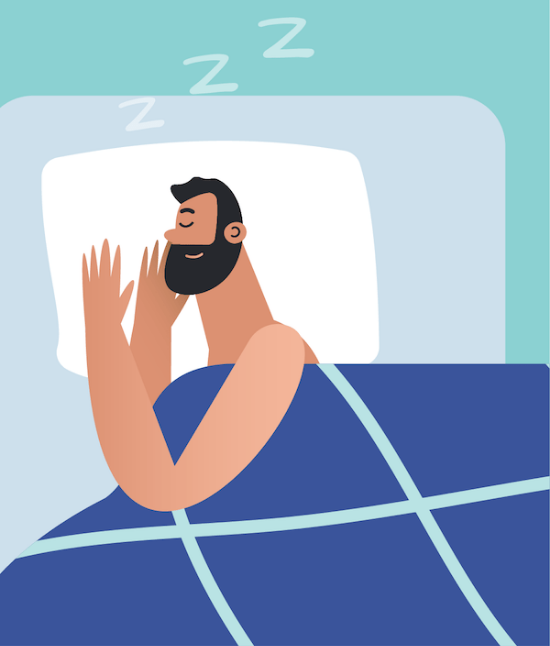 Sleepopolis Team
The Sleepopolis team is all about helping you sleep better. We live, eat, breathe, and sleep (ha!) all things, well, sleep! Whether you need a new mattress, are having trouble sleeping, or are just tired of counting sheep, we've got you covered. Check back here often for the latest and greatest in mattress reviews, sleep news, or health tips, and in the meantime, sleep well.