It's time for another mattress unboxing! Today my wife and I are starting our sleep test on the Live and Sleep mattress. Like most new mattress start-ups, Live and Sleep has designed what they think is the perfect mattress for the most sleepers. It strikes that "just right" feeling of balanced comfort, support, and cooling.
[box type="download"] Live & Sleep Coupon: Save $75 off with code "SLEEPOPOLIS75"[/box]
But enough introduction, watch the Live and Sleep mattress unboxing below:
The Live and Sleep mattress is a 3 layer 10″ foam mattress.
Top layer – this is a 2″ memory foam layer. It provides most of the comfort and support for the mattress.
Middle layer – this is a 1″ layer of custom foam called Energex. It's something of a cross between memory foam and latex. Like memory foam it provides great pressure relief and support, however, like latex it is highly responsive and sleeps cool.
Bottom layer – this is a 7″ layer of high density support foam. It acts as the foundation for the mattress.
Inside the Live and Sleep box we also found a few extra goodies including a thank you card, notebook, tote bag, eye mask, and reading light.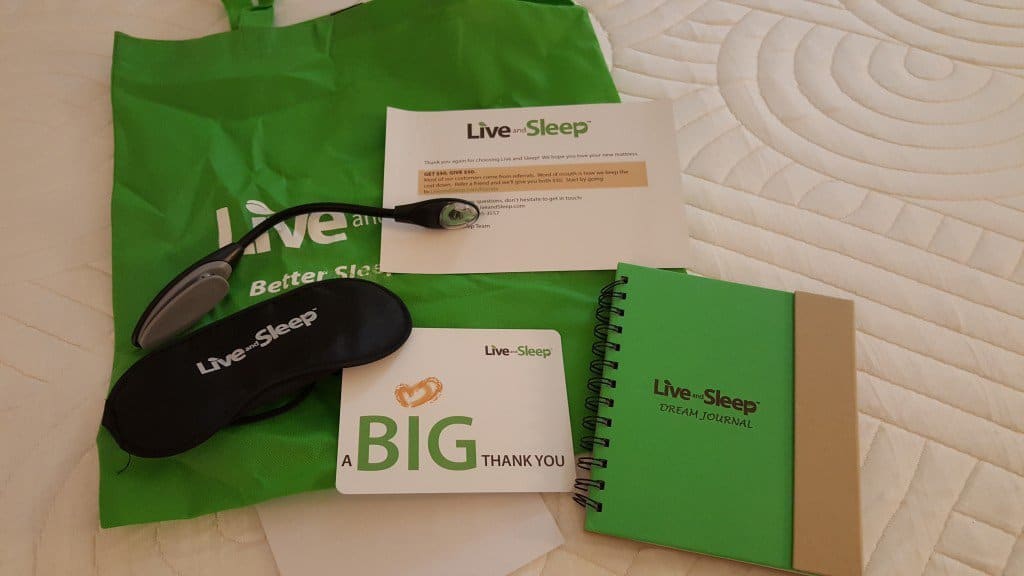 My Thoughts After Night #1
Unique feel and great contouring – the Live and Sleep has one of the more unique feels I've experienced in a mattress. It has a softness to it, but at the same time there is an underlying push-back and support. It's quite interesting. The heavier segments of my body sank noticeably deeper into the mattress (more so than I've seen with other comparable 10″ mattresses), and yet they were still properly supported. The Live and Sleep delivers great body contouring. I'm very interested to see how the mattress performs over several nights once it has had ample time to decompress (and my body fully adjusted to the new feel).
Great cover – I really love the cover design. Aesthetically, it looks really sharp, but what I like most is how easily removable the cover is. Note the green zipper that runs along the perimeter. This allows you to detach the white piece of the cover for easy cleaning. This is something I would have thought we would have seen more of from the online mattress industry by this point. I'm surprised how relatively rare it is. It's a nice feature to have and makes cleaning the mattress cover a snap.
Average edge support – Almost all foam mattresses struggle with edge support, the Live and Sleep is no exception. In sitting positions the foam collapses significantly when under heavy pressure. For sleeping purposes the edge support seem to do a good job. I slept fairly close to the edge most of the night. It holds its shape well when weight is evenly distributed (as it is during a normal lying position).
We'll have our full review of the Live and Sleep mattress up next week, so make sure to check back for that. In the mean time, check out LiveandSleep.com for more information.
The following two tabs change content below.
The Sleepopolis team is all about helping you sleep better. Whether it is through extensive sleep product reviews, sleep tips, or debunking sleep myths, we're here for you!
Latest posts by Sleepopolis Team (see all)