Cuddling up with a pet is a great way to relax. I can attest to that both anecdotally — snuggling up with my family dog Ned is one of my favorite things on Earth — and scientifically, as some studies suggest that sleeping with a pet has positive health benefits. 
If you want to take the cuteness of puppy or kitty snuggle sessions to the next level, then you're in luck. I've rounded up five of the cutest matching pet and owner pajamas on the Internet!
Best Matching Pajamas for You and Your Pet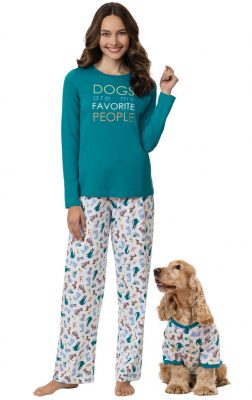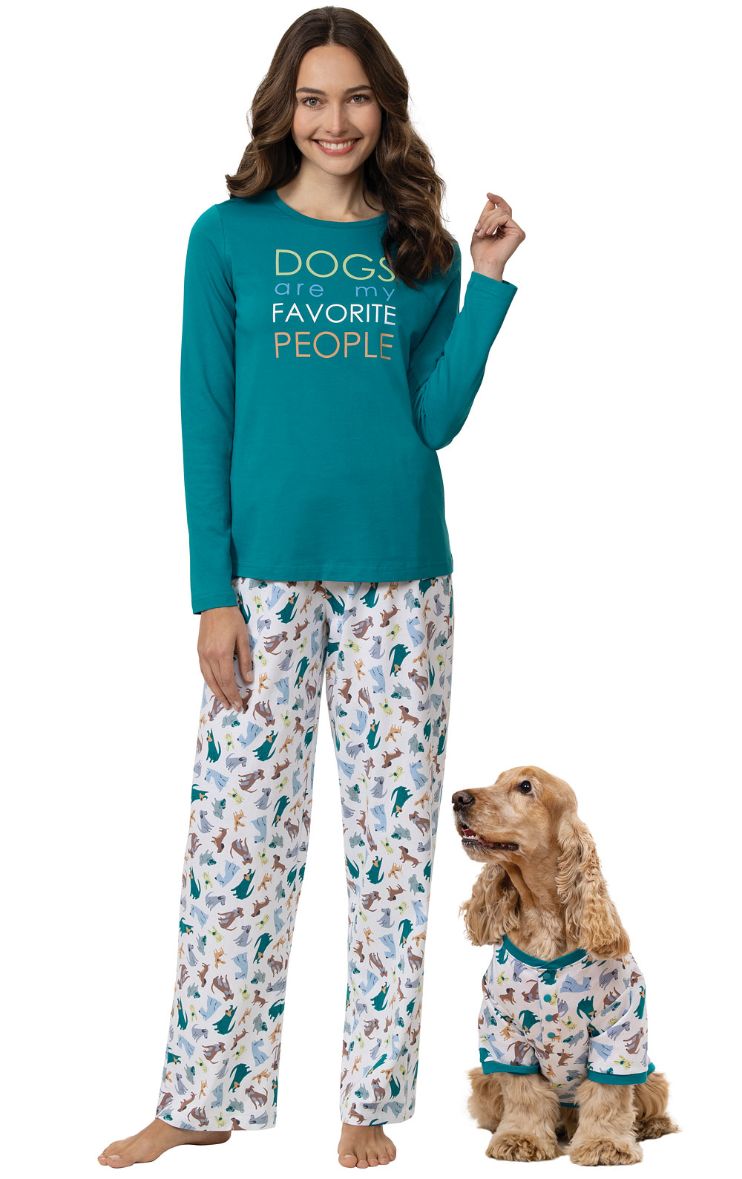 If your dog is your best friend, these may be just the pajamas for you. Pajamagrams offers quite a few pet and owner matching sets, but this one is perfect for a dog lover.
This matching set features a teal long sleeve tee that reads "Dogs Are My Favorite People" with complementary PJ pants, printed with various dog images in blues, grays, and browns, for you. And for your dog, a pajama shirt in the same print as the PJ pants. The puppy pajamas also have snap closures, to make getting them on and off simple.
Pajamagrams' women's sizes range from XSM–3X and the dog pajamas range from XSM–XSL. You can also have your pajamas personalized with your names, for an extra cost. The women's pajamas are currently priced at $49.99 and the dog pajamas are $24.99 — or $74.98 for both. Standard delivery shipping is $12.99.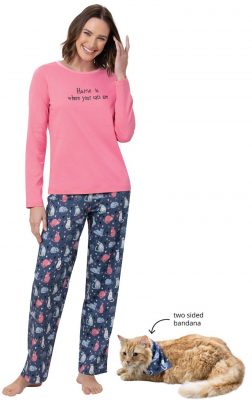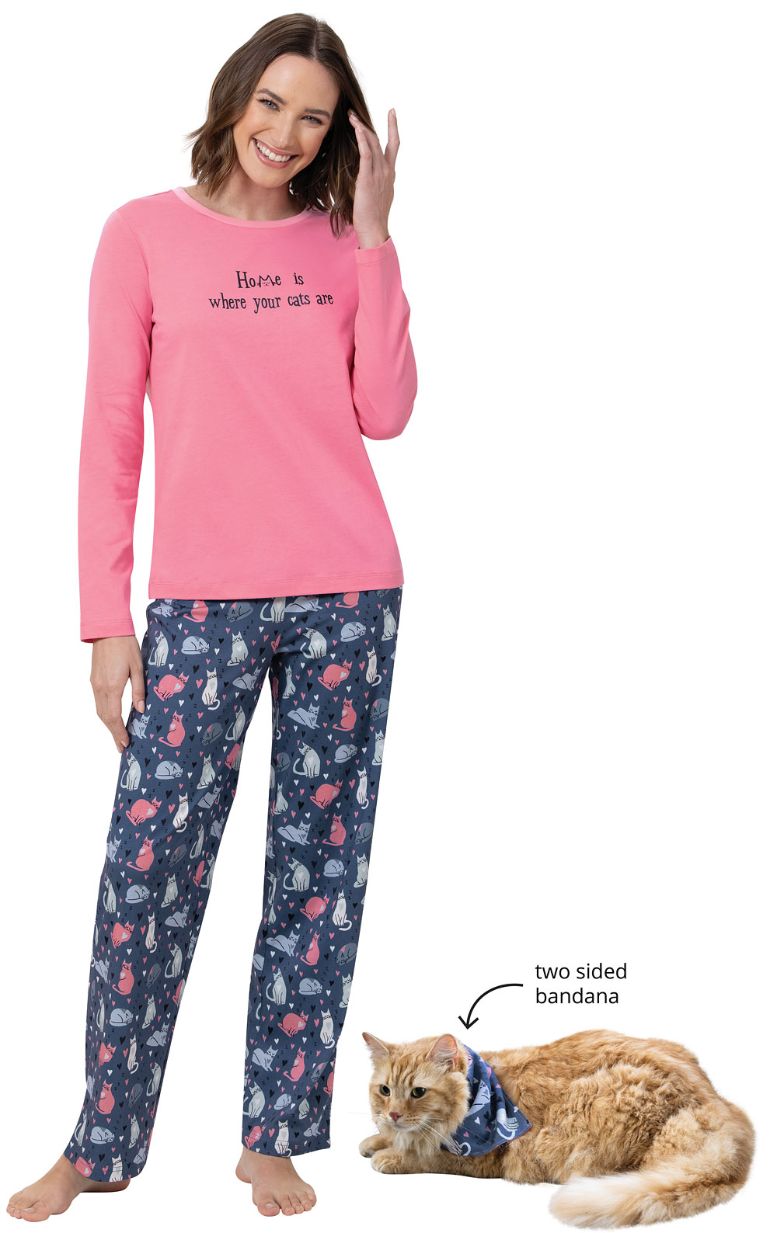 Cat lovers, not to fear! Pajamagrams also offers a matching pajama set for you. This one includes a pink long sleeve tee that reads "Home is Where Your Cats Are" and long PJ pants in navy blue with an adorable cat print in a pink-blue-gray color scheme. For your cat, there's a two-sided, soft jersey bandana. One side is solid and the other features the same print as the pajama pants. Now, that's the cat's pajamas!
Like the other Pajamagrams sets, the women's sizes range from XSM–3X. The cat bandana sizes range from XSM–XXL. And Pajamagrams has handy sizing charts for both humans and animals. Right now, the women's pajamas are $49.99 and the cat bandana is $19.99 — or $69.98 all together. Standard shipping will be $12.99.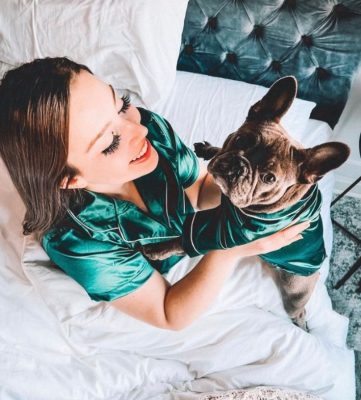 If you want something a little more luxurious, look no further than TellaCouture's satin matching pajamas. This Etsy shop sells quite a few different pet/owner pajama sets, but I like this one in particular because the satin adds a touch of glamor. 
The human pajamas are a satin, short-sleeve button-up shirt with a collar and pocket and matching shorts. The pet pajamas mimic the style of the human shirt and feature snap button closures. Both the human and pet jammies come in a gorgeous emerald green.
This matching pajama set is available in sizes XS–XL for humans and S–4XL for pets. It's also got great reviews — one reviewer even said that she immediately bought another set after receiving her first! Right now, it's $87.09 for both pajamas. TellaCouture ships from Canada and shipping will be calculated by your location. I calculated shipping for where I live in the United States and it came out to $6.64.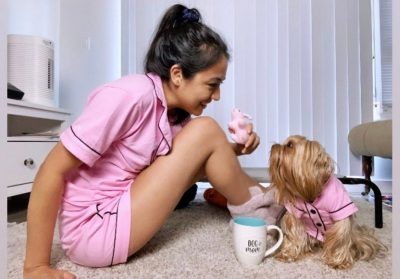 This next set is another great Etsy find, from seller WoofOutWest. Similar to the set from TellaCouture, WoofOutWest's Classic Button Down pajama set features a short-sleeve, button-up top and matching shorts for you, and a pet pajama shirt in the same style as the human one. This set is made from 95% cotton and 5% spandex and comes in a cutesy light pink with black trim.
For the people pajamas, sizes range from XS–3X and for the pet pajamas, the sizes range from S–7X. These could be a particularly great choice for those with large dogs. The dog pajamas are priced at $12.00 and the people pajamas are $16.00. WoofOutWest uses standard shipping, which calculates based on shipping location. My shipping total to order these pajamas came out to $4.00. 
Additionally, WoofOutWest donates a dollar for every purchase made to their local shelter.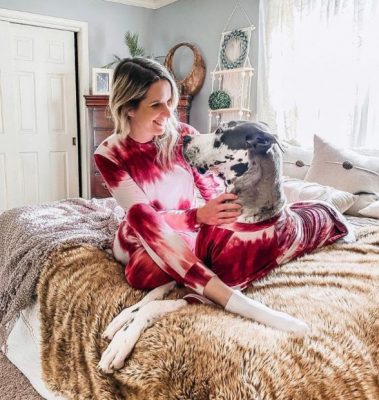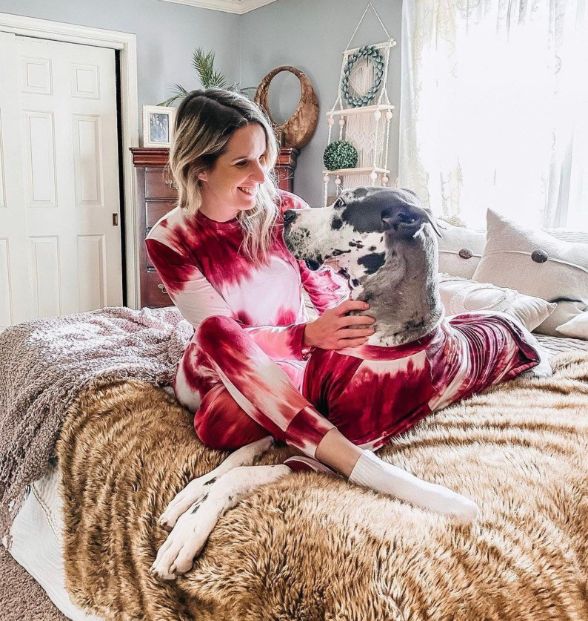 If you and your pet are less traditional in style, then this set from WoofOutWest could be a great option! I love the look of this tie-dye, sweatsuit-style matching set in burgundy. They could be perfect for hanging out around the house together or taking a quick walk around the block or to the dog park.
For the human, this set features a long-sleeve tee and joggers, made from a polyester-spandex blend. The sizes range from Adult XS–3X. For the pet, it comes with a long-sleeve shirt in the same fabric and tie-dye pattern. The pet sizes range from XS–4X.
The pet pajamas are priced at $18.00 and you can buy the top and joggers separately for $18.00, or buy the whole human set together for $30. Again, WoofOutWest uses standard shipping that will be calculated by your location.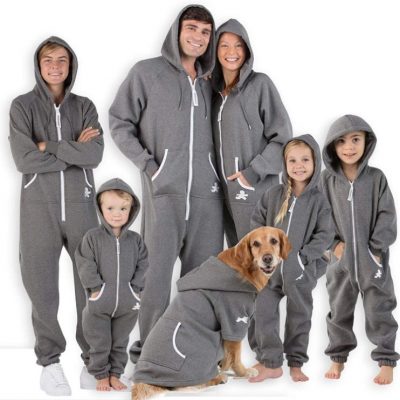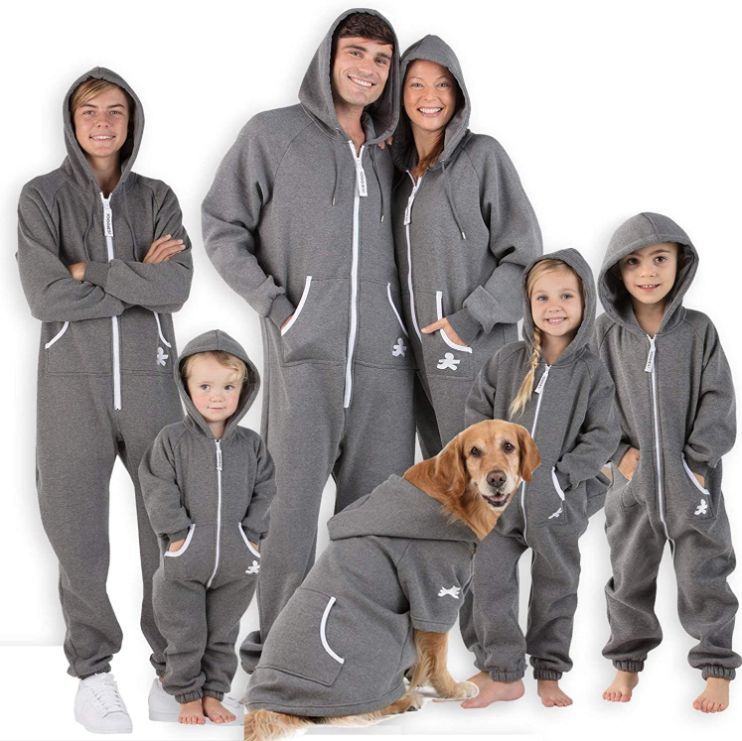 Want matching pajamas for your entire family — including your pet? Check out these onesies from Joggies. They are available in infant, toddler, kids, adult, and pet sizes, so the whole family can get in on the matching action!
These zip-up hoodie onesies are available in five colors: rock gray, oxford blue, burgundy, white sugar, and rose pink. They're made from a cotton and polyester blend and all the human onesies are footless, so you can easily wear socks or shoes with them if desired.
These family-friendly jammies range in price from $19.95–$49.95, depending on the size your purchase. The shipping price is $8.99 on Amazon.
Final Thoughts
Whether you've been searching for the perfect matching pet/owner pajamas or you've never even heard of this concept before, I hope this article helped you find something cozy to wear as you cuddle up with your furry friend.