Everything You Need To Know About Hiring a Night Nanny or Doula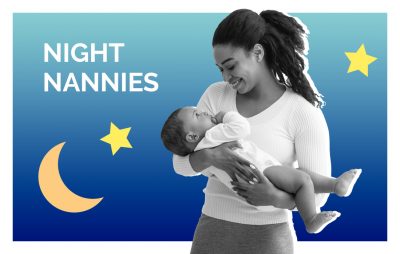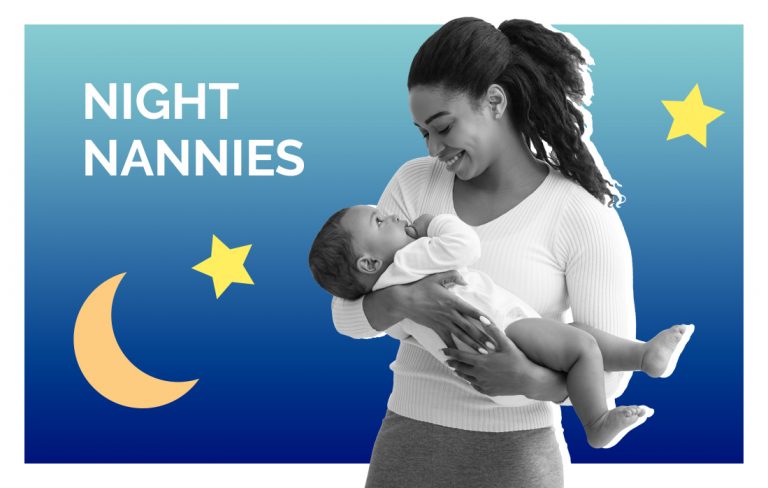 Postpartum parents, who just endured one of the most physically demanding journeys of their life (childbirth!), are then tasked with caring for their newborn that rarely sleeps longer than three hours around the clock. It can be a daunting task, one that leads to testy and tense conversations with partners, slower physical recovery, and even an increased risk for postpartum mental health conditions. 
A postpartum night doula or night nanny may be a welcome relief to families, as they spend the night at your house and care for your newborn while you get some much-needed rest. But not everyone can afford this type of assistance, and those who can sometimes feel hesitant because of some of the earliest "shoulds" in parenting. The thought that they should take care of their baby overnight like other parents could be enough to deter them from asking for some much-needed help. 
When 39-year-old Ft. Lauderdale, Fla. mom of two Jackie S., was 1 week postpartum with her second baby, who had colic (aka crying all the time), she says she felt like she was "drowning." 
"We were already coming off of a year with little to no sleep with my first child, and this time my husband didn't even get a paternity leave at his job. He was the first one to say 'I think we need overnight help,'" she says. "I had tons of reservations. We already had daytime help, so asking for even more felt either greedy or like I must be failing. I ideally wanted my child to be settled by me or in my arms overnight — not some stranger." She had many hesitations: interference with baby bonding, a nanny who would just be shushing the baby without truly fulfilling needs, and even scary stories about night nannies cutting holes in bottles to feed them faster.  She also wondered if it would be helpful if she had to get up to breastfeed anyway, and that finding someone who was a fit would be cumbersome.
But the parenting "shoulds" that continue past those postpartum weeks are often outweighed by what's actually best for your family, body, recovery, and mental health. Here's what to consider as you look into hiring nighttime help and falling asleep in peace.
What do night nannies and doulas do?
Jackie's concerns echo many parents who debate employing a doula or night nanny to get through the night shift. But once Jackie started talking to the doula she hired, her fears eased, and she was overcome with "an immediate sense of peace and calm." When her doula would arrive in the evening, she found herself sharing how the day had been, how she herself was feeling about parenting, and more.
"[She'd] offer gracious space holding and validating as I blabbed about how hard everything felt, and offer advice or troubleshooting if I was seeking it," Jackie says.
What is the difference between a night nanny and a doula? 
While a night nanny performs basic caregiving tasks more like a babysitter, a doula is specifically trained to care for both the baby and the parent. Doulas might perform tasks like:
Lactation support and advice

Postpartum mood and mental health consultations and referrals

Postpartum physical recovery assistance

Infant soothing

Infant feeding resources and advice

Infant's physical and emotional recovery from birth

Newborn care

Coping skills for siblings and other family members
According to Jada Shapiro, postpartum doula and founder of boober, a service connecting parents with postpartum doulas, the doula is more involved with the family than a nanny. Of course, not everyone needs this full range of services, and some might simply need a night nanny if they are seeking someone to help with feeding and changing throughout the night.
What are the benefits of hiring a night nanny or doula?
While at first it might seem like a luxury to hire night help, you might quickly realize that the benefits, both physical and mental, are worth it. Chelsea Skaggs, a life and relationship coach for new parents and CEO of the WTF Trimester, has worked with hundreds of parents to overcome postpartum challenges. She says more sleep through nighttime support comes with the added benefit of fewer arguments with your partner due to irritability from sleep deprivation. 
"One of the most common arguments for new parents is who will be getting up with the baby throughout the night. Using overnight help in the early days allows both parents to adjust to a new normal, establish some expectations, and make some of the hard transitions like returning to work after a short parental leave." She adds that even if you can afford just a few days, it can help you catch up on sleep and gain a clear understanding of the baby's needs. 
"In a day and age where most new parents live alone with their nuclear family, as opposed to near family members or other community, a night nanny can be an integral part of caring for the whole family in those early days," Skaggs says.
Additional benefits might also include:
Decreases in postpartum mental health issues — in fact, a

2018 study

suggests fatigue is almost indistinguishable from depression, calling them "separate but related experiences."

Another study shows

that if sleep issues weren't improved by 7 months postpartum, higher depressive symptoms were reported..

A birthing parent obtaining enough physical rest helps them recover from the physical changes of birth and postpartum weeks.

Improved relationship adaptation due to less bickering from sleep deprivation
My family has some unique needs — can a night nanny or doula accommodate?
Some, but not all, night nannies are trained to accommodate unique situations, such as multiples like twins or triplets, babies with special needs including medical concerns, and additional challenges. Interviewing your nanny or doula to gauge their experience in these situations is essential, as is asking for references for families that have used their services in the past, especially if those families were also in a special circumstance.
Doulas often have more formal training than nannies, so it can be especially important to look for doulas who have that extra experience in these cases. Some of these cases involve:
Twins, triplets, or more babies needing care at once

Babies with special needs

Premies transitioning home from a NICU stay

Parents with physical disabilities who might need more assistance adjusting
When should I start looking for a night nanny or doula, and what should I look for?
Night nannies or doulas might book out months in advance, especially more highly trained doulas who are highly sought after. Shapiro recommends searching early, especially if you are due in the summer or around the holidays when doulas might be more likely to travel. However, even if you are close to your due date or have already given birth, you can still find doulas or nannies available with a little extra searching. 
"You should ask candidates questions like, why did they become a postpartum doula in the first place, what is their philosophy around providing doula care and newborn parenting, what specific things will they do as a postpartum doula, [and] what additional training and expertise do they have," Shapiro says.
You can also look for doulas who have a DONA (Doulas of North America) training certification. When it comes to selecting a night nanny, consider searching for someone who is American Red Cross trained, including CPR certification, or those who are part of platforms that have had background checks.
Can I afford a night nanny or doula?
Many families hesitate to reach out for help because they think they can't afford a night nanny or doula. But it's possible that they actually can afford it, even for a couple of nights or for a portion of the night. Prices range depending on their services, qualifications, and the area, but the American Pregnancy Association estimates doulas charge $15-$50 per hour, though Shapiro says nighttime postpartum doulas are more likely between $25 and $80 per hour.
"Most overnight doulas have a minimum of 7-8 hours per night, with an average night being 10 hours, and some people choosing to have a 12 hour overnight," Shapiro says, suggesting that creating an option to gift money to go towards doula costs is an excellent baby shower idea.
Though prices vary by location, night nannies tend to be somewhat cheaper than doulas, but be sure to ask specifically about which services are included and how many minimum hours are required.
If you aren't sure you can afford nighttime help, try to find free or volunteer doula services in your area, such as the Northeast Ohio Doula Collective, which aims to ease the cultural and economic factors for many families that lead to increased health risks.
The Last Word from Sleepopolis
Jackie says that if you are a new parent, it can be hard to know what to believe. "My personal opinion, stick to your childcare instincts and philosophies that feel right to you," she says. For her, that meant seeking the help of a night doula as an essential tool in her postpartum recovery toolkit. "I didn't sleep for nearly 3 years between my first and second. I didn't have full-time round-the-clock care, but just having some overnight help here and there allowed for breaks that made life just a little more manageable."