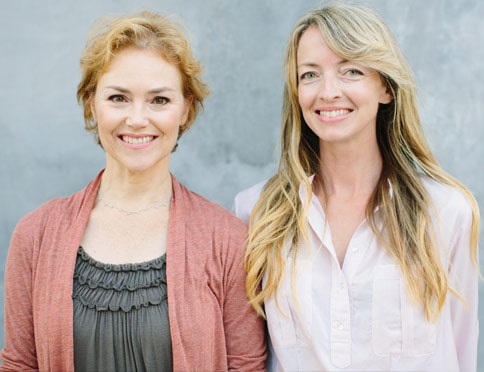 Heather Turgeon, MFT and Julie Wright, MFT are sleep consultants and the authors of the top selling book, The Happy Sleeper, The Science-Backed Guide to Helping Your Baby Get a Good Night's Sleep. They are both psychotherapists, and run a Los Angeles and New York City based sleep and parenting practice. They offer sleep consultations all over the world for babies, toddlers, and school-age children, as well as parenting consultations and individual therapy. Their new book, Now Say This: The Right Words to Solve Every Parenting Dilemma, is a practical guide to empathic communication and limit setting.
Heather's writing has appeared in The New York Times and The Washington Post, and she frequently speaks at parenting centers and schools. She lives in Los Angeles with her husband and two kids.
Julie is the creator of the Wright Mommy and Me, one of Los Angeles' best-known parent and me programs. She has specialized training and experience in the 0-3 years, interning at Cedars Sinai Early Childhood Center and LA Child Guidance Clinic. She lives in New York City (traveling to LA often) and has an adult son.
Visit the website: thehappysleeper.com, or buy The Happy Sleeper.
About Sleepopolis
Sleepopolis is a property dedicated to helping people around the world get a better night's sleep. We cover a wide range of sleep and recovery topics, including in-depth reviews on mattresses and other sleep products, sleep industry news and events, and research-focused content on sleep science and wellbeing (which we call Sleep Education). Our goal is to help readers make better, more informed decisions regarding their sleep and rest.
Our writers specialize in sleep topics, and the majority of our reviews focus on their in-person experiences with and testing of products. In order to promote accuracy in our content, Sleepopolis features a robust Expert Network to help verify much of the content you see on the site, including both reviews and Sleep Education. This network consists of board-certified physicians, physical therapists, other medical professionals, researchers, and innovators in the sleep space. Content that has been expert verified is indicated with a blue checkmark at the top of those pages. We also work to keep our content up-to-date and indicate the day of the most recent editorial updates at the top of our articles.