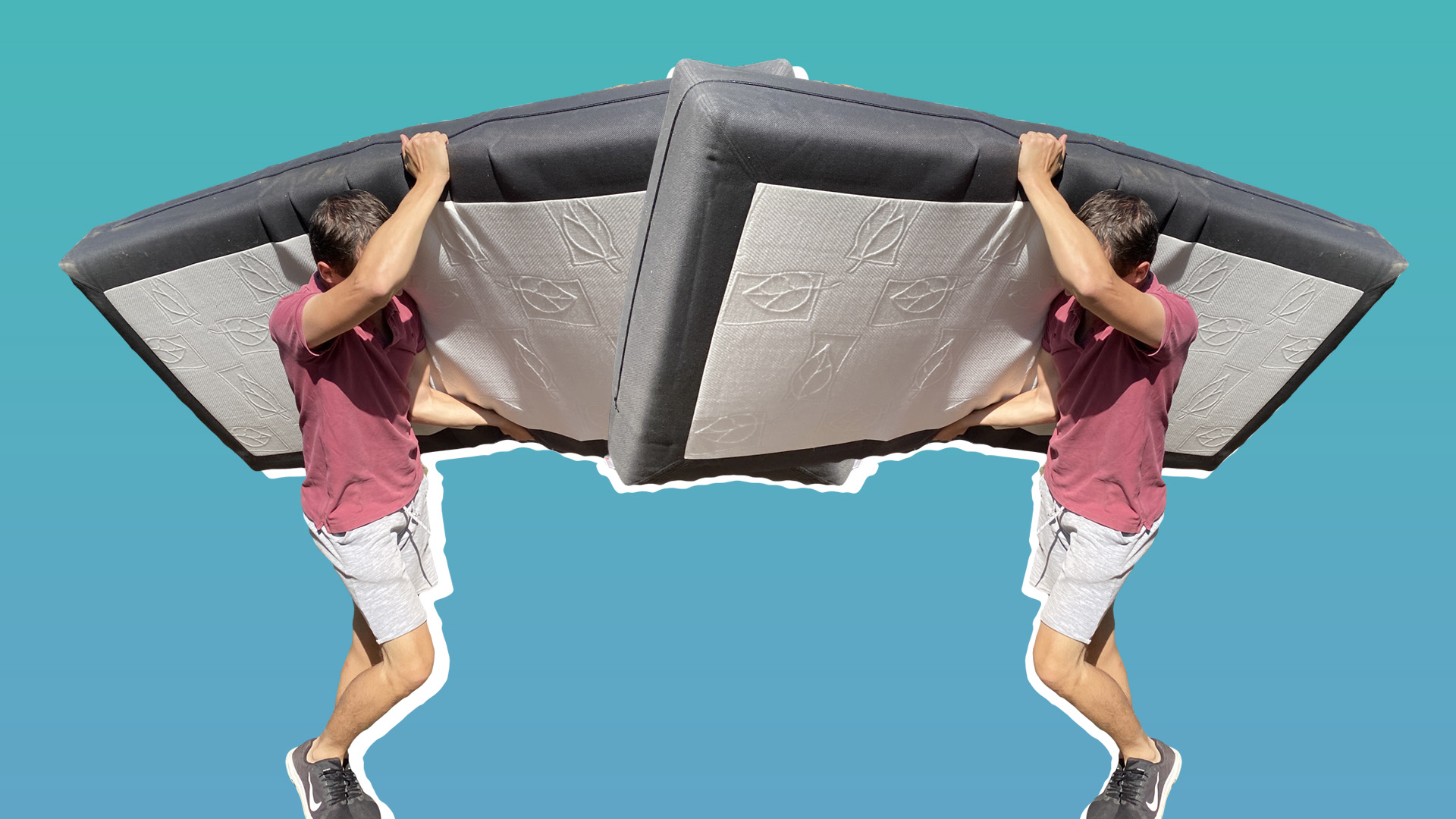 When it comes time for a move to a new home or apartment, there are a number of precious mementos and pieces of furniture that will need to be packed up and brought along. One of the biggest and most important belongings making the trek is a mattress. 
Many people have developed a bond with their mattress, replacing the bowl of oats in Goldilocks and the Three Bears story – "This one is juuuuust right." That's why learning how to transport a mattress properly and with the right protective equipment is so critical. Pack it up the wrong way and you might find yourself with an expensive foam and springs sandwich. This article highlights the step-by-step process to moving a mattress just up the road or across the country.
Assess Your Mattress
Before going through the hassle of loading up and transporting a mattress, we first suggest assessing the current condition of the bed and how many years of life it has left. On average, a bed lasts about five to 10 years. If it's approaching that decade mark, it may be a wiser investment to order a new one for shipment direct to your new address. (Check out our roundup of the best mattresses of the year to see some great options!).
However, if the mattress is on the younger side, consider our tips for preserving and transporting it.
Make Sure Your Vehicle's a Good Fit
The first step in safely transporting a mattress is knowing its size to ensure it will actually fit in your chosen mode of transportation. An average queen size bed measures 60 inches by 80 inches (about five feet by 6.7 feet). The other bed, that is the bed of a pickup, will vary depending on the type of truck, but a standard truck bed measures 6.5 feet long by about 4.5 feet wide. Notice how those two sets of dimensions don't match up? It's much better to know this before dragging a mattress that weighs up to 120 pounds down a few flights of stairs. 
Get the Right Supplies
It's not uncommon to see a car with a mattress strapped to its roof cruising around town, but not only is that a risk to the integrity of the mattress, it's a risk to the safety of other drivers. Though transporting a mattress on top of a vehicle is technically legal in all 50 states, an improperly secured mattress that flies off can result in fines in all states — and jail time in 15. Using the proper equipment can help secure the load.
We recommend using:
A mattress bag to wrap and protect the bed (or you can use sheets/blankets/towels) 

Nylon rope or ratchet strap to secure the bed to the car

Furniture dolly or hand truck to move the bed

Packing tape

Scissors or box cutter

Cardboard to secure the bed (if needed)
Moving tip: When using a mattress bag, be sure to press out all the air to lock out moisture. 
Prep Your Mattress And Your Path
When getting your mattress ready to move, be sure to: 
Strip the mattress of all bedding

Wrap the mattress in its protective materials, whether that's a mattress bag or blankets

Add cardboard to each side of the bed if you'd like to secure it even more 

Clear the path for the bed and where you're moving it

Have a friend ready to help carry the mattress with you 

Take it slow and steady!
Putting Mattress on Car vs In Car
Here are some tips for moving the mattress either on or in the car.  
On the Car
If you have a smaller car, the bed will likely need to go on top. 
Lift the mattress on top of the car laying flat

Make sure it's centered on top so it doesn't get lopsided and shift around as you drive

Double check it's blocking as little of the driver's vision as possible so you can drive safely

Open the windows (except for the driver's side window)

Secure the bed down with ropes or straps by looping them through the open windows

Do a few loops for extra security

Tie the ropes or lock the straps in place
In the Car
If your car's big enough to fit the mattress (or if you're using a moving truck), then make sure to clear space for the bed. When loading and moving the mattress, it's best (if possible) to keep the mattress lying flat during transport. 
However, the positioning can also depend on the type of bed. Some mattresses, like memory foam, can be folded to save space — as long as it's only for a short period of time. If the mattress contains springs, we don't recommend bending them; however, you can move and carry it on its side.
Once you get the mattress in the vehicle, make sure it's secure (use ropes if needed) and that it's not blocking the driver's view with how it's positioned. 
Tips for Driving with a Mattress on Your Car
Before you hit the road, we recommend taking the following steps to ensure the safest travels. 
Check the Weather
It may seem like common sense, but check the forecast before heading out. Rain or wind could complicate the drive by creating sway or drift with the mattress. Aim for a sunny day with low wind.
Do a Test Drive
For those planning to take the mattress more than a few miles, we suggest doing a test drive first. Conditions on surface streets will be different than highway driving, where vehicles reach 65 to 80 miles per hour. It's better to know in advance if higher speeds will pose an issue — that way there's still time to rent a truck or alternative moving equipment. 
Driving in a low-stakes area, such as an empty parking lot or quiet residential neighborhood, can allow you to test the sturdiness of the ropes or fasteners with low risk of damaging other people's property. 
Take the Safe Route
If at all possible, take a route that has a slower speed limit and avoid busy roads. It may take longer to reach your destination, but faster travel likely means higher risk. 
Monitor the Mattress
While on the road, be sure to keep tabs on the mattress and check often to ensure it hasn't moved out of the fasteners. Ropes and straps can loosen and the mattress can shift, so check periodically to be sure it's just as secure as it was at the beginning. 
Other Ways to Move a Mattress
If transportation is an issue or there aren't enough helping hands to get the bed moved, there are some other options.
Moving containers.

For those moving across town, U-Haul and other rental companies offer lower cost day rates. 

Ask the retailer.

Many mattress companies will charge a nominal fee, sometimes less than $100, to help you move a mattress purchased from them earlier.

Moving companies.

Hiring movers or paying to ship the mattress is also a popular option, but it will likely be the most expensive of these three methods. 
How to Store a Mattress
We recommend putting the bed in a climate-controlled storage area if possible since fluctuating temperatures could damage the mattress and its materials. It's beneficial to keep the mattress laying flat, but as mentioned earlier, some types of beds — like innerspring mattresses — can be shifted onto their sides to save space. 
Access Self Storage, a company with locations in Connecticut, New Jersey, and New York, advises against putting things on top of the bed while it's in storage. "It's not a steady surface, and objects can damage the springs and cause cuts or permanent dents in the cushioning," the company warns.
Clean the Mattress
Moving may be a good time to clean the mattress, especially if it will be in transit for more than one day. Even more so for those who don't use mattress protectors, an older bed will accumulate sweat and other moisture over time. Check out our mattress cleaning guide for an easy, DIY method that works for most beds. 
How to Unpack a Mattress
When unloading a mattress from a truck or vehicle, take care not to drop it. Similar to the packing process, it's a good idea to take it slow and steady. We recommend having a helper or two involved in the process. Also remember to bend your knees while carrying the mattress and take breaks as needed. 
If the bed is being removed from storage, Access Self Storage suggests freshening it up by sprinkling baking soda on it, then vacuuming it after 10 minutes. "To ensure it has time to air out, remove the mattress from storage at least 24 hours before you need to use it," the company notes. For additional cleaning tips, we recommend you check out our cleaning guide.
FAQs
Is it okay to transport a mattress on its side?
As long as a coil mattress is held in place so it can't collapse on itself, it is ok to transport it on its side. A latex mattress should be transported flat.
Can you fold a mattress for transport?
The only mattress that can be safely folded for transport is a foam mattress. There is a high risk for damage to other types of mattresses when they are bent or folded.
How do you carry a mattress in a car?
If you decide to transport the mattress in a vehicle, be sure to measure the space beforehand and safely secure it so it doesn't pose a risk to other drivers. Use nylon rope or ratchet straps to secure it.
How do you transport a mattress easily?
The easiest solution is to arrange a pickup with a moving company or the original business that sold you the mattress. A U-Haul will allow easy moving. A pickup truck is a good low-cost option.
Is it legal to tie a bed on a car?
It is legal to tie a bed to a car as long as it is totally secured and does not obstruct the vision of the driver.
Conclusion
At the end of a long day of moving, a good night's sleep is a must — and that requires a bed. Moving a mattress is no one's idea of a fun activity, but it's an investment that requires some forethought to protect. By following the steps outlined in this article, your mattress should be able to safely make the move so you can get good sleep in your new home! If you are in need of a mattress replacement, though, check out our mattress buying guide to find the best fit for you.