Sure, it's easy enough to throw a candy bar wrapper in the trash. But what happens when you have something much larger, like a mattress topper? It can be difficult to know where to turn in this case, and there's certainly a right and wrong way to dispose of it. In this guide, we'll go over the proper ways to get rid of your mattress topper, and we hope by the end of it, you choose the option that's not only the easiest for you, but also the most environmentally-friendly.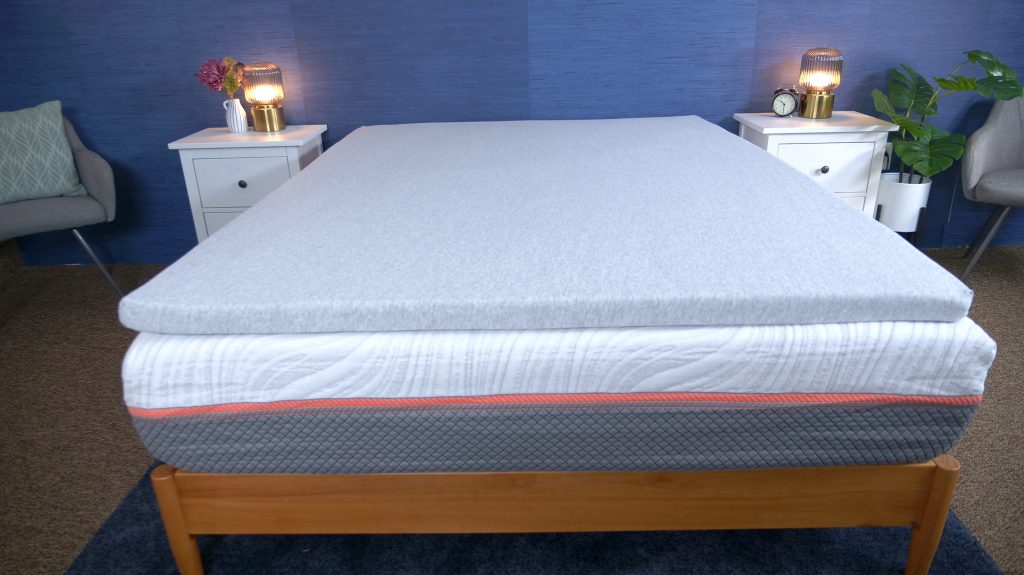 What Are Mattress Toppers and Why Are They Important?
Mattress toppers are designed specifically for making an existing mattress firmer or softer, depending on the materials used. A great mattress topper adjusts the feel of your existing mattress to better cater to your sleeping position and body type. Perhaps you experience hip pain and require a softer topper to add some more cushioning to sensitive areas. Maybe you're a back sleeper who needs a firmer topper to add a bit more support and lift to your mattress.
While many mattress toppers serve as a protective layer for the mattress surface, toppers are often confused with mattress protectors, which are thinner and specifically designed for keeping contaminants off of the mattress surface.
Why Should I Care About Disposing My Mattress Topper?
While not everyone uses mattress toppers, many people do. And if most mattresses last somewhere between 5-10 years, you can only imagine how many mattress toppers are being thrown out (these typically last around 3-5 years). 
Don't let your mattress topper add to the millions of tons of trash that sit in landfills and pose a threat to the environment. For some guidance, we've shared some of the best mattress upcycling and donation methods below.
How to Dispose of an Old Mattress Topper
There are right and wrong ways to dispose of a mattress topper. When it comes to recycling versus donating, it's truly up to you.
Trashing your old mattress topper
We strongly discourage throwing your old topper away because it just adds more unnecessary waste to landfills. Also, you'd be missing out on an opportunity to donate to someone in need or to repurpose the topper into something useful.
Recycling your old mattress topper
You can actually use your old mattress topper— especially the filling —to create a new product. That way, you're not disposing of it entirely. Some places also take mattress toppers and help do the recycling for you (and we suggest looking online to find local opportunities). But using the old topper as a DIY craft is always an option.
Donating your old mattress topper
When donating your old topper, it's best to do research beforehand. Many places, such as Goodwill, don't take mattress toppers. In many cases, the Salvation Army will, but it does depend on the store. Of course, we highly recommend donating your old mattress topper, since someone might find good use in it. But along with it, we suggest checking in with your local donation centers and making sure that they do accept used mattress topper donations.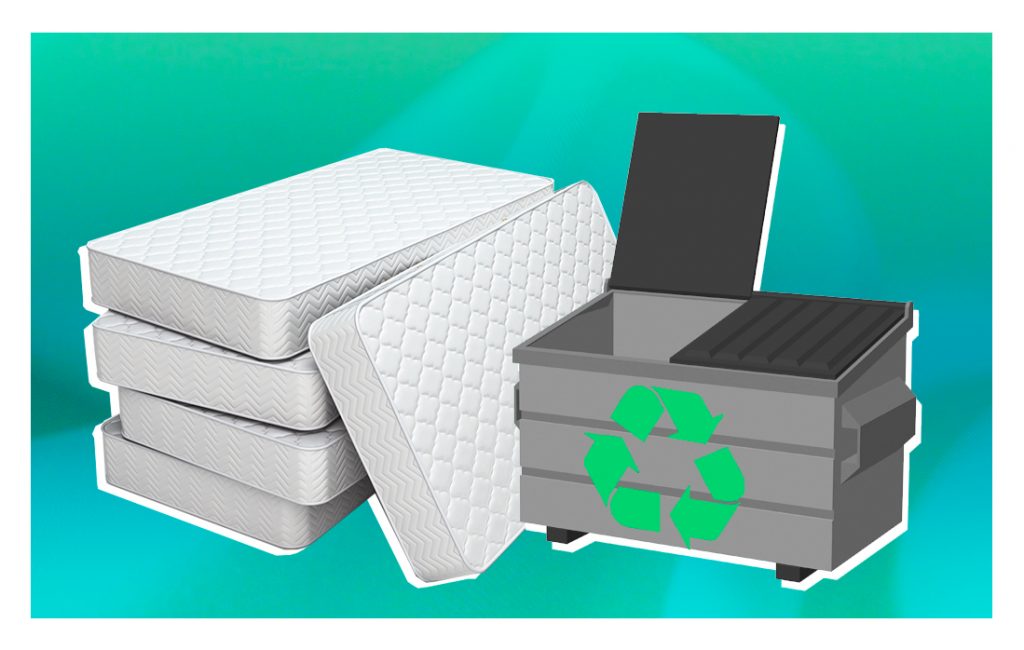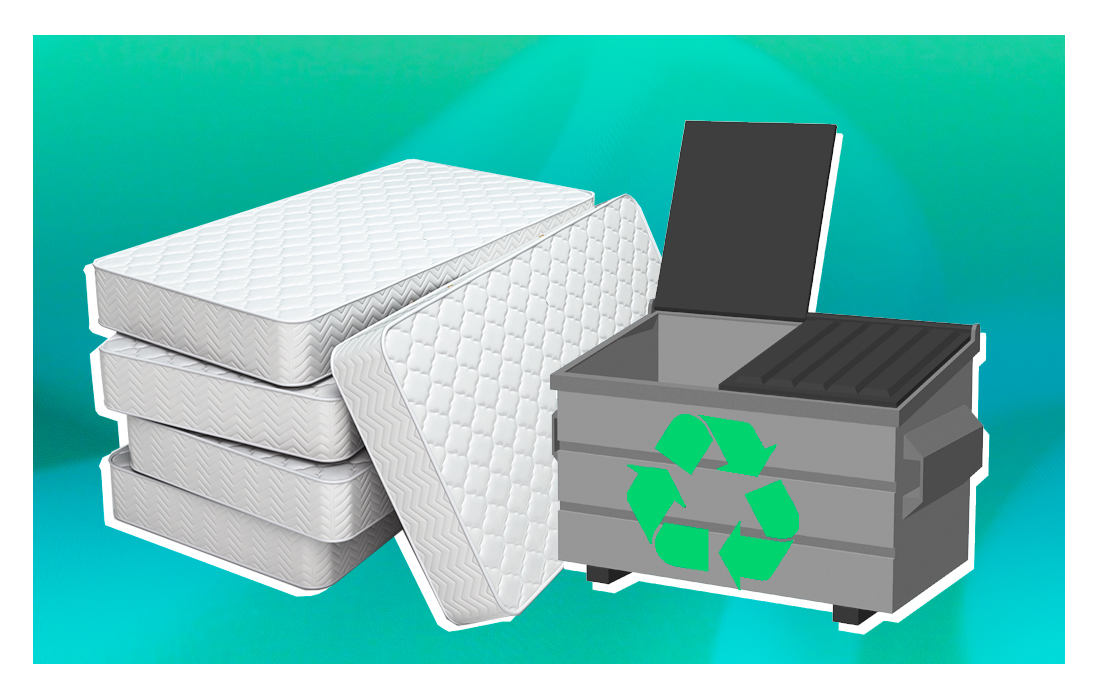 Disposing of Different Types of Mattress Toppers
Even the best mattress toppers wear out eventually. Below are some ways to dispose of each type of mattress topper. After all, you're not going to (properly) dispose of memory foam the same way as you would wool.
How to Dispose of a Wool Mattress Topper
Wool is a versatile fabric. Wool mattress toppers can be upcycled to create products such as pet beds, coverings, and insulators. And since wool absorbs and stores water, folks can use their old wool from mattress toppers to wrap around their garden plants, assisting with watering. If you're really feeling eco-friendly, you can compost non-synthetic wool.
How to Dispose of a Cotton Mattress Topper
Cotton is one of the most recyclable fabrics on earth, so there are a number of ways to repurpose a cotton mattress topper. It's definitely possible to send an old mattress topper to a professional service that recycles and processes it into a new product. The cotton from the old topper can be treated and used in a brand-new topper.
In many cases, you can use your 100% cotton mattress topper in a compost pile. Like wool, cotton absorbs water and nutrients and can be a life-saver for garden plants.
How to Dispose of a Memory Foam Mattress Topper
Memory foam toppers can be harmful to the environment if thrown in with other garbage. So, old mattress topper owners should locate a local recycling center. Many of these recycling centers offer recycling programs for old items. These places are better equipped to handle and recycle memory foam mattresses toppers. At the very least, they can help users get rid of their old memory foam mattress toppers safely.
Another common option is repurposing a memory foam topper, and there's more on that below.
Repurposing Mattress Toppers
We brushed over the concept of repurposing in the previous section. But if you're particularly interested in the DIY process of turning your topper into something new, this section is for you. Many toppers can be repurposed into any of the following. However, memory foam toppers work particularly well here because of their contouring and pressure-relieving properties.
Pet Beds 
If your furry friend needs a new place to rest, and if you've got a knack for sewing, you can repurpose the filling of your old mattress topper to make a pet bed. 
Pillows 
Mattress topper filling can be repurposed to create pillows, especially decorative throw pillows for your favorite chair, your living room sofa, or even your bed. 
Cushions
Repurpose your mattress topper to add comfort to patio chairs, dining room chairs, or even a porch swing bench. 
Camping/RV Beds 
If you're especially outdoorsy and eco-conscious, repurpose your mattress topper filling to create cushioning to rest on inside of a tent or RV. 
Shipping Packaging
Sending a fragile object in the mail? Use mattress topper filling to stuff the box and ensure that all your delicate items are cared for. 
Conclusion
We've covered a number of ways to properly dispose of a mattress topper. More than anything, we hope that by reading this guide, you can give new life to your used topper, whether it's used to create something or to benefit your community. If you also need to get rid of a mattress, check out our pages for how to dispose a mattress and how to recycle a mattress.