Are you looking for complete indulgence when it comes to your bed setup? If so, look no further than Aireloom, a bedding company well known for its quality handmade beds that use luxurious materials, like silk, natural cottons, foams, and wool. Aireloom has been a mattress of choice among many rich and famous folk, from presidents to celebrities. Whether you've walked the red carpet or not, Aireloom beds have a reputation for durability and comfort — not to mention a high price tag.
We dug into the details to provide as much information as possible around the Aireloom Aspire Hybrid Mattress collection, one of five mattress collections Aireloom offers. Let's dive in!
The Company: Aireloom
Before we go into all the juicy details of the Aireloom Aspire Hybrid collection, I want to talk about Aireloom as a company, especially since it has a rich and ritzy history. Aireloom was founded by "master mattress maker" King Karpen in the early 1940's. While he wasn't an actual king (though what a cool first name) his mattresses were royalty right away. Think: thick layers of silk, cashmere, wool, and cotton. Aireloom quickly got the nickname "Rolls Royce" of mattresses, and today has been found in the bedrooms of countless celebrities, policymakers, and others who want the top-of-the-line bedding in their bedroom.
Aireloom was bought by E.S. Kluft & Co brand in 1992. Then, in 2015, The Flex Group acquired E.S. Kluft & Co., a privately held global mattress manufacturer and retailer.
Aireloom Aspire Hybrid Mattress Collection
This article is going to dive into Aireloom's Aspire Hybrid Collection. These mattresses are built with Tencel® New Age fabric. Tencel is a brand-name for fiber; it's a sustainable fabric regenerated from wood cellulose, similar in feel to rayon and bamboo. That said, Tencel is one of the most environmentally friendly regenerated fabrics, making this a soft and eco-friendly choice. Inside these mattresses is what Aireloom calls its "phase change foam technology" which acts like a sponge to absorb heat and regulate body temperature.
There are two categories in this collection; one is the Aspire Hybrid Coil Support, which offers a pocket-flex coil system inside each bed and has two mattresses to choose from: plush and firm. The other is the Aspire Hybrid HD Foam Support, which has a foam core but also includes micro coils. This model has three mattresses: plush, luxury firm, and firm.

Let's dive into the similarities and differences now.
Aspire Hybrid Coil Support
Surface Materials
The fabric and quilt of this bed are made with a Tencel knit, that, according to Aireloom, works to conform to your body's shapes and curves. Underneath are FR (fire-resistant) fibers, a plush quilting foam, and a True-stretch™ cotton tricot for softness and support.
Comfort Layer
This series comes with two different mattresses — plush and firm — so the thickness in comfort level will vary depending on if you want something soft and plush (thicker layers) or something more firm (thinner layers).
The "star" in this comfort layer is Aireloom's featured temperature regulating foam that uses Phase Change® technology to keep sleepers cool. We can really geek out with Phase Change, but essentially it utilizes "latent heat of vaporization" of a fluid to absorb thermal energy and release energy. All you need to know is it's known to keep heat and coolness under control, hopefully keeping you comfortable at night. Underneath this foam is a slow recovery visco (memory) foam to contour and cradle your body, along with a layer if Aireluxe foam. The bottom layer of the comfort foam is a set of micro coils; these are made from thinner, more flexible steel coils and provide additional pressure relief. They also have a high level of durability and are not prone to body impressions. These micro coils are right above the "main" coil system that we'll get to in a second. The coil count is 1,386 for a Queen and 2,400 for a King.
Support System
Underneath the comfort layer is where the additional coils come in. First, though, is a high-density encased perimeter for solid edge support. Then comes the individually wrapped coils, which move independently, encased in separate pockets so they can contour to the body and provide deep and comforting pressure relief. These come in a 15-gauge for the plush version and a 13 ¾ gauge for the plush mattress. The full perimeter coil count is 830 for a Queen and 992 for a King.
Box Spring
Aireloom recommends using its boxspring since the use of the incorrect mattress frame will void your warranty. If you choose to purchase the box spring, it is a V-shaped semi-flex grid that's held in place with an interlocking grid work. This design provides a slight "flex" and is popular for mattresses that are not designed to be flipped. It's available in 9" height or a 5" low profile.

Aspire Hybrid HD Foam Support
Surface Materials
The surface material for these mattresses is slightly different from the Aspire Hybrid Coil Support. It also starts with the ultra-conforming knit that encompasses Tencel and also includes FR fibers and a layer (1 ½ inches) of plush quilting foam. However, this surface layer also includes a layer of silk and wool fibers, and instead of the True-stretch™ cotton tricot, uses a knit cotton tricot.
Comfort Layer
Just like the Aspire Coil Support, the comfort layers here will vary in thickness depending if you choose the plush, luxury firm, or firm mattress. These mattresses don't use the foam with phase change technology, and instead have a top layer of visco (memory) foam, aireluxe foam, and micro coils.
Support System
The support system used for this mattress is a high-density foam core, versus the coils that are used in the other set of mattresses.
Box Spring
The box spring is pretty close in design and construction to the Aspire Coil Support. The only difference is the bed includes Aireloom metal corner guards for extra edge support.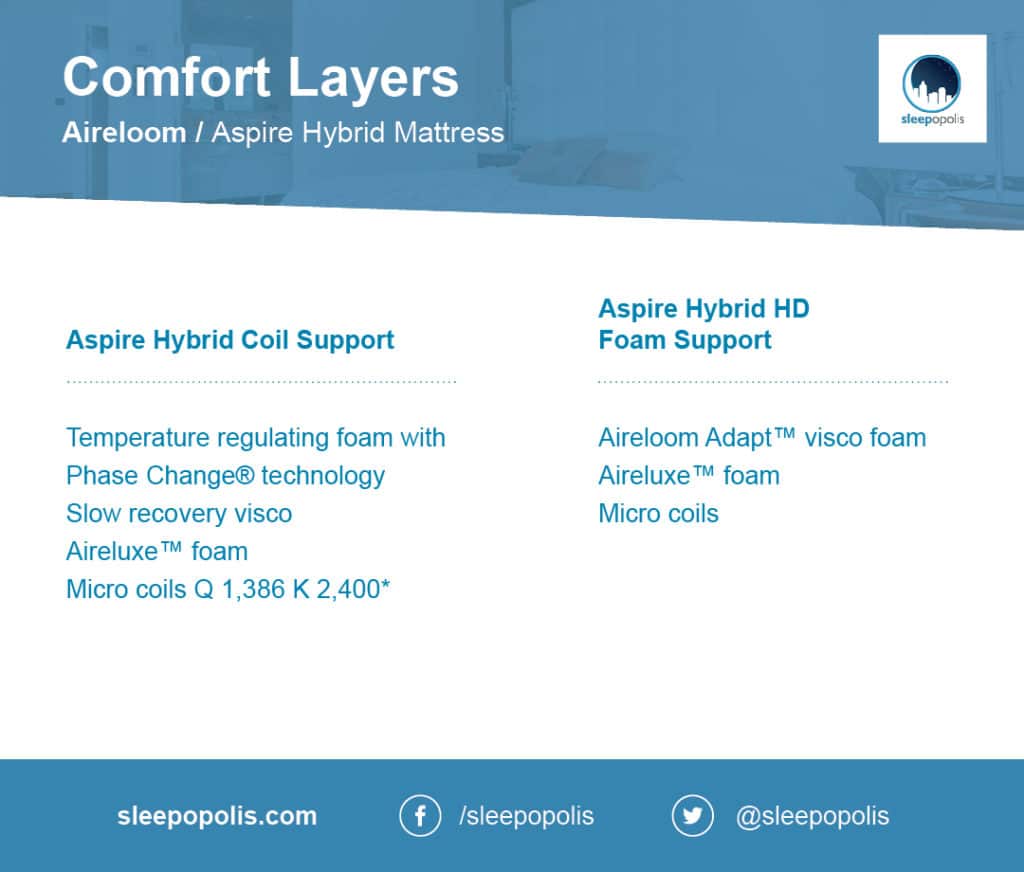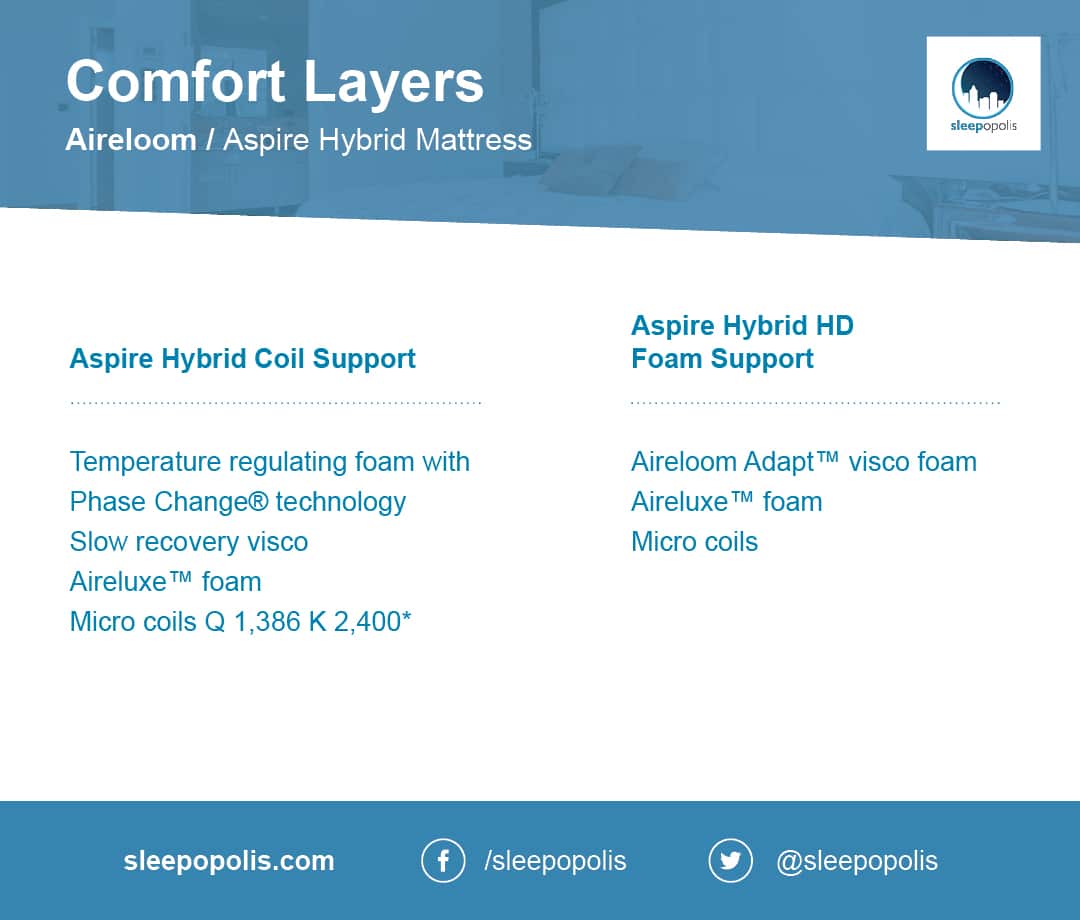 Aireloom Aspire Hybrid Mattress Collection Feel
The two categories of beds in the Aspire Hybrid mattress collection will actually feel a bit different. While both utilize micro coils right below the fabrics and foam of the comfort layer, and above the main coil system, the Aspire Hybrid Coil Support uses individually wrapped coils inside, whereas the Aspire Hybrid HD Foam Support uses foam as the main event inside the mattress.
In general, mattress with individually wrapped coils (pocket coils) provide a consistent distribution of support and do a great job at isolating motion. Aireloom uses higher gauge pre-compressed pocket coils in select] models and a thicker lower gauge coil in another model, depending if you're choosing a plush or firm mattress version. If you choose the Aspire Hybrid Coil Support Plush, your mattress will most likely feel sturdy, yet super soft, with a healthy amount of bounce and good motion control. It will also have a thicker gauge coil. For the Aspire Hybrid Coil Support Firm, your bed will have the same inner-coil system but will have a thinner comfort layer and higher gauge pocket coils, providing a firmer feel.
For the Aspire Hybrid HD Foam mattresses, these are mainly foam, with a layer of micro coils in the comfort layer for an extra bout of sturdiness and support. Aireloom does not specify what type of core foam is used, so it's unclear whether polyfoam, latex foam, or memory foam is used. However, we do know there is a layer of visco/memory foam in the comfort layer, which will mold around the contours of the body and has a slow bounce back. As you can probably guess, the Plush version will be the softest bed, and the Firm version will be the hardest. If you want to find some middle ground, then the luxury firm is your best bet.
In general, the use of micro coils and a perimeter edge means these mattresses will provide good edge support so you can avoid feeling like you're going to fall off the bed. Moreover, the micro coils help ensure there is little to no motion control, so if you have a partner in bed with you that rolls around, you most likely won't have this motion transferred to your side of the mattress.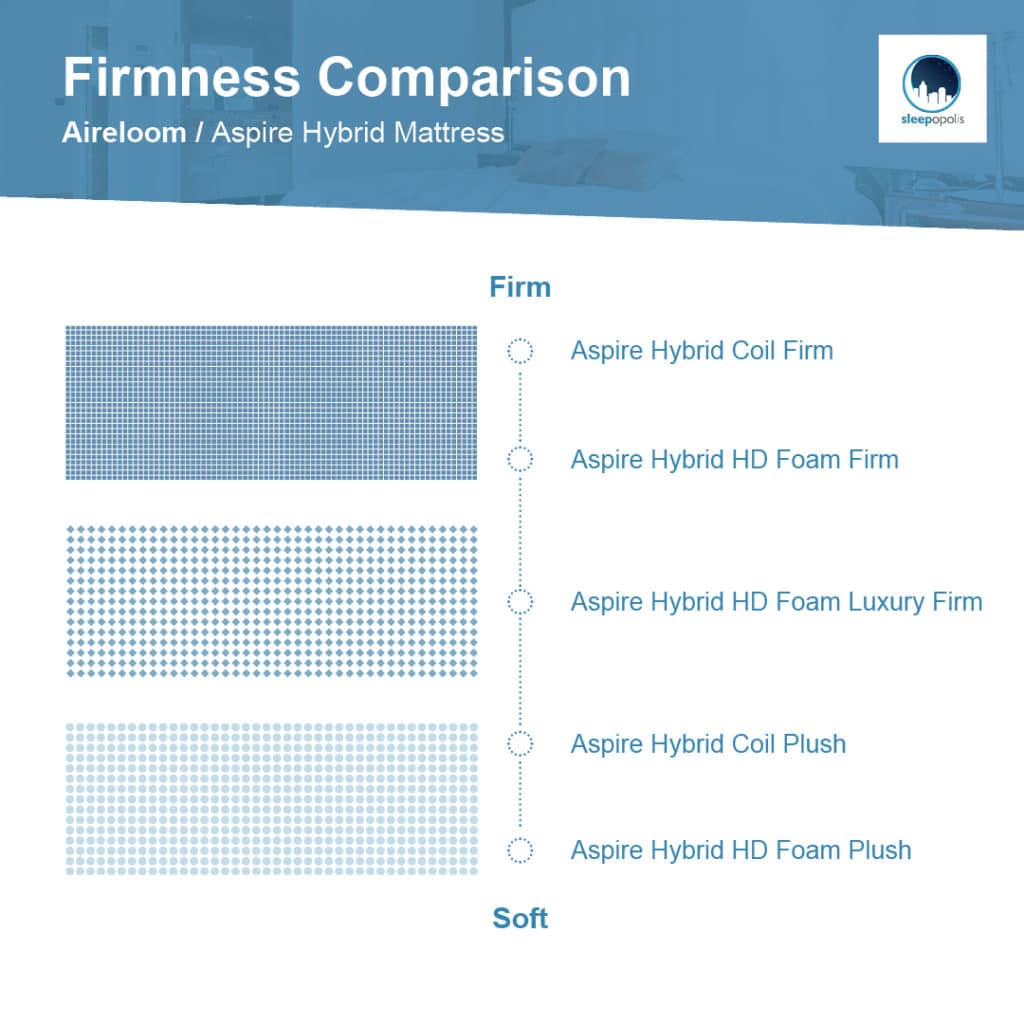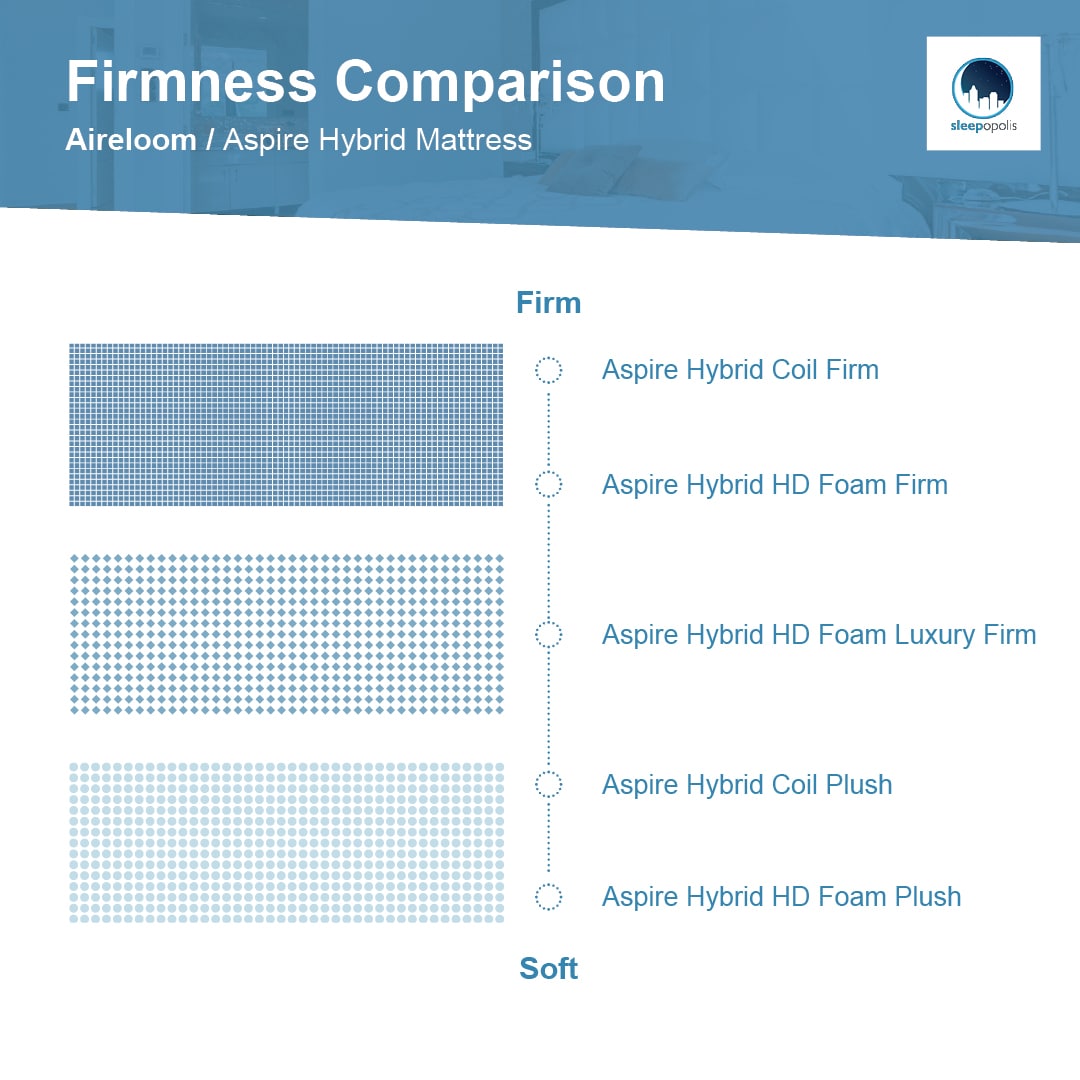 Aireloom Aspire Hybrid Vs. Others
The Aireloom Aspire Hybrid is a true hybrid mattress. If you're curious to learn more about mattress similar to the feel and construct of this collection, continue reading.
How would this mattress collection compare to other mattresses on the market?
Let's back up a bit and talk a little about hybrid mattresses. Hybrid mattresses combine the use of coils with a layer of foam above. Hybrids were initially conceived for people who were unhappy by both pure spring and pure foam options. Today, hybrids claim they offer "the best of both worlds."  These mattresses allow the customer to feel "on top of" the mattress — something springs are notable for — while still giving them the support and pressure relief of foam.
A mattress that might feel similar include the BeautyRest Black, which is built from layers of memory foam and pocketed coils. Specifically, this mattress does an excellent job of creating a consistent level of airflow, and also uses Tencel in the top foam layers to breathe easier and provide and cool and soft surface.
Another similar mattress is the Tempurpedic Flex Supreme Mattress, which is known for isolating motion. It is comprised of both memory foam and pocketed coil layers. This mattress puts more of an emphasis on memory foam than Aireloom's layers of various foams, but if you're looking for something with a little more contouring and cradling support (hence, memory foam!) this could be a good option.
Additional Need-to-Know's
This is Aireloom's newest mattress line, meaning there aren't many reviews of it yet. Before the Aspire Hybrid was the general Aspire line, which used a blend of

memory foam, Airelux, foams, and pocket coils. It looks as if this collection has been discontinued, and replaced with a slightly-different hybrid approach.

Each mattress is covered by a 15-year warranty and will be replaced if any defects found are due to an error that occurred during the making and crafting of the mattress. Any spills, spoils, or defects due to a bed frame that isn't from Aireloom is not covered in the warranty.




E.S. Kluft & Company handcrafts these mattresses in two American based factories: East coast retailers are supplied from the manufacturing facility in Pennsylvania and West coast retailers are supplied from the manufacturing facility in California.
Common Praise & Complaints
Like we mentioned just above, this mattress line is fairly new to the market and additional information, third-party reviews, and pricing are non-existent as of now. Hopefully once this mattress gets in the hands — and bedrooms — of more sleepers, we'll have more information to share!
Sizing and Pricing Information
All sizes are industry standard. There is no pricing information online, but we do know the original Aspire Collection, which inspired the Aspire Hybrid, had mattresses that were much more affordable — in the $1300-$2099 price range. Make sure to head to a retail store near you to find out the exact price point of each mattress.
Is the Aireloom Aspire Hybrid Luxury Mattress Right for You?
Now that we've discussed this entire mattress collection, let's break down why it might be a fit for you!
You want something that stays cool. These mattresses, and specifically the Coil Support category uses Temperature regulating foam with Phase Change® technology. This is an innovative way to help regulate heat and keep you cool at night.
You care about motion control. The addition of micro coils in the comfort layers provides an extra layer of sturdiness, durability, and support. If you sleep with a partner who tends to toss and turn, having good motion control is important to isolate movement and allow you to sleep undisturbed.
You want options. This collection comes in a traditional hybrid version and one that focuses on foam. They each have mattress models with different levels of comfort. If you're not exactly sure what you need, you can head to a showroom and lay on all the models in this collection and find something that works perfectly for your sleep preference.
Here's an individual recommendation for each Aireloom Aspire Hybrid Collection:
Hybrid Coil Plush: Best for back or stomach sleepers who prefer soft beds, sleep hot and need something cool, and like a little bounce.
Hybrid Coil Firm: Best for people who prefer firm beds, so beware if you're a stomach sleeper. This will also provide durability, bounce, and temperature control.
Hybrid HD Foam Plush: If you love foam mattresses that contour to your body and feel super soft, look no further than this mattress. Especially good for stomach sleepers.
Hybrid HD Foam Luxury Firm: Good for all sleep positions and targeted for those who want a medium firmness level, enjoy a little bit of memory foam, and a quick response to pressure.
Hybrid HD Foam Firm: Firm foam lovers — say that three times fast. If you need a firm bed that is still soft to the touch — remember, there is a layer of memory foam — this one could be a great fit.
Aireloom Aspire Hybrid Mattress Summary
The Aireloom Aspire Hybrid mattresses offer a little bit of everything — micro coils, innerspring, a layer of memory foam, and/or a foam core. They are also more affordable than other Aireloom mattress collections, which can cost an upwards of $7,000. If you want to test the newest Aireloom line and are a true fan of hybrid mattresses, this could be a great mattress option to try out!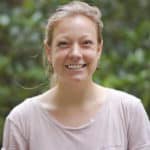 Laura Schwecherl
Laura is a journalist with nearly a decade of experience reporting and covering topics in the health, fitness, and wellness space. She is also a marketing consultant, where she works with impact-oriented startups to build marketing and editorial strategies. Since joining the team at Sleepopolis, she quickly learned how critical sleep is, and enjoys researching how certain sleep products and techniques can improve our lives. Outside of work, you can find her reading Murakami novels, writing amateur poetry, or trail running in her hometown, Boulder Colorado.