If you want a top-of-the-line luxury mattress, Aireloom is a good brand to explore. Its handmade mattresses are known for setting a new bar when it comes to luxury standards, where each mattress is thought of us a "labor of love," as artisans focus on "every cut, every stitch, and every layer."
This article is going to look at a specific Aireloom mattress collection called the "Aireloom Latex," which features five different beds all constructed with — you guessed it — latex foam. We'll also look at the differences between a few of Aireloom's trademarked design and construction features, delve into the mattress construction and feel, and give you a better idea if this mattress collection is something worth pursuing in your own bedroom. Keep reading for all the luxurious details!
The Company: Aireloom
Aireloom has an esteemed history, dating back to the 1940's when it was founded by King Karpen (who no, was unfortunately not a king, though a handful of Aireloom collections have been named after him.) Since inception, Aireloom was a luxury item; the beds were handcrafted for the Hollywood elite and took on the reputation as being the "Rolls Royce" of mattresses. The mattresses eventually made their way through the red carpet and to the east coast, where then-President Ronald Reagan swapped all of The White House's mattresses with Aireloom ones.
Since then, Aireloom was bought a few more times and now is in the hands of The Flex Group, a privately held global mattress manufacturer. Still, Aireloom gives off a small, artisanal feel. Quality over quantity rings through in all its marketing materials and the company puts a strong emphasis on meticulous design and innovative comfort with a bit of California flair.
Aireloom Latex Mattress Collection
Today we are going to look at the Aireloom Latex Collection, which includes five different beds divided into two different categories.
The first category is the Aireloom Latex Luxetop™ Design, which consists of one mattress:

The Luxetop™ Ultra Plush with latex core.
The other category is Aireloom Latex Streamline™ Design, which has four mattress styles:

Streamline™ Plush with latex core

Streamline™ Plush

Streamline™ Luxury Firm

Streamline™ Firm.
We'll dive into the differences between all five beds, along with the main differences you'll find between the trademarked Luxetop™ and Streamline™ designs.
But first, let's talk a little bit about Aireloom latex mattresses in general. Aireloom Latex beds are exclusively hybrid mattresses, meaning they are made from a blend of foam and latex on the upper part of the mattress, followed by natural materials, and then pocket (individually wrapped) coils and innersprings. Each mattress also comes with a foundation, a feature most mattresses don't include.
Luxetop™ and Streamline™
The first thing you should know is the difference between the Luxetop™ and Streamline™ "categories." The biggest differentiator comes down to the comfort layer. The Luxetop™ mattress comes with two materials in its layer, which lies above the mattress: Visco foam and Talalay Latex. The Streamline™ mattresses all have comfort layers that are "only" comprised of the Talalay Latex.
Visco (or viscoelastic foam) is a fancy way of saying memory foam, whereas Talalay Latex is a natural foam that helps the body maintain a consistent body temperature throughout the night. Said another way, the Luxetop Design mattress has visco foam and latex, and the Streamline Design is comprised of only latex in its comfort layer. Having both options is a nice choice since some people love the feel of memory foam and other people can do without it.
So, let's get to it and dive in to the Aireloom Latex mattress review.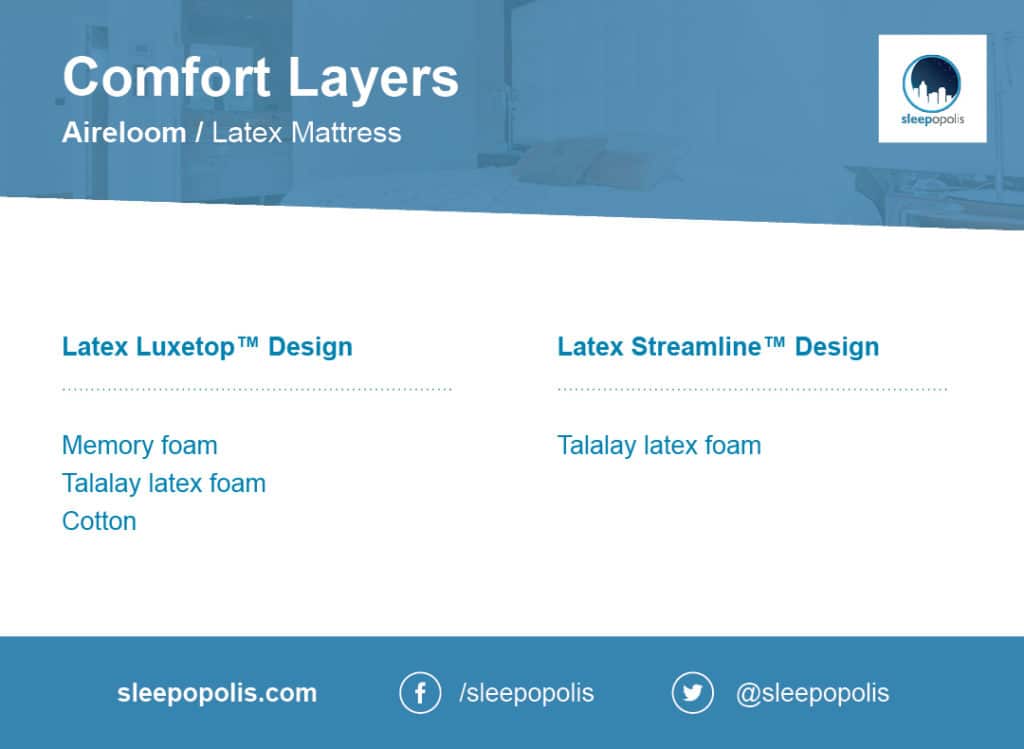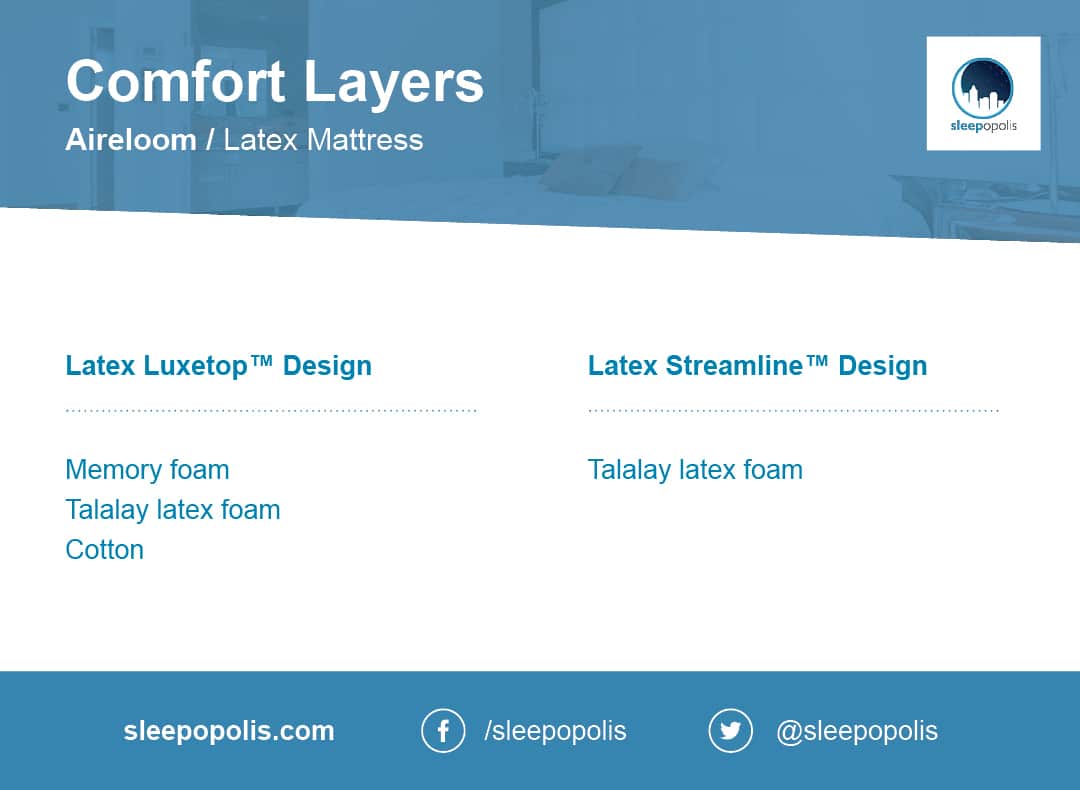 Fabric & Surface Materials
After digging into the specs and construction materials, I was surprised to see the only real difference between these two models is the comfort layer. Outside of that, the construction is pretty much the same. Let's dive in.
The quilt on both Luxetop and Streamline mattresses is held together by a true-stretch cotton tricot backing. This fabric stretches and contours, allowing the sleeper to mold into the mattress and contour into the comfort layers. There is a quilted layer made of Tencel fabric, which is sustainable fabric regenerated from wood cellulose. It is soft and flexible and provides cooling support. The surface material also contains silk, wool, and HiLoft FR fibers, a Pillowflex layer (think: pillowtop!), quilting foam, and a cotton tricot backing.
The inside of the mattress itself is made up of pocket coils, and right underneath is a divan base with an 8 ¾ gauge innerspring system.
Support System
There is also a slight difference in the support system between the Luxetop™ mattress and the four Streamline™ mattresses.
For the Luxetop design, the support system is comprised of an Aireloom Unitized latex core, Talalay and Dunlop latex foam, and a high-density encased perimeter support to help with edge support and overall durability. For the Streamline mattresses, they too come with the high-density encased perimeter support, but the Aireloom Unitized latex core only comes in the Streamline™ Plush with latex core model and an Energex core system — an extra-firm high-density foam — is also noted as only coming with select models (the website does not say which ones).
Comfort Layer
Like we explained above, the Luxetop™ mattress contains both memory foam and Talalay latex foam in the comfort layer. Specifically, it has one layer of memory foam, two layers of talalay latex, and one layer of cotton. The four Streamline™ mattresses only have Talalay latex foam inside the comfort layer. Since these four beds come in different firmness levels (plus with latex core, plush, luxury firm, and firm) it's safe to say each mattress comes with various comfort layer thickness levels to give the mattress either a softer and more cushioned feel (a thicker comfort layer), or a firm and more supportive feel (a thinner comfort layer).
Box Spring
Each mattress has the same box spring. According to Aireloom's website, the box spring is made up of a "solid core foundation" with a high-definition responsive foam layer. The box spring is available in 9 inches for something a bit taller, or 5 inches if you enjoy a lower profile.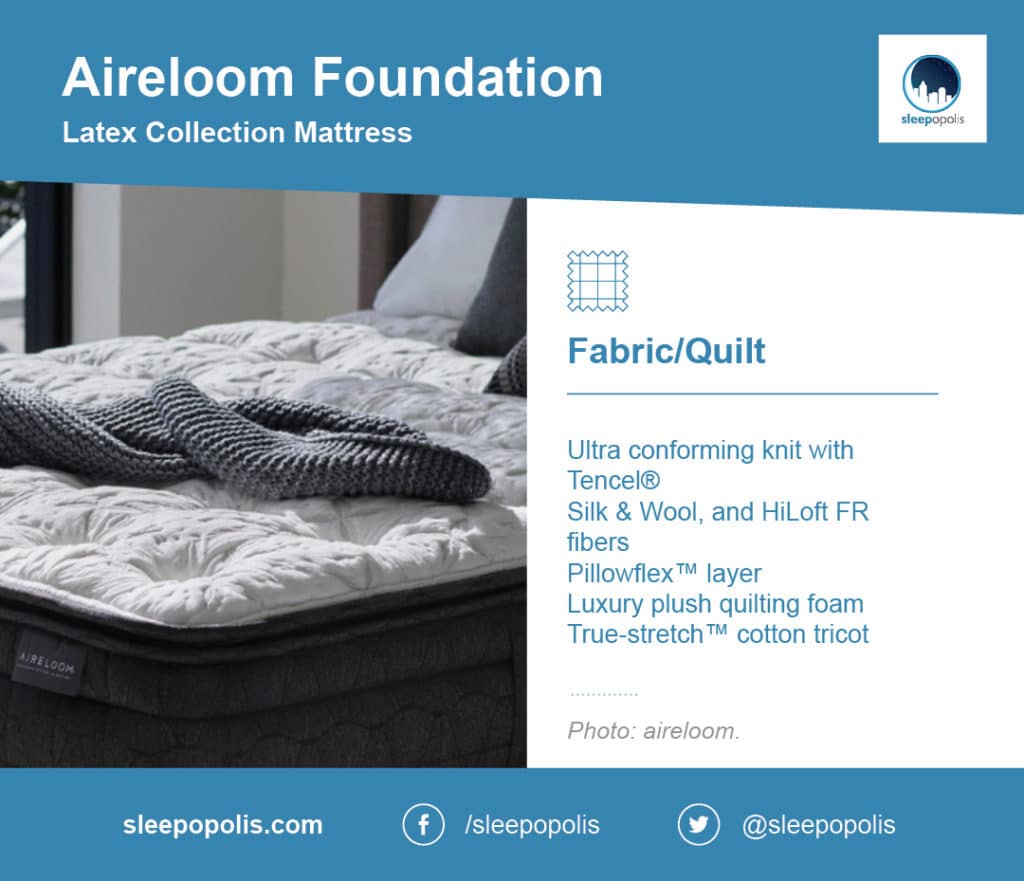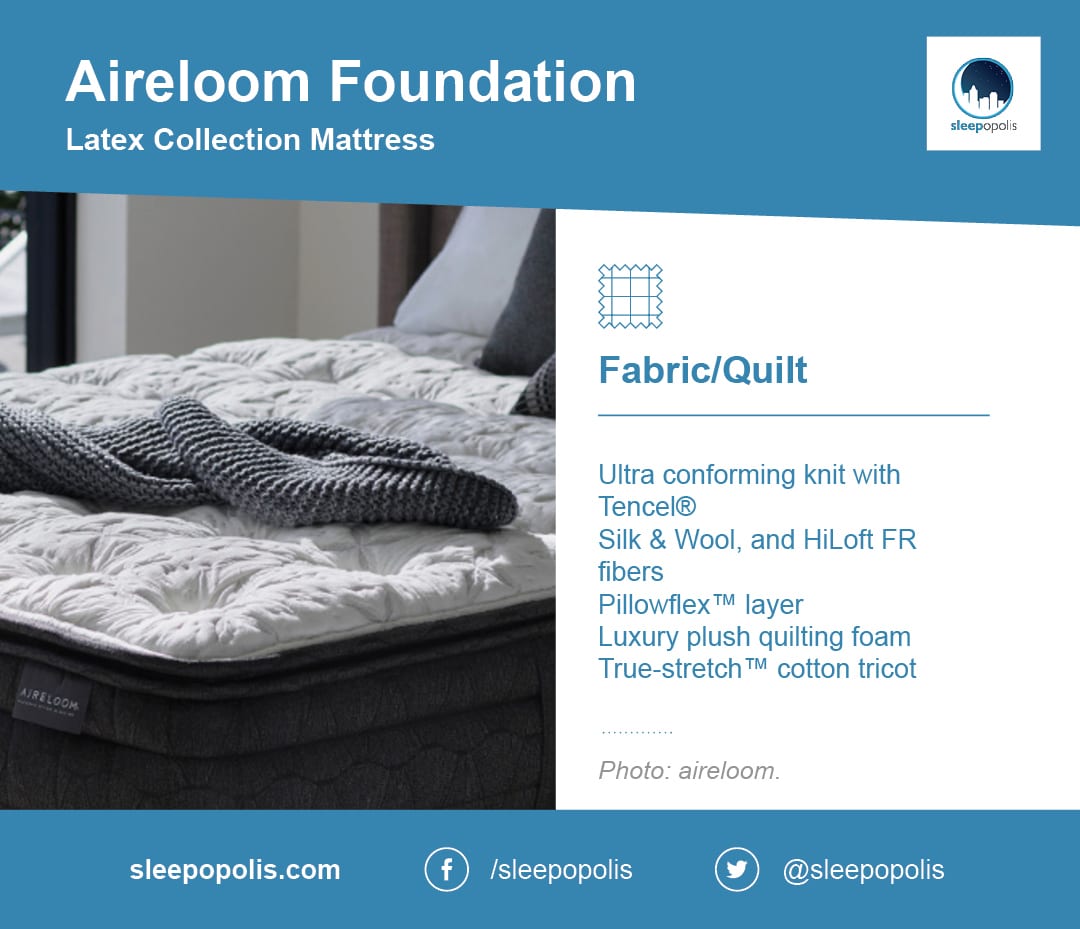 Aireloom Latex Collection Mattress Feel
The Aireloom Latex Luxetop Design mattress — named the Luxetop™ Ultra Plush with latex core — will be the softest and most plush mattress out of all the beds in the Aireloom latex line. The only differentiator between this mattress and the others is it has both memory and latex foam in the comfort layer. Memory foam is known for its contouring qualities; it's initially firm to the touch, but eventually starts to mold around the contours of the body due to body pressure and heat. Latex foam has more elasticity and generally a faster response time.
Aireloom uses Talalay foam, is latex that is poured into a mold, but is only partially filled. Air is then added to the mold by vacuum, which expands the latex to create the complete form. This technique results in latex that is less dense but more consistent in feel from top to bottom. While memory foam provides deep pressure relief and a strong hug, latex foam has a lighter feel, more bounce, and a more generalized compression.
It's safe to say that having both types of material in the comfort layer will provide benefits of both. However, some people don't enjoy the hug and compression of memory foam. If this is you, one of the mattresses in the Streamline™ Design category might be a better fit. With just the Talalay foam, the mattress will allow for more sinkage and generalized compression around the body. You also might feel cooler, since memory foam is known to retain heat. That said, Aireloom advertises all its foams and fabric layers as breathable.
For firmness level, the mattresses provide more firm support as we move into the Streamline™ Design category. The Streamline™ Plush with latex core and Streamline™ Plush mattresses will be softer than the Streamline™ Luxury Firm. The Streamline™ Firm will be the firmest choice out of all five beds.
While the foam will provide a compressed and light support, don't forget that hybrid beds means there are also springs. The layer of pocketed coils and innersprings in each mattress will still provide a bit of that traditional bounce.
Based on the information about the mattress construction, these beds should have good edge support, thanks to the high-density encased perimeter support. If you tend to roll over to the sides of the bed (which may happen especially if you share your bed with a partner) feeling like you have all-around support to keep you from rolling off the bed is an important part of a good night's rest.
Lastly, you might feel like you are being lifted up on the mattress versus sinking into it. Aireloom calls this its Aireloom Lift™, which is an air chamber between the springs and mattress top that increases the areas of low pressure when you're laying on the mattress to avoid sinking and sagging. All in all, Aireloom says its focus is to provide a "royal-like feel," where the spine is perfectly aligned and all pressure points are relieved. Reviews for these mattresses are few and far between, but this is what the companies strive to set out and do.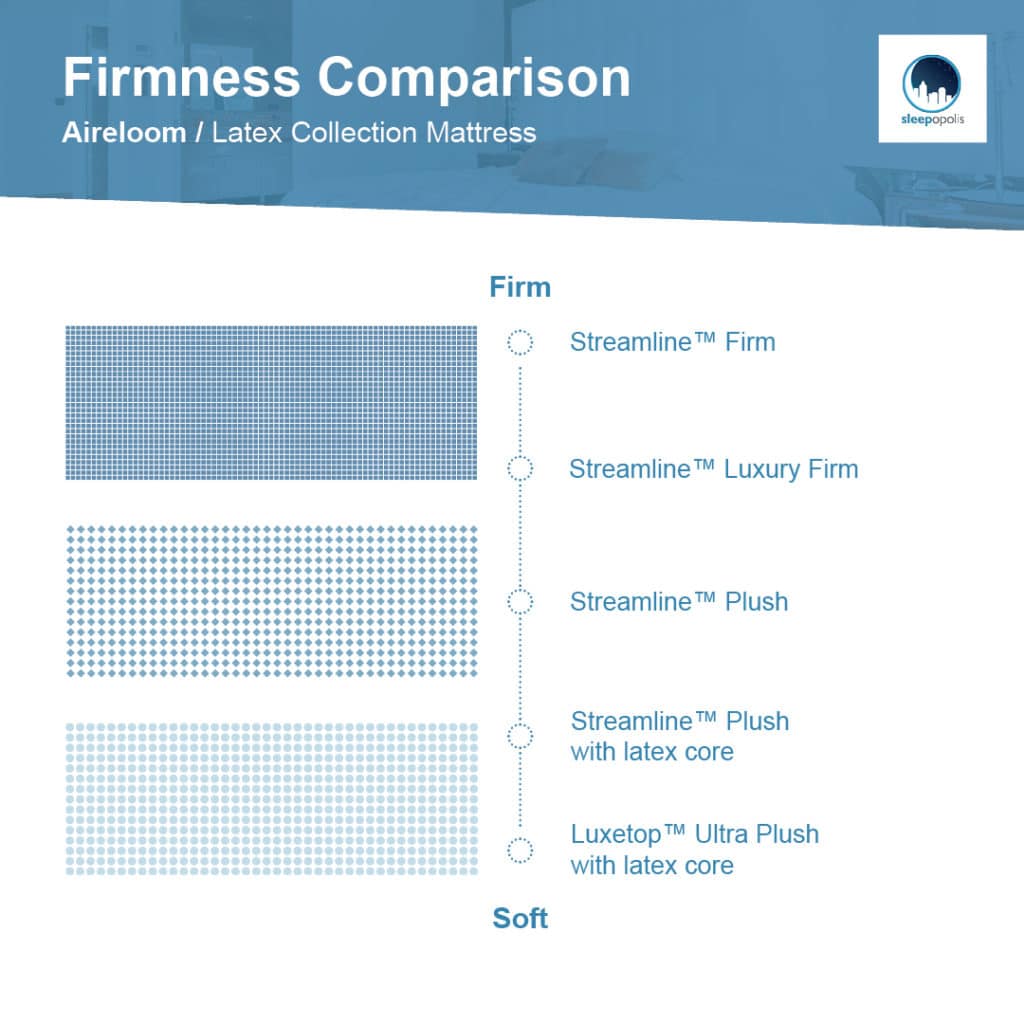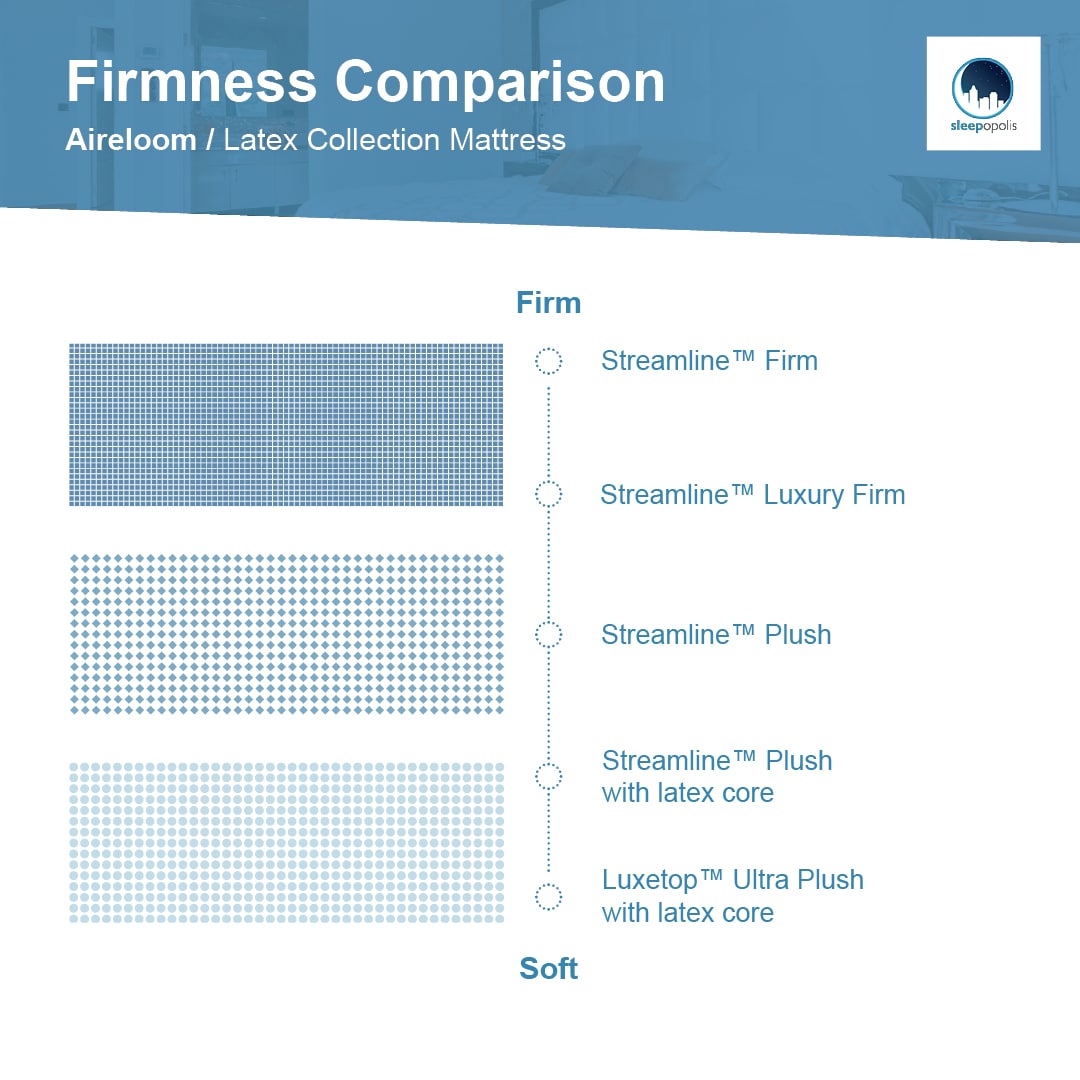 Aireloom Latex Collection Vs. Others
The combination of latex, memory foam, inner-springs, and pocket coils make this feel like a true hybrid bed with notes of luxury throughout. So — how would this mattress feel compare to other mattresses on the market?
At first, it might seem hard to compare the Aireloom Latex Collection to other beds since this one is for an elite market, with mattresses averaging in the $5,000-7,000 range. The mattress that would be the closest in feel might be the Beautyrest Black mattress, another luxury mattress that contains both pocketed coil technology, luxury comfort foam, and memory foam. In this case, this bed would feel closest to the Luxetop Mattress (since this one also incorporates memory foam), though would be a little firmer.
The Aireloom Latex collection is also comparable to the eLuxurySupply Hybrid mattress, which is constructed with a mix of micro coils and foam and has a medium firmness and feel. There's also the Brooklyn Signature Mattress, which has both a pocketed coils system (just like Aireloom) and foam and places an emphasis on pressure relief, This bed is more affordable than Aireloom's collections (a Queen is under $1,000) so might be a good choice if you want a spring and foam feel but aren't ready to invest in something as tremendous as Aireloom Latex.
Save 20% with code SLEEPOPOLIS20

Brooklyn Bedding Signature Mattress

Nice for side sleepers
Pressure relief without feeling stuck

25% Off with Code SLEEPOPOLIS

eLuxurySupply Hybrid Mattress

Medium firmness
Sleeps cool
Code: SLEEPOPOLIS

See Latest Deals

Simmons Beautyrest Black Mattress

Great Bounce
Traditional Innerspring Feel
Recommended for Combo and Stomach Sleepers
Additional Need-to-Know's
All Aireloom mattresses are designed to absorb motion. While we couldn't test this out ourselves, this is a key point the company makes when speaking about every collection — Aireloom Latex included.

Each mattress in this particular line is covered by a 15-year warranty. Defective workmanship is one of the leading causes of warranty fulfillment for these beds. Upon request, an in-person inspection of the mattress is fulfilled by an Aireloom rep.

Aireloom mattresses are all handmade in the U.S. This is a true West Coast brand, yet one manufacturer is on the east coast to supply its east coast retailers (Pennsylvania). The other manufacturer is in California.
Common Praise & Complaints
While Aireloom is known for being luxurious, online reviews are scarce. This is maybe because a certain subset of the market purchases Aireloom mattress and do not typically head online to review it, or its market is on the smaller since the mattresses are quite expensive. If you're curious and invested in learning more about Aireloom, definitely dig and do your research, call, visit retail stores, and do your homework before purchasing.
Sizing and Pricing Information
Speaking of purchasing, these mattresses fall into the $4,000-$7,000 range, but it is important to travel to a retail store to find out exactly what they cost.
Is the Aireloom Latex Mattress Collection Right for You?
Now that we've taken a closer look at the Aireloom Latex Mattress Collection, it's time to discuss who it'd be a good fit for.
You want to invest in luxury. These beds were made for The Royalty, Hollywood's elite, and White House dwellers. While you're going to be paying top-dollar, Aireloom mattresses are handmade with top materials, design, and care. If you want to invest in your sleep with something luxurious, it doesn't get much more luxurious than Aireloom.
You enjoy medium firmness. Many mattresses on this line will be on the softer side, making these mattresses less firm than other Aireloom collections. Three of the five beds are considered "plush," and come with a Pillowflex™ layer to give that soft and squishy pillow-top feel. If you want something a touch more firm, there is the Firm and Luxury-Firm models, too. Overall, it seems like these mattresses are good choices if you don't want something super firm. If you're a stomach sleeper, this level of support could be great for you!
You sleep on your stomach. These mattresses all seem to do a good job of relieving pressure and providing support on the hips and shoulders — all things stomach sleepers need to protect their bodies.
Here's an individual recommendation for each Aireloom Latex model:
Luxetop™ Ultra Plush with latex core: This will be the softest mattress for people who enjoy the contouring qualities of memory foam and want something super plush.
Streamline™ Plush with latex core. Best for back and stomach sleepers. This mattress is also on the softer side of the spectrum, but does not contain any memory foam and focuses on keeping you cool throughout the night.
Streamline™ Plush. This mattress is similar in feel and comfort to the Streamline™ Plush with latex core, but its support system does not have the latex core, making this bed give off stronger notes of durability and support.
Streamline™ Luxury Firm. This bed will still provide a feeling of luxurious support but will have a thinner comfort layer and overall be more firm than the other models.
Streamline™ Firm. This mattress in the Aireloom Latex collection is the more firm, making it a good option for back sleeper or side sleepers who know they enjoy a firm bed. The soft materials should still do a good job at protecting the hip joints and shoulders.
Aireloom Latex Collection Summary
Overall, the mattresses in the Aireloom Latex Collection will be on the softer side, providing flush support, pressure relief, and still a bit of spring thanks to its hybrid design. If you're looking for a top-of-the-line luxurious mattress that is meticulously designed, carefully crafted, and made with high-quality fabrics and foams, one of the mattresses in the Aireloom Latex Collection could be a good fit for you.
FAQs
How many latex mattresses does the Aireloom latex collection offer?
The Aireloom latex collection offers five different models to choose from. The Luxetop™ Ultra Plush with latex core, the Streamline™ Plush with latex core, the Streamline™ Plush, the Streamline™ Luxury Firm, and the Streamline™ Firm.
How are the Aireloom latex mattresses constructed?
The Aireloom latex mattresses are hybrid mattresses, made from a blend of foam and latex on the upper part of the mattress, followed by natural materials, and then pocket (individually wrapped) coils and innersprings.
What is the different between the Luxetop mattress and the Streamline options in the Aireloom latex collection?
The difference between the Luxetop™ and Streamline™ mattresses is the comfort layer. The Luxetop™ mattress comes with two materials in its layer: Visco foam and Talalay Latex. The Streamline™ mattresses all offer a comfort layer that is only comprised of the Talalay Latex.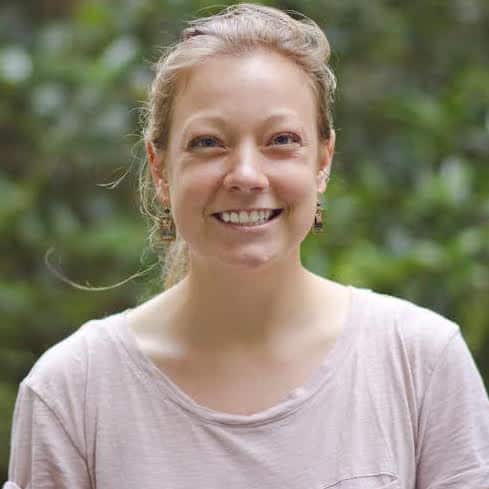 Laura Schwecherl
Laura is a journalist with nearly a decade of experience reporting and covering topics in the health, fitness, and wellness space. She is also a marketing consultant, where she works with impact-oriented startups to build marketing and editorial strategies. Outside of work, you can find her reading Murakami novels, writing amateur poetry, or trail running in her hometown, Boulder, Colorado.