When the mattress you usually rest on isn't an option, an air mattress can be a great alternative. So let's take a look at the Etekcity Airbed, a blow-up mattress said to offer convenience and comfort to sleepers of all styles. Keep reading to learn how it feels, how to set it up, and whether or not it's really worth the dough.
Brand Snapshot
Etekcity is an online retailer that specializes in consumer electronics and outdoor equipment. From water filters to camping stoves, Etekcity ships its home improvement gadgets to shoppers all over the world. In fact, it's offices are based in three countries, and the brand's founders say it's still expanding.
And though the company offers a wide variety of tools and accessories, we're honing in on one specific product — the Airbed. So follow along as we learn how to set it up, what it's made of, and whether or not it's the best fit for you.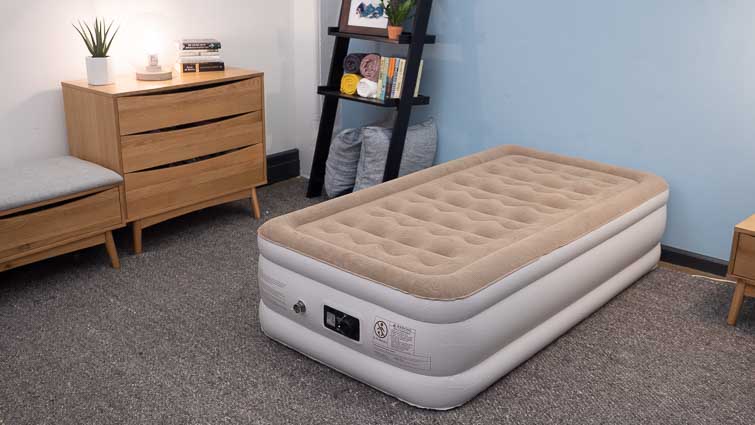 How Do I Set Up The Etekcity Airbed?
Before we get into the Airbed's construction, let's talk set-up. Some shoppers might be hesitant to buy an air mattress because the idea of inflating an entire bed seems like a whole lot of work. But guess what? This one inflates itself. Let's take a look:
Set-Up
Unpackage your Airbed, and unfold it so the felt side is facing up.
Open the power cord compartment on the end of the Airbed, and plug the cord to an outlet.
Turn the Airbed's control dial clockwise, toward the word "inflate."
Let the mattress fill up with air until the desired firmness is reached (the more you fill it, the firmer it gets).
When you've reached your ideal level of firmness, turn the control dial to "off."
Unplug the power cord and store it back inside its compartment.
When you want to deflate it, plug the power cord back in and turn the control dial toward the word "deflate."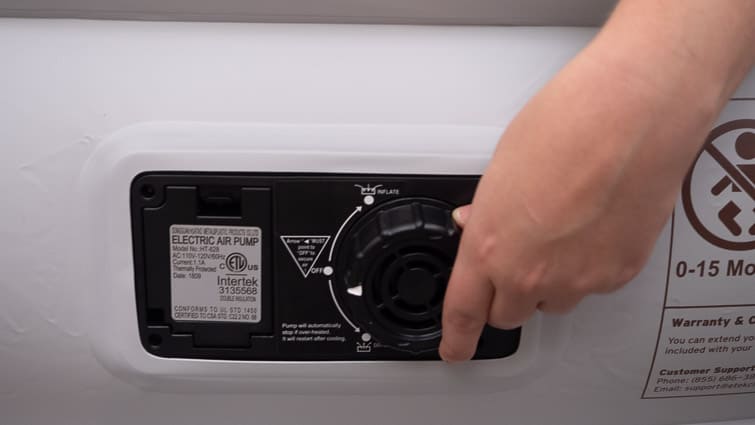 And that's it! Not too bad, right? It took me about 10 minutes to unpackage and set it all up, and I filled it with enough air to reach a very firm feel. But keep in mind that those who prefer a softer feel can easily deflate the bed until the firmness is just right.
Now that we know how to set it up, let's take a closer look at what the Etekcity Airbed is made of.
What Is The Etekcity Airbed Made Of?
The Etekcity Airbed is made from a material called Polyvinyl Chloride, more commonly known as PVC.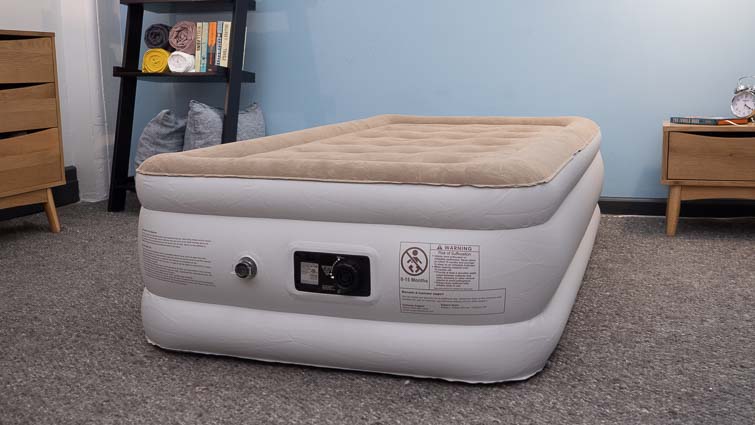 When it comes to air mattresses, PVC is often the material of choice. While some are made of rubber or urethane plastic, PVC is typically used because it's very durable, waterproof, and not too expensive. The Etekcity Airbed is made from a double layer of PVC in order to make it extra resistance to wear and tear.
The top part of the air mattress is covered in a felt layer that feels soft to the touch, but you should still dress your Airbed with sheets and a blanket in order to make your sleep experience as cozy as possible. After all, PVC is durable, but it's not as comfy as cotton or other standard mattress materials.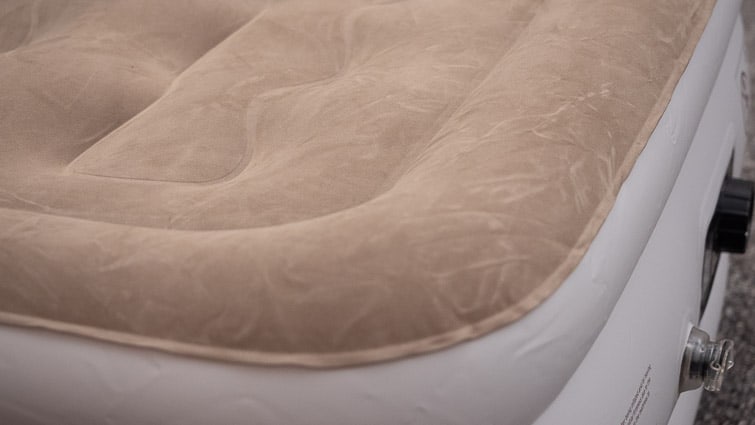 That said, the Twin sized Airbed is 18 inches deep, and the Queen size is 22 inches deep. So unless you've got extra deep pocket sheets, your fitted sheet is probably not going to cover this mattress completely. If I were you, I'd drape a flat sheet overtop the Airbed, and layer with blankets to add some warmth and comfort.
Speaking of comfort, let's talk a bit more about my own experience testing this Airbed!
What Does The Etekcity Airbed Feel Like?
First of all, I really appreciate that this air mattress is so easy to set up. No external pumps or devices are needed, and all you have to do is plug it in and turn the control dial.
When I first inflated it, I filled it with enough air to achieve a very firm feel. This isn't necessary, but I typically sleep on my stomach (and stomach sleepers need firmer support in order to maintain healthy posture). However, I did let a little air out in order to experiment with different levels of firmness and, ultimately, reaching the right feel and support takes a little trial and error.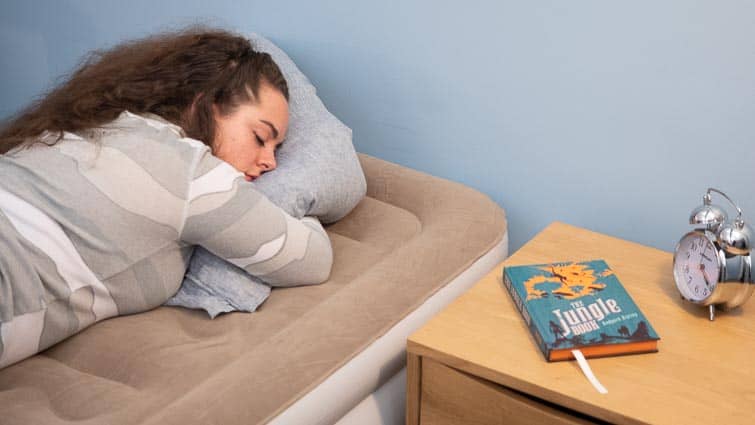 Luckily, experimenting with firmness is easy, and is done by adjusting the control dial. I suggest that side sleepers aim for a slightly softer feel in order to relieve pressure at the shoulders and hips. Similarly, back sleepers who prefer a soft feel might want to let a little air out until the bed is not quite so firm.
My favorite thing about this Airbed is that it doesn't deflate unless you want it to. I tend to avoid air mattresses because I've slept on several that seem to leak air throughout the night. But after a day of rolling around on the Etekcity Airbed, it never seemed to lose any of its loft or firmness.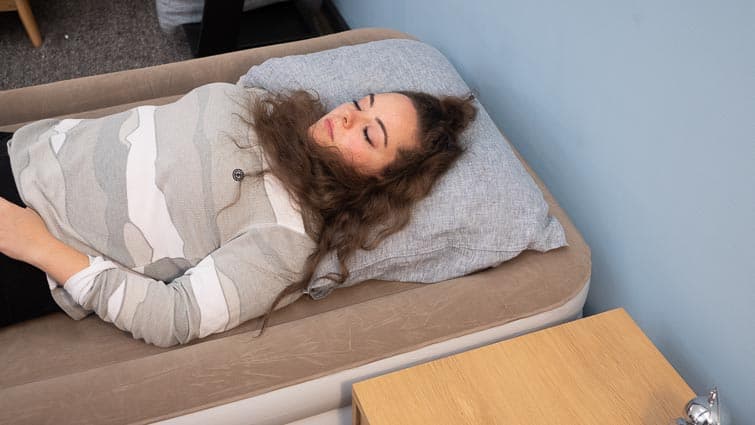 More: Mattress shopping? Check our roundup of the best mattresses of 2013!
However, it's important to set reasonable expectations when it comes to snoozing on an air mattress. While I'm impressed by the quality of the Etekcity Airbed, it's not a long-term substitute for a regular mattress. But anyone looking for a durable, waterproof air mattress that's easy to assemble should definitely give it a try!
Should I Buy an Etekcity Airbed?
Now that we've taken a close look at the Etekcity Airbed, let's recap the highlights so you know if it's the best fit for you:
Easy Set Up – This air mattress couldn't be easier to set up, and it took me all of 10 minutes. Those who avoid air mattresses because they seem like a hassle should take comfort in the fact that this one inflates and deflates with one turn of a dial.
Durable & Waterproof – This air mattress is made from extra thick PVC, a material known for its great durability. Not to mention, it's totally waterproof which makes it ideal for camping (and easy to clean!).
Doesn't Leak – My favorite thing about the Airbed is that it never leaked air or deflated while I used it. I've slept on air mattresses that go flat over the course of the night and, at that point, you might as well be sleeping on the floor. Two thumbs up for this Airbed's ability to stay full and firm!
Easy to Store – Every Etekcity Airbed comes with a carrying case so that it's easy to store and travel with. When you deflate your Airbed, just fold it up, put it back in its bag, and be on your way.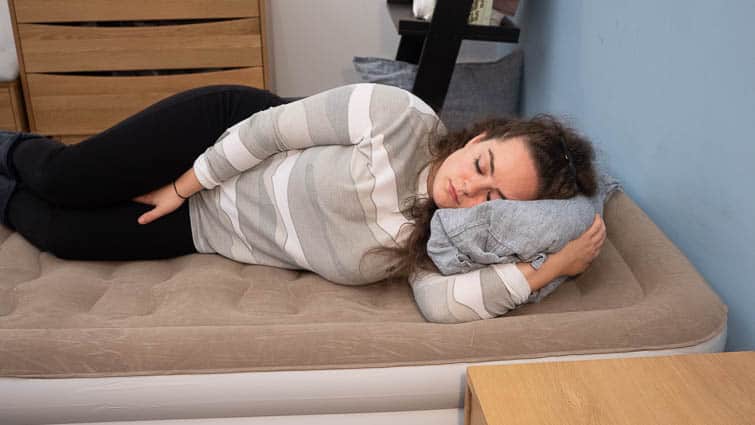 Etekcity Airbed Complaints
When it comes to craftsmanship, I have no complaints. The Etekcity Airbed is durable, waterproof, and retains its firmness very well. However, there are a few things to consider before you make your purchase:
Weight Limit – Heavier or partnered sleepers should keep in mind that the Twin size Airbed has a weight limit of 550 lbs, and the Queen size has a weight limit of 650 lbs.
Dimensions – The Twin size Airbed is about 6 feet long, and the Queen size is about 6.5 feet long. If you're much taller than 6 feet, your feet will probably be dangling off the edge of the bed.
Price – Ranging from about $100-$130, I think this air mattress is a pretty great value. However, folks on a strict budget might be more compatible with Etekcity's less expensive air mattresses (which do not come with a built-in pump, and range from $70-$90).
Anything Else I Should Know?
Sizing – 75 x 39 x 18 inches (Twin), 80 x 60 x 22 inches (Queen)
Pricing – $100-$128
Weight Limit – 550 lbs (Twin size), 650 lbs (Queen size)
Wash Care – If your Airbed needs to be cleaned, do so with a wet cloth and mild detergent. Then, allow to air dry.
30- Day Return Policy
Free Shipping – within the U.S.
Now that you know everything there is to know about the Etekcity Airbed, you're well on your way to deciding whether or not it's the right fit for you. And while you carefully consider every last detail, be sure to like and subscribe to our YouTube channel and follow us on Facebook, Twitter, and Instagram!
Still deciding? Take a look at our mattress performance rating for the Etekcity Airbed below.
Etekcity Airbed Mattress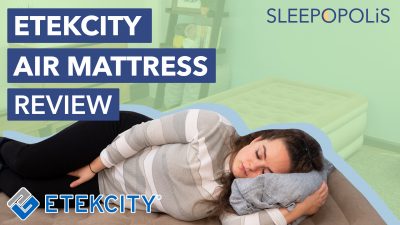 The Etekcity Airbed is durable, waterproof, and retains its firmness very well for an air mattress. However, the Etekcity Airbed is not a long-term substitute for a regular mattress.
Product In-Stock: InStock
Sarah Riccio
Sarah is the former senior writer and bedding expert at Sleepopolis. She received her degree in Creative Writing from Brooklyn College and spends her free time doing stand-up, making pasta, and hanging with her cats.